Dominique Brammah, Austinmer
Interview by Elisha Kennedy
Images by Sam Riles
After years spent living in apartments across Sydney, Dominique Brammah and her partner Ashley Ryan have recently relocated to a weatherboard cottage south of the city, in Austinmer. It's a sea change that is proving fruitful, the added travel to work in the city has become treasured reading time, and being nestled between the ocean and the Illawarra escarpment means their weekends can be spent swimming and hiking throughout their expansive new surrounds. As an Interior Designer, a new home means a new canvas. We spent the morning with Dominique, admiring the way her talent has emerged through the character of her own home space.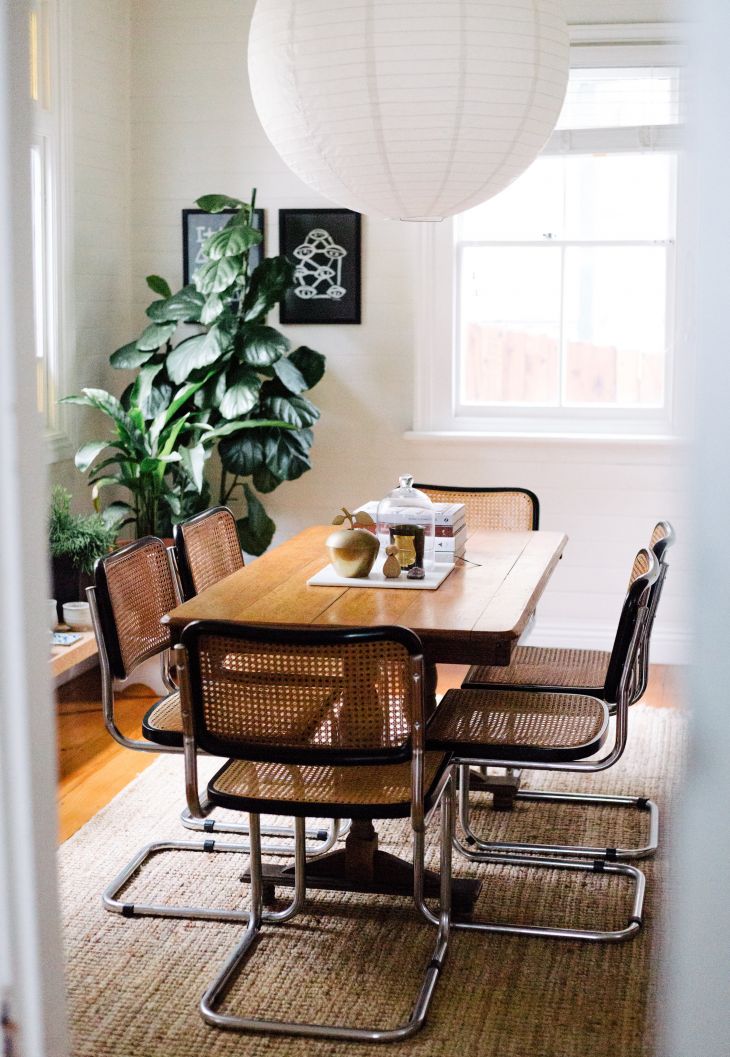 Can you tell us about your journey to where you are today, as Senior Designer at Arent&Pyke?
I have a Masters of Architecture from the University of Sydney so I came to interiors by working 6 years in architecture for a small residential studio. Upon reflection I think I was a bit crap at architecture. I always found parts of my job really a bit overly difficult, it just didn't come all that naturally to me. I had the detail covered but the big picture was what I always struggled with. I always delved into the interior design on my architectural projects with such gusto but my knowledge was so limited. Once I started with SJ & Juliette at Arent&Pyke a whole world opened up for me and the passion hasn't ever really wavered since. Everything came just more naturally, and not in a way which says that interior design is easy, it ABSOLUTELY isn't.
I have worked at Arent&Pyke for almost 5 years and I can honestly say that I am still learning, expanding and growing my knowledge supported by incredible colleagues and mentors. The collaboration with those around me is an endless, seemingly bottomless source of inspiration. The creative buzz is real there.
If I cast my mind even further back to the origin of my love for design it likely started quite__young. My mum commissioned the late Bruce Rickard to design our house in Como, in Sydney's southern suburbs when I was 10. Mum ensured I was a part of the process, which had profound impact on my impressionable brain and undoubtedly sparked something within. The house took almost 4 years to complete after the most disastrous build in history (our builder declared bankruptcy at lock up, the house sat idle for 10 months, trades came banging on our door demanding payment months, even years later) - until last year it wasn't really even finished. Even though she soldiered through it as a single parent with a pretty humble public hospital salary I can appreciate the hardship Mum endured to get this house built. It honestly was and continues to be her greatest passion and continues to remind me amidst all the horrors of recent development that great buildings big and small shape our lives in the most powerful ways.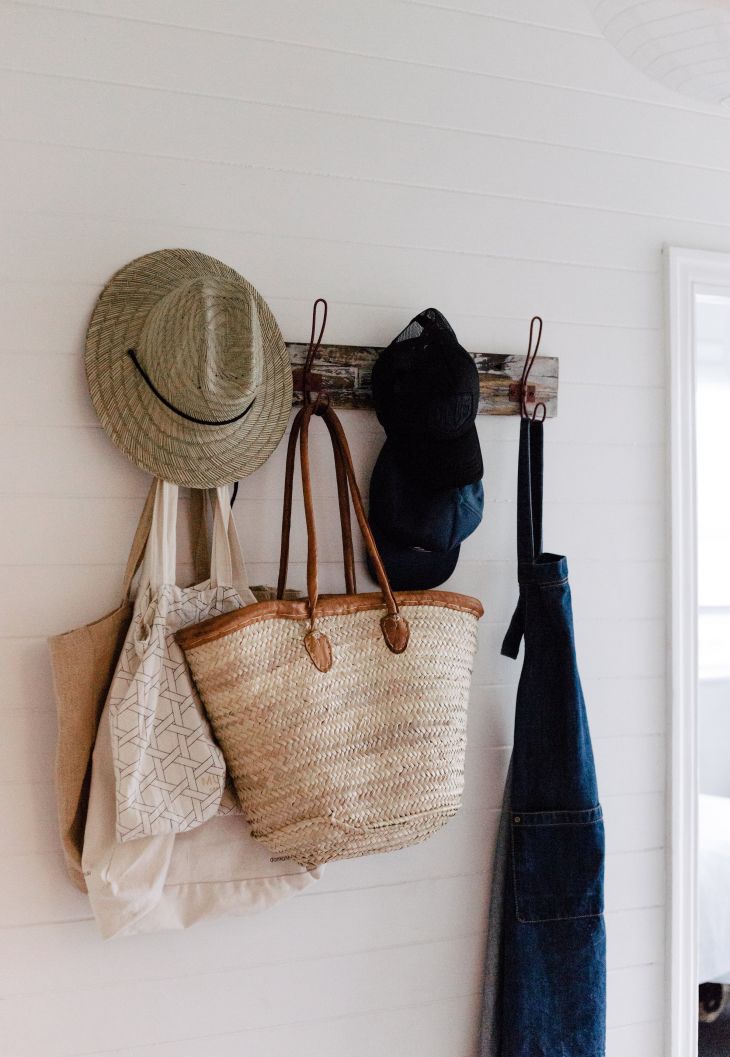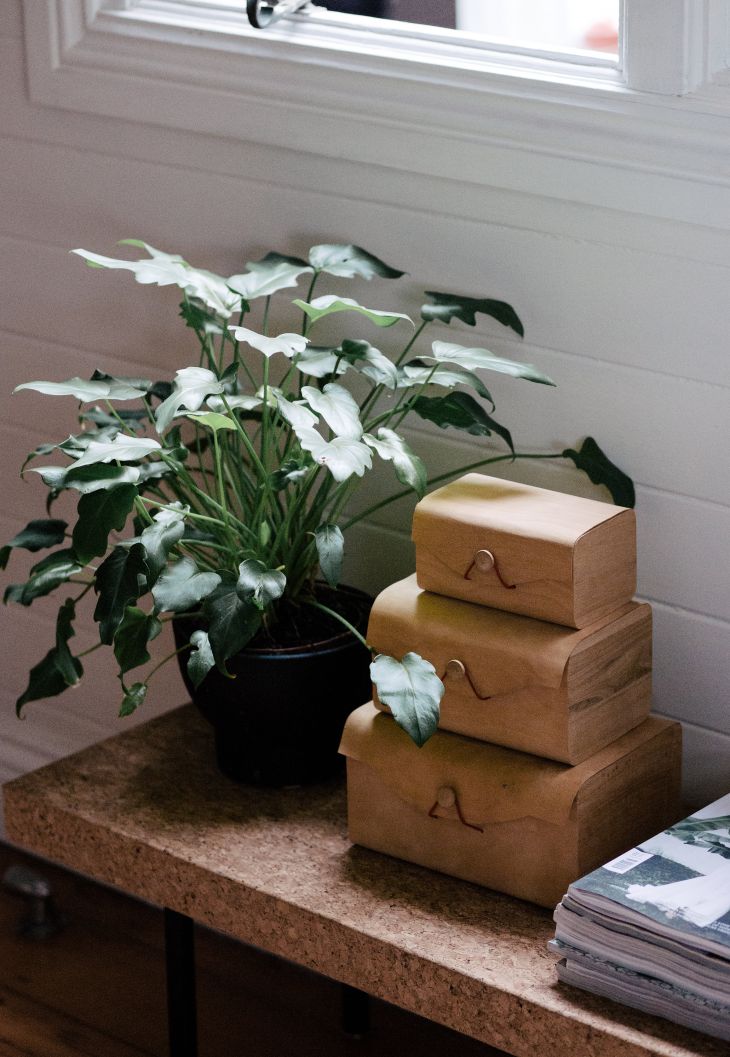 Is there a particular project that you have worked on in your career that is meaningful to you?
I suppose in the last year the projects which have become the most meaningful are those that were the most challenging. They actually affected my mental health for a while but in doing so taught me so very much about myself, about perspective, and about challenging the very linear career path I always saw for myself. I did quite a bit of re-defining this time last year, and that was really empowering in a way I didn't expect. I look back on the projects undertaken at this time with a lot of pride because in the finished product I see how hard I had to push through both professionally and personally.
I will always hold a very special place in my heart for the Alex Hotel in Perth. It was a dream project with a wonderful client and a big collaborative effort for the A&P team.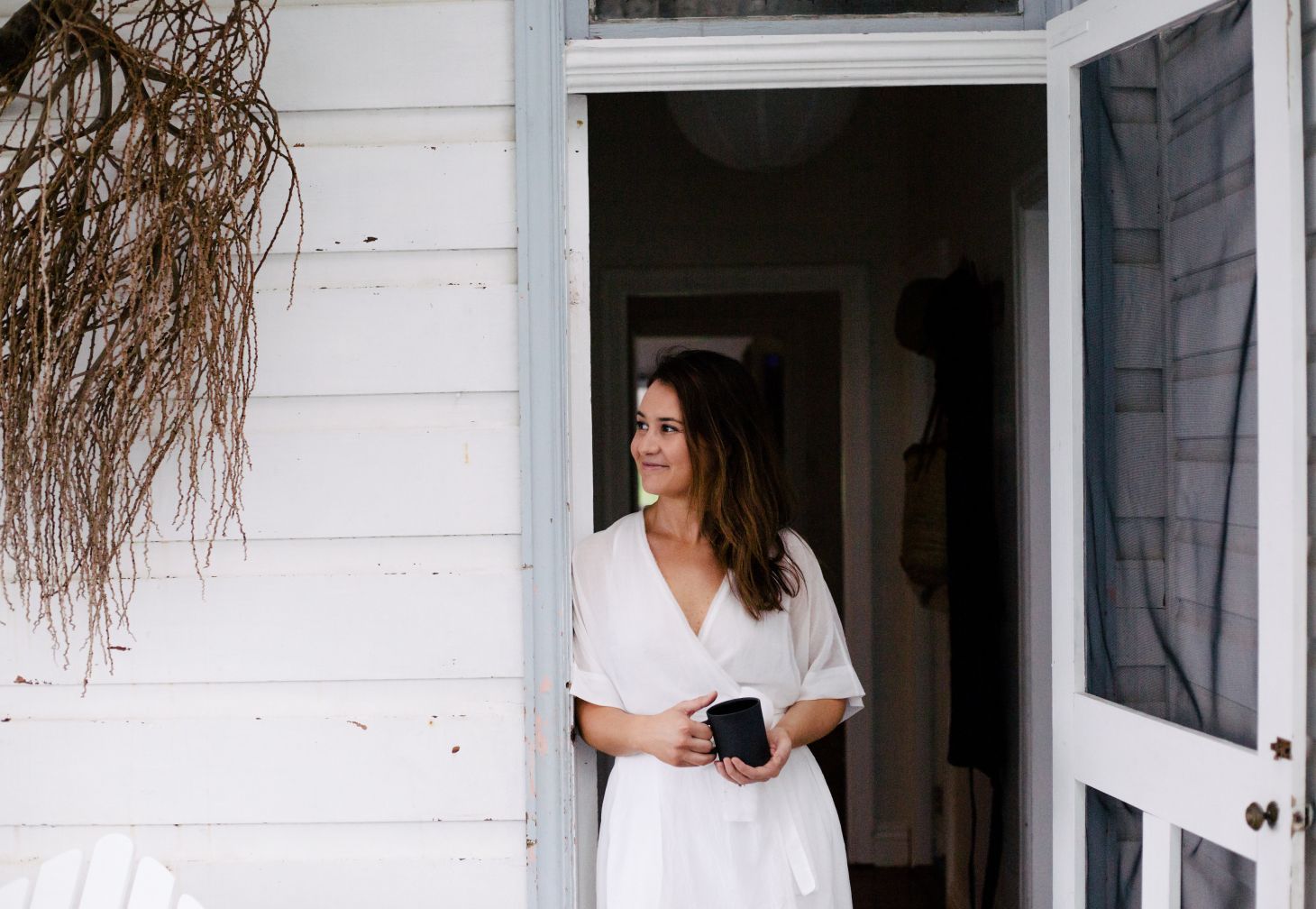 How did you approach your design choices for your own cottage in Austinmer?
Quite differently as it was a real transition, we have only been here 6 months. Initially we had most of our treasures tied up in our apartment in Bondi which we had renovated, lived in, then had been Airbnb-ing. We have just put a permanent tenant into Bondi so we now have all our treasures with us again in Austinmer.
Everything in the house has a sense of history, I presume it was once a miners cottage. The walls and ceiling in the original part of the cottage are all clad with white timber lining boards. There is a lot of peeling paint, very worn timber floorboards and pretty wonky original doors and windows. The house really has its quirks so the furniture had to sit with that. It really wants vintage pieces more than new. It wants worn pieces with a story balanced with natural textures. The old share-house, road-side finds are feeling much more natural in this place than anything too refined.
It is also much larger than anything we have lived in for years (our Bondi apartment is 38 square metres) so we have had to bring the proportion of everything up to meet the high ceilings and the 3 large bedrooms we now have! One of the first things we did was cover all the bare light globes with HUGE glowy rice paper lanterns.
It feels very grown up to live in a house after many years in apartments.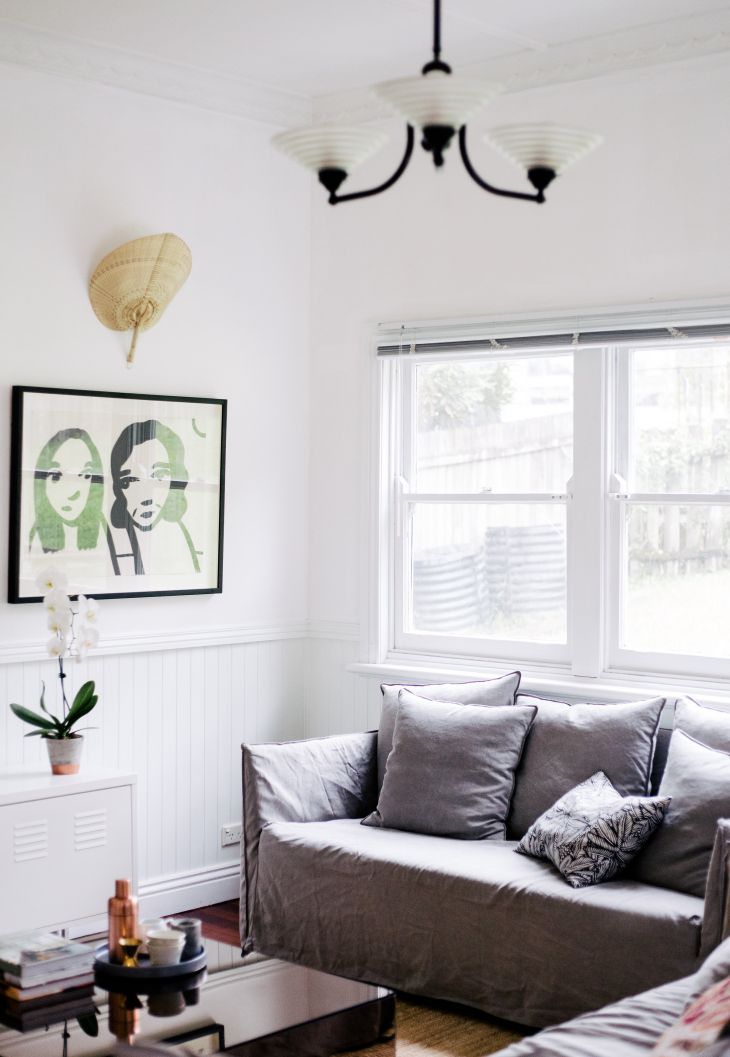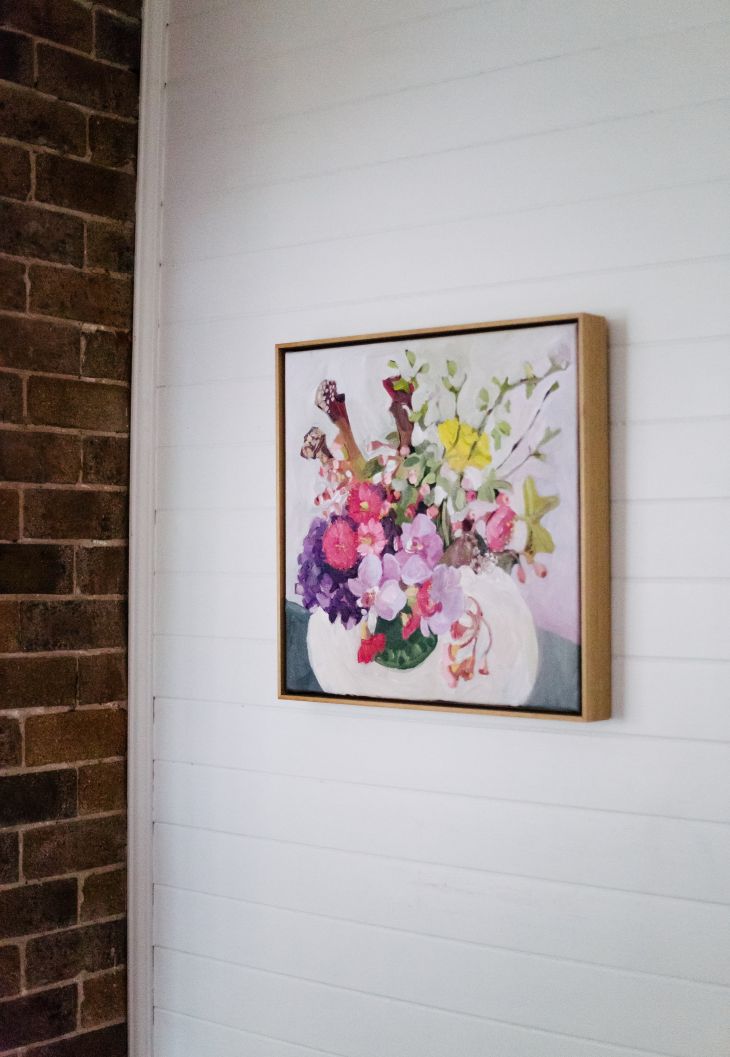 What are some of your favourite pieces in your home, can you tell us the stories behind them?
Our dining chairs were an absolutely serendipitous find. We had spent a morning of trawling through rental properties in the area and on our way home we sped past a ramshackle little antique store in Thirroul. I spotted 2 Marcel Breuer S32 Cesca Chairs chairs sitting outside and very calmly asked Ash to turn the car around. When I wandered into the store to ask how much they were the guy behind the counter said he had 6 in total and was asking 15 bucks a chair. My face would have said it all. To complement it, we very fortuitously found our dining table underneath the house, covered in mould and dirt. After a good scrub it came up an absolute treat. Getting overly sentimental about the seachange, we assured ourselves this was a message from the stars that we were making the right move leaving our life in Sydney behind.
We have collected some treasured artworks over the years which seems totally indulgent for ones so young(ish) but they have given us so much pleasure. Most of our pieces have been purchased by begging very understanding galleries to pay them off over MANY months or through Art Money which is the most incredible interest-free loan scheme for purchasing artworks. I really do have a passion for growing our little collection which has recently expanded to include some ceramic pieces thanks to my dear friend Amber Creswell Bell.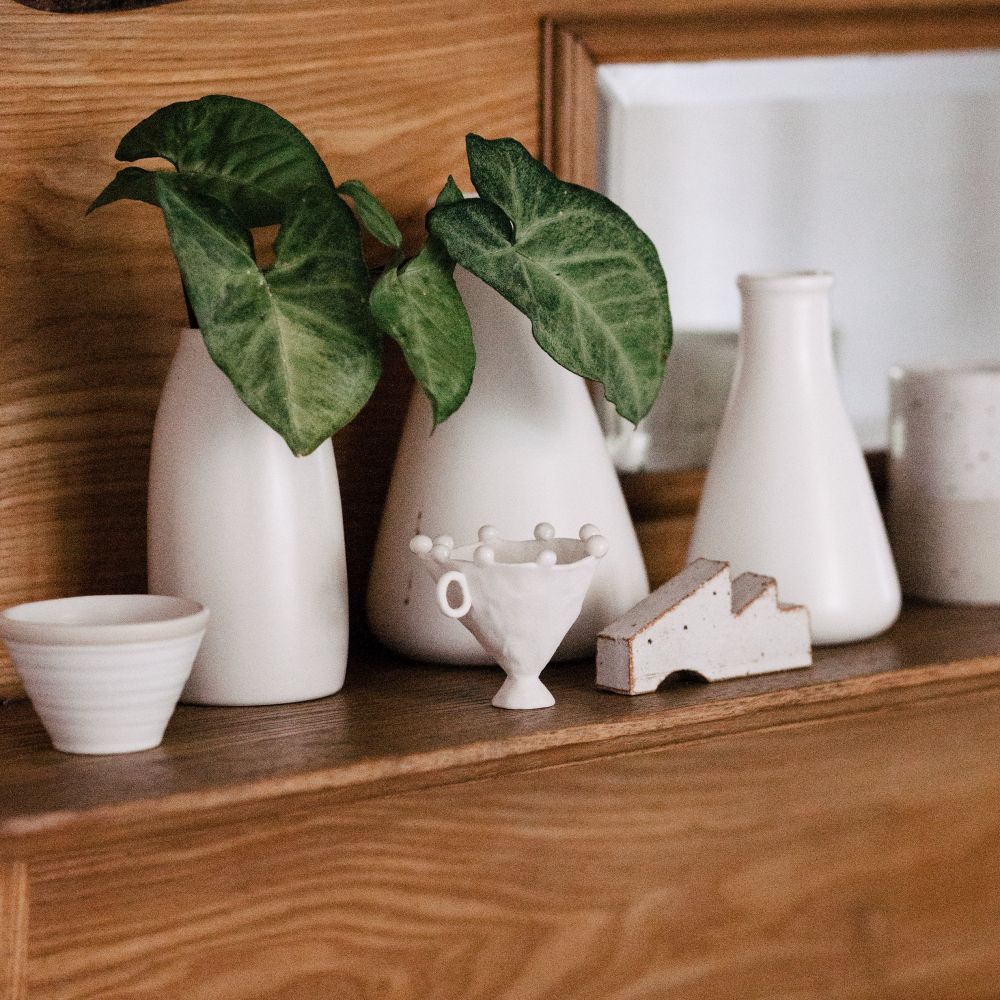 Do you have any morning rituals?
I am NOT a morning person but I have been reluctantly trying to get myself up with enough time to get my head on straight and have a cup of builder's tea in bed - strong but milky with a heaped teaspoon of sugar, no jiggling, just a good long brew. I pull the curtains back and gaze at the escarpment through the gumtrees and then I get up, get into gear and get myself up to the train station. Usually I leave it too late, speed up there and bolt onto the train. Much to the disdain of__my train-mates I do my make up on the train, then I get stuck into my book or do a bit of work on my laptop. The weekends are all about scrambled eggs on a Saturday, pancakes on a Sunday. We are creatures of habit.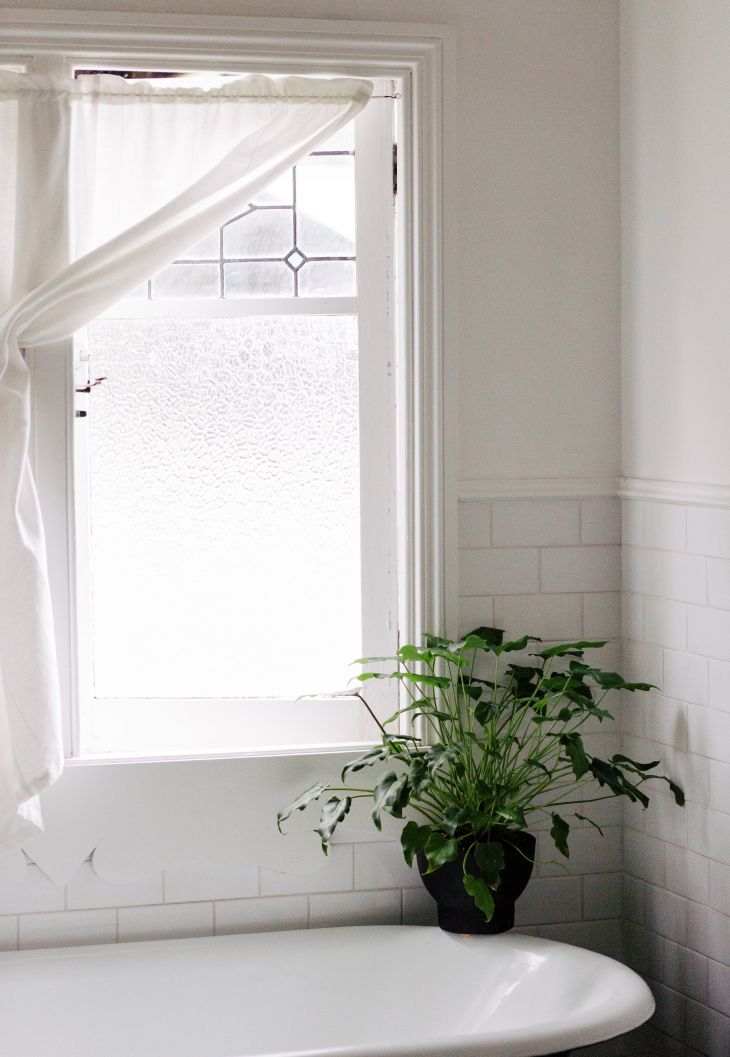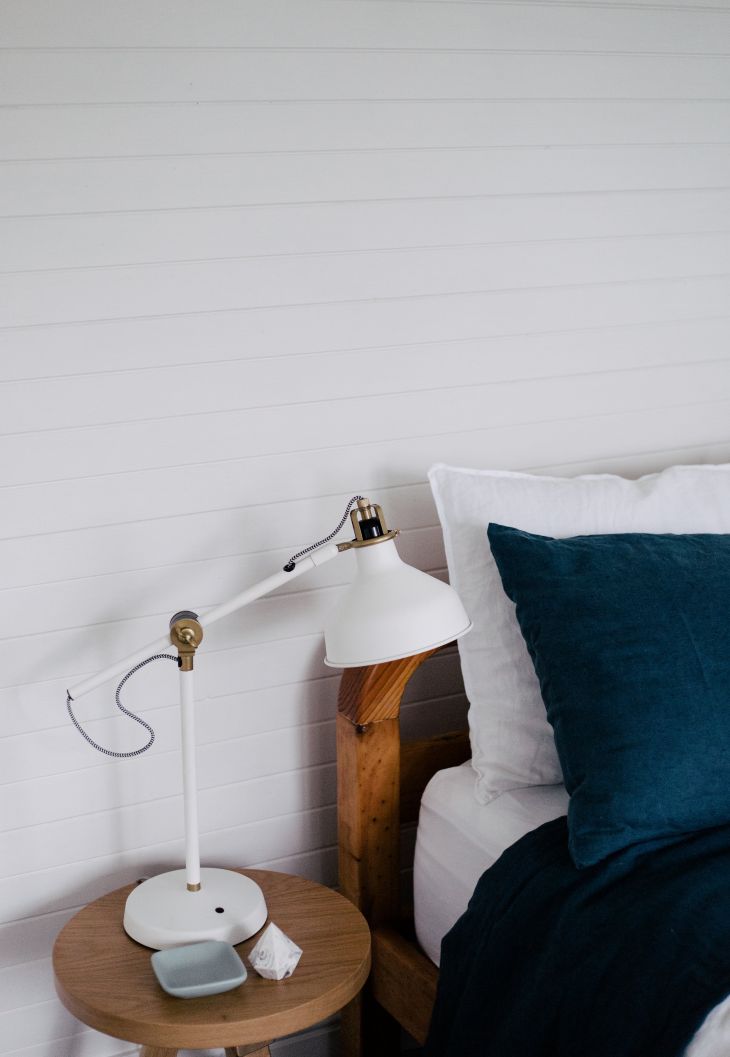 Tea, again, a good hot shower and usually an episode of something on Netflix in bed with Ash. It's always a good time for us to catch up on the day so we have a good chat before sleep.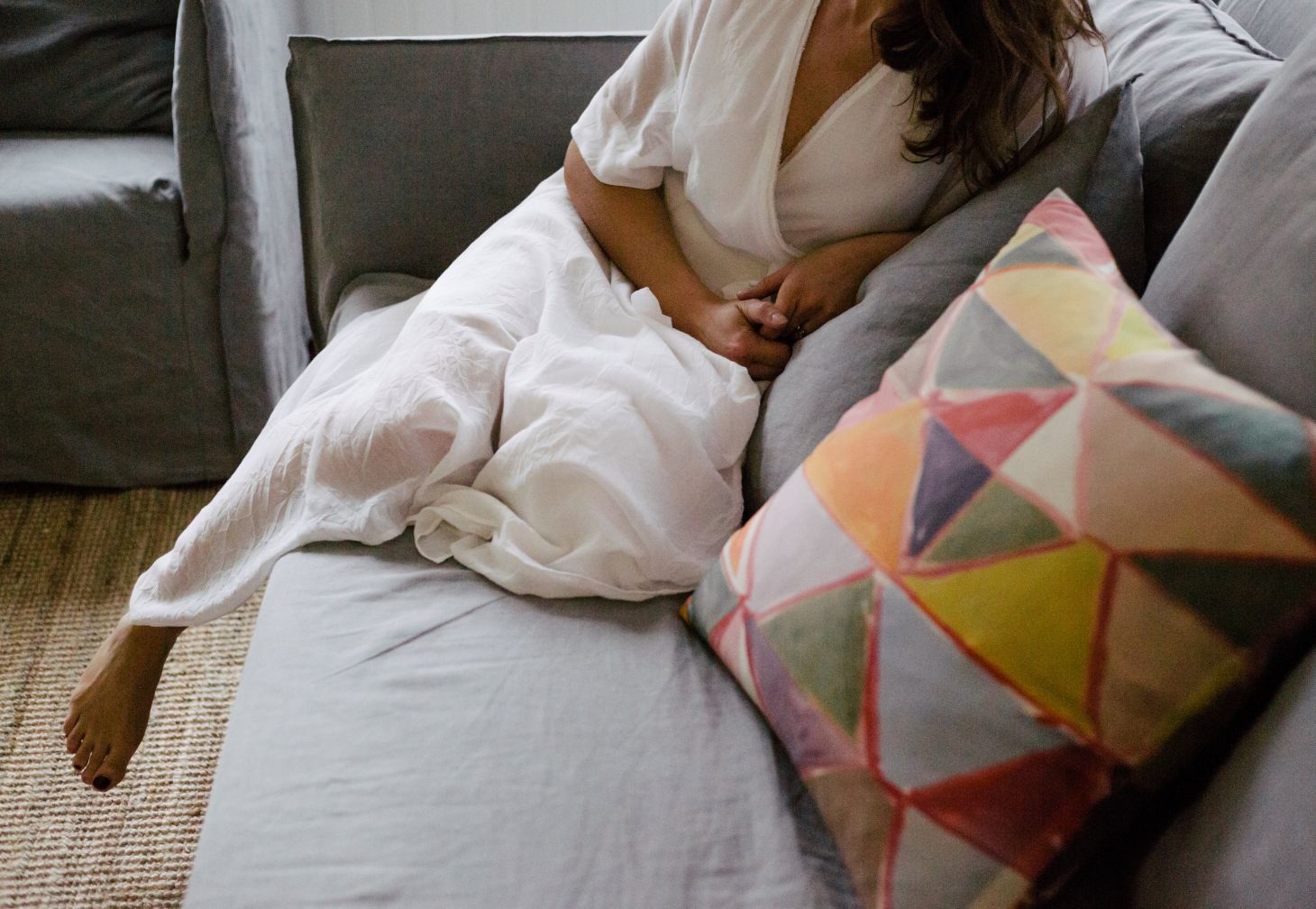 What are some of things that you love about the area in which you live
We are pretty new to the area so we are still finding our feet. Ash is making friends with our neighbours over the back fence. It all feels very familiar and there is a real sense of community.
What I love most is the sense of space and the long views which always end with either the escarpment which winds its way as a spine behind the coast all the way to Wollongong or with the sea.
I look to the escarpment, Ash looks to the sea - so we are both pretty happy. The way the clouds sit over the escarpment, honestly it takes my breath away. I get all misty-eyed looking up at it.
We have been dedicating a bit of time each weekend to really getting out into some sort of wilderness which means we have done a fair bit of exploring in and around the area. We are in training for the Overland Track in Tasmania so we have been giving the hiking boots a good workout.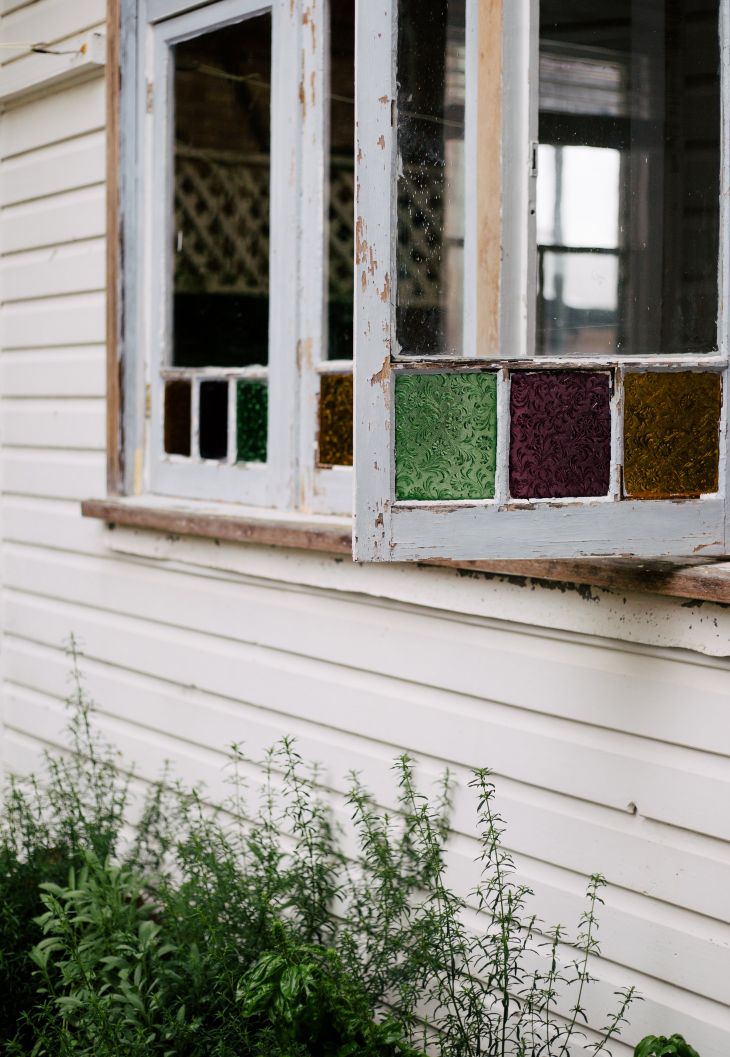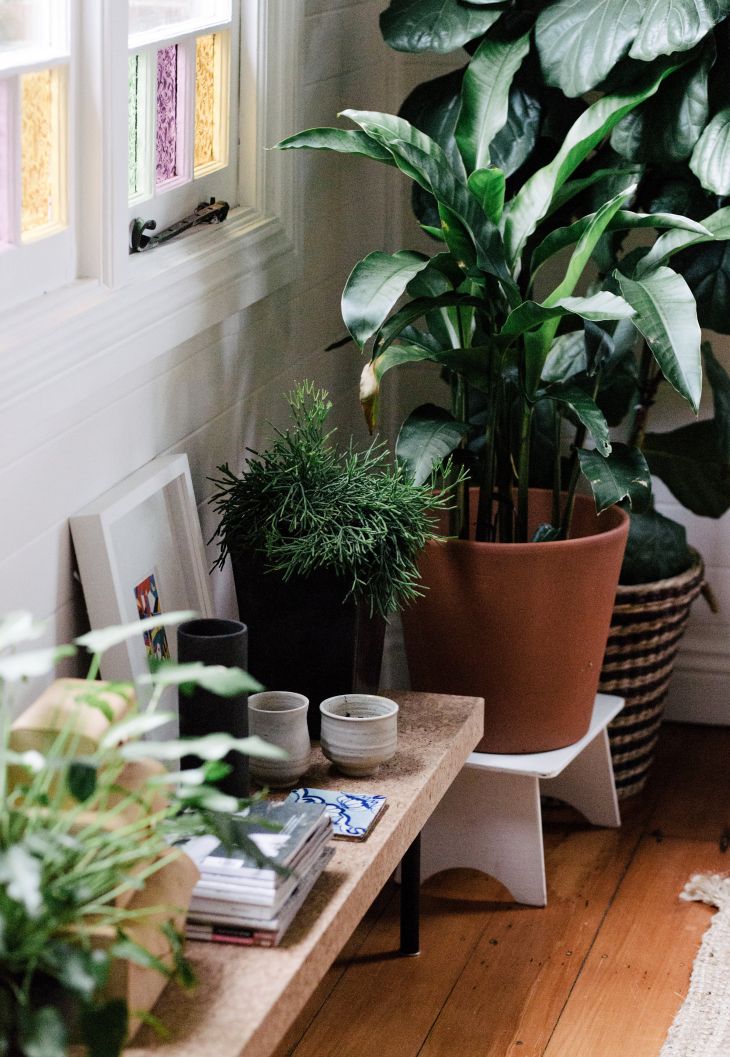 What are you reading / watching / listening to at the moment?
I've spent many years not reading so I am absolutely relishing in my hour long train journeys each way which allow me to absolutely plough through books again. I am currently reading "A Little Life" - an absolutely grueling read that is taking the breath out of my body with its sadness. It's lovely to read about the vulnerabilities and complex friendships between men, it seems a relatively rare thing to read about. I am absolutely lost in it and really don't want to finish it.
Watching - honestly right now we are watching Sons of Anarchy (?!) We just finished 'The People vs. OJ Simpson' which I thought was well done.
I listen to Radio National when I'm in the car, but otherwise I am listening to a fair bit of silence.
I have a subscription to the Australian Chamber Orchestra which is a delight, it's something Mum and I have done together since I was little. It is like 2 hours of intense meditation, you can feel it cut straight to your heart.