Keya & Reuben, West Auckland
Having first met at university, and again at a gig in Auckland, PR and Sales Manager at Lonely Lingerie Keya Matthew and her partner Graphic Designer Reuben Hanaford have warmed up their West Auckland home with the arrival of their baby girl Bo. We timed our visit with a fresh batch of strawberry granola, hot coffee and plenty of bebe cuddles.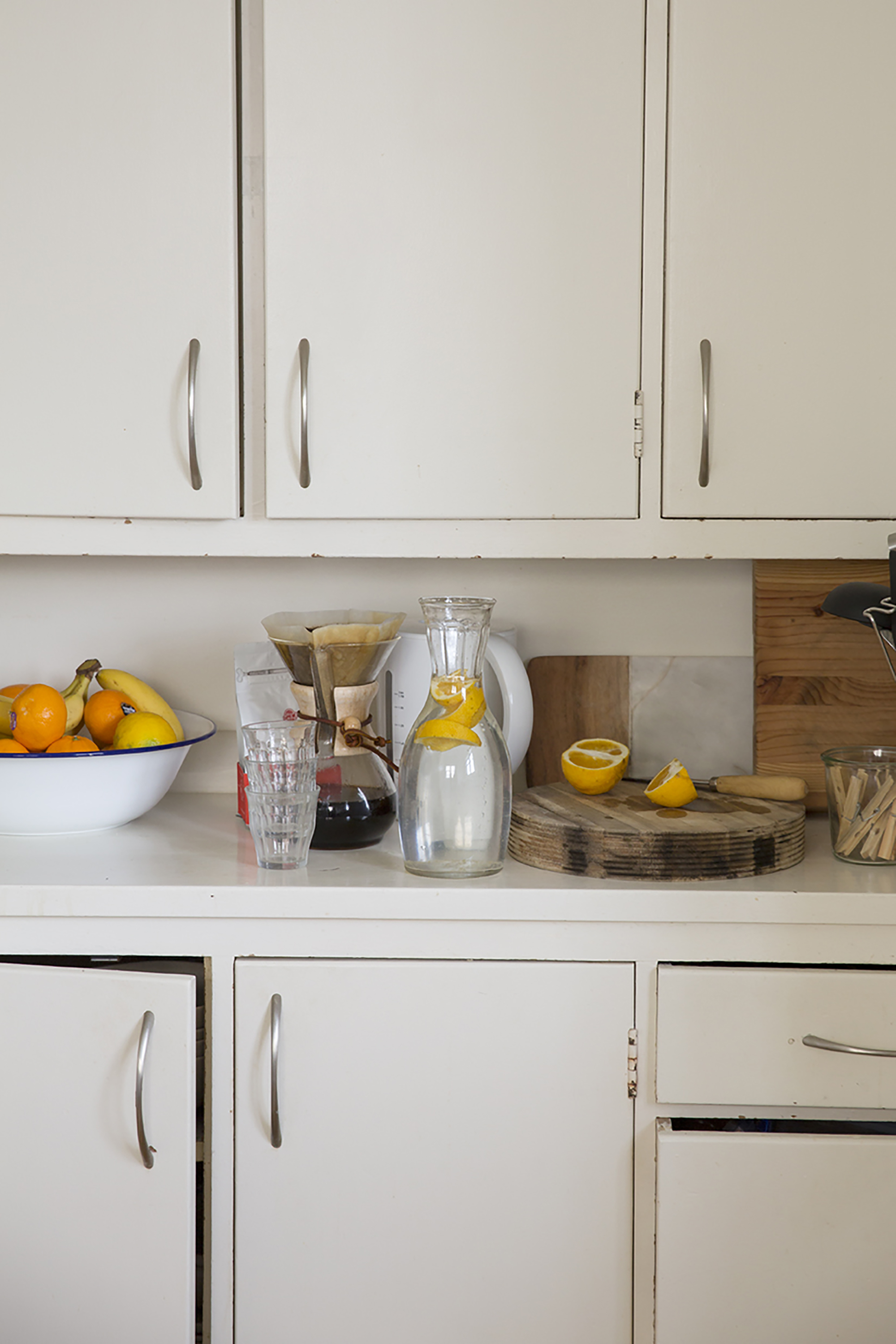 What features do you love about this home, and does this change seasonally?
Inside, I love the natural light. We get lots of sun through our big windows, which is so good for the soul. Outside, I love our neighbourhood: it's diverse and multicultural, with a real sense of community.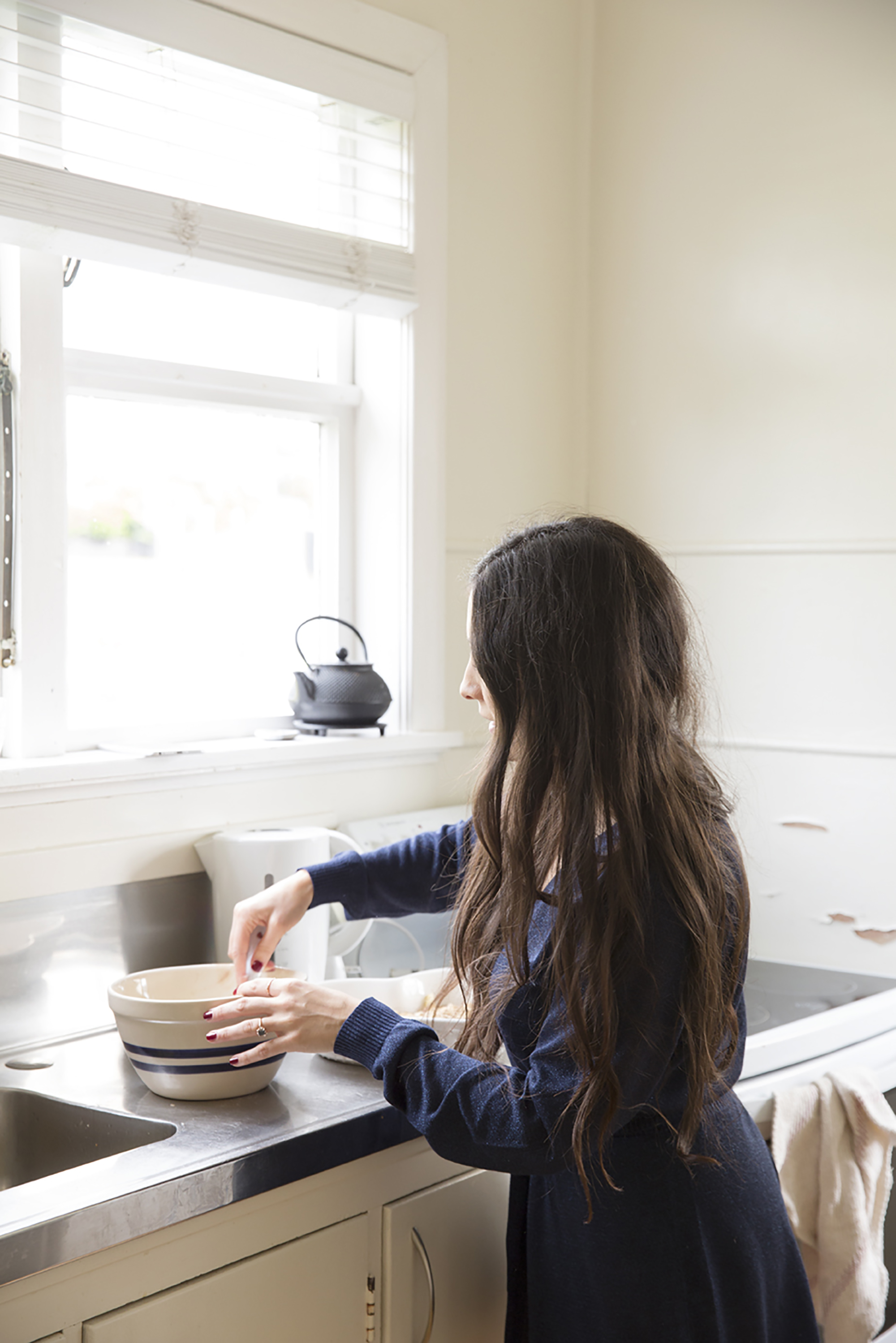 What would be each of your most treasured items, and what are some of the stories/people surrounding these?
Keya I love the art on our walls. Especially the pieces by talented photographer friends, and posters from exhibitions we've been to overseas. I also enjoy finding things for the house when I'm away on work trips. Reuben -- A photo of Bo sleeping on my chest when she was only a couple of days old. Keya got it framed as a surprise on my first Father's Day. Bo -- Her massive stuffed giraffe, she is obsessed with it. The best baby shower gift ever.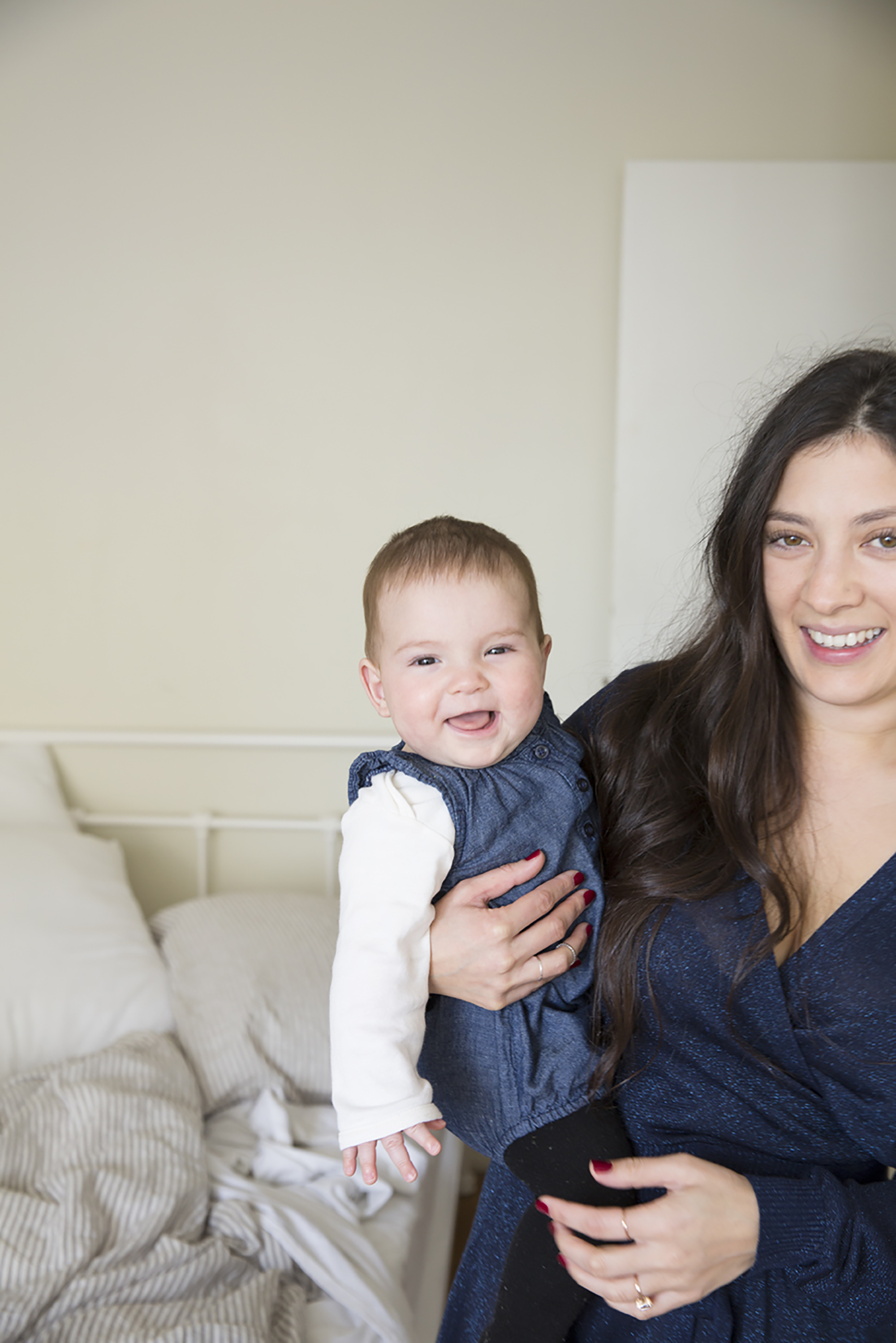 How do you like to spend your weekends as a family?
Bo wakes us up early and we bring her into bed with us for cuddles. It's my favourite time of day with her. The rest of the day is spent eating, walking, reading stories - trying not to make too many plans, which we will inevitably cancel!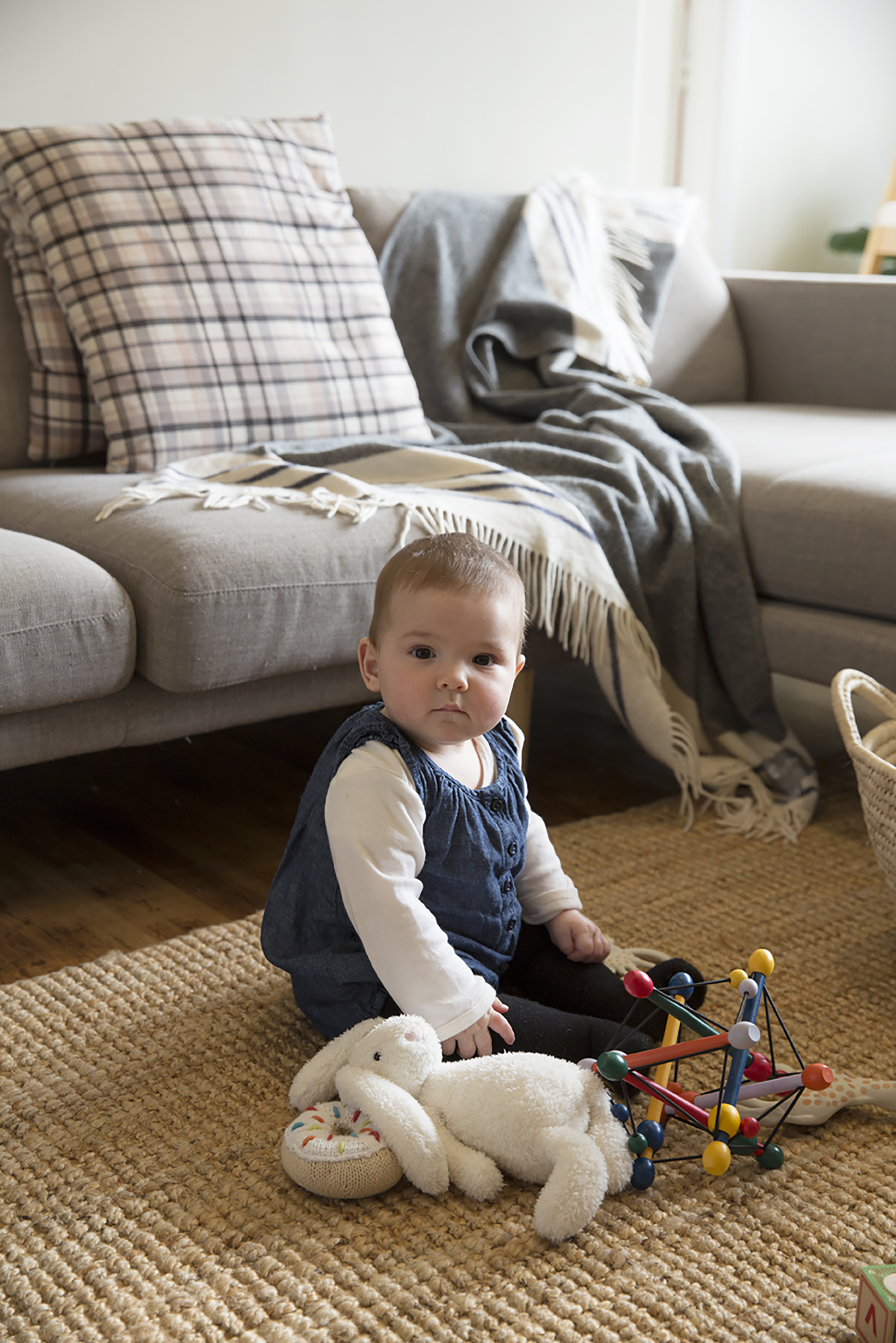 Do you practice any family traditions that were perhaps passed down from your own families?
We'll always make time for bedtime stories. One of us reads the baby Guess How Much I Love You and Goodnight Moon every night, we've done this since the day she was born. I hope she remembers and treasures these simple daily rituals as much as the Christmases and birthdays.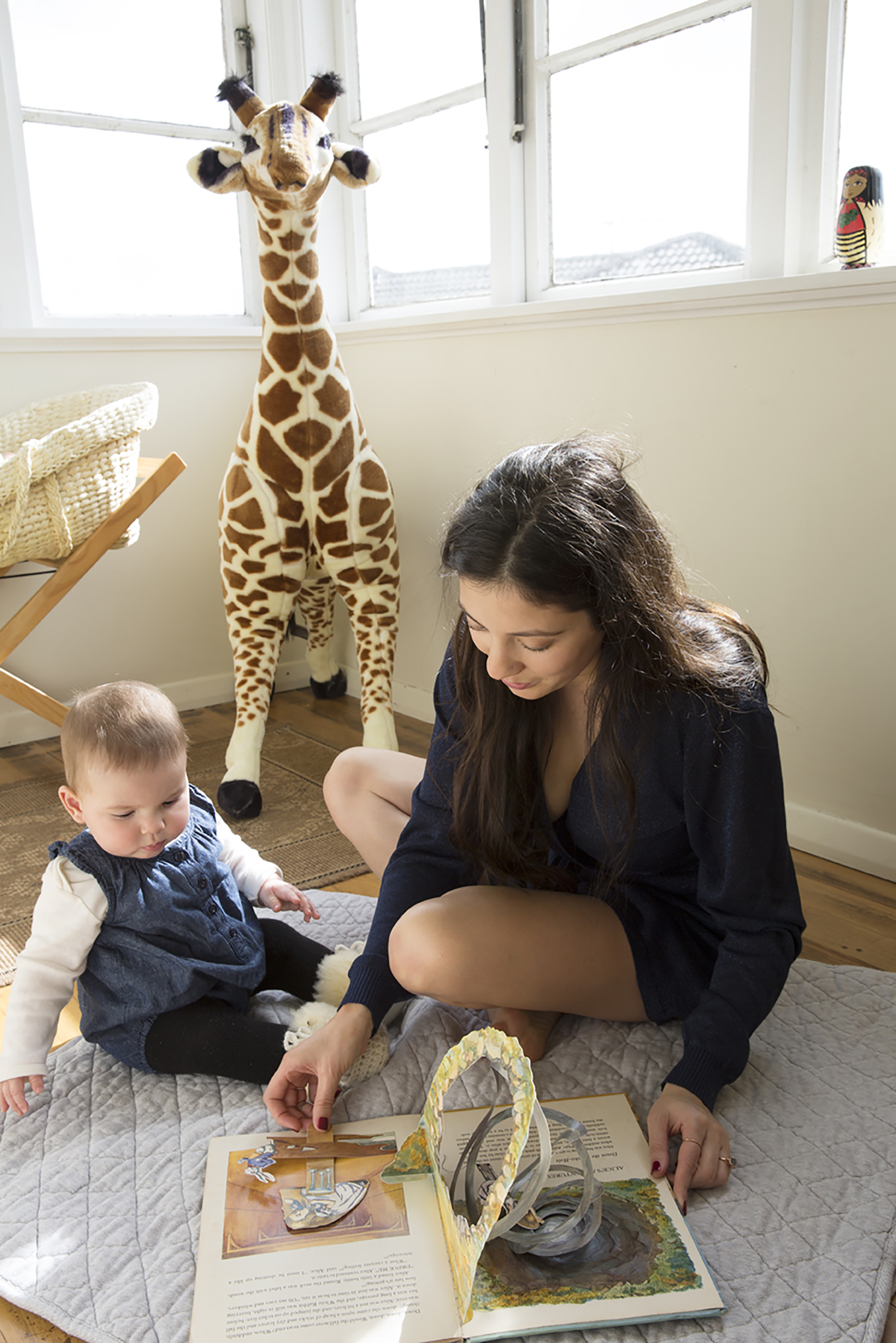 You have a home-away-from-home on Waiheke Island. Can you tell us about your connection to this place?
Waiheke Island is about an hours ferry away from Auckland, and it is absolute paradise. Reubs' mum has a cute little bach there; it's special to us for so many reasons. We spend weekends there doing bush walks through the bird reserve, swimming at beautiful Onetangi Beach, eating oysters bought from a cute little seafood shack, and drinking great wine at the vineyards. We feel so blessed that Bo will get to create so many childhood memories over there.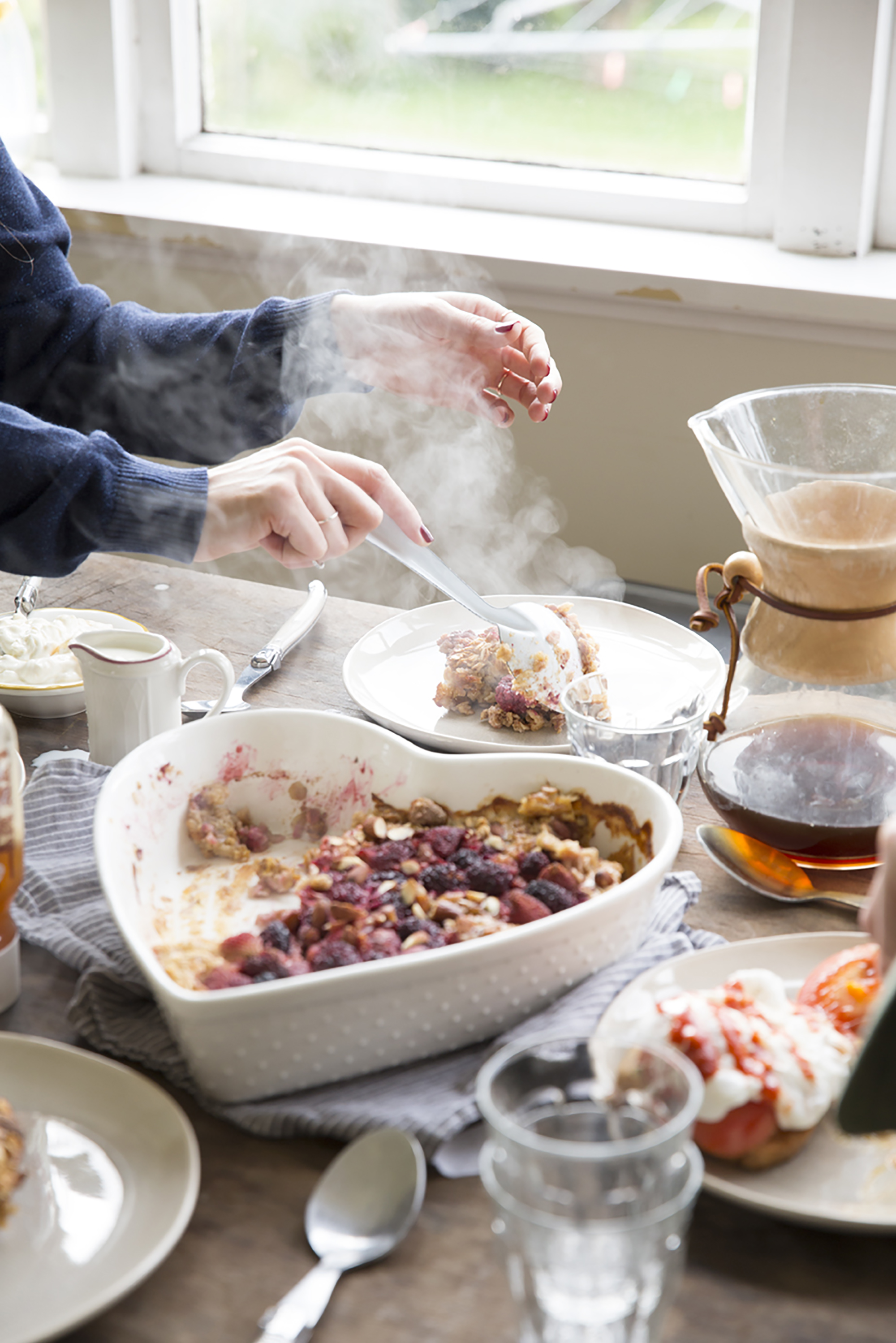 Can you share with us your recipe for the delicious baked oatmeal?
A recipe given to me by Reubs' sister – they make it most Sundays in their house and pick away at it throughout the day.
I am terrible at following recipes and being organised with ingredients, so I always make a variation using whatever fruit I have in the house.
2 cups rolled oats
1 cup nuts of your choice, toasted and chopped
1 teaspoon baking powder
1 1/2 teaspoons cinnamon
1/2 teaspoons fine-grain salt
2 cups milk
1/3 cup maple syrup or honey
1 large egg
3 tablespoons unsalted butter, melted
2 teaspoons vanilla extract
2 bananas, sliced into 1/2-inch pieces
1 1/2 cups blueberries or a mix of berries
Preheat the oven to 375 degrees. Butter the inside of a square 8-inch baking dish.
In a bowl, combine the oats, half of the nuts, the baking powder, cinnamon, and salt.
In another bowl, whisk together the maple syrup, the milk, egg, half of the butter, and the vanilla.
Spread a single layer of bananas across the bottom of the buttered baking dish. Sprinkle about two-thirds of the berries on top. Cover all that with the oat mixture and then drizzle the milk mixture over the oats. Scatter the remaining berries and walnuts over the top.
Bake for 35 to 45 minutes, until the top is golden and the oats are set. Let cool for a few minutes. Drizzle with the remaining melted butter and serve.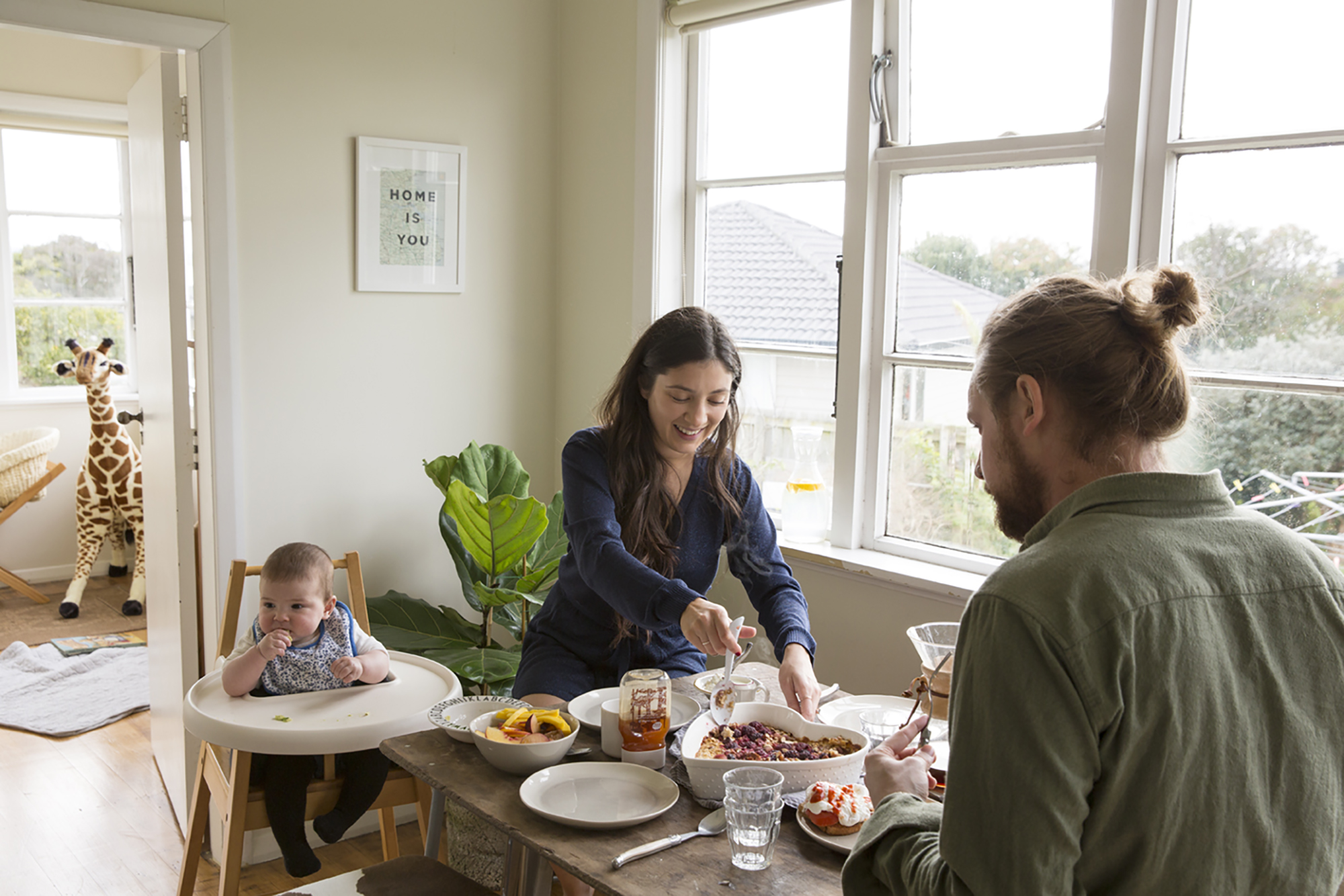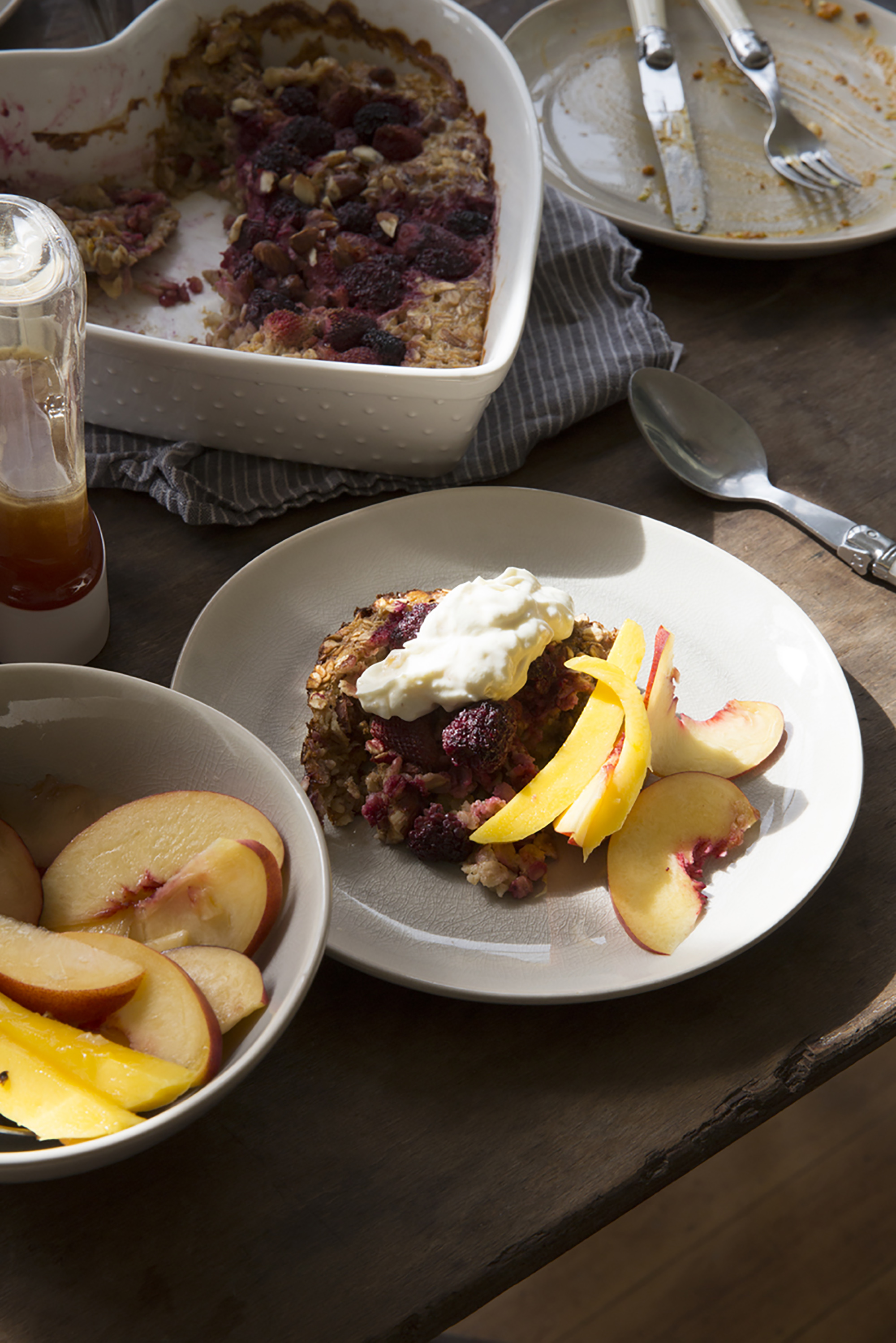 What do you wish you had more of?
The odd sleep-in would be nice.
What do you wish you less of?
Less of an urge to look at my phone! I don't want to look back at Bo's childhood and regret wasting hours on Instagram.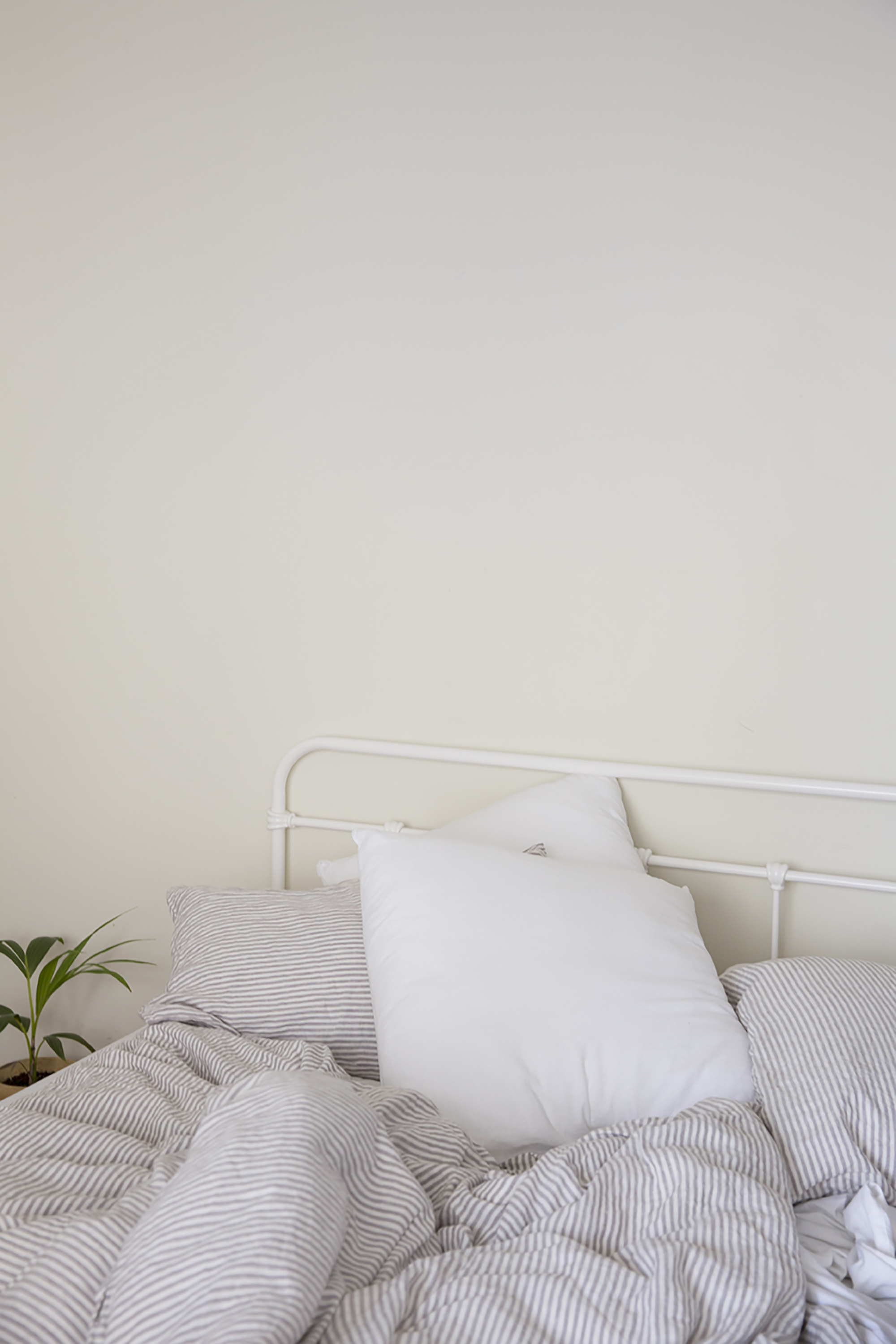 How are you planning on enjoying the rest of your summer?
Building sandcastles and drinking wine on Waiheke Island.