Caramelised Onion Frittata with Slow Roasted Tomatoes
Words, Images & Recipe by Sam Hillman
Ingredients:
1 good handful of cherry tomatoes
a small handful of thyme leaves
a small handful of fresh basil leaves, torn
1 teaspoon of fresh rosemary, minced
8 eggs
½ cup of grated Parmesan
2 large brown onions, halved and thinly sliced
½ – ¾ cup** of marinated goats cheese***
Method:
Preheat oven to 200 degrees Celsius. Toss the tomatoes in a tablespoon of the olive and the thyme. Season with salt and pepper. If you're not afraid of garlic in the morning****, smash a few cloves with the back of the knife and pop them on the tray too. Roast the whole shebang for 20 minutes or until blistered and soft.
Meanwhile, whisk the eggs together with the Parmesan, rosemary, basil, and season with salt and pepper.
Heat a tablespoon of the oil an ovenproof nonstick skillet. Cook over medium heat until soft and caramelized. Lower the heat. Then, add the egg mixture and stir to combine with the onions. Scatter the marinated goat cheese evenly atop (lest fate serve you the barren slice).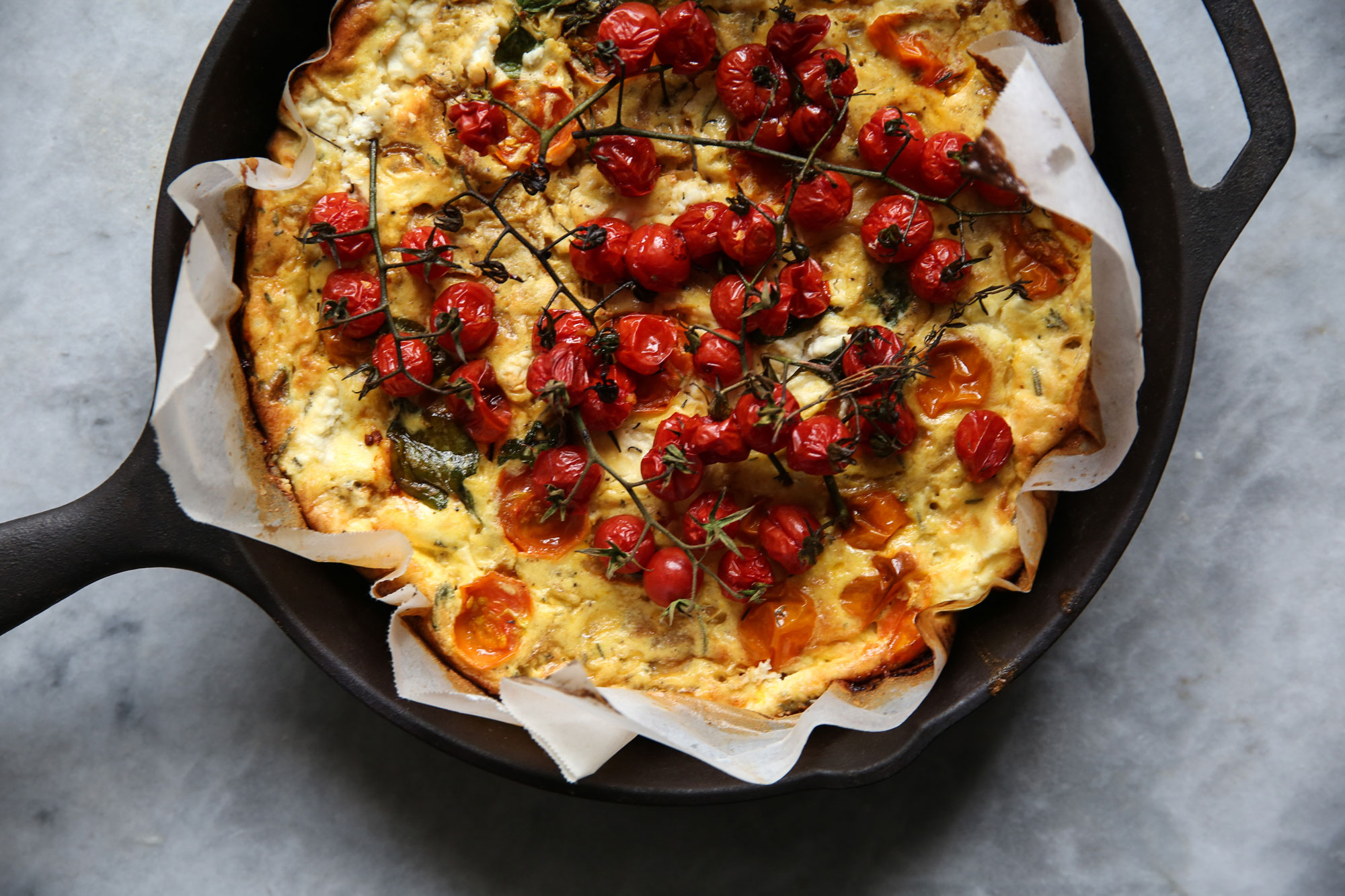 Allow to set slightly in the pan (about a minute or so should do the trick). Then, transfer to the oven and bake for just under ten minutes. Check for doneness around seven minutes in. A teensy bit wobbly is okay, as it will likely firm up a tad after you remove it. If it's still runny pop it back in for another teensy stint.
When it's no longer piping hot, cut into wedges. Serve warm or at room temperature, with greens or toast or whatever takes your fancy.
If you're feeling extravagant / carnivorous, prosciutto is another great topping.
*I used tiny ones on the vine, so kept them whole, but it's probably good to slice regular cherry tomatoes in half.
**more is more.
***Meredith Dairy is the undisputed best in my books.
****Don't be.