Holly Ryan, Coolum
Words by Elisha Kennedy
We've swooned over Holly Ryan's jewellery since her first collection years ago. All minimal and effortless, the fine silver and gold pieces she hand makes in her Coolum studio are mini, crafted sculptures to be worn and treasured. Holly has built her life with the intention of balance and while her weekdays are long and laborious at the jeweller's bench she has cushioned them with gentle, simple pleasures; walking her dog Hugo on the beach, hiking the mountain and cooking wholesome, nourishing meals at home.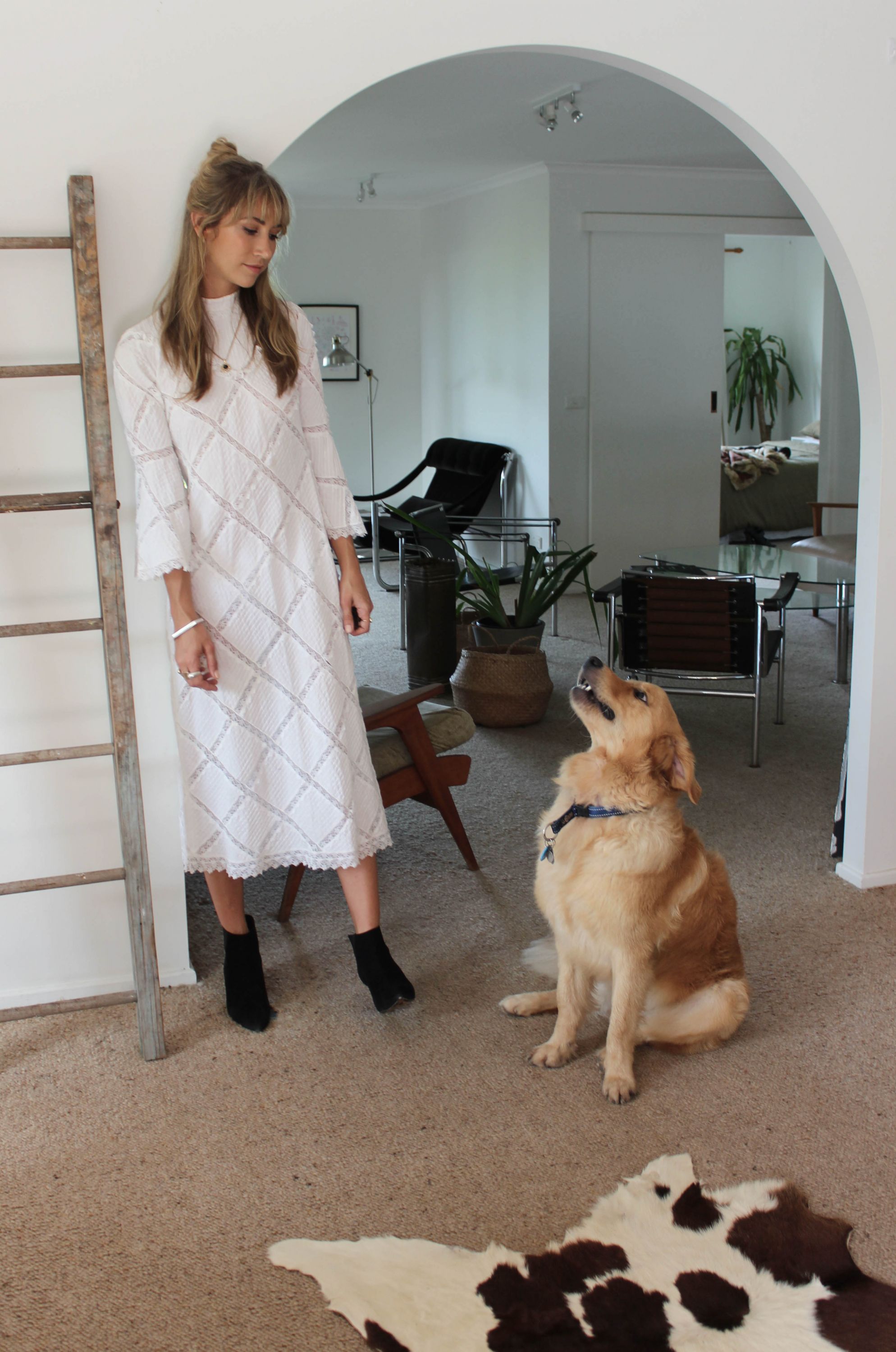 Her sunlit apartment by Coolum Beach feels like stepping straight back into the seventies - all clean lines and texture. The furniture is minimal; a pair of Le Corbusier leather sling chairs sit in between plants, there are sheepskin rugs and artworks peppered across walls. Like her work, her home expresses integrity, character and a deep appreciation for the art and architecture.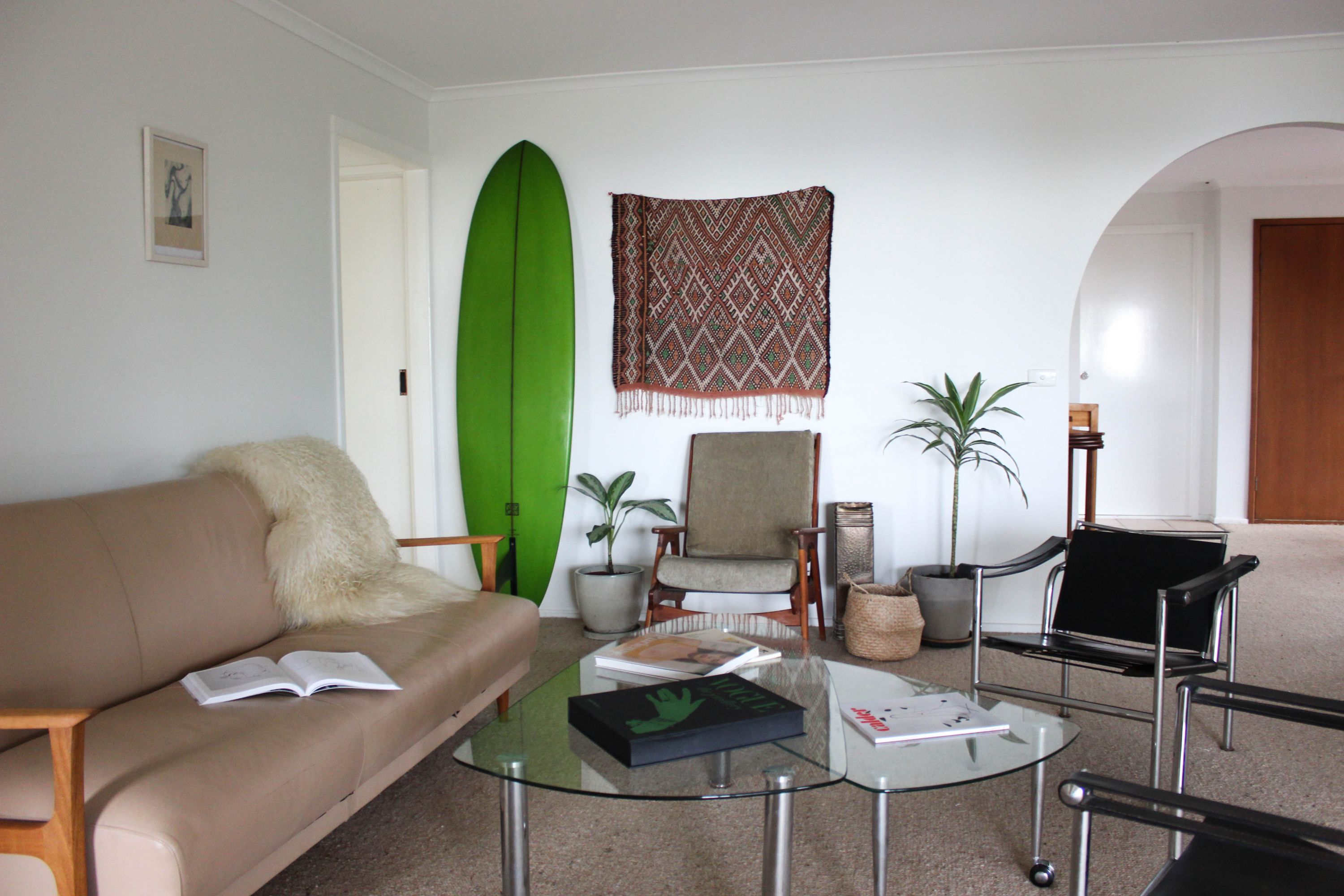 Tell us about what you do.
I am a jewellery and fashion designer. I design, creative direct, market and work as a silversmith for my self-titled jewellery label. I have a small team and we all work together from my studio in Coolum Beach, Qld.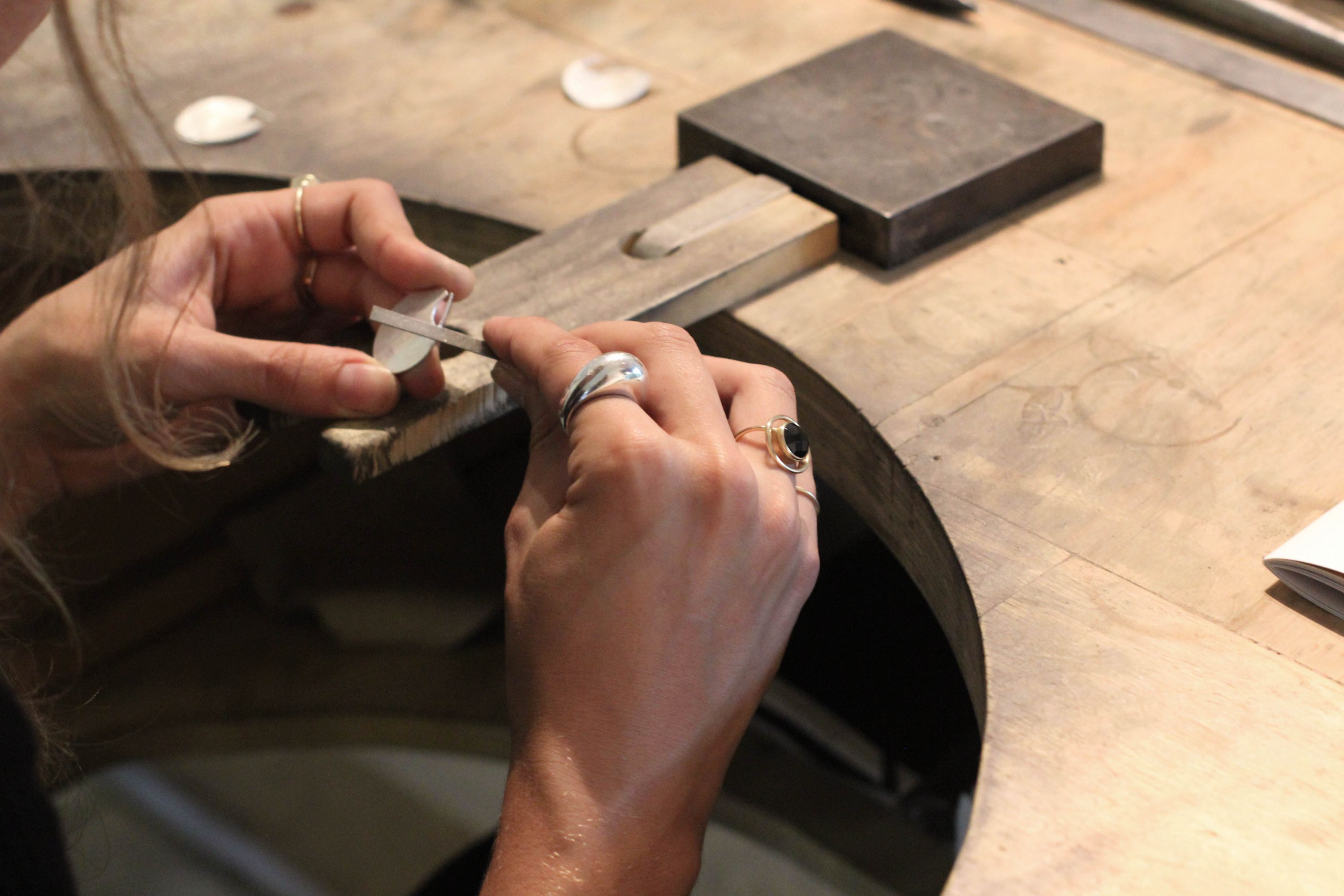 What is the best thing about where you live?
I wake up to the sunrise over the ocean through my bedroom window and it's a 5 minute walk downhill to the beach.
Describe your ideal Sunday?
Recently I have spent a lot of time in cities visiting friends, however ultimately I would prefer to spend the day at the beach, under a waterfall or climbing a mountain. Have an early home-cooked seafood dinner so I can be in bed by about 8pm reading a book and listening to records.
Any bedtime rituals?
I like to burn a candle, drink a chamomile tea and watch a movie or read a book. I also write a list of jobs to be completed for work the next day to clear my head so that I can sleep better.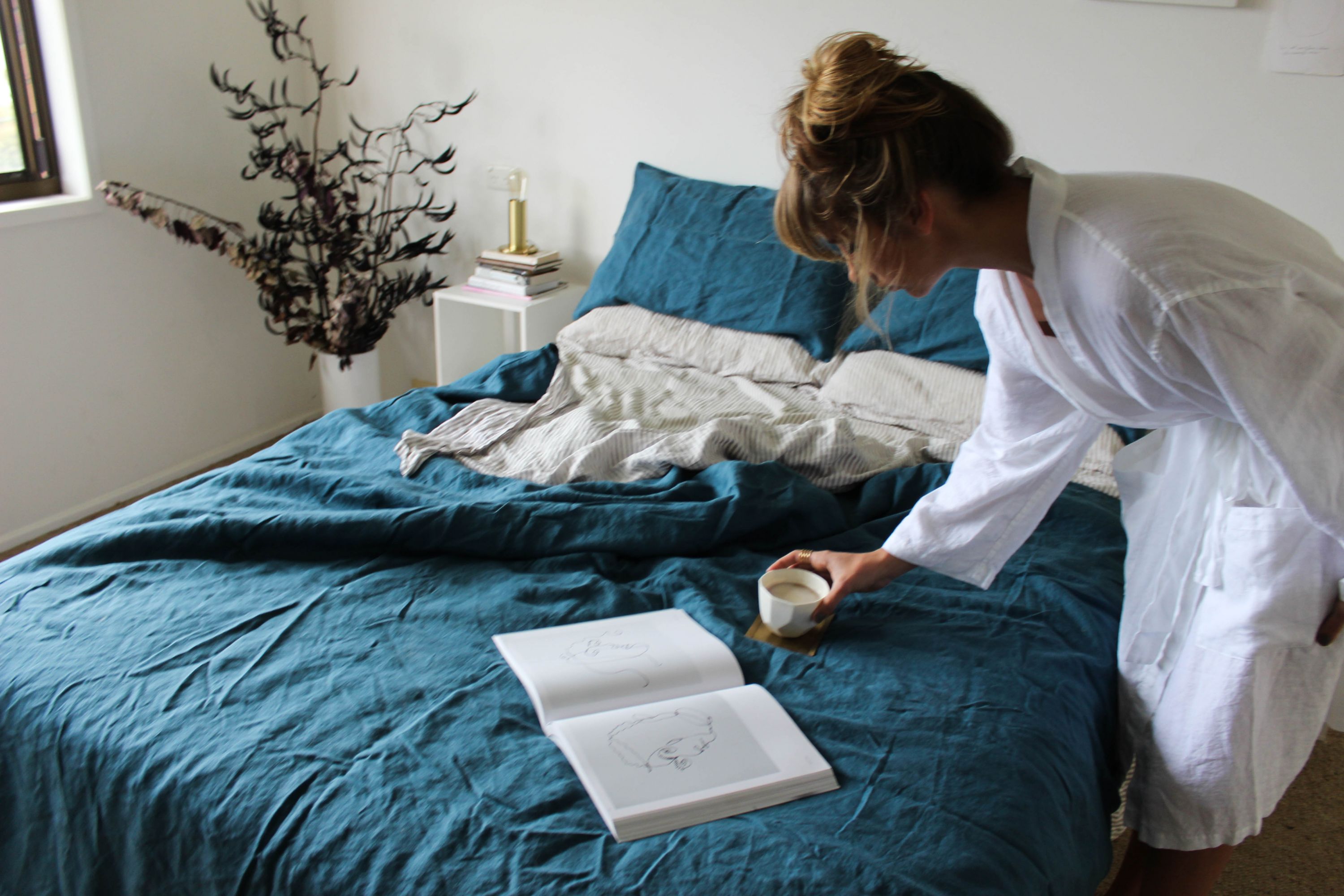 Holly featured with her IN BED linen bedding.
What do you make for dinner alone?
I make nourish bowls quite often, I got the idea from Brown Paper Bag. They typically include brown rice, roast pumpkin and roast zucchini, grated carrot, diced radish and cucumber, avocado, kale/rocket, a boiled egg, prawns/salmon, roast almonds, chilli, ginger, sesame seeds, Mirin sauce, Soy sauce and Kewpie mayonnaise. Sounds like a lot of effort but it's actually really easy and you can substitute most of the ingredients for seasonal veg and things already in your cupboard.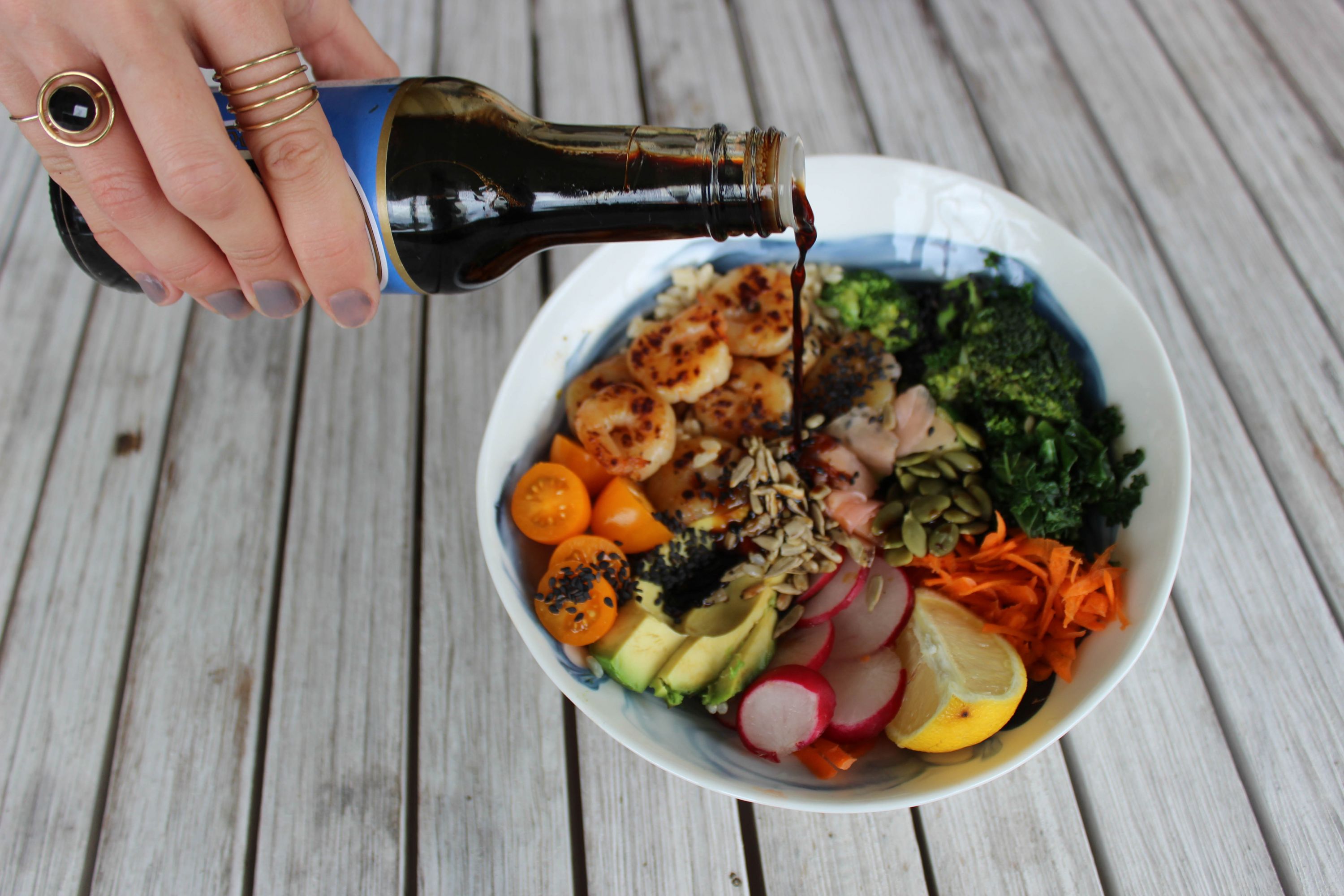 Do you have a hard time turning off your work?
I do because there are so many different elements to my job, so many different hats to wear that my mind never stops ticking. I often go for a run down to the beach after work to unwind. I like switching my phone to flight mode and my big comfy bed and beautiful IN BED linens are a big help too. Making jewellery can be a very physically demanding job so living close to nature and the ocean helps me to remain calm.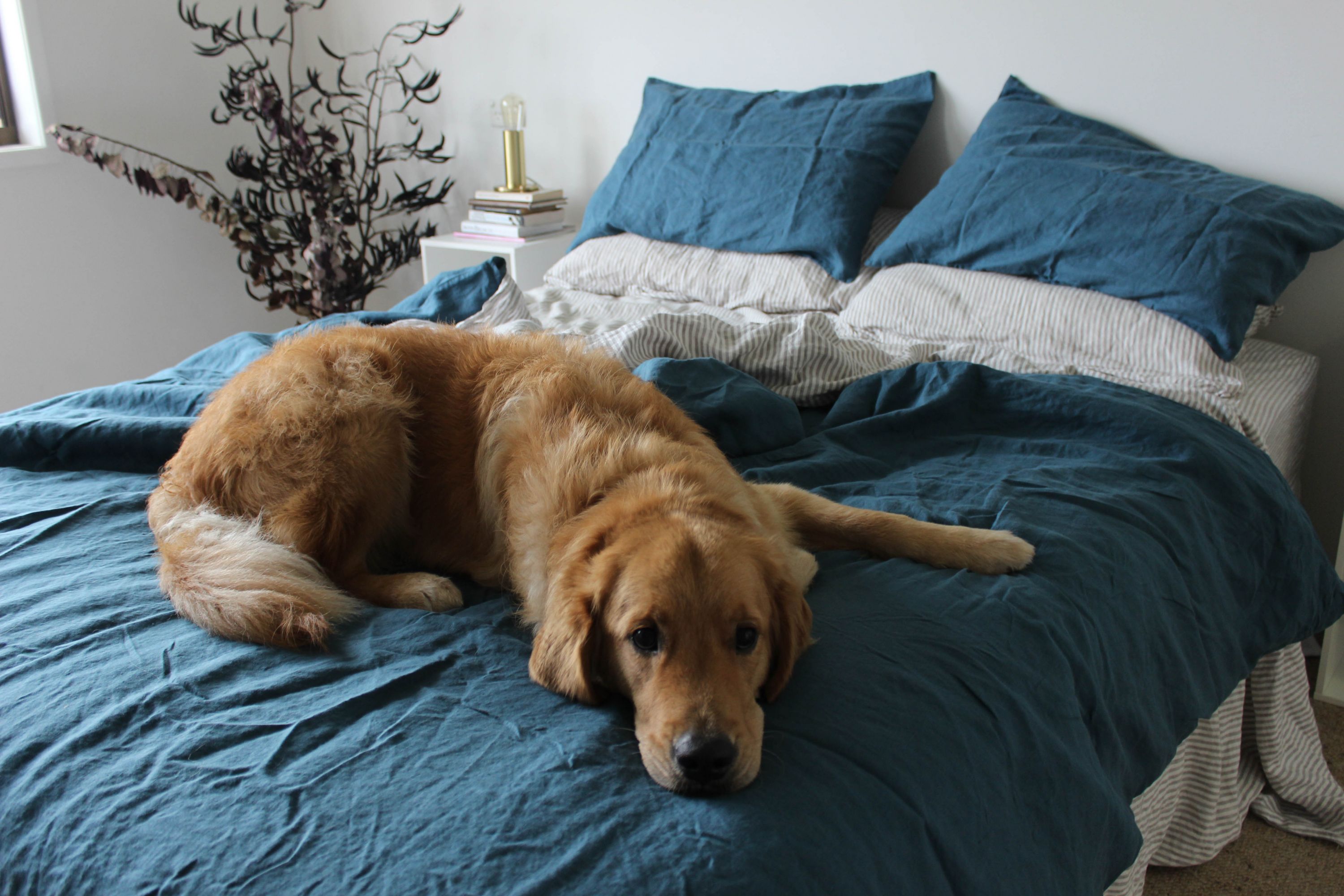 Tell us a bit about your dog Hugo's personality.
He is very playful and a big sweetheart, he gets sooky just for cuddles and he does this conversational mumbling noise which means one thing… "LOVE ME". He will also eat absolutely anything and knows how to make you melt and give in immediately with just one look.
What is something that you're proud of?
I am proud to be doing something that I love. I am proud to have built a business from the ground up with the help of my family, my friends and my team.
What's on your bedside table?
Books, jewellery, a brass lamp and usually a Maison Balzac candle. I have just finished burning 'Le Soleil'.
What (music) is currently playing in your studio?
Some mates of mine run a radio show called 'Beats of No Nation' in Brisbane on 4ZZZ Digital and upload each segment to their Soundcloud (link below). It's a mix of weird and wonderful sounds from all around the globe. It's curated by Dom Bird, Jad Lee and Sean Bate but they also feature a lot of local guest producers who play fresh upbeat mixes of modern and old stuff. It's always happy vibes.
https://soundcloud.com/beatsofnonationradio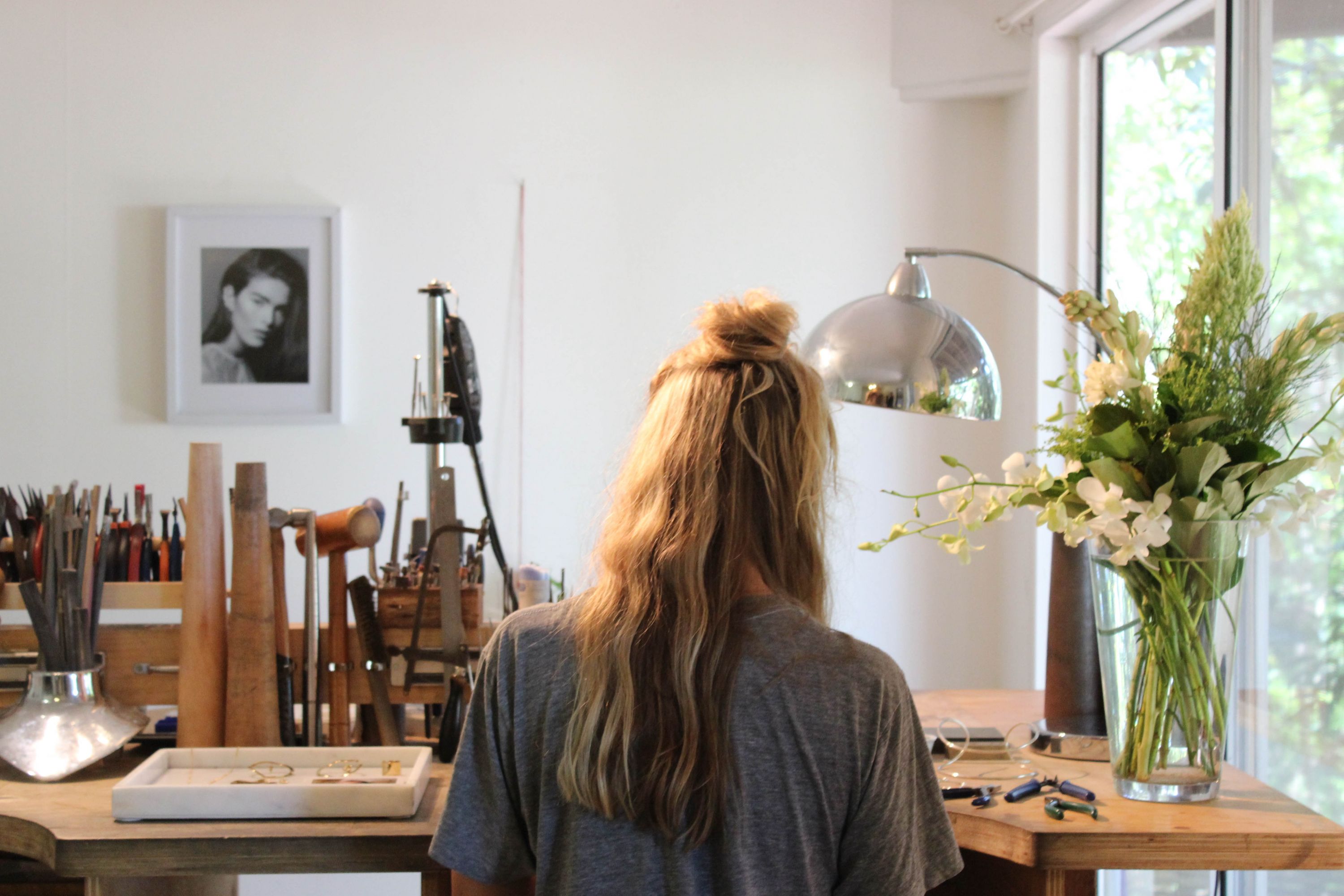 Can you tell us whose work you admire?
Right now I am inspired by and loving line drawings by Christiane Spangsberg and sculptures by Jean Arp and Alexander Calder. I have also always admired Eileen Gray, Le Corbusier, Constantin Brancusi, Carlo Scarpa, Luis Barragan and Matisse who I reference often in my work.
Where will you travel to next?
I am planning on doing a short jewellery course to learn diamond setting in Florence, Italy next year which I am incredibly excited about and I am skipping some of this winter to spend some time in Bali for a much needed mini break in July. I just want to lay around in the sun all day and turn my phone off basically.
See more of Holly's work HERE