Harriet & Felix, Beach Haven
Photographer Harriet Were and designer Felix Henning-Tapley recently adopted the hustle of the city for a quiet little bach-style home near the water and dense native bush. Here, they couple find a clarity and focus that fuels their own various projects, quietly refining what is fast becoming their signature aesthetic — a direction they claim comes about from "approaching things in a way that comes naturally. Not thinking about things too much can be very helpful."
The couple initially met over a mutual appreciation for good shoes and travelling, and it seems lovely timing, then, to meet with Harriet and Felix just after they've returned home from a six-week trip to Japan and India, an experience that afforded them the space and time to think, and seems to be informing their next ventures, this time working together.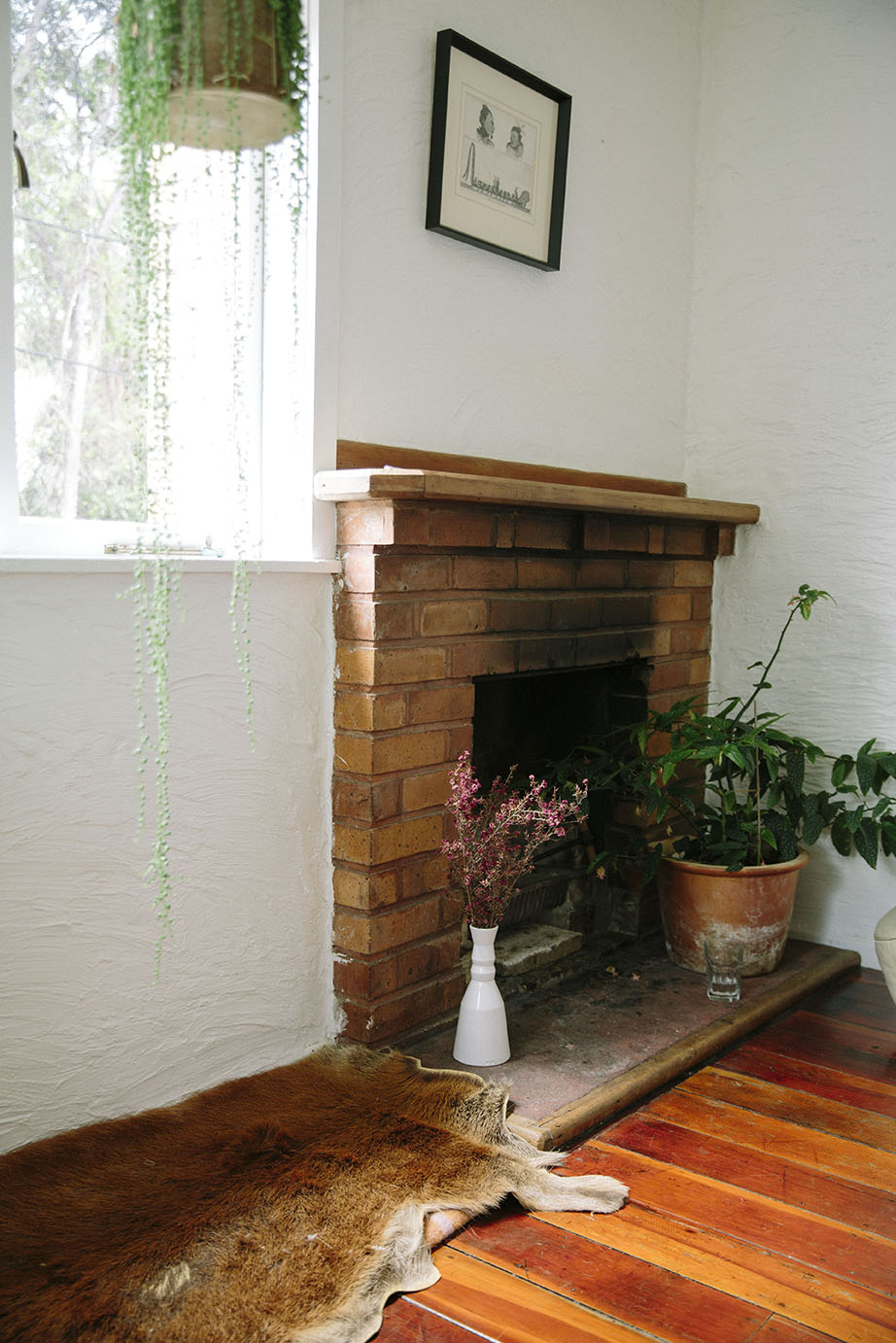 How would you each describe what you do?
H: At the moment I feel like I spend a lot of time thinking. But I also work at Scotties, take photos and get things made.
F: I work for an interesting guy, Cameron, who sells old things and a few books etc. And then I try to work on anything visual. I'm doing mostly design and web stuff at the moment, but the more mixed up the better. I want to do a few accessible books with Harry this year.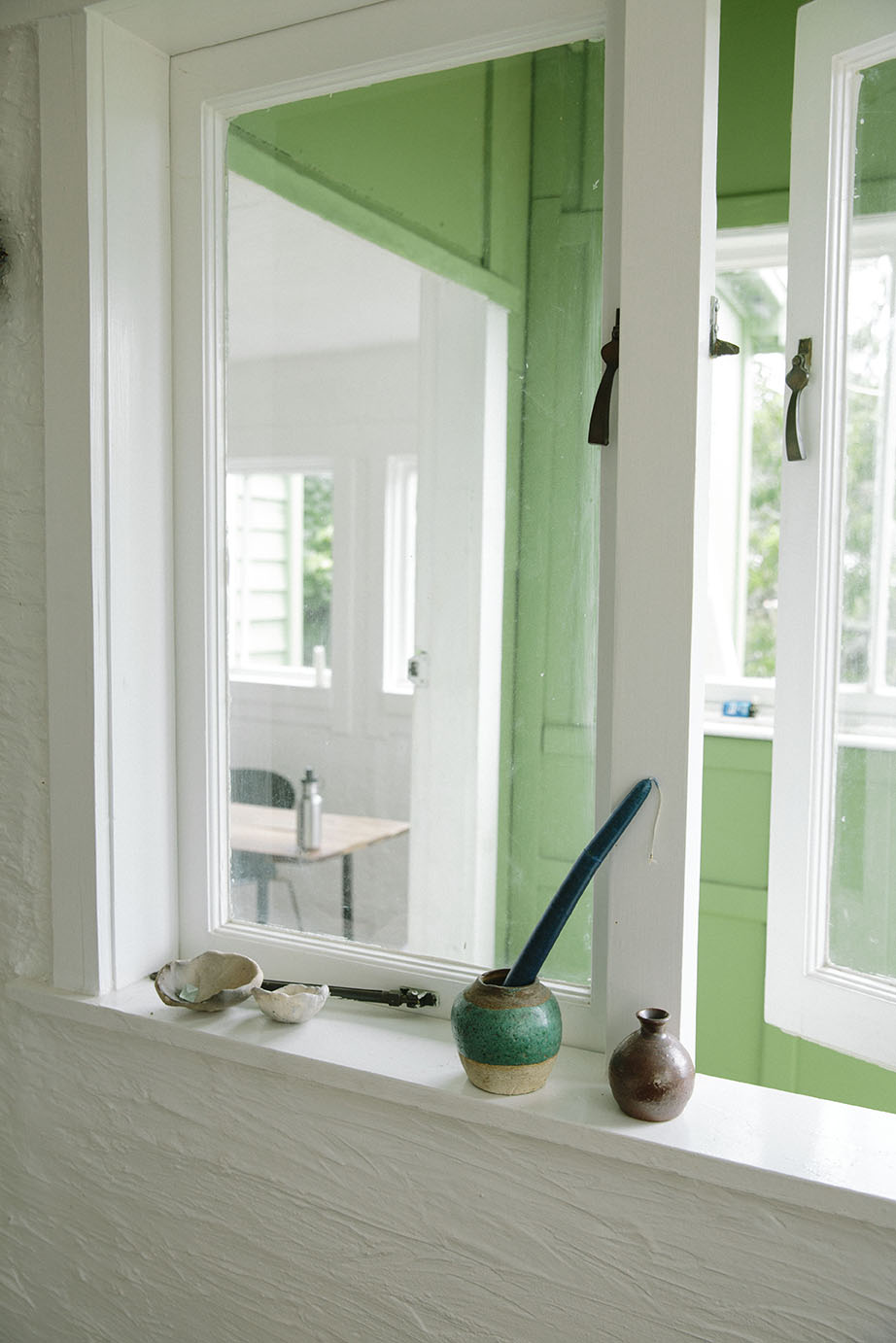 How did you two meet?
F: I was working in dispatch at a roastery in Wellington. Harry got a job as a waitress, and she used to wear to pair of shoes I really liked. She had just come back from Paris / London, and I was about to go. We thought we kept it all a secret but even the General Manager knew.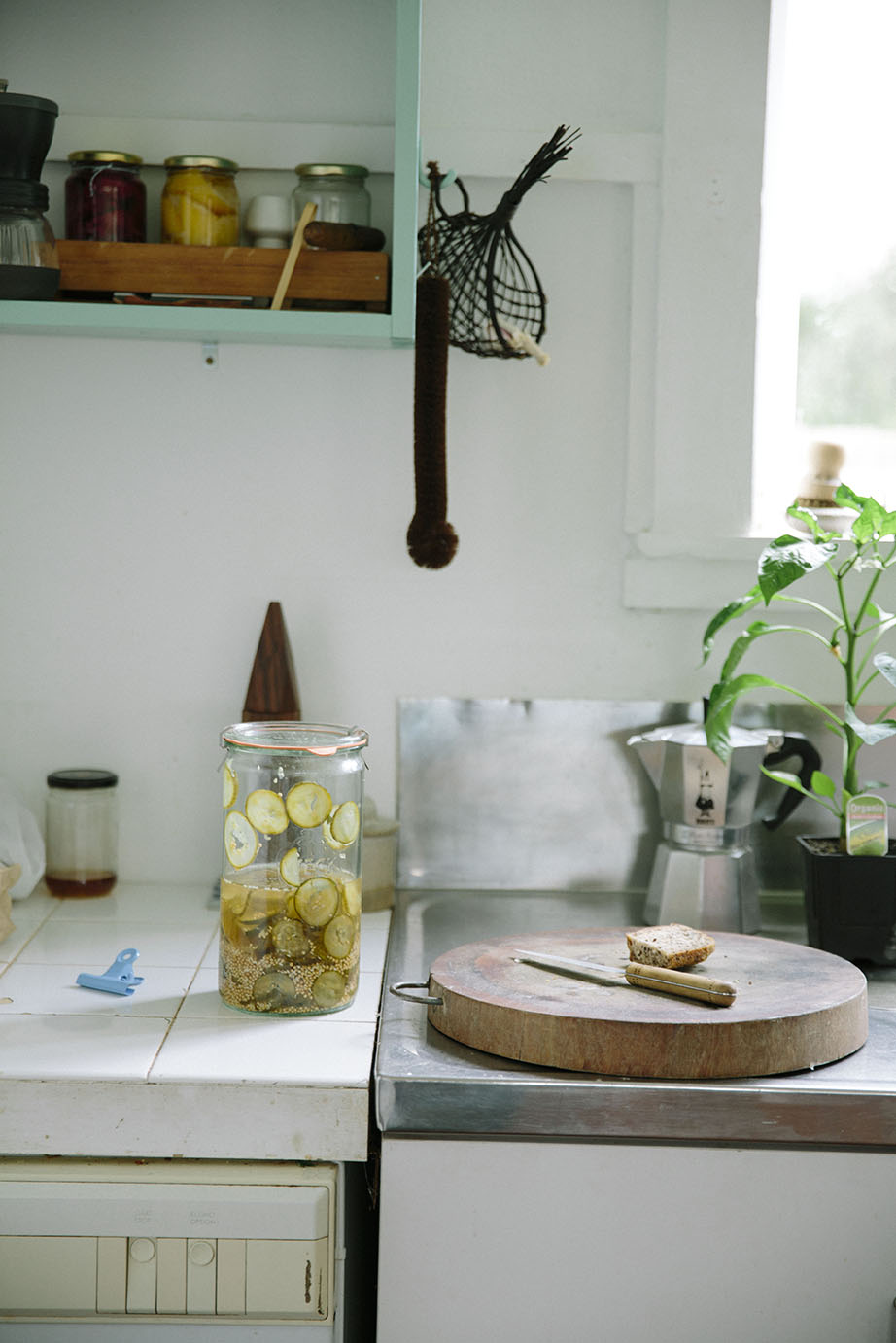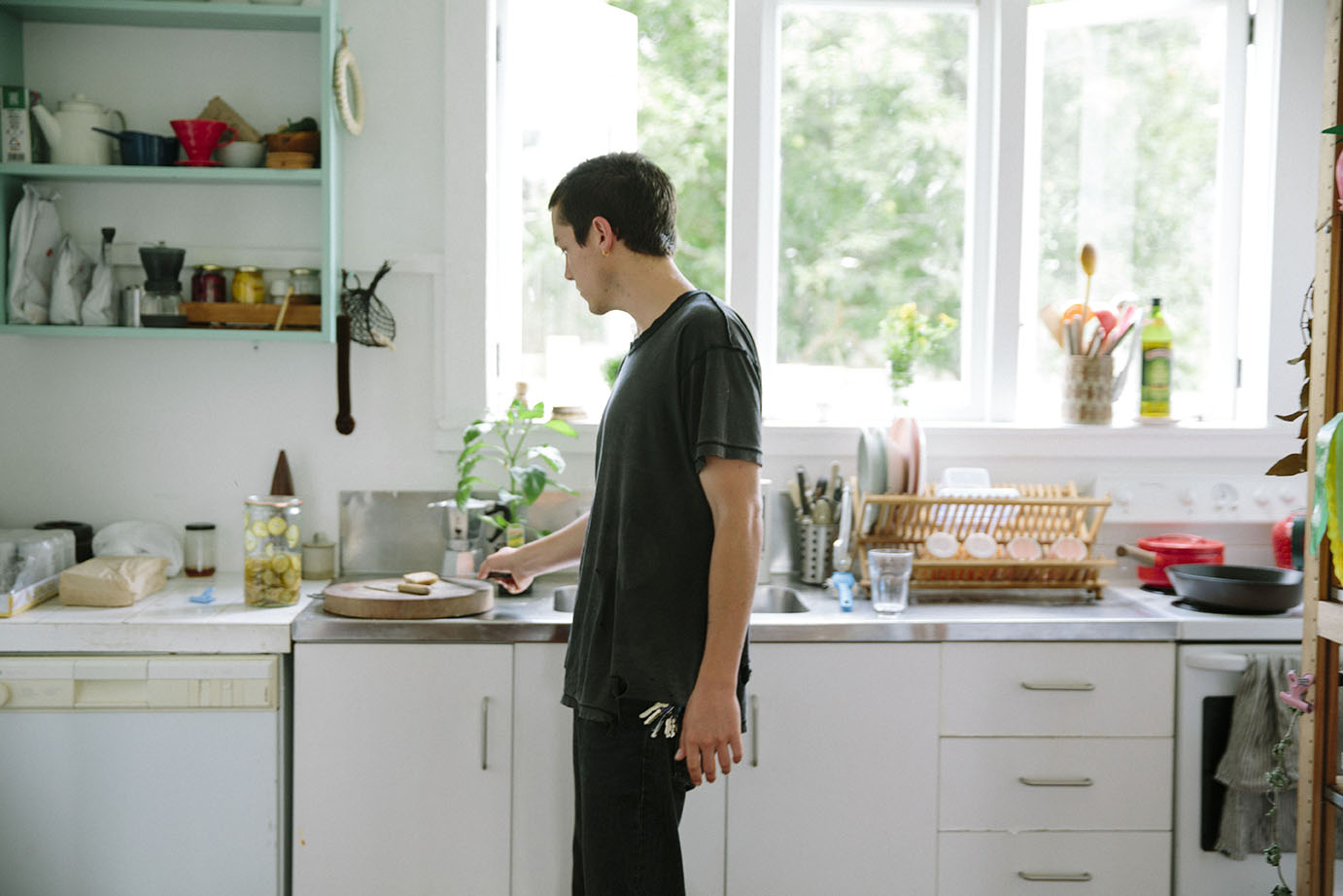 What motivated you guys to make the move to Beach Haven? How does this level of isolation (from the central city) positively serve you both?
H: We were living in Ponsonby, sort of squashed in, and on a busy corner. We made the sunroom a bedroom to make our rent affordable. I don't mind that sort of city living overseas. But while I'm in NZ I want to get all the good bits we've got here. So, we moved to an old little bach in Beach Haven. I think my pup Mabel is pretty happy to be living on a quarter acre section with the bush and sea down the end of the drive.
F: I think because of the relative seclusion here I am able to focus in a way I never really could in the city. I couldn't have spent a day at my desk very easily a year ago.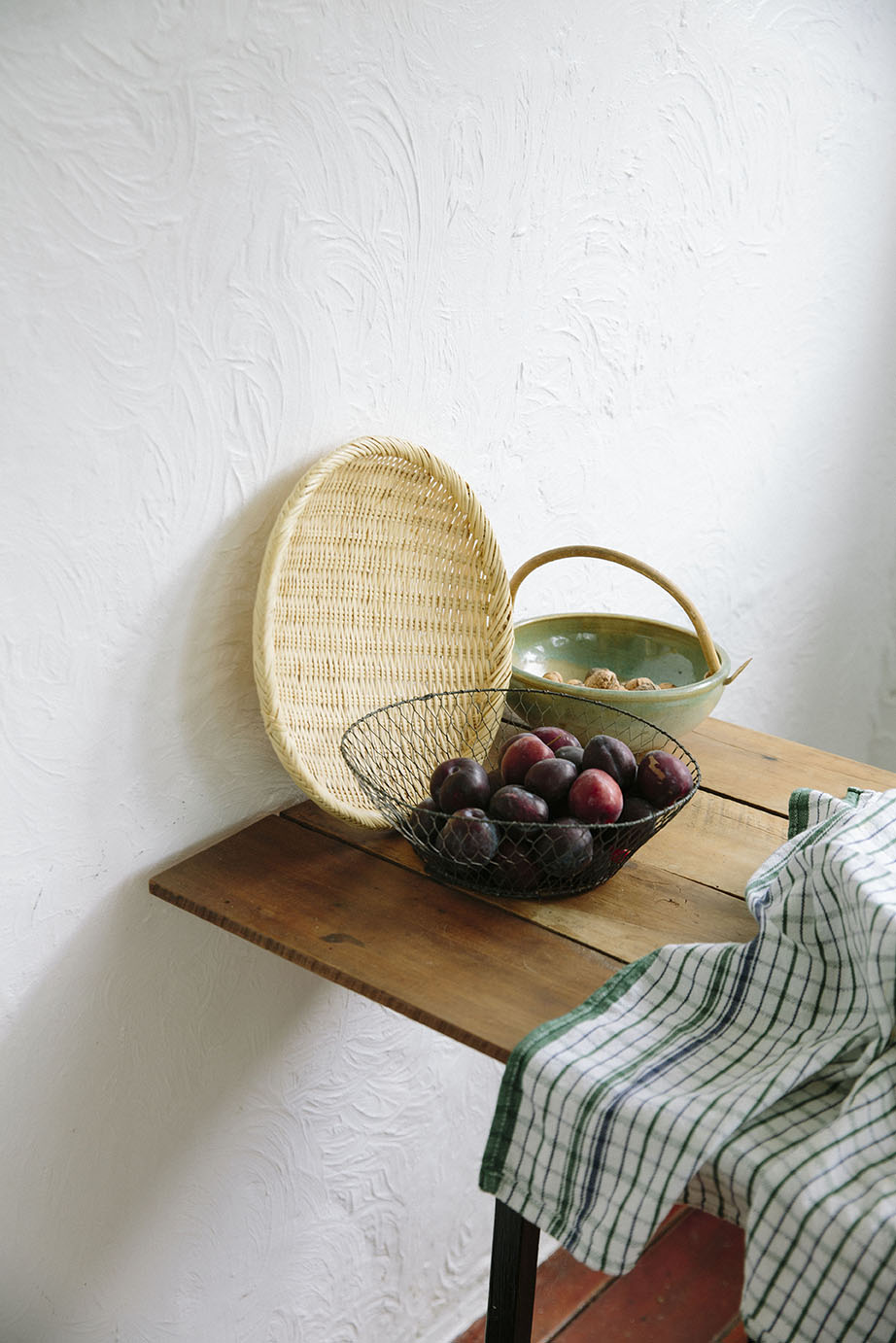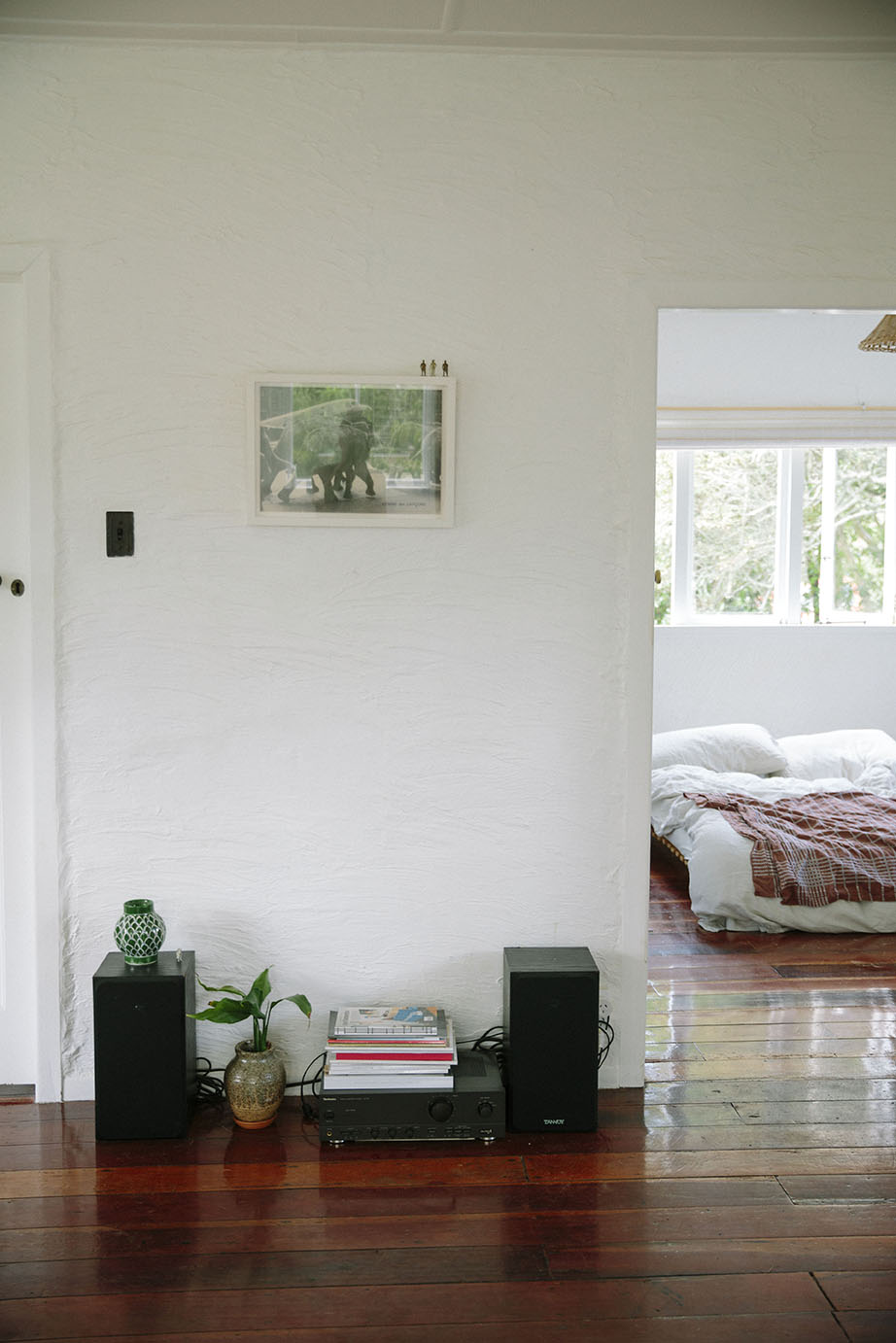 Does your home encourage any daily rituals? If so, what are these?
H: Having a drink in the evening? That's ok, aye? I feel like I am at a bach and on holiday all the time here, especially in summer.
F: I always have a coffee in the morning and a drink at the end of the day regardless of where I am.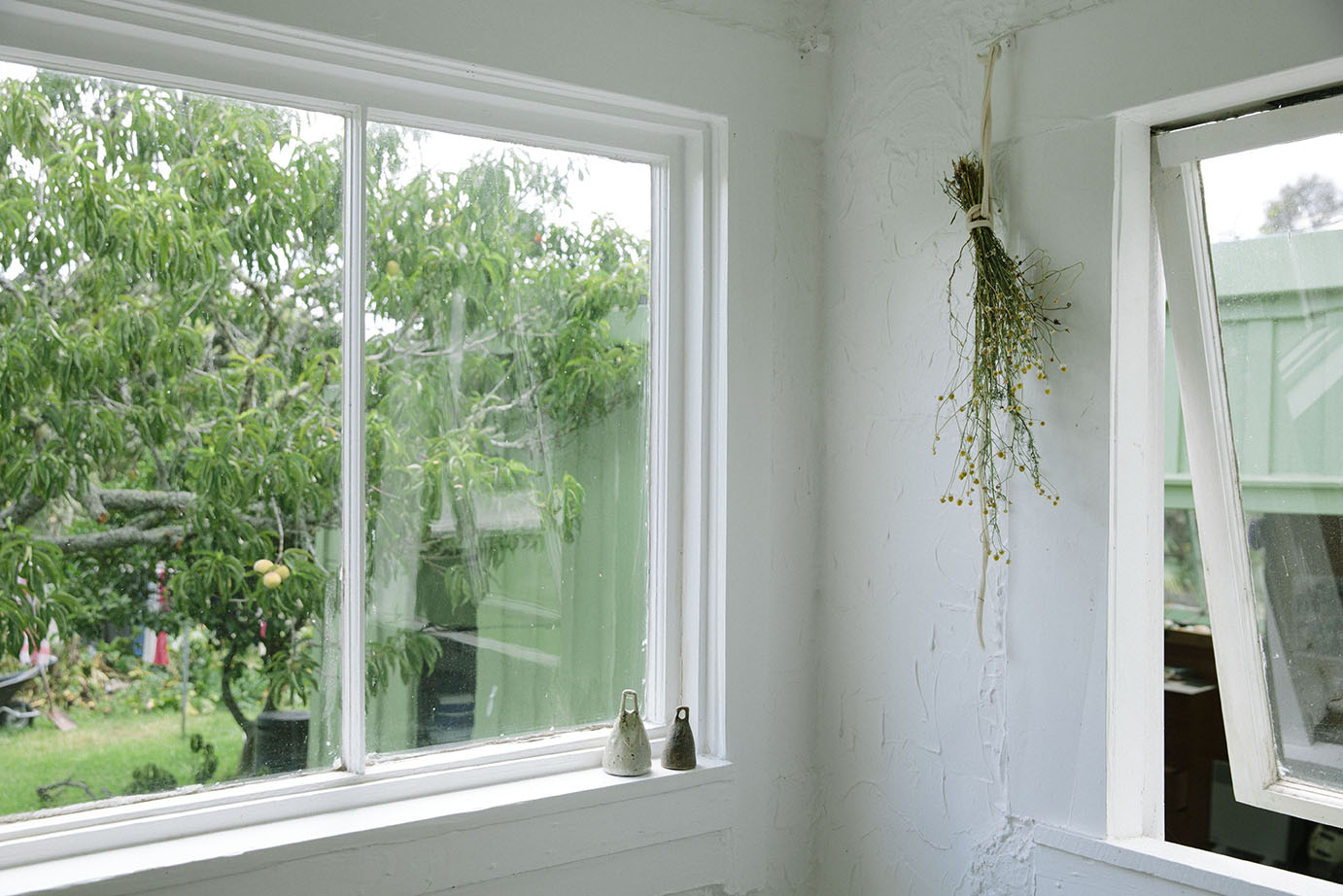 Because, at times, you are both working from home, what are some important elements in your home?
H: Space, and just having the windows clear. All around us we see views of green trees. Not sure if it's good for work, but it is good for the mind!
F: Spatial clarity is pretty important for me. At the moment we have a separate office in the house. We have a chair each and half a Lundia workbench, and that seems to work very well.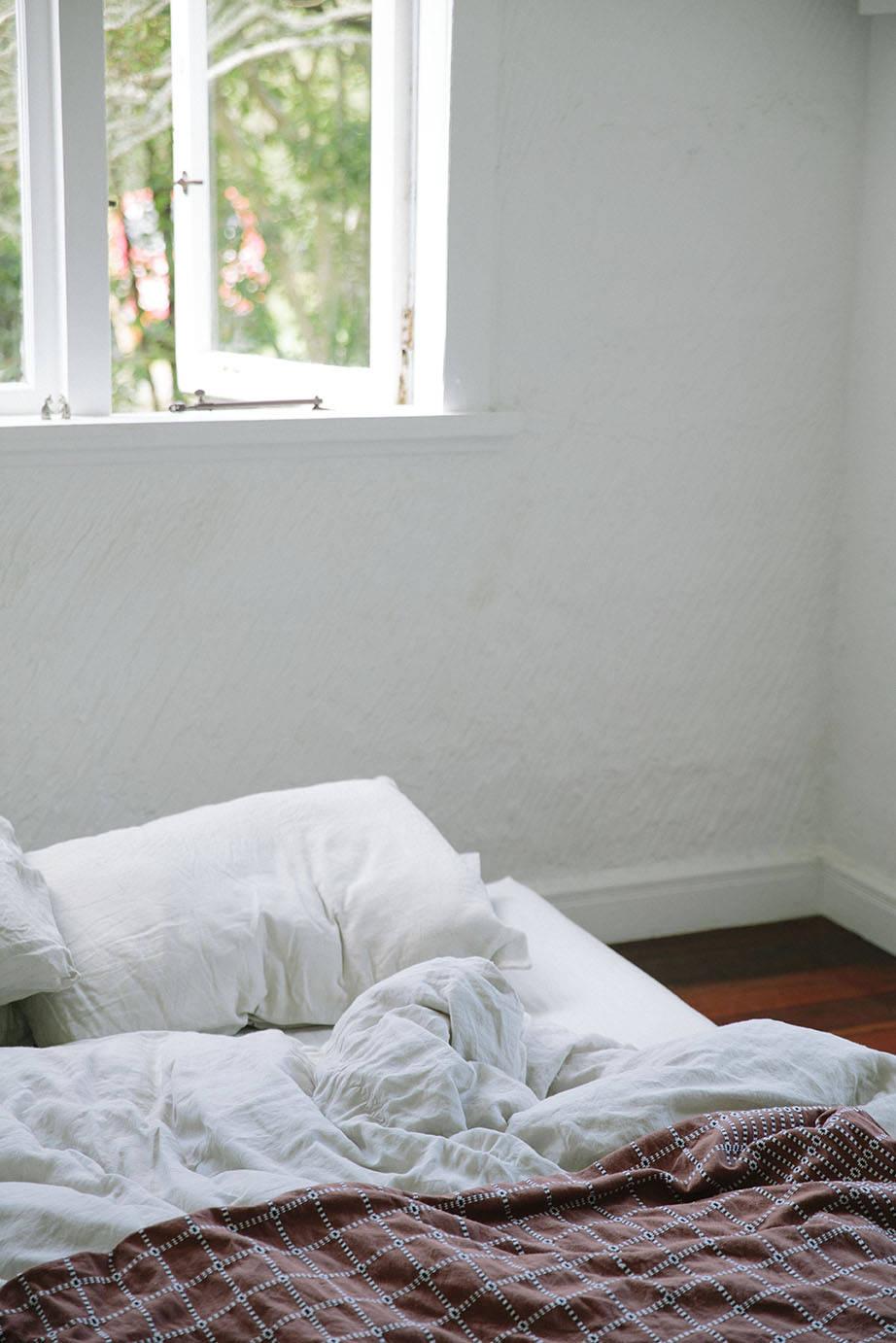 Featured above: IN BED linen sheet set in white
You've just returned from six weeks in India. How did you feel when you came back home? Did you change anything to the look or feel of your home that has been inspired by your travels?
F: Nothing consciously. We just have a few things in the house that we liked and brought back. I light incense in the morning by the front door sometimes. Haha.
H: We threw a lot into a bag for the charity shop once we got back and we had a little sale at Carter's shop. We haven't finished yet though…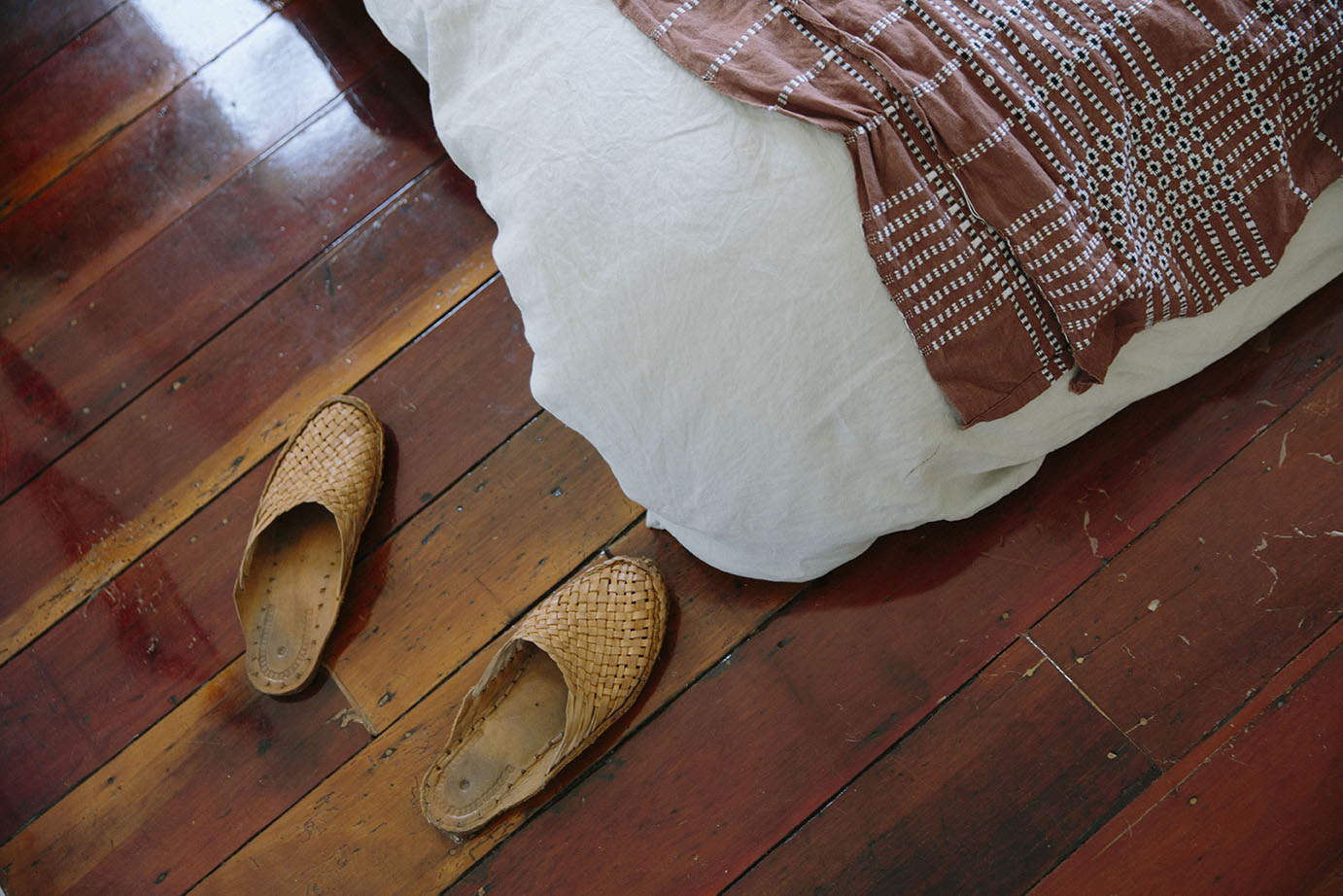 Can you tell us about your reasoning behind having your bed a) low to the ground, and b) not touching any of the bedroom walls?
H: Cam and Gavin (Felix's bosses) gave us that bed the other day. I feel very fortunate, as it's been great for my back. Not touching any walls is a new thing for us.
F: It feels simpler. We are imposing less on our space with a very low futon bed, so it feels lighter. We visited our friend, Rufus, who has just moved into a small one-bedroom apartment. His bed was in the middle of his room. We needed to change our room around so thought we would try that, half jokingly. I'm not sure why it feels so much nicer. It must simply be the luxury of empty space. A few days ago I was looking at random Donald Judd related bedrooms, and all the beds were in the middle of the room.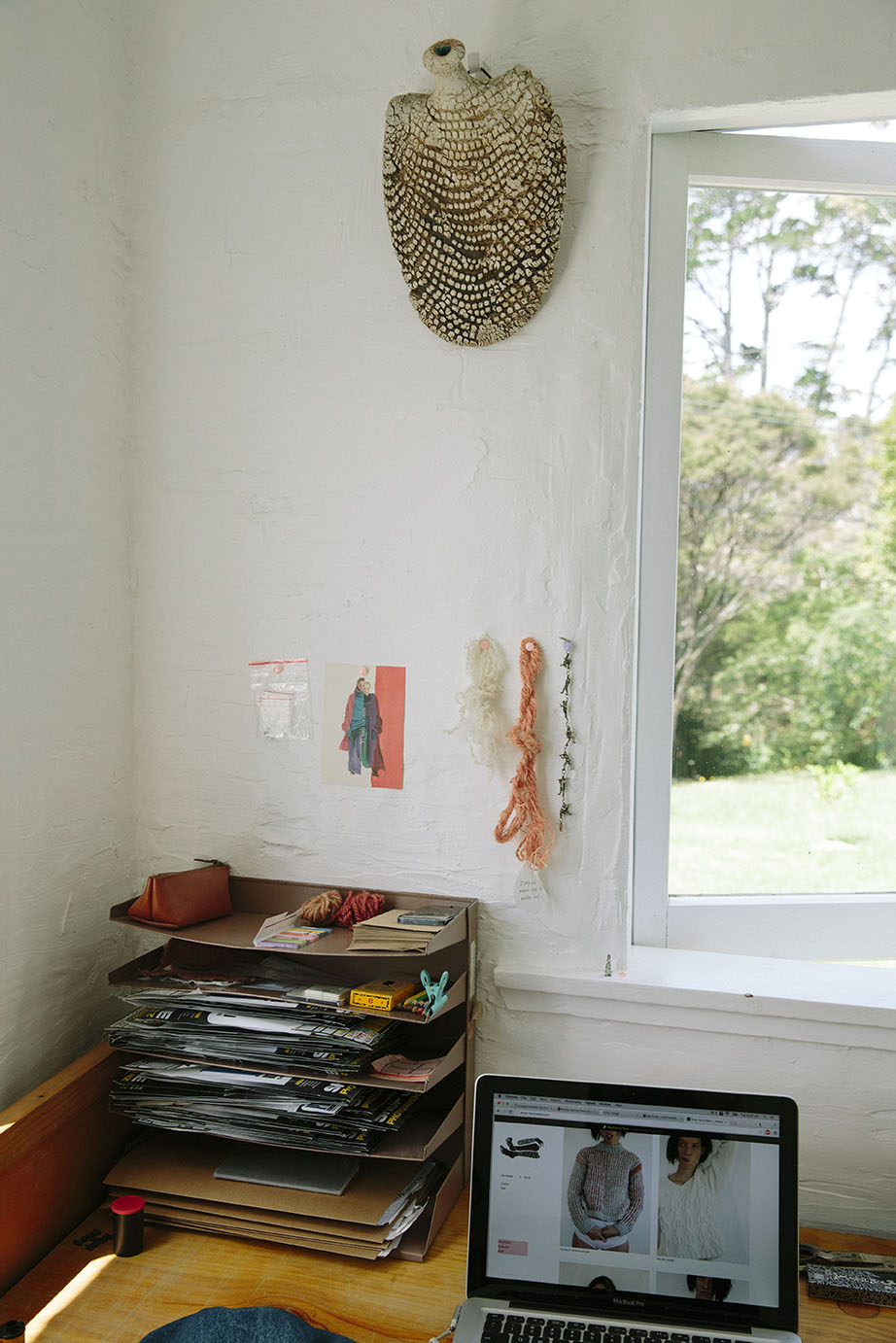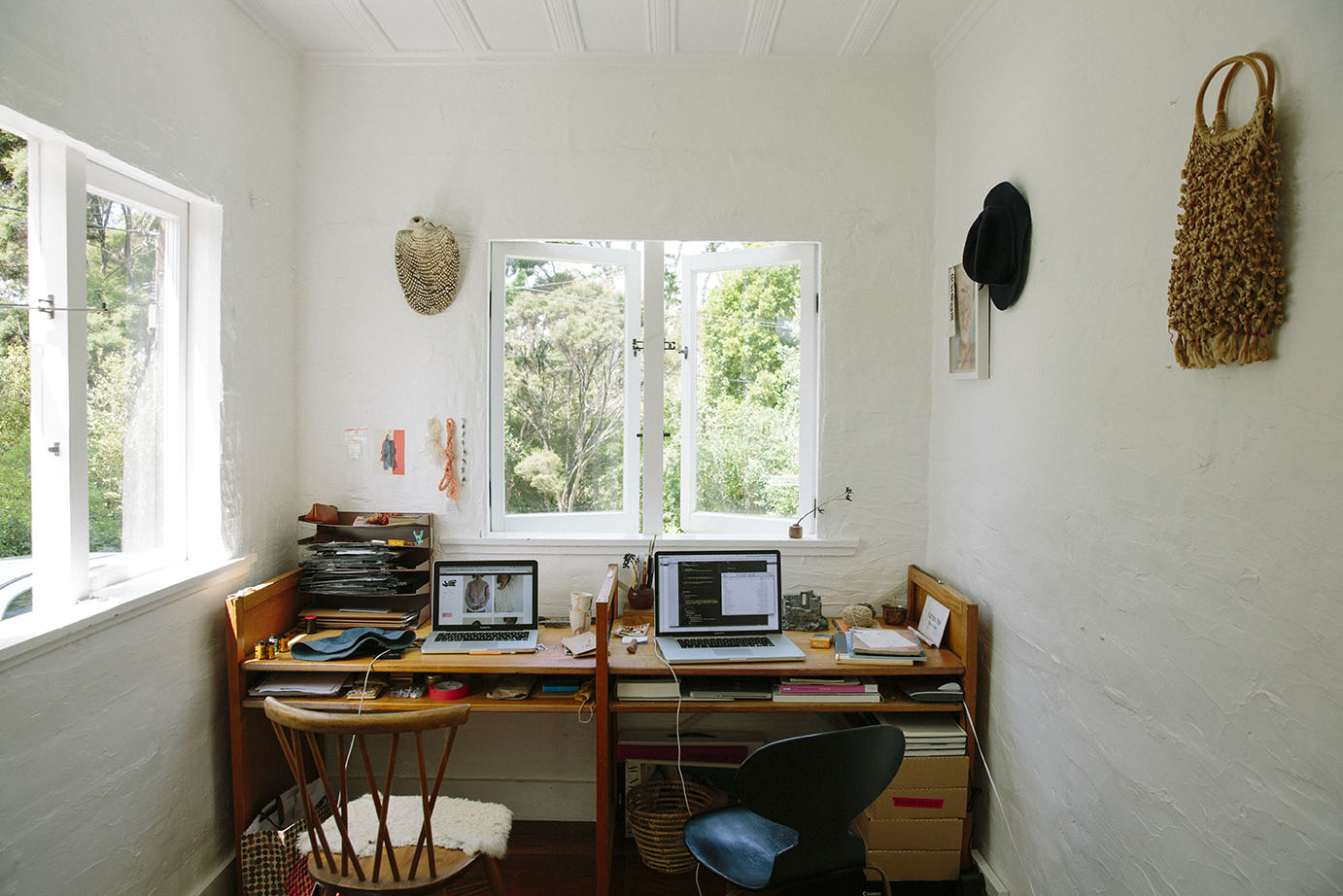 It feels like you have quite a few pieces that are made by friends or people you know. Is this important to you that, the objects in which you chose to display, you know the makers and their processes?
H: Yes, that is important. I like supporting friends. I wish I could have more, but that will happen in time, I hope.
F: For me, it could be this, or a detailed understanding of the object's provenance – the life it has had before in our possession. I think that's why we're also quite attracted to second-hand things. I find the idea of walking into a furniture shop and buying a whole 'suite' of dining room furniture quite bizarre. You see a lot of that in magazines, a lot of 'correct' objects. My favourite things of all are hand-me-downs. I have a bunch of chairs my Grandfather bought to NZ in the early 50s. This expresses my philosophy pretty well.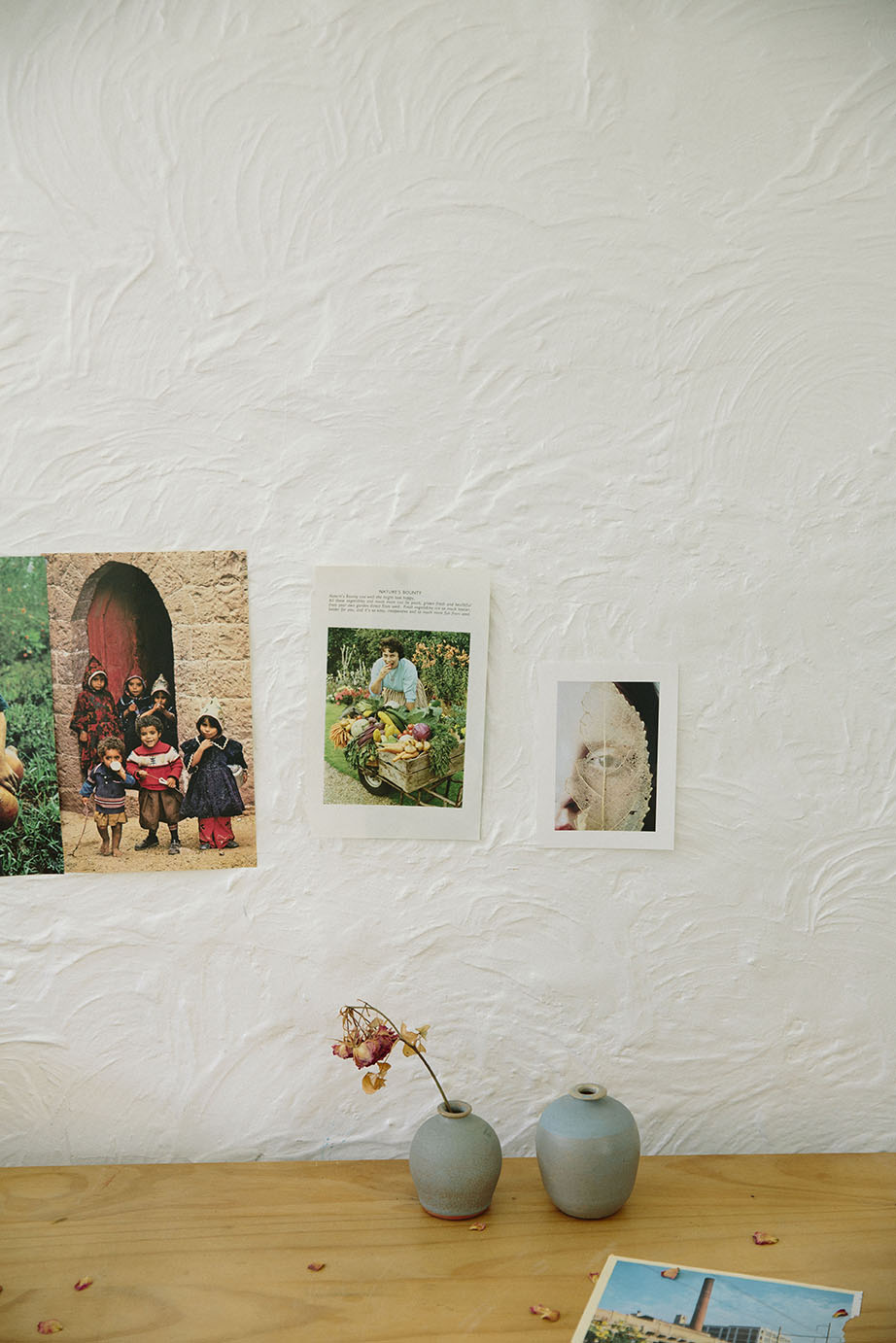 Harry, can you tell us about your fascination with hands and the hand-made. Did you meet any makers in India or Japan recently? If so, can you tell us about one of them?
H: I don't really know when this fascination started, I think when I was a teenager or even younger. I learnt to knit when I was 8-years-old and I played musical instruments from a young age and up until I was a teenager (recorder, clarinet, piano). From then, I've always appreciated handmade things. It's quite a strange thought, if you start thinking about it, what humans can do and have done with their hands. I am also interested in mechanisation and technology, and find the meeting points an interesting paradox.
In both places we travelled we met makers. In Japan we went to a craft fair, there was every sort of maker. In India too, there are makers everywhere, on every street. The knife maker in Japan had to be the best. A little old man with no signage, no English and no knifes on display, only boxes. He got the knives out of boxes from out the back and spoke with us in Japanese. We didn't understand him, but I bought a knife for Carter.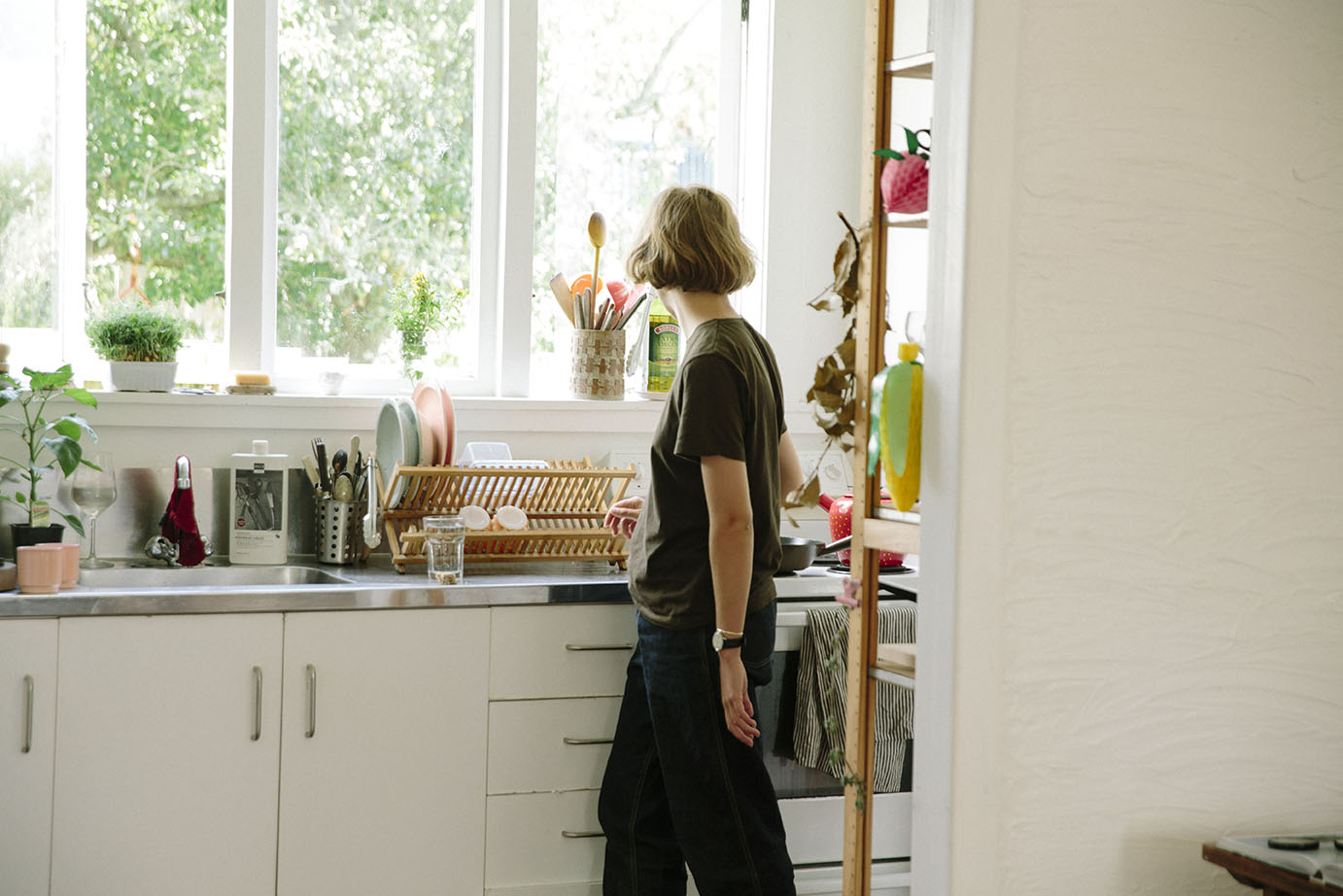 Any pieces that you bought home from travelling that have an interesting story behind them?
H: A hand woven tea towel, hand embroidered at an old convent where they teach unemployed women and villagers how to hand embroider. That was a beautiful place and the nun there has got to be one of the most beautiful people I have ever seen.
.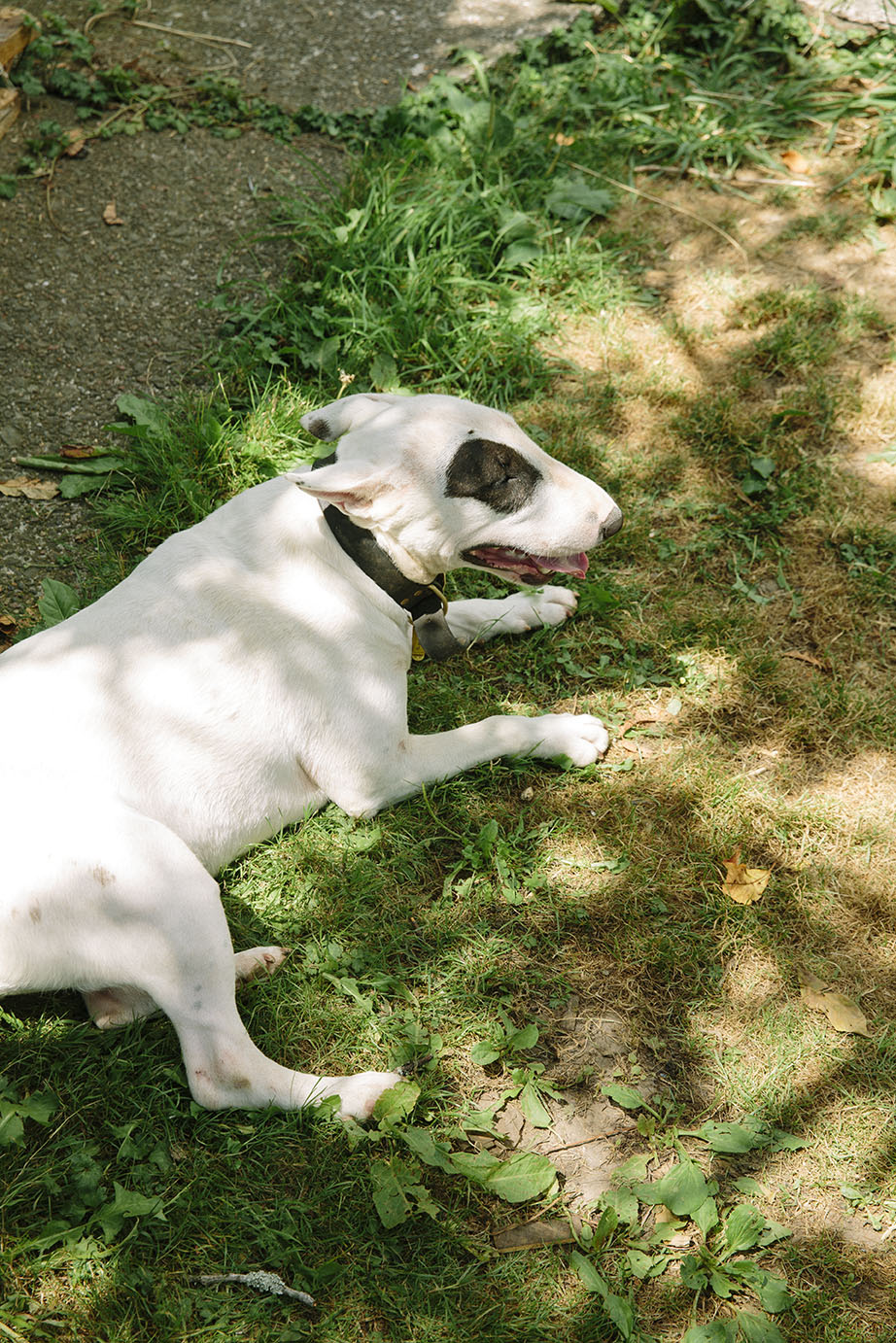 Felix, I'm interested in your ideas around your comment on 'un-styled' – what do you think it is about this term, in relation to web and graphic design, that is appealing for you right now? Does this idea translate into the way you style your home/belongings/new jackets you're making?
F: I think style (or 'styled' or 'stylised') is a pretty superficial term, and if you mention it in the context of Architecture, for example, everyone knows what you mean. A good artist also can't rely on style. It is important to engage properly in the medium and / or materials in which you are designing with. If you are designing a book it is important to think about what it means to be a book, the way in which the content will be consumed, etc.
When I say 'un-styled', regarding web design in particular, I meant to express the idiosyncrasies of this medium in an interesting way. I'm interested in the fact that, for example, everyone knows that text in 'true blue' is a link, and that a link is underlined, and when it's been visited it will be purple. Things often get lost in a series of distracting animation, fades, and transitions. It's like veneered wood. I think the most important thing in design is honesty. And this does not mean it has to be boring, just authentic. If you ever look at raw HTML output, there's something very appealing about it.
In terms of how this can apply to other things and our house, it's just approaching things in a way that comes naturally to us. We don't really think about it. Not thinking about things can be very helpful.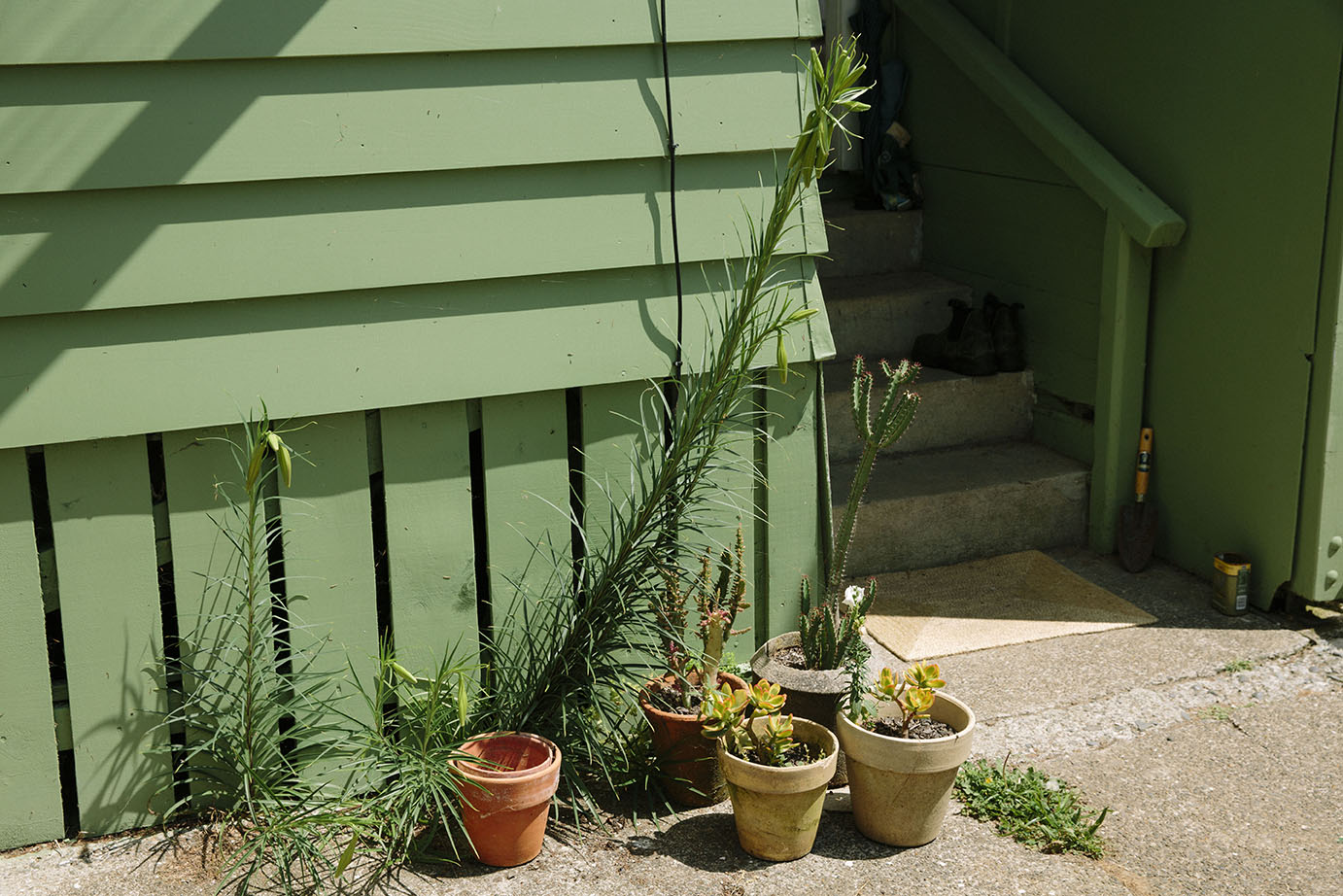 Where is Mabel's favourite nook in your home?
H: The kitchen. She's a real life incinerator, it's quite sad. We don't feed her from there; she's just waiting for you to drop something.
F: On our bed of course! Although she's not supposed to be there! I think every dog's dream nook is his or her human friend's bed.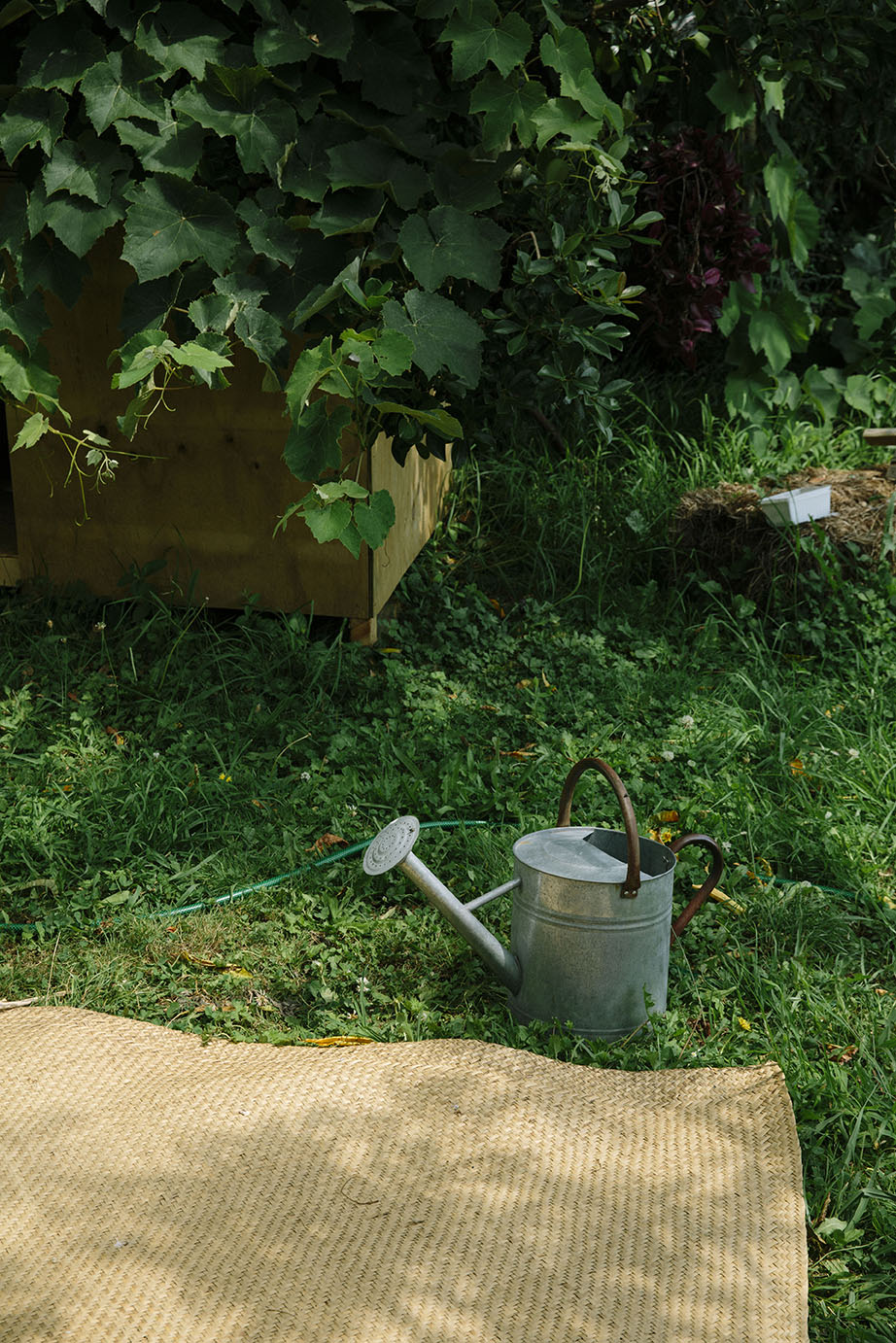 As well as doing your own separate things, are there any plans to work together in the future?
F: Yes, definitely.
H: In a way we sort of work together a lot of the time already. But we are hoping to get into more textiles this year.
harrywere.com
felixhenningtapley.info