Gidon Bing, Auckland
Auckland, New Zealand
To celebrate the arrival of New Zealand-based artist Gidon Bing's ceramic homewares pieces to our selection at IN BED, we visited Gidon's home studio and garden in Auckland.
We arrived to find his two girls, Eli and Mika, sitting very happily outside his flung-open studio doors, painting their interpretation of the surrounding garden with water paints. Actually, Gidon was painting too, dressed in his uniform blue coveralls and taking advantage of the school holidays and the sunshine. While the girls discussed colour combinations for butterflies and fruit trees, we walked through the space where Gidon hones his designs, concentrating them down to their absolute essential. It is this very reason we are so drawn to Gidon's work – minimal yet still organic, functional and tactile.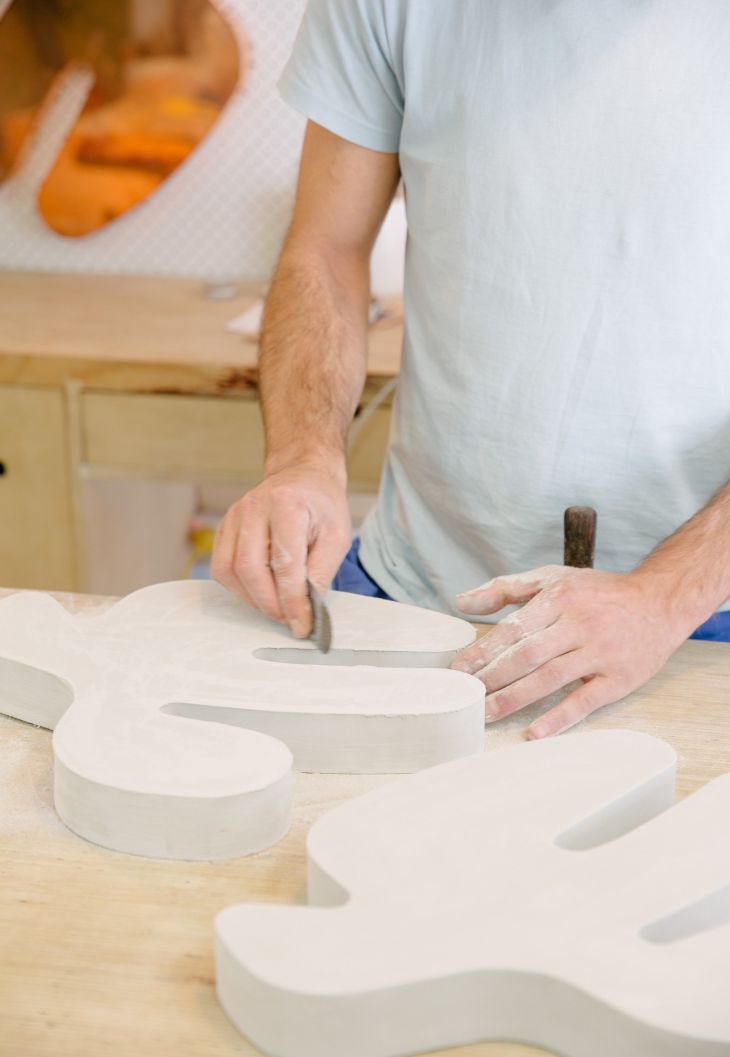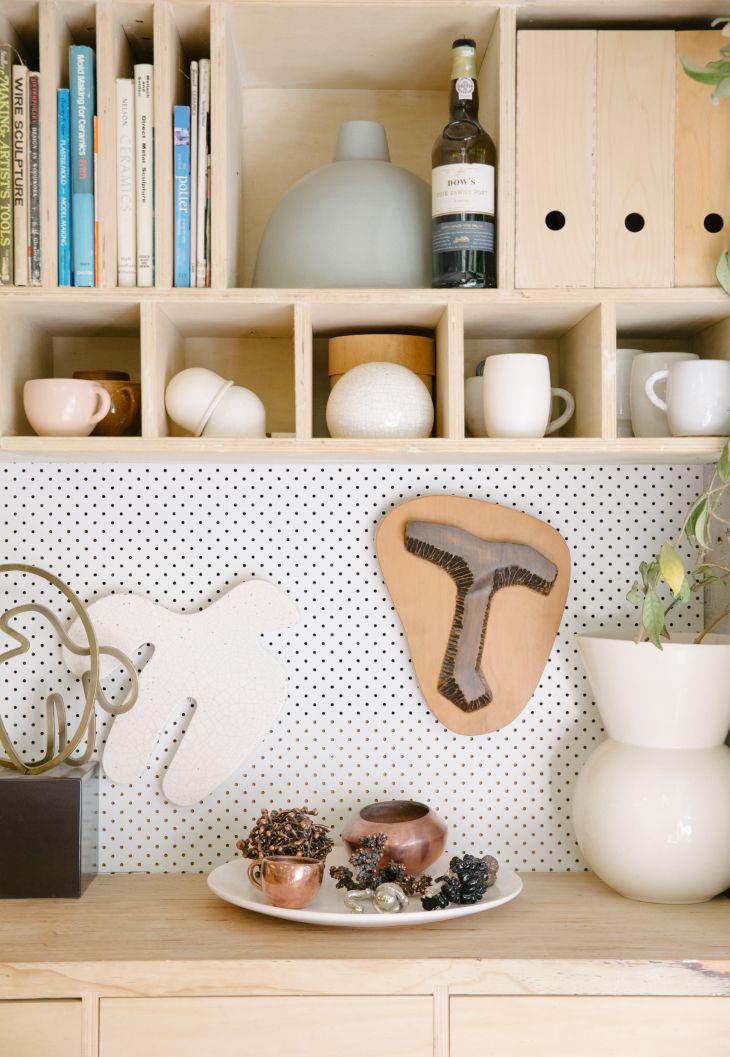 Working from home can come with its perks (and its difficulties!) What are some of the ways in which you like to kick start your working day? … and what would be your most common distraction?
I usually start with a coffee and some hands on work to ease into the day. Common distractions – definitely my two girls who both act like they are queens of my studios, which also comes with its perks – they both have great creative instincts and come up with all sorts of hilarious and sometimes useful contributions. My nine-year-old Eli has recently developed a great ceramic textured finish she has called 'volcanic' which she discovered by smashing one of my works in progress with a dust brush and covering it with a charcoal oxide.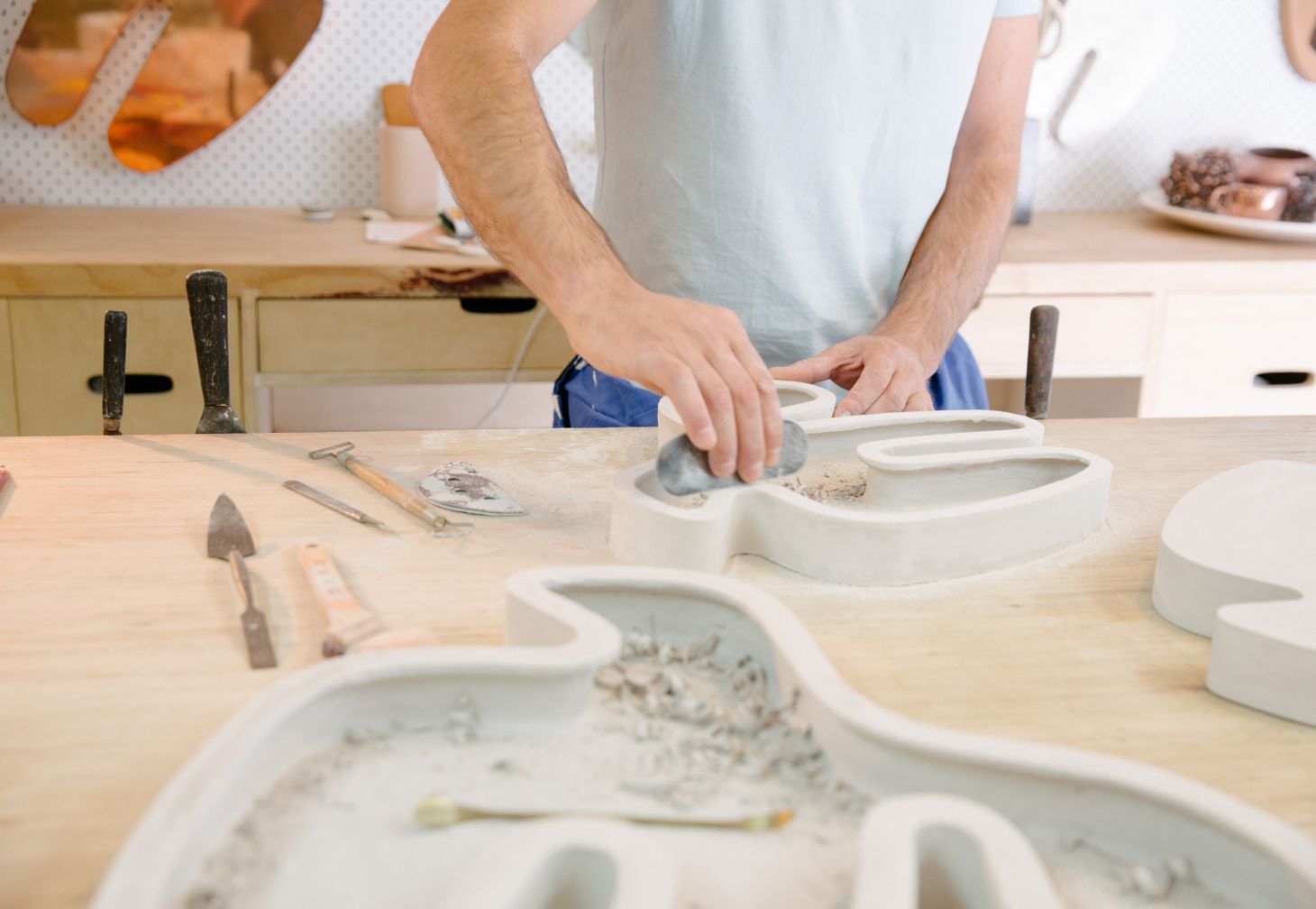 For your ceramic homewares collection, what are some of the subtle features that were important for you to consider in the design process?
I would describe my process or approach as reductive, I try to create the most simple vessel possible for its use and work to refine and simplify it without compromising on function until I reach an optimum scale and form. Glaze development is also a major focus – I work together with a master ceramicist who lives down my street to develop a range of subtle and refined satin luster glazes that are also durable enough for modern living.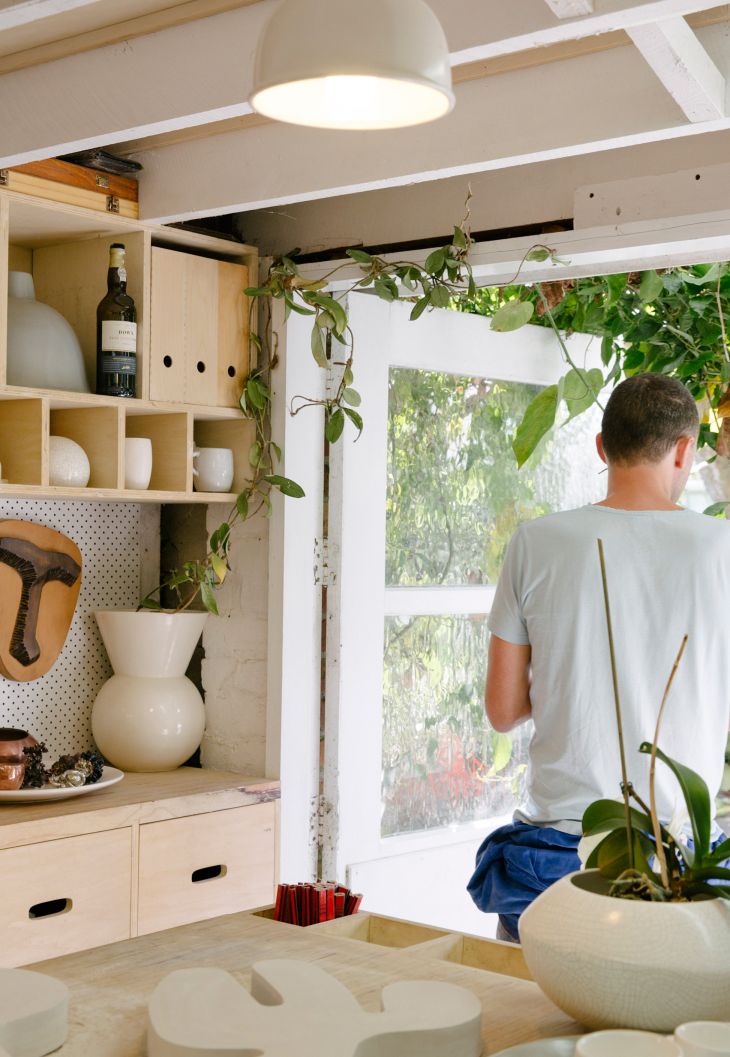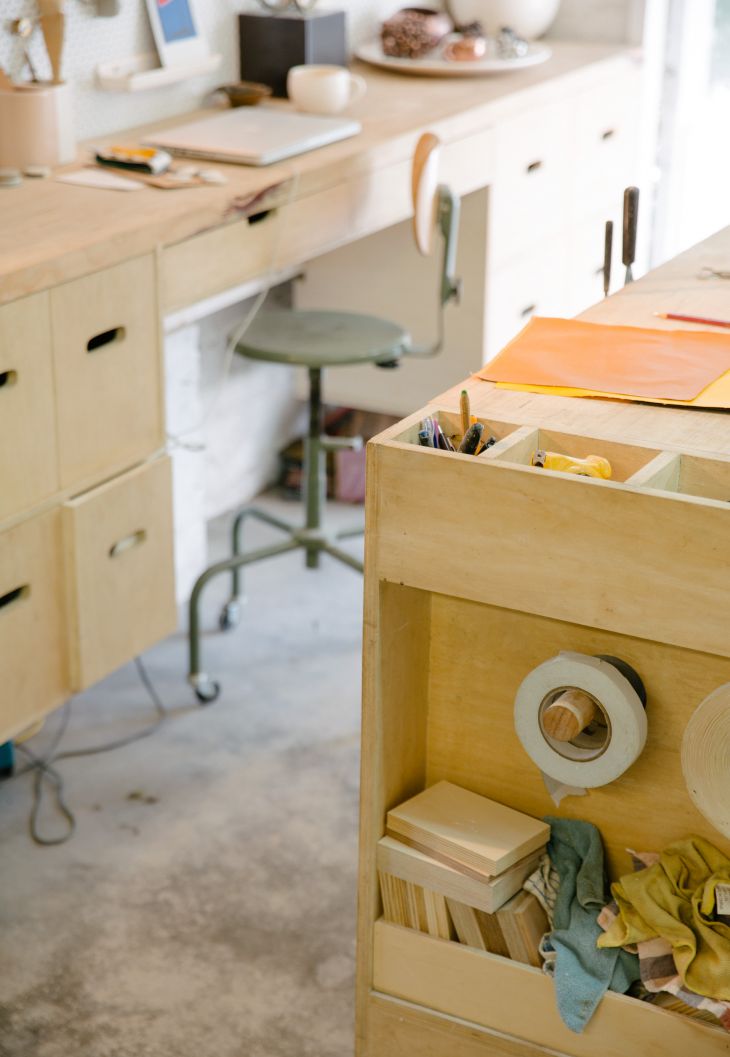 I would describe my process or approach as reductive, I try to create the most simple vessel possible for its use and work to refine and simplify it without compromising on function until I reach an optimum scale and form.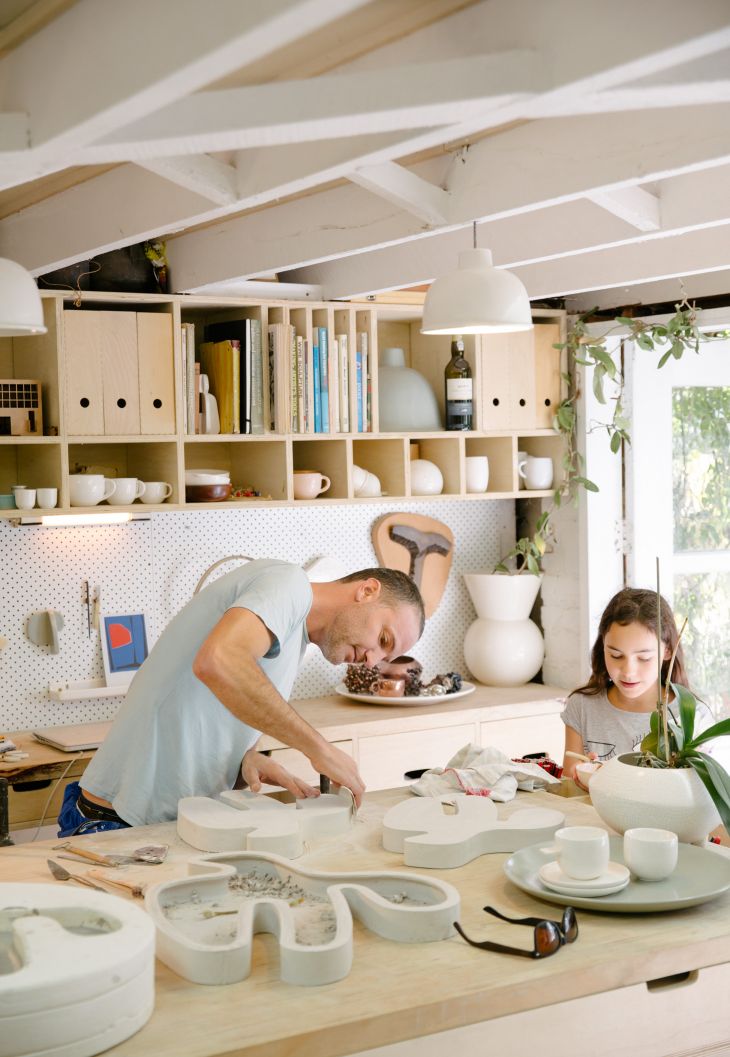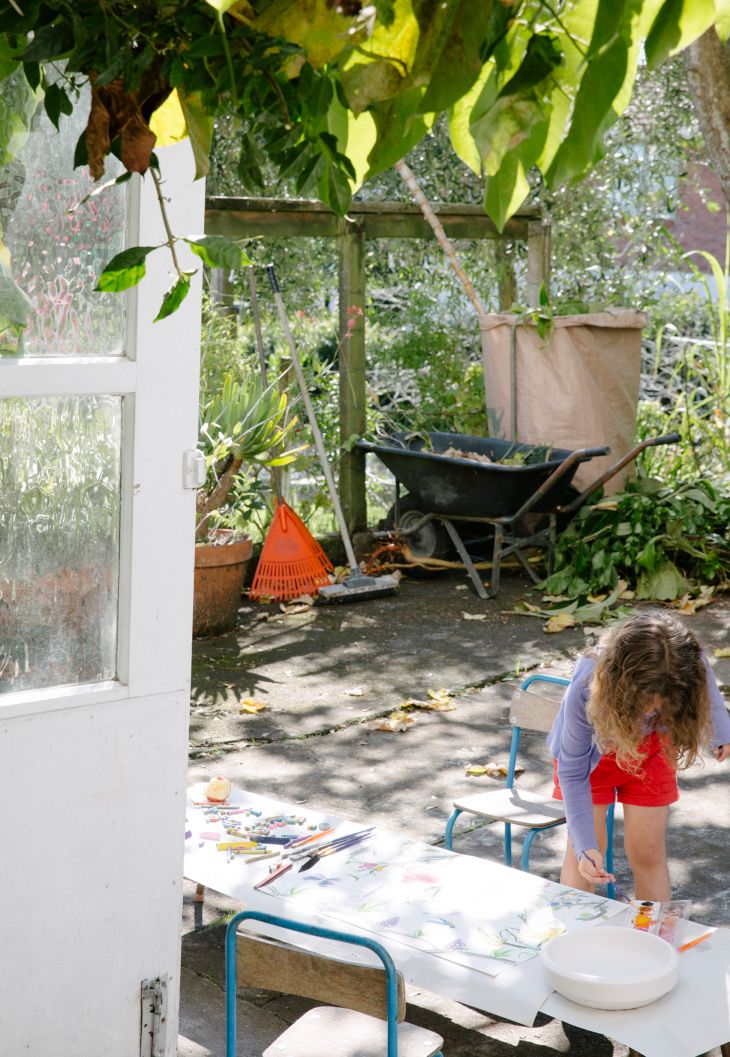 I'm interested in your fascination between biological asymmetry and the artifact. Can you give us some examples that you have been exploring or researching?
I developed an appreciation for primitivism through my sculptural practice and study/work in archeology and anthropology. The timelessness and surprising modernity of certain artifacts, which are often derived from natural or biological forms, are a continuing source of inspiration. I'm currently working on a derivation of a 5000-year-old design for a jara (water jar) that cools itself using evaporative cooling.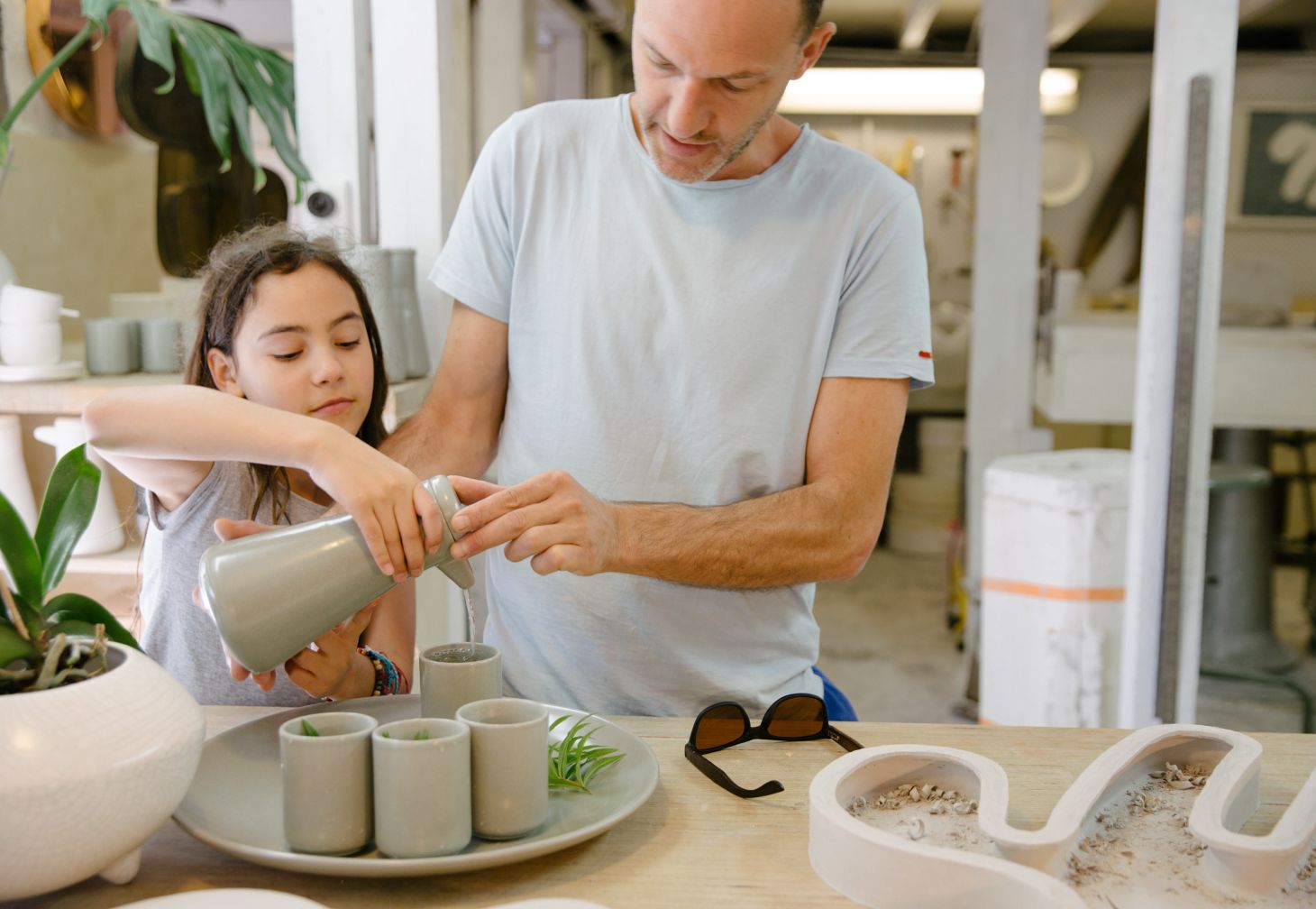 Your garden is bountiful! We'd love for you to share the recipe for your traditional homemade tagine
The tagine is a traditional recipe we prepare every year, as the quince harvest comes just in time for the passover feast.
---
Gidon's lamb and quince tagine recipe
Ingredients
Approx. 1 kg lamb, cut into pieces (preferably on bone)
5 small onions
3 to 4 cloves garlic
Star anise (2-3 stars)
1 slice of ginger
Approx. 1-teaspoon turmeric
Pinch of cayenne pepper
Couple pinches of Ras El Hanout and or smoked paprika and cumin
Bunch of coriander and or parsley
1 to 1 1/2 kg quinces
Small fist of sugar
Cup or two cooking liquid from the quinces
2 tablespoons honey
Optional dried fruit, to taste
Method
Brown the meat with olive oil on a medium to high heat add garlic and spices when the meat has browned.
Add the coriander roots, onions, about 3 cups of water and a dash or three of port/red wine.
Cover and cook with pressure for about an hour and a half, or until the meat is very tender.
While the meat is cooking, cut quince into quarters and core.
Put the finished sections of quince into a bowl of water as you work to avoid their turning brown.
Cover with fresh water, add small amount of sugar and bring to a boil.
Simmer gently for 15 to 20 minutes, or until the quinces are tender but still firm enough to hold their shape.
Drain and keep the poaching liquid.
Add some of the reserved broth, star anise, honey, and season.
Bring to a simmer and cook until thick syrup forms.
Occasionally stir or turn the quinces to coat them with the syrup on all sides.
Serve with sprinkling of fresh coriander leaves and dried fruit flash fried with chili and a pinch of salt.