Fiorella & Nate, Brooklyn NY
The dynamic of writer and publisher Fiorella Valdesolo and her partner, musician and sound therapist Nate Martinez, is a beautiful balance of Yin and Yang. Fiorella is outspoken, maternal and expressive; Nate is steady, introspective and gently Zen. Together, they are a subtle kind of power couple--both beating their own fruitful, independent paths, while preferring to spend their downtime travelling or nesting in their colourful, inviting Brooklyn home. Through both their careers, they are a perfect example of how one can be influential without selling out, respected without losing a sense of warmth and compassion, and successful while also giving back via their various pursuits as activists. Their home, brimming with books, art, and tokens from their travels (and often a pot of matcha on the stove), is a reflection of their eclectic and ever-curious personalities. We visited the couple in Brooklyn's Carroll Gardens neighbourhood, home to historic brownstones and brilliant bakeries, where they riffed on the pleasures of a creative life.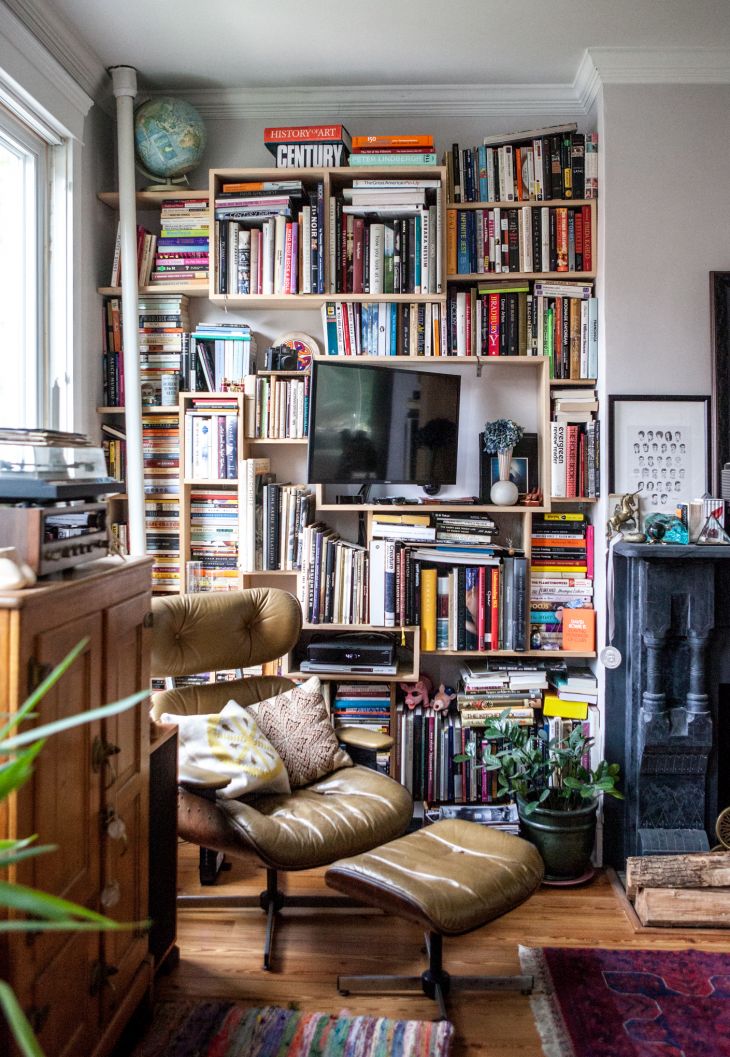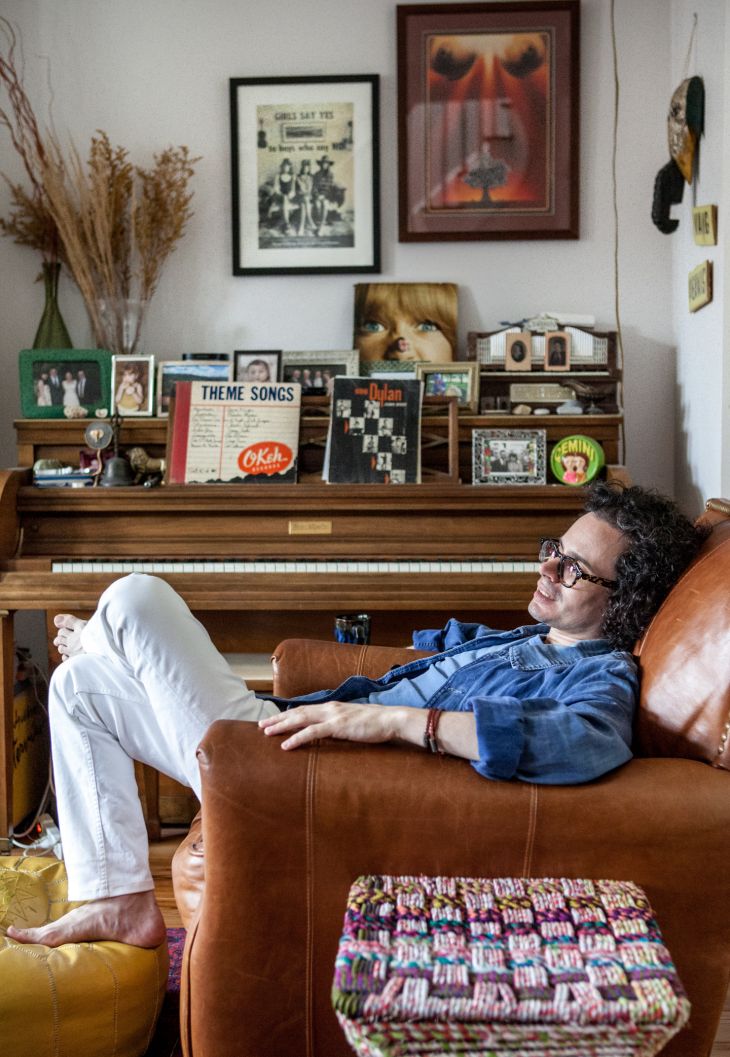 In your own words, tell us about what you do...
FV: I'm a writer and editor who has been freelance for about eight years after being on staff at various publications for the same amount of time. About five years ago I also co-founded a biannual food publication called Gather Journal with one of my best friends and former NYLON magazine colleagues, Michele Outland. NM: I'm a musician, producer and sound therapy practitioner. I've been fortunate to work with some talented artists over the years as a musician, and four years ago became certified as a sound therapy practitioner, which means that I work with individuals and groups utilizing sound as a pathway to exploring meditation as well as using its therapeutic properties to help people address various life issues.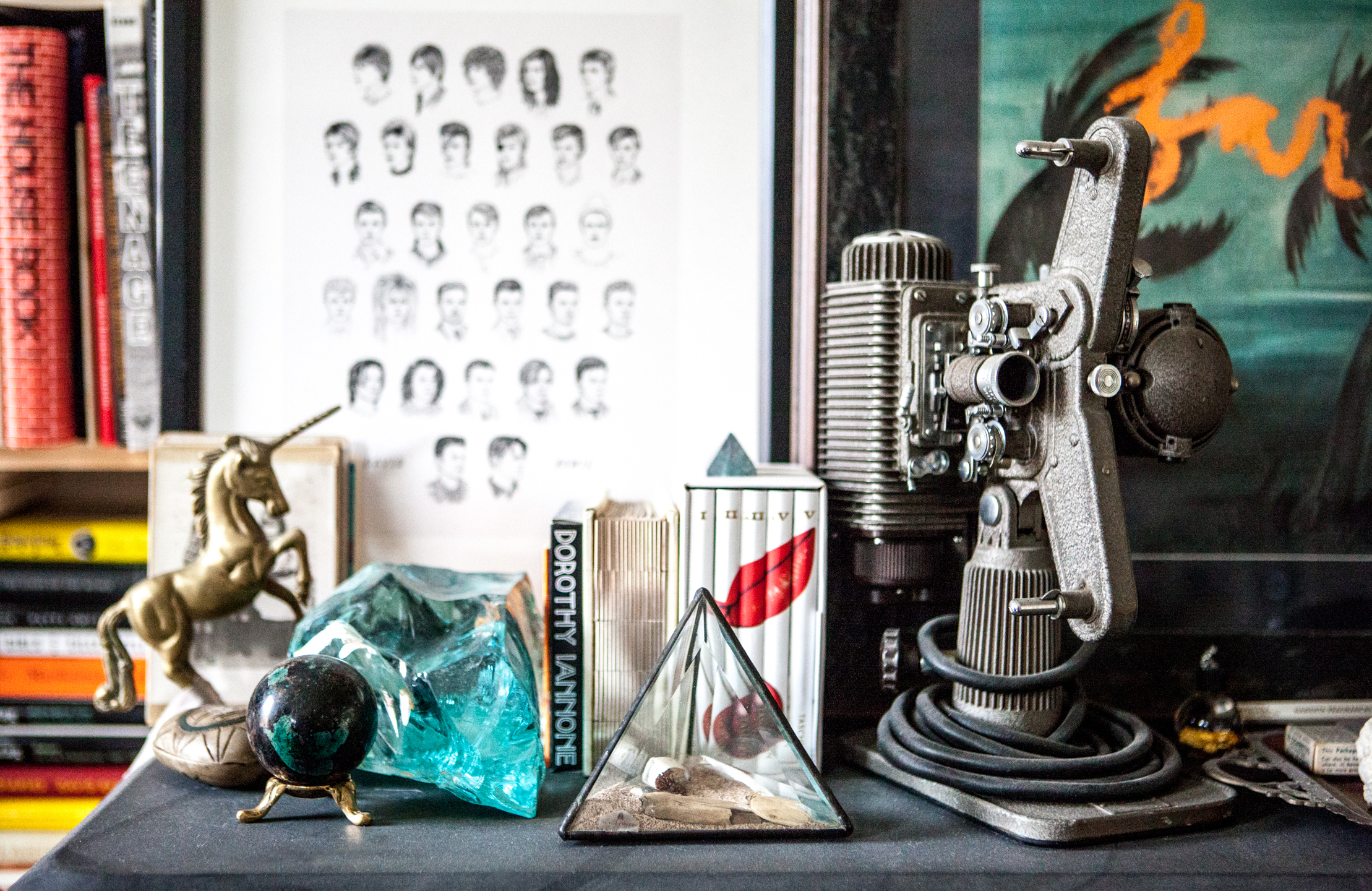 Fiorella--How did Gather Journal come to life?
FV: Michele and I had been talking about working on a creative project together since leaving NYLON. Despite print experiencing a marked downturn, we were committed to the medium because of its enduring and tactile quality, something that felt lost online. Both of us grew up in homes with immigrant parents, where mealtime was revered and the love of cooking was something we both inherited. We felt strongly that a food magazine could be about more than just recipes, using food as a means for broader explorations and conversations about art and culture.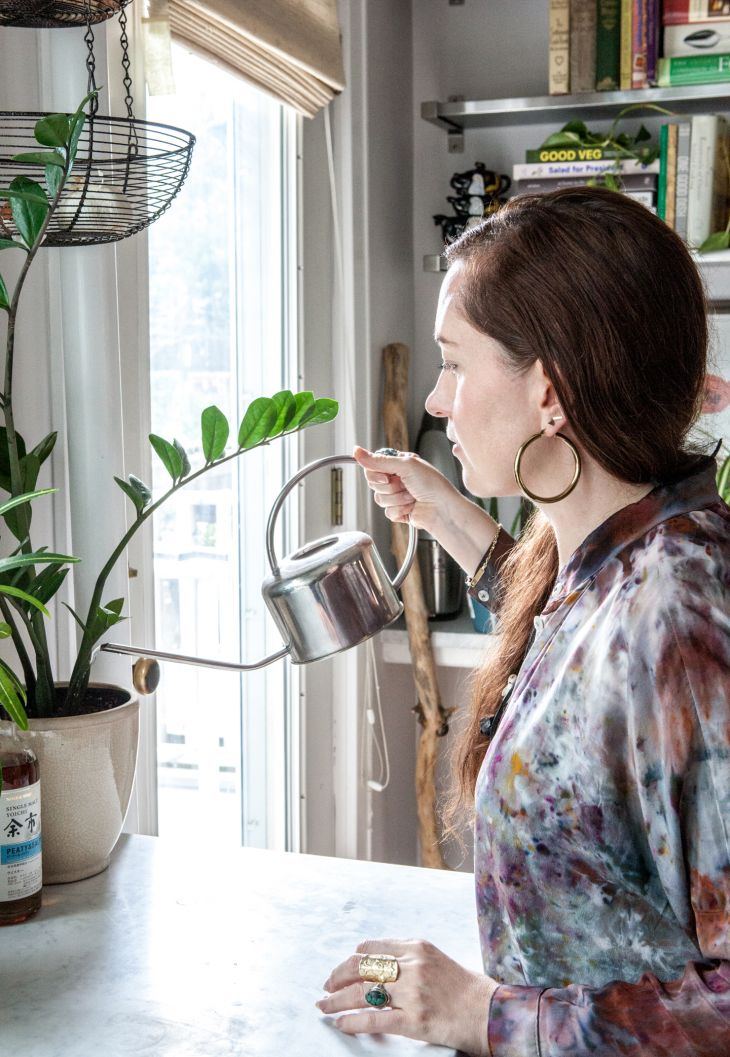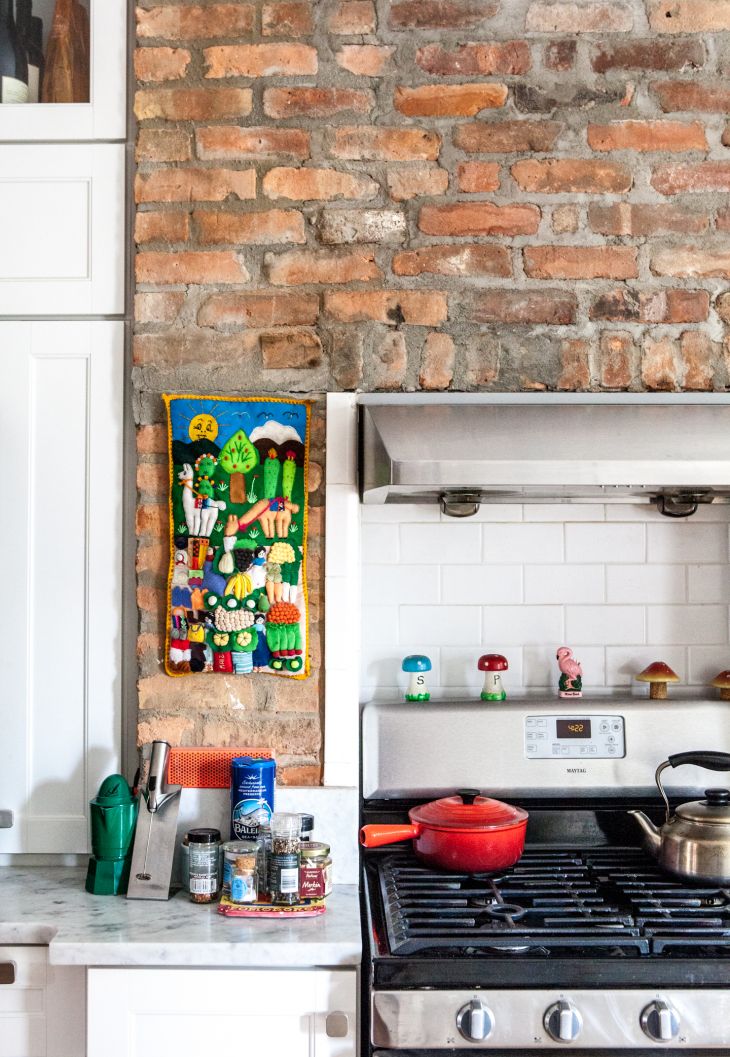 Nate--What drew you to sound therapy?
NM: On paper my life as a musician was going well and this career path could have been sufficient but I felt a growing desire to work with individuals and communities in a more meaningful way. That as a musician I wasn't totally fulfilled... after all, musicians can be quite self-centered [laughs].This realization came about over a period with a lot of life changes and some serious self-reflection, and in my quest to find some answers I began studying shamanism and intuitive healing, which in a roundabout way lead me to sound therapy. I approached a lot of this with skepticism but was open enough to at least try things outside of what I thought my comfort zone was. It's been incredibly rewarding being able to work with individuals and groups in a more impactful way, while still being able to have a career as a musician and producer. And since it's all freelance work I get to design my schedule for where I'm needed most in a moment. It keeps me light on my feet, constantly inspired, and gratified to be able to help others.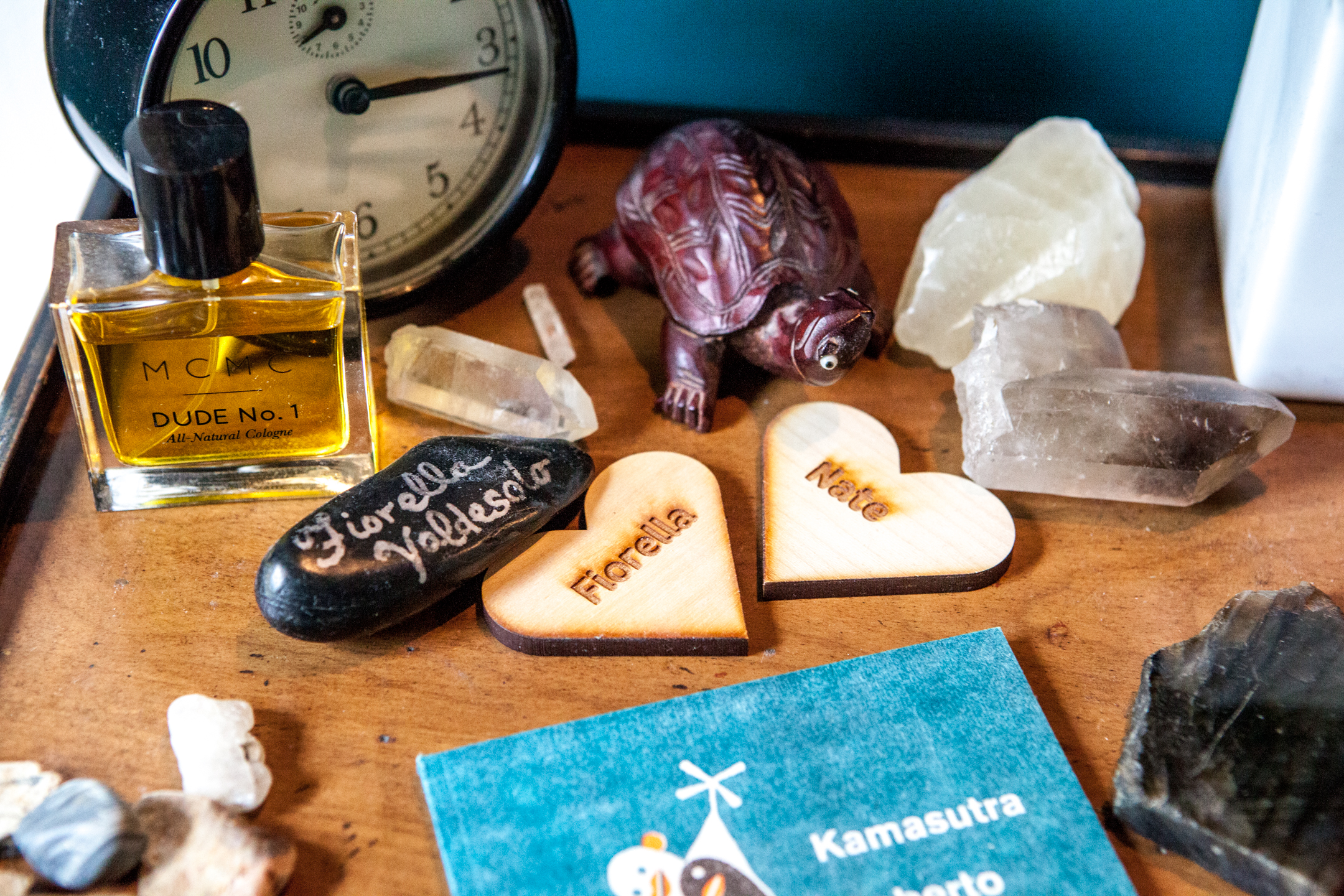 What influences both of your work?
FV: So much. Memory, travel, music, art, film. What's happening currently in the news and our culture always influences my work, especially the focus of Gather. I find Instagram hugely inspiring as a medium and my favorite idea generator is the city I feel lucky enough to call home. New York really feeds me. NM: Like Fi, I would say so much. I'm incredibly inspired by people and their stories of change--the accidents, traumas, and synchronistic moments in life that truly define who we are. Everyone has a unique story and I love hearing about these moments. I also love the ocean.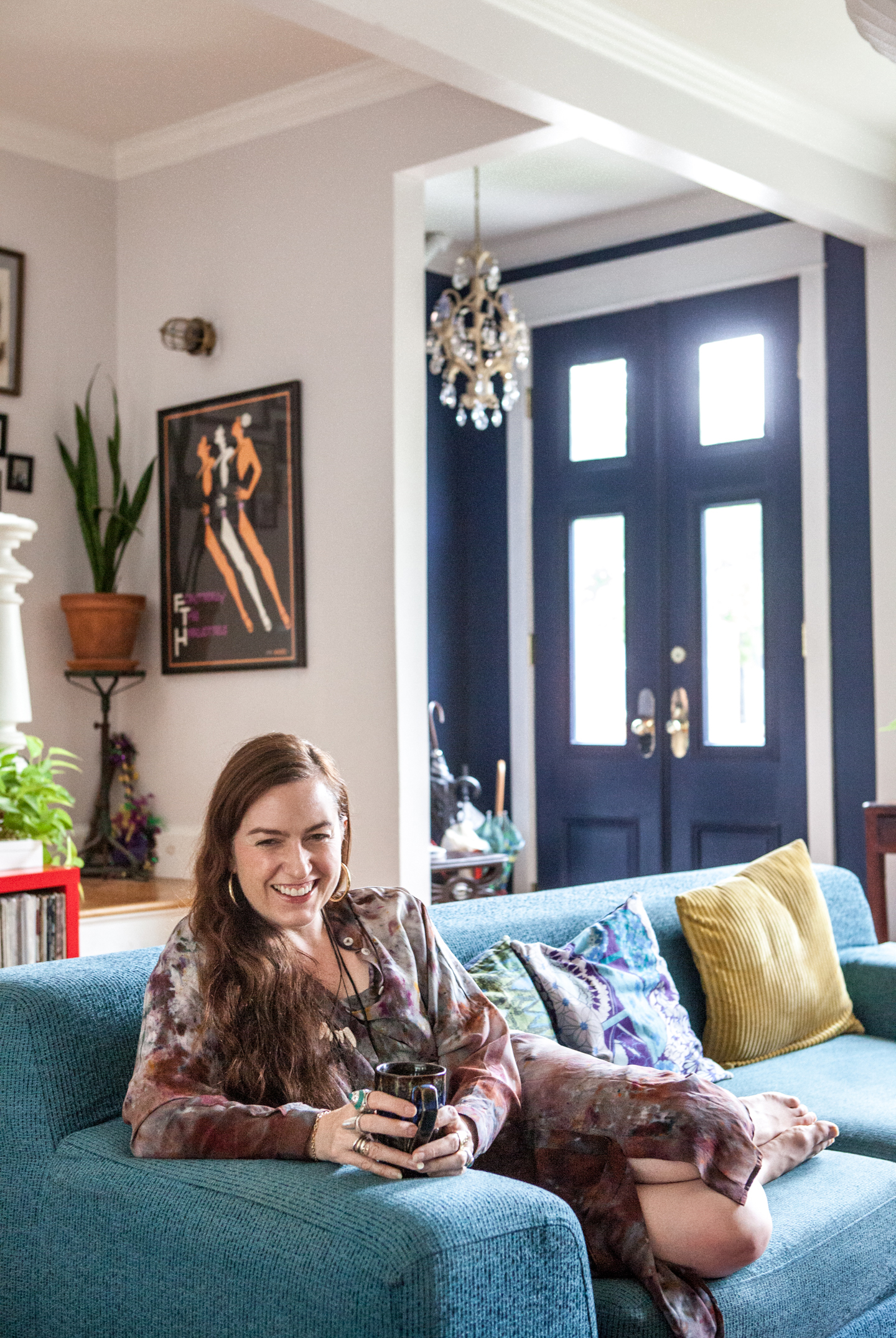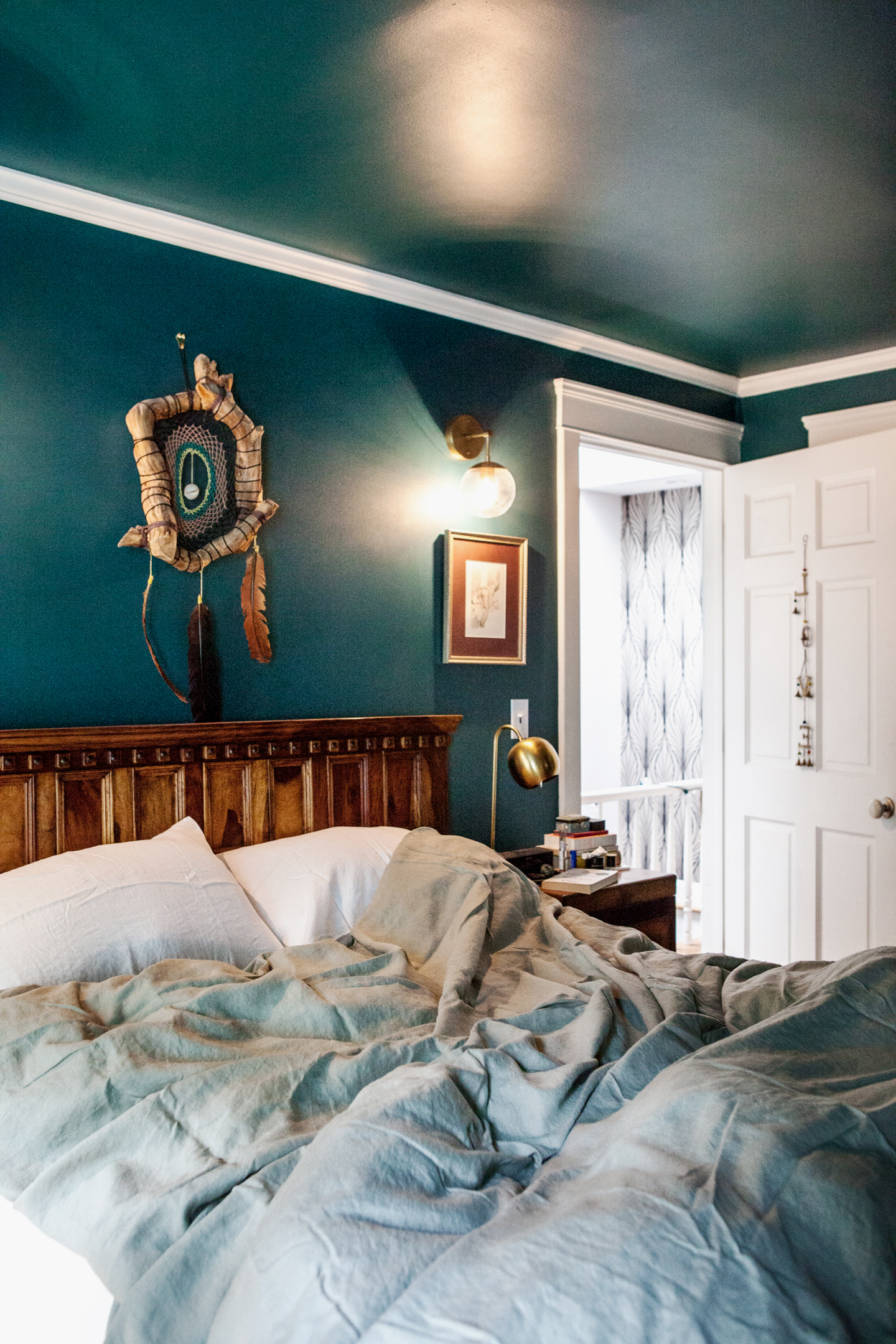 Above: 100% Linen Duvet Cover in Stone
If you're having a creative block, to whom, what or where do you turn?
FV: I like to give myself an artist date once a week, something Julia Cameron outlines in her book The Artist's Way about creative practices. For me that usually means going to a museum or gallery, seeing a movie (Metrograph has been such an incredible new addition to the city) or taking a deep dive into the YouTube matrix. Nate is also a master at helping talk me through writers' block. NM: Within. If I'm going to be in service to others, being present and available, then I need to make sure I take care of myself. I have a variety of practices that I do with regularity: meditation, yoga, etc. Personally, I've found less blocks over the past few years as my creative process has evolved.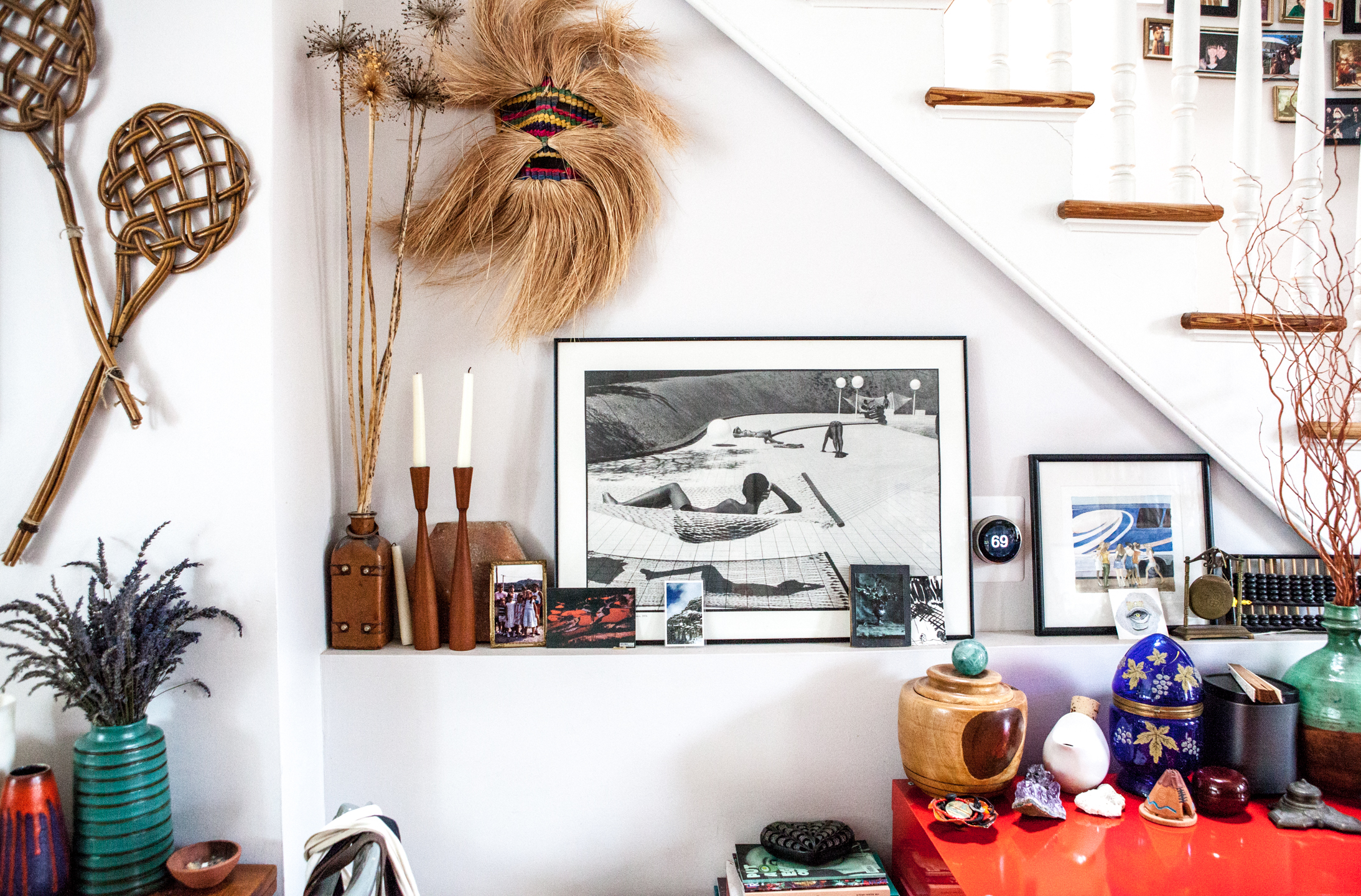 What are you guys currently most excited by?
FV: We just got back from Piemonte in Italy, so the work of iconic women artists from Turin (Marisa Merz, Carol Rama, Carol Accardi) is looming large. The products and Instagram feed of Zanzan eyewear. Vintage Marimekko dresses. The silk tie-dyed robes by my friends at Upstate. The 2018 cat calendar by Toilet Paper. Overnight oats. The Still Processing podcast. And I have to shout out my Spotify discover playlist, which continues to amaze me with its prescience. NM: We also recently went to Japan. I was quite moved and inspired in a way I didn't expect and it's kick-started a new chapter of creativity.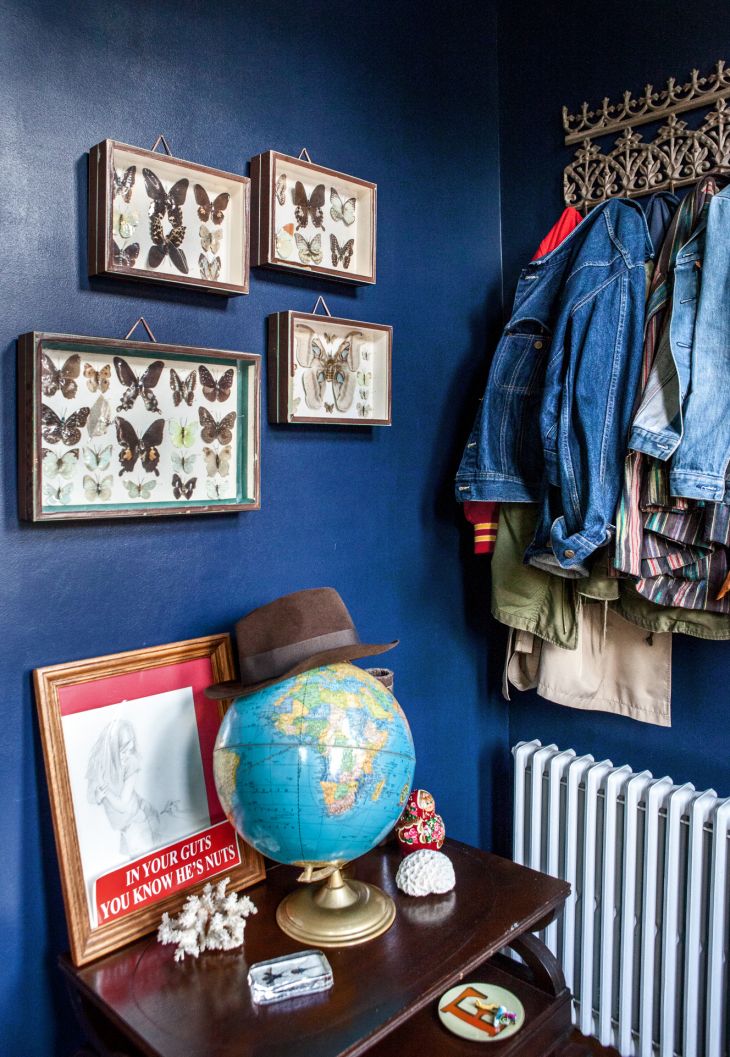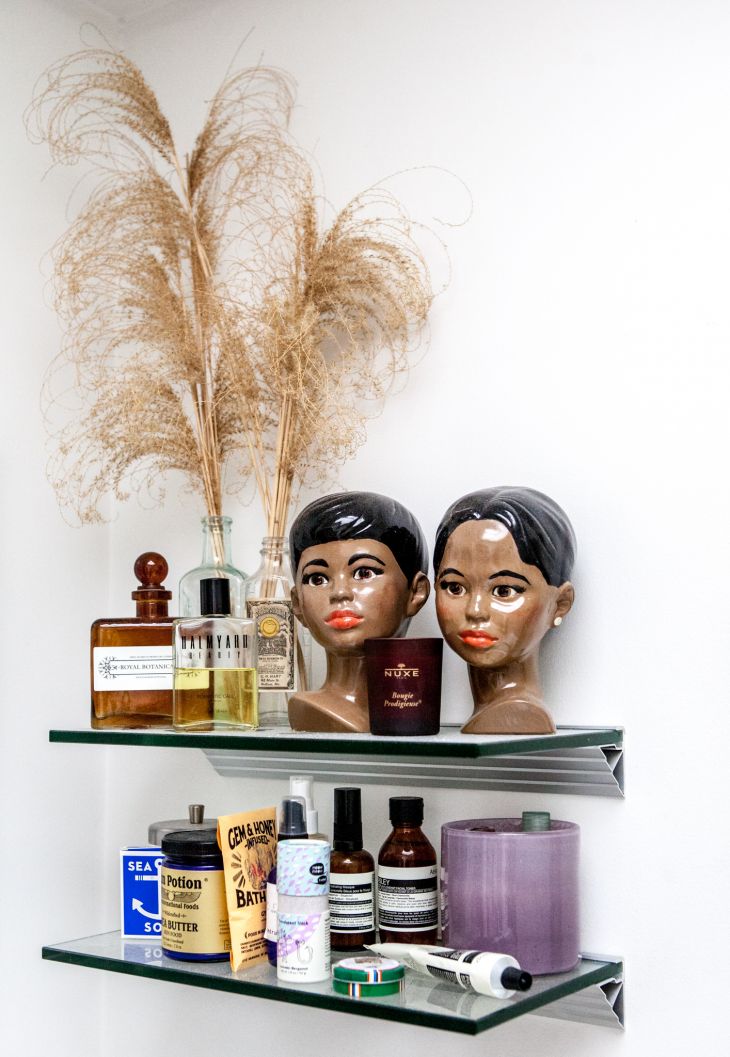 What's the soundtrack to your life right now?
FV: I've been listening to a lot of Amadou and Mariam, Angel Olsen, Kendrick Lamar, the Italian singer Loredana Berte circa the 70s and 80s, and always Fleetwood Mac's Tusk, which never gets old for me. And that Spotify discover playlist. NM: Depends on the day. It could be birds, construction, wild sounds being emitted from instruments in my studio, and any Daniel Lanois, Bill Evans or the most recent A Tribe Called Quest album to name just a few.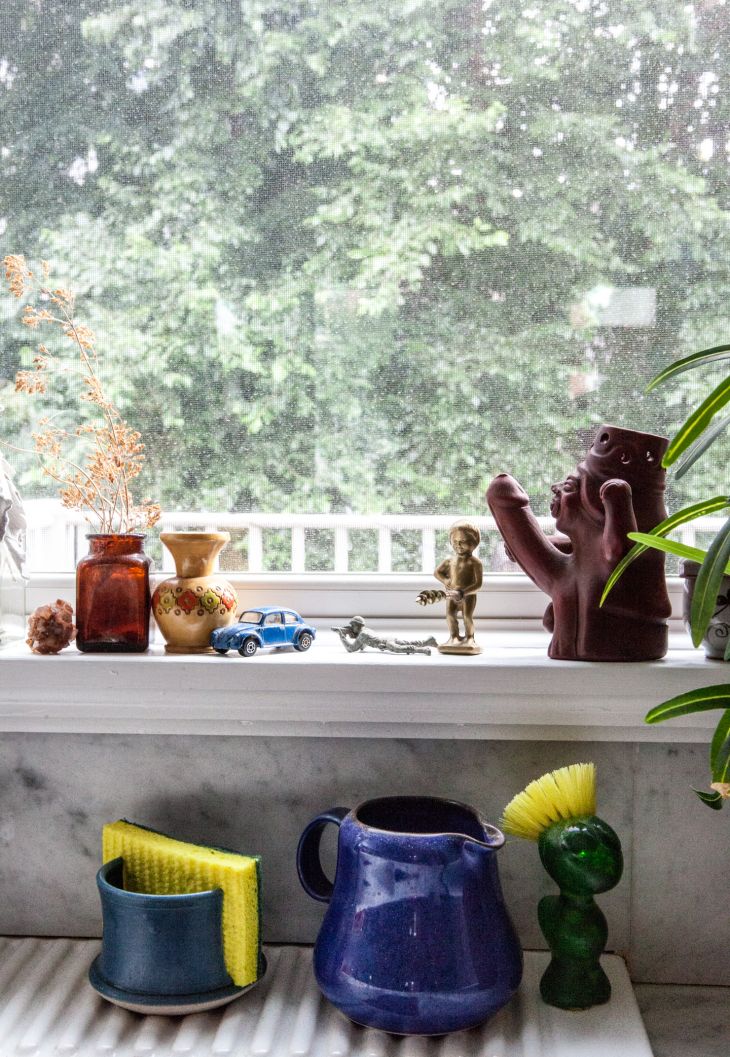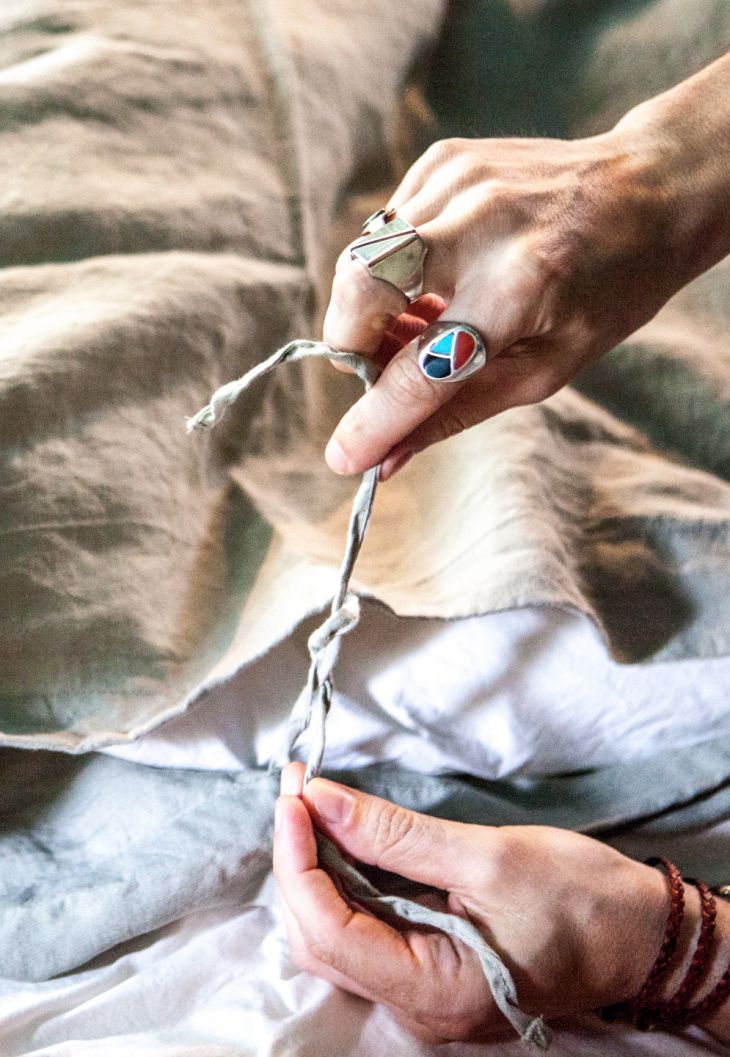 You're both keen cooks. What are your favorite meals to make at home for the two of you?
FV: We tend to do a lot of rice or quinoa bowls (with various veg, a poached egg, goat cheese, and pickled bits), nicoise-esque salads or just eggs and greens as quick breezy meals. Aleppo chicken and a vermouth chicken (from the 1970s issue of Gather) are also regular meals. And though less frequently, I love making a spaghetti carbonara, vongole or puttanesca.
Which materials, textures, colors, objects and silhouettes do you like to surround yourself with at home?
FV: Er...all of them?! We don't shy away from color and love textures and designs that feel inviting. Minimalist style or furniture meant only to be looked at is not really our bag. NM: Yup! The complete spectrum of color and texture.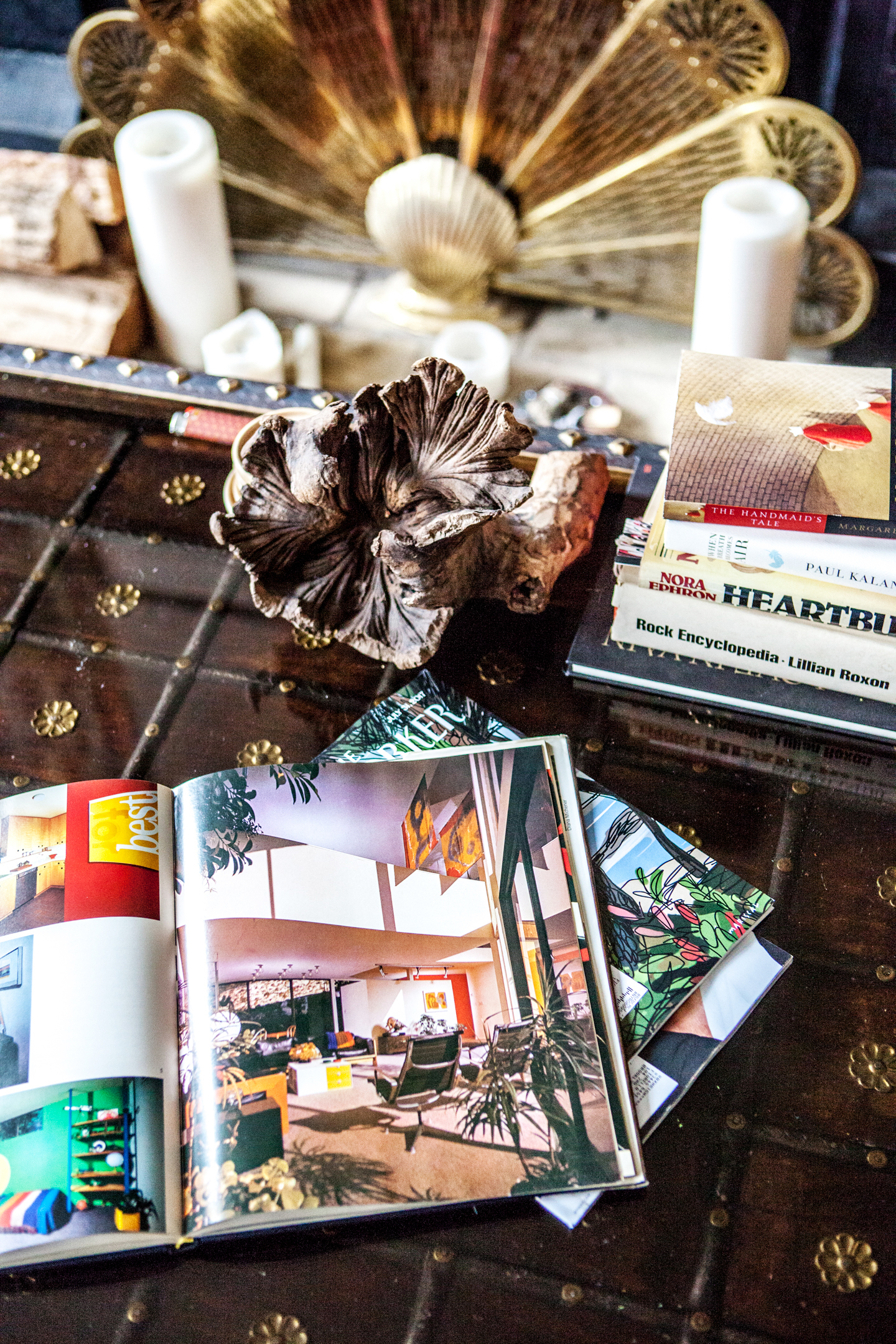 It's true! Your place is full of so many special pieces. What are some particular favorites and where did you find them?
FV: the shadow boxes of various butterfly species are one of the first things you see when you walk in and I love them. My uncle made them when he was in grade school, and when my grandparents passed away, those and one of my nonno Carlo's Borsalino hats were the only things I wanted from their home. The heavy wood refrigerator chest and faux Eames lounger in our living room were both handed down from Nate's parents who are master flea-marketers. We love our living room bookshelves, which were custom made by an artist we found on Craigslist right after we moved in, and so many of the book treasures on them. And we love our bed; it's a dark mahogany carved wood from India that I found at this wonderful Brooklyn store that is no longer called My Little India. NM: We also have a healthy collection of rocks and shells from various oceans we've had the chance to visit around the world.
We also have a healthy collection of rocks and shells from various oceans we've had the chance to visit around the world.
What do you love about your home and the neighborhood you live in?
FV: We are lucky to have space in our home so there are many corners to retreat to. We've both lived in Brooklyn for many years and in Carroll Gardens for six of them. Even though we've seen many businesses closing (because of greedy landlords) it's still possible to get everything we need (from a bialy with lox to a cheap massage to a movie) within a 20-minute walk radius, which is huge. NM: And we're just a little bit off the beaten path so it's surprisingly quiet most of the time, which is a luxury in the city.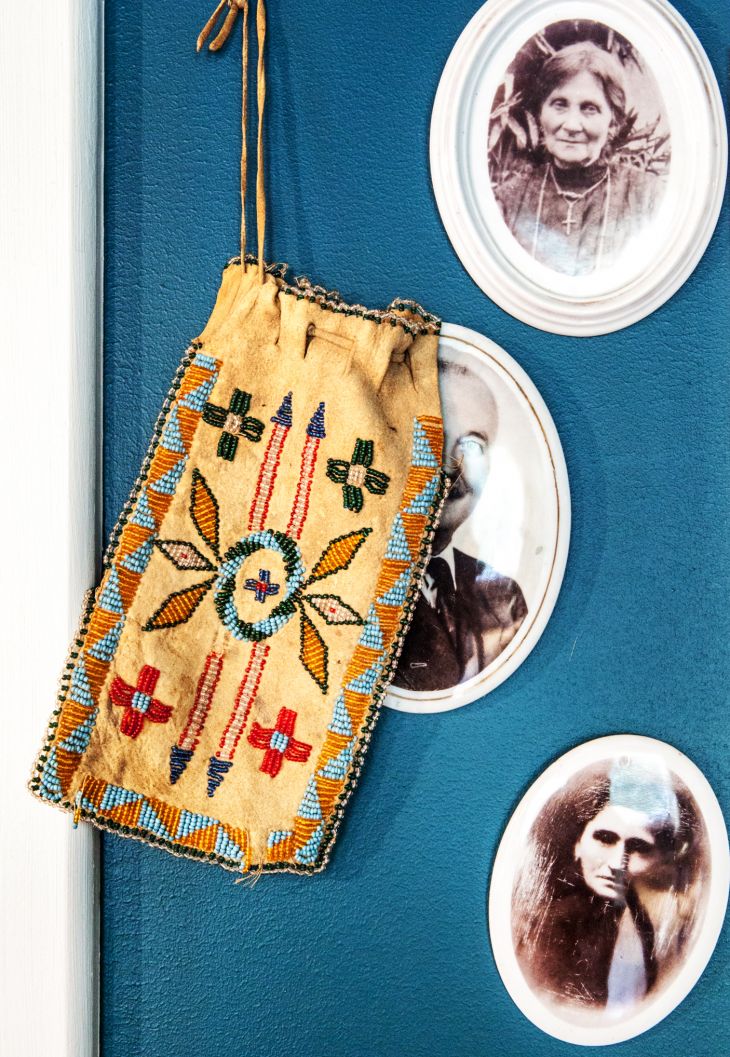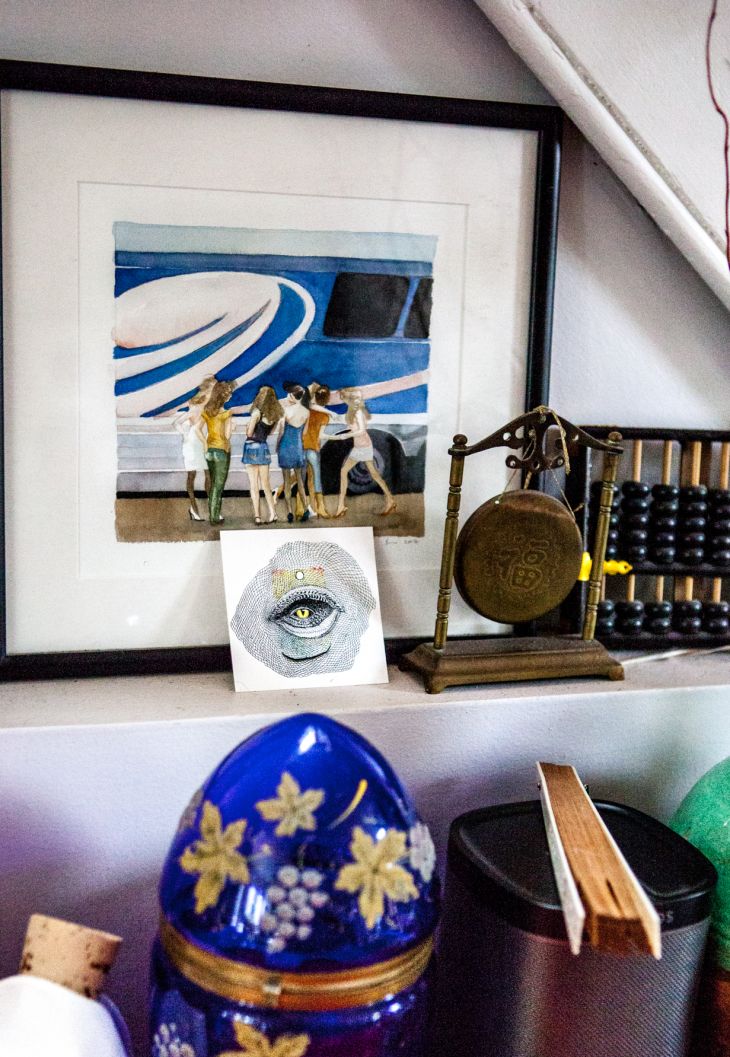 What's your morning routine?
FV: we always start the day with warm water with lemon and usually the CBS morning news or NPR.
Do you have a bedtime routine or ritual?
FV: If we haven't passed out on the sofa watching a movie we'll read a little and, in the colder months, I love a bath with epsom salts and essential oil or a soak by Kneipp, Pursoma or Fresh, before bed.
Tell us more about your recent travels!
FV: We went to Japan (Tokyo, Kanazawa, Karuizawa, and southern Hokkaido) in June and just got back from Italy (Venice, Milan and Piedmont). Japan was a total dream, beginning-to-end, and it was wonderful to divide our time between city and country. Some highlights were the Suzuki house and our wonderful ryokan (Ryokusone) in Kanazawa; the 21 21 Design Sight museum, Cosmic Wonder store, and our meal at Cignale in Tokyo; and every piece of uni we ate in Hokkaido. We visit Italy every year because a lot of my family is still there (my parents emigrated to the US), but this summer was especially inspiring because we spent two days exploring the Venice Biennale, which featured some incredible work by Carol Bove and Alicja Kwade.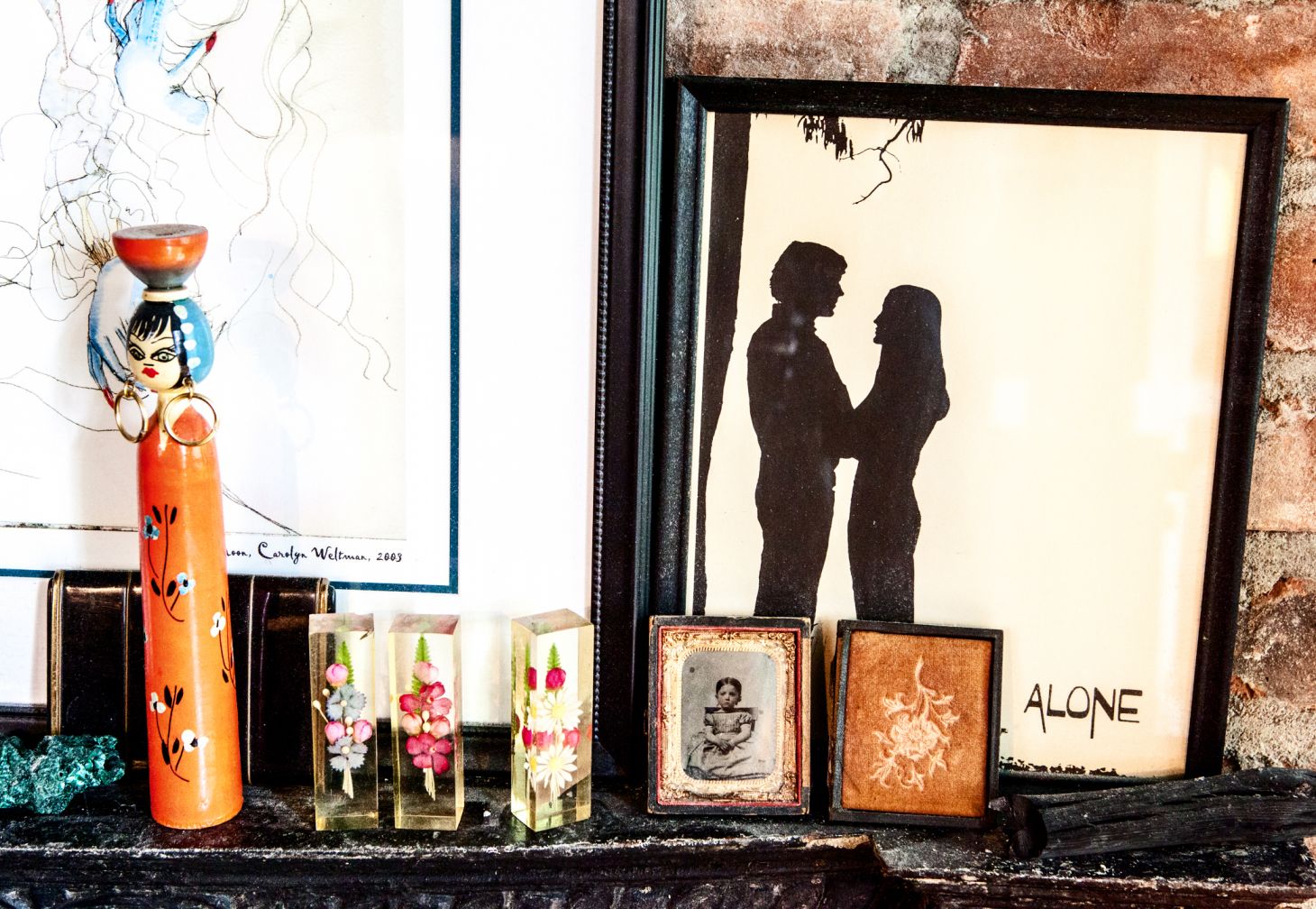 What are you most looking forward to coming up next?
FV: I'm counting down to the Carolee Schneeman show at MOMA Ps1, Pina Bausch at BAM, Alice Waters' autobiography, and an escape to the California desert at the end of the year. I'm also excited to get to work on the next issue of Gather! NM: More traveling and time in California, launching a light and sound art installation soon, and a lot more sound work.