Claudia & Sonny, Ivanhoe VIC
As far as dream backyards go, Claudia and Sonny Dalimore's--with its two avocado trees and overflowing vegetable patch--is surely one of the dreamiest. Claudia is a filmmaker, dancer and photographer, while her father Sonny is a prolific artist. Their home is an ever-changing art gallery and a meeting place for creatives. In Bed got the tour of the Dalimore house to learn about its iconic rock music history and the family's colourful, artistic life.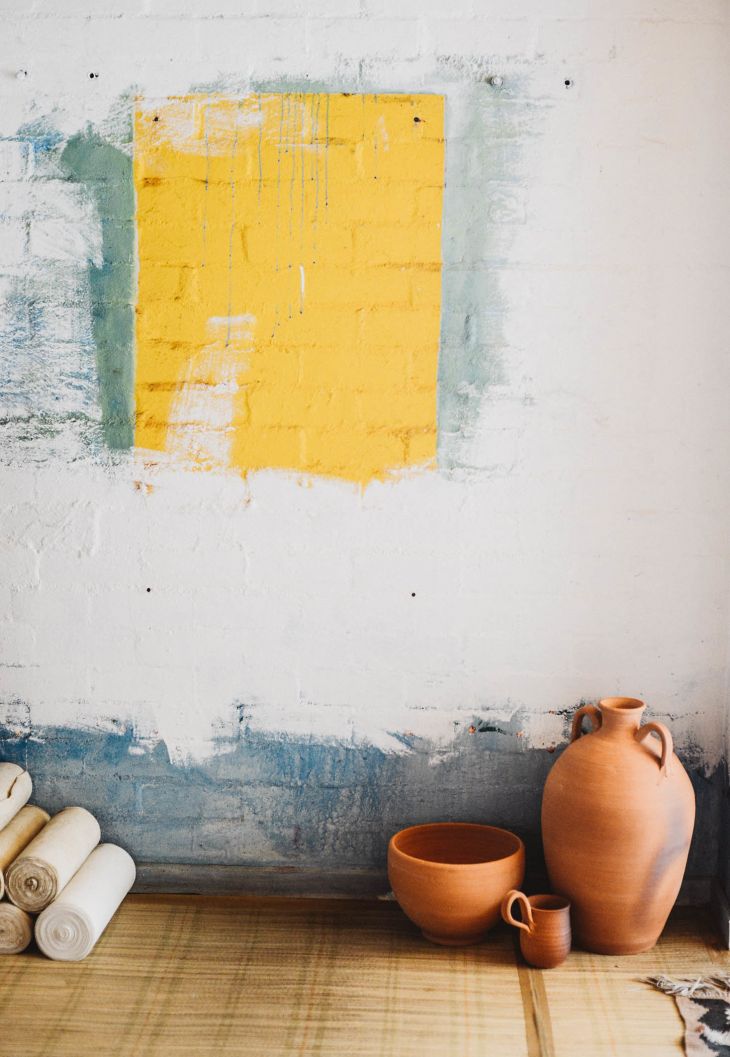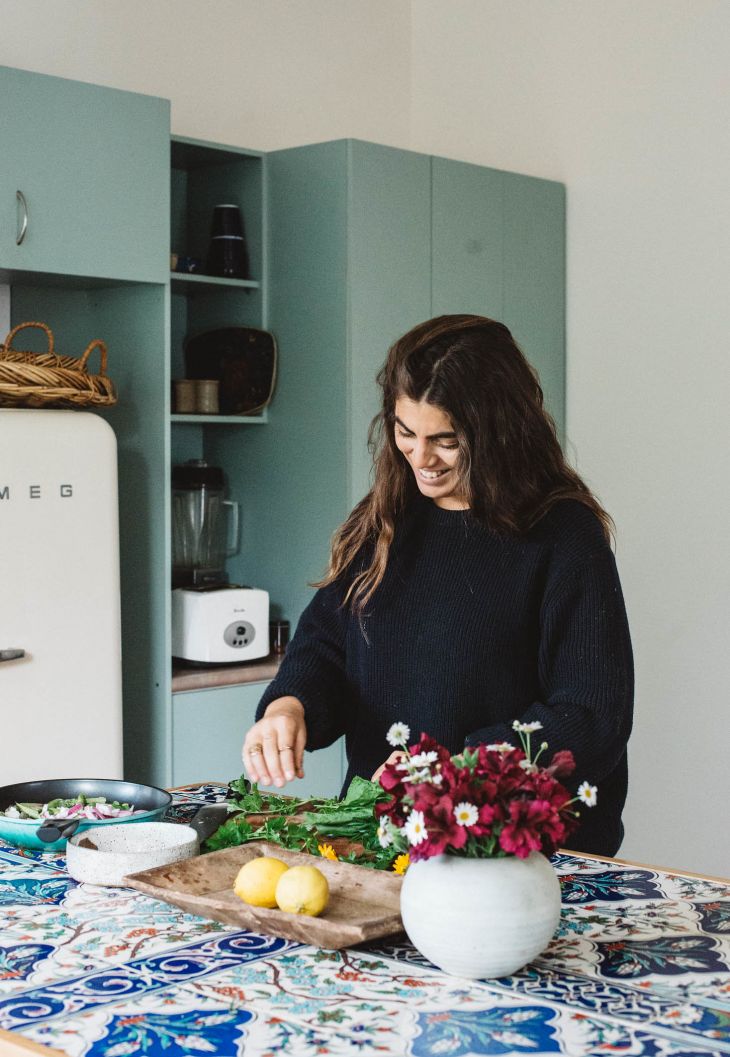 What do you love about living where you do?
[C] It's far enough from the city to have some peace. There are big trees and a river but it's close enough to stay connected to the city's buzz. We live opposite from a school and I love the school marching band that sometimes rehearses outdoors in the afternoons – you can hear the horns blaring all down the street.
[S] It's peaceful here. It's helps me be creative, I can concentrate and breathe in more oxygen and less pollution.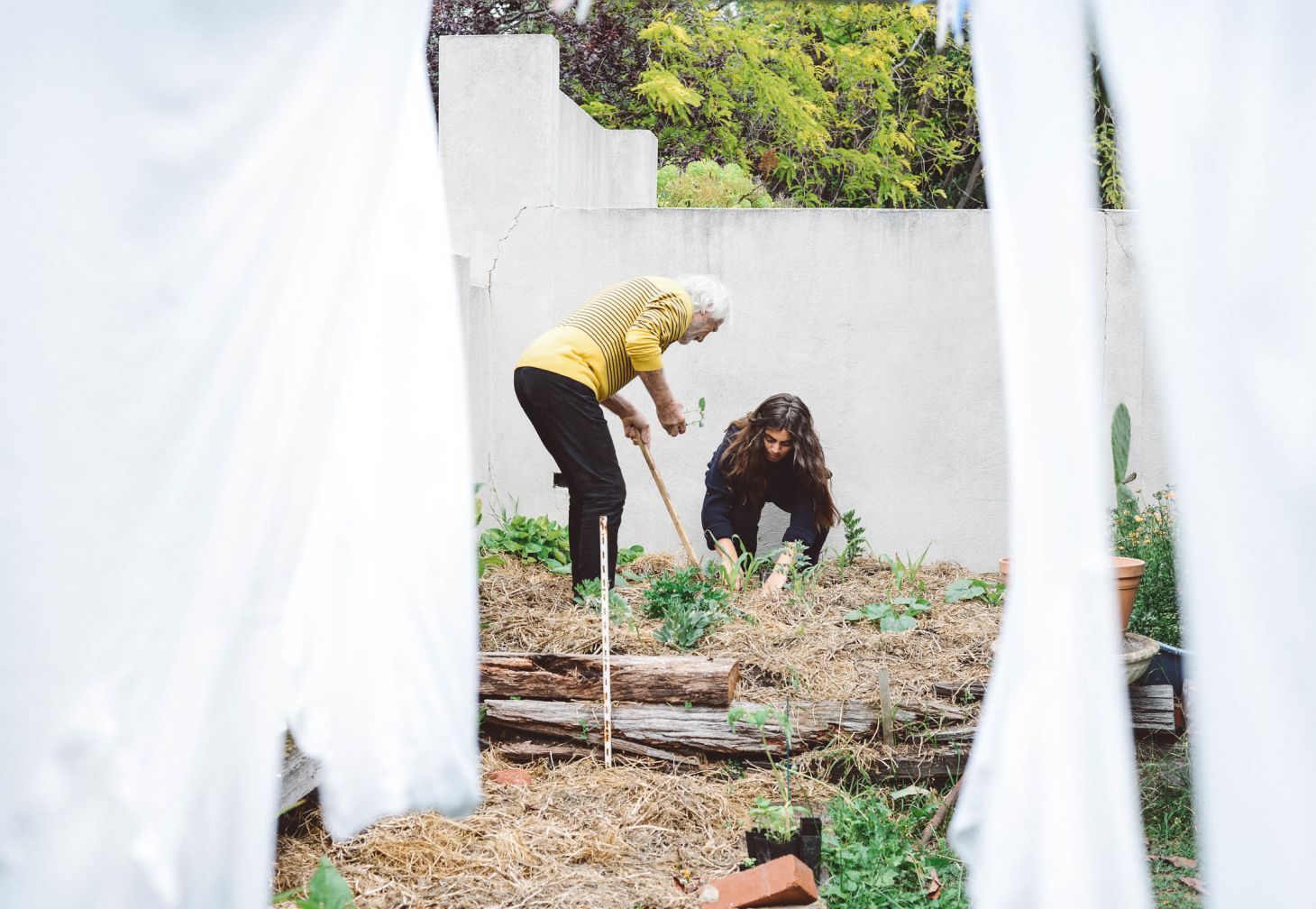 Tell us about the history of your home.
[C] It's not ours but I love it. It's actually a little bit of a famous house. It belonged to a guy called Bob Jones, who had a big martial arts school here and ran a security company. The story goes that in the 70s and 80s when any major music artist was touring Australia, it was him that looked after them. People like the Rolling Stones, The Beatles and Fleetwood Mac. There are stories of him [Bob] even taking care of their fitness-training regime so they would have been training here at the house. I live in the rooms that would have been the gym in those days. I like to claim that the Stones stayed in my house and had a sauna in my room. You can feel there is a history here and every now and again I meet someone that knows about Bob, who maybe even came over for one of the infamous pool parties in the '80s or trained at the school. Since we moved into the place it's also been host to so many artists and creative ideas. There's been in-house retreats, workshops, dance classes, concerts, therapy sessions, rehearsals, film shoots, raging parties and of course many nights of big dinner parties.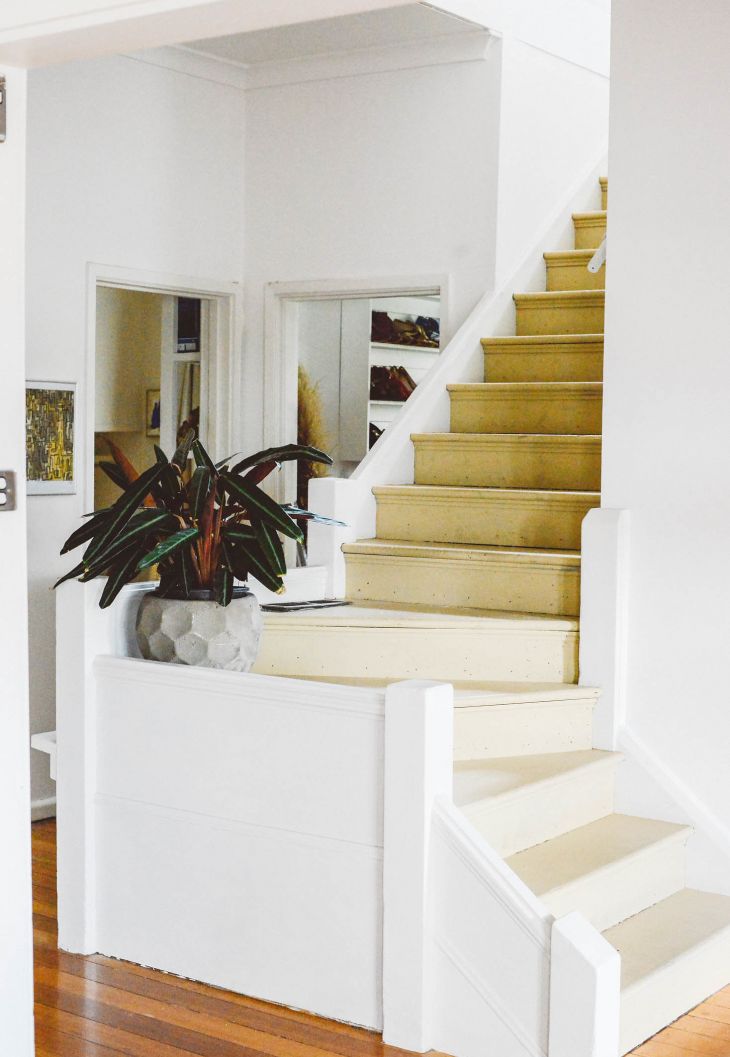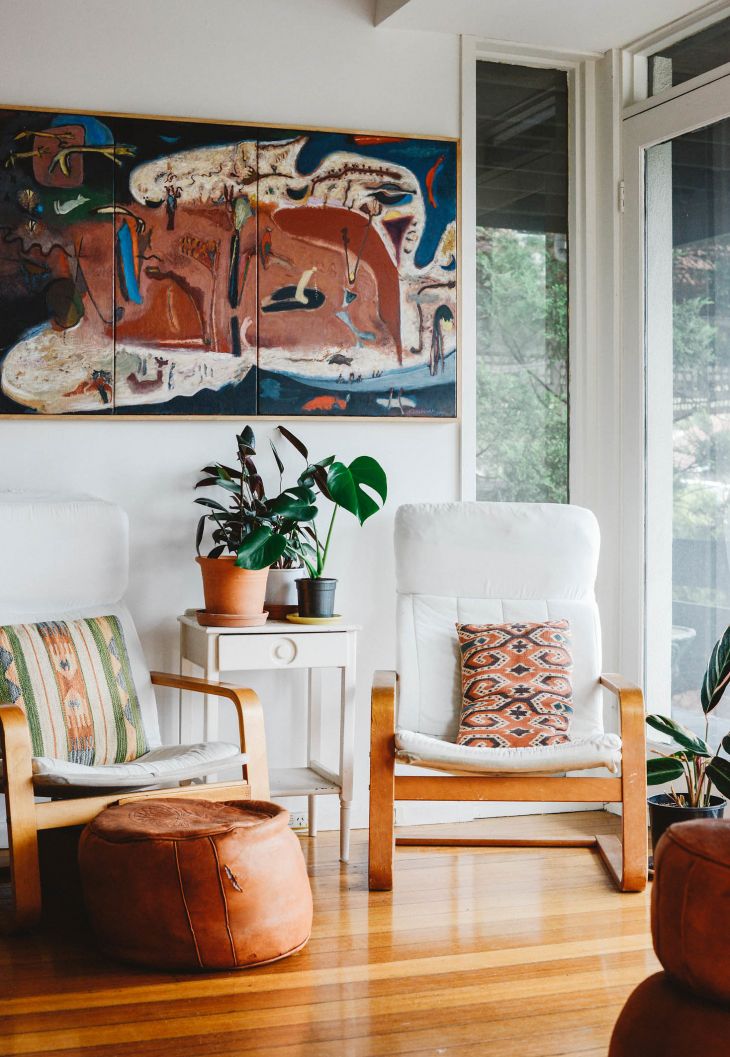 Tell us about the other memorable places you've lived.
[C] I was born in Allansford and then spent the first 20 years of life living in Clifton Hill with mum. Papa was moving around Melbourne and then in 2007 decided to pack everything up and travel round Australia. This is the first time in about 15 years we are living together again, It's nice how life makes moments like these happen. When papa was travelling it was always lovely being able to go visit him around Australia, in some lush landscape. Just after I was born, heran a restaurant on Smith Street, Collingwood called Figaro. I can vividly remember his art all over the walls and the streams of poets, artists and flamenco shows that would roll through. I would have been about 3 years old. We had a waterbed in those days and I was so little that every time dad moved around in bed it was like being at sea.
[S] My most memorable place would have been living in Alice Springs between 2000-2013. There is a spiritual quality of the landscape there. It's very sacred and inspiring. I was always so curious about Central Australia.
Back in the 70s I also had an art studio on King Street in Melbourne. They were some really productive days.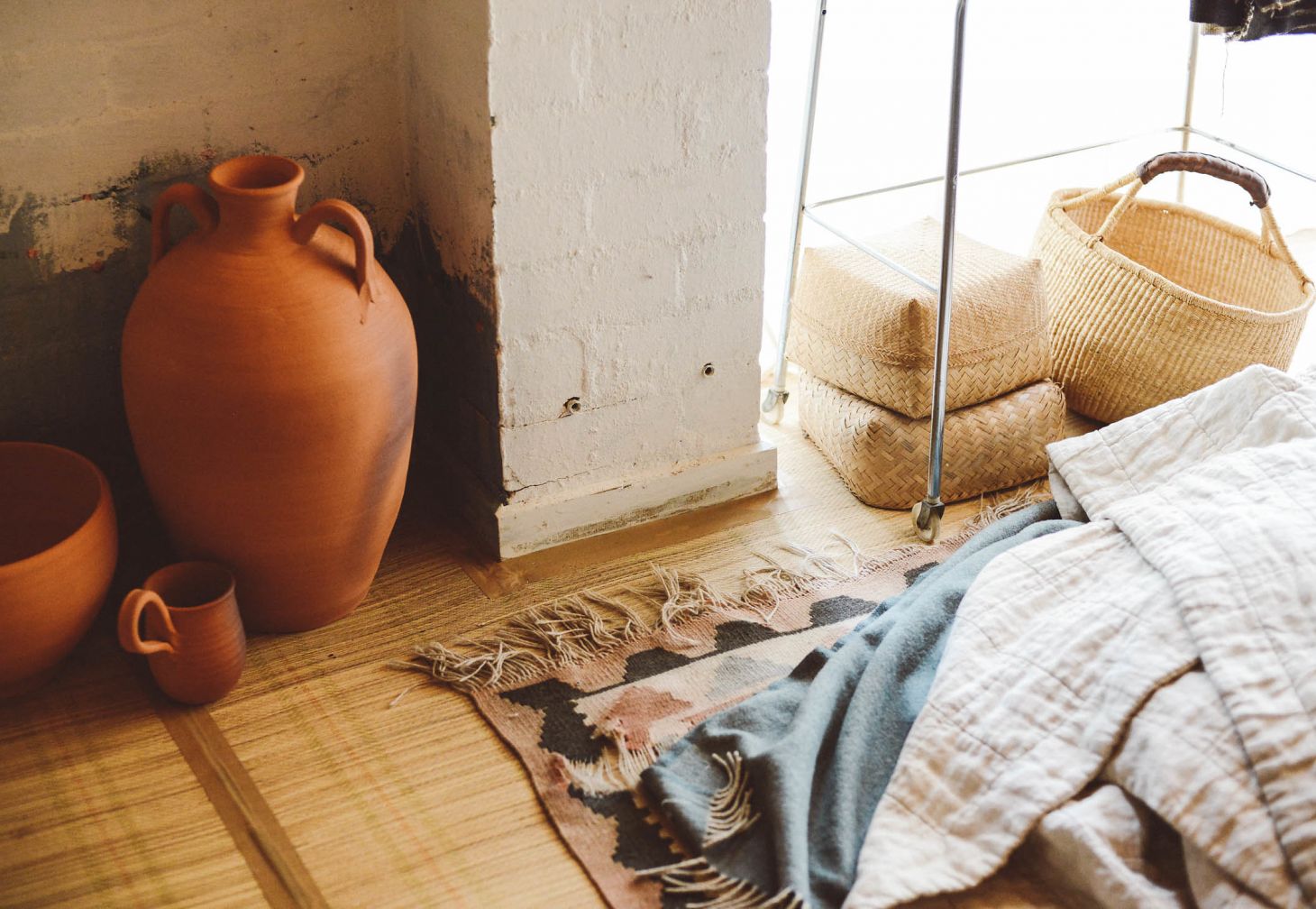 You both work from home – how do you keep work separated from home life?
[C] Home is large. There's plenty of space…little nooks to make up different spaces for the mind to indulge in. I'd say both papa and I share that same thirst for creativity so I'm not sure if either of us ever stop working. For me it's more about just making spaces that feel inspiring for whatever the activity. Or refreshing my mind in the garden, or our little library, or sometimes playing dress-ups in the costume room or spending a couple hours in the kitchen cooking. Someone is always making something in this household.
[S] I treat my studio space as just that, my studio. When I step into it, it's a living quarter for my artwork. It's very natural for me to split up the areas mentally. When I am taking a break, I am gardening, watching soccer or in the kitchen and when I'm painting, I'm painting.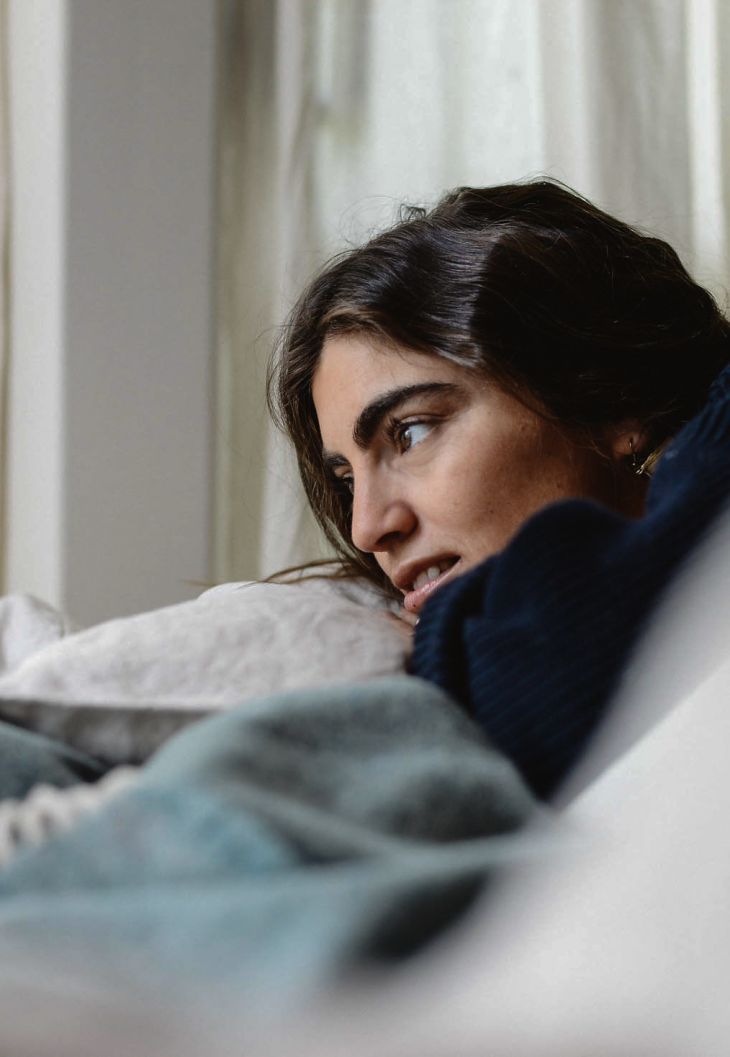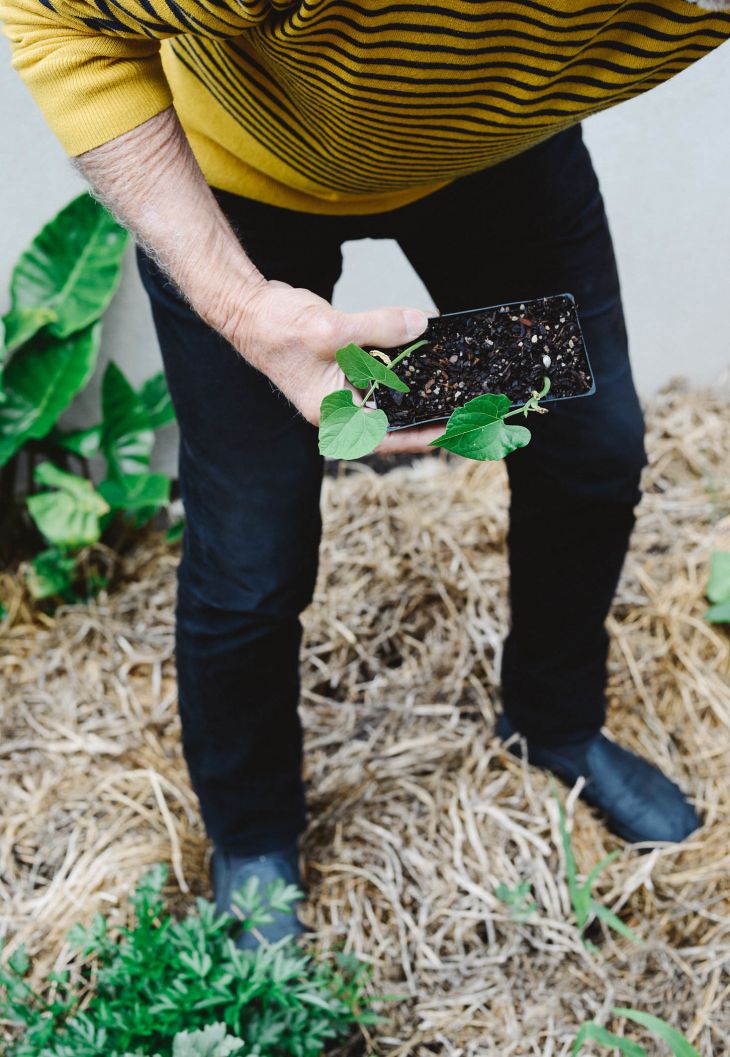 What are some of your favourite spaces in the house?
[C] The garden, that's the safe haven. Second to that would be my bed. It feels like the cabin of a ship. And then the kitchen – I love cooking.
[S] The front dojo area, where there's lots of light. It's such a vast area that I don't feel the walls around me. I've produced a lot of works in there over the last two years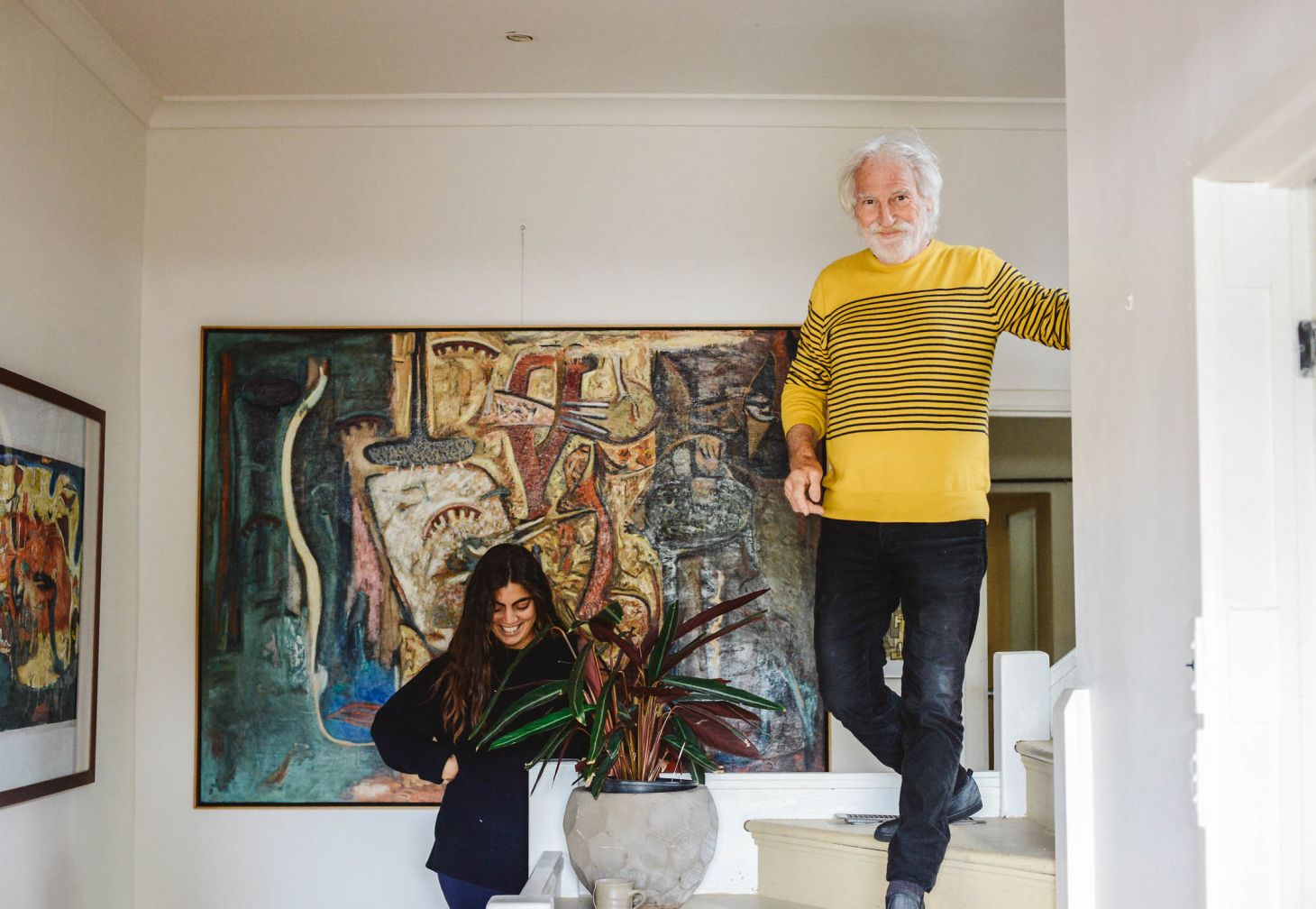 Tell about all the paintings and decorations in the house. Are they all by Sonny?
[C] They are! It's very special to be surrounded by them everyday. Anything that's not dad's art is something that I have collected from my travels around the world. He rotates all the artwork around so it's like a moving a gallery. Papa's art is our most precious family commodity.
[S] There are a lot of different stages of my work, some dating back to the '80s and even some I finish daily.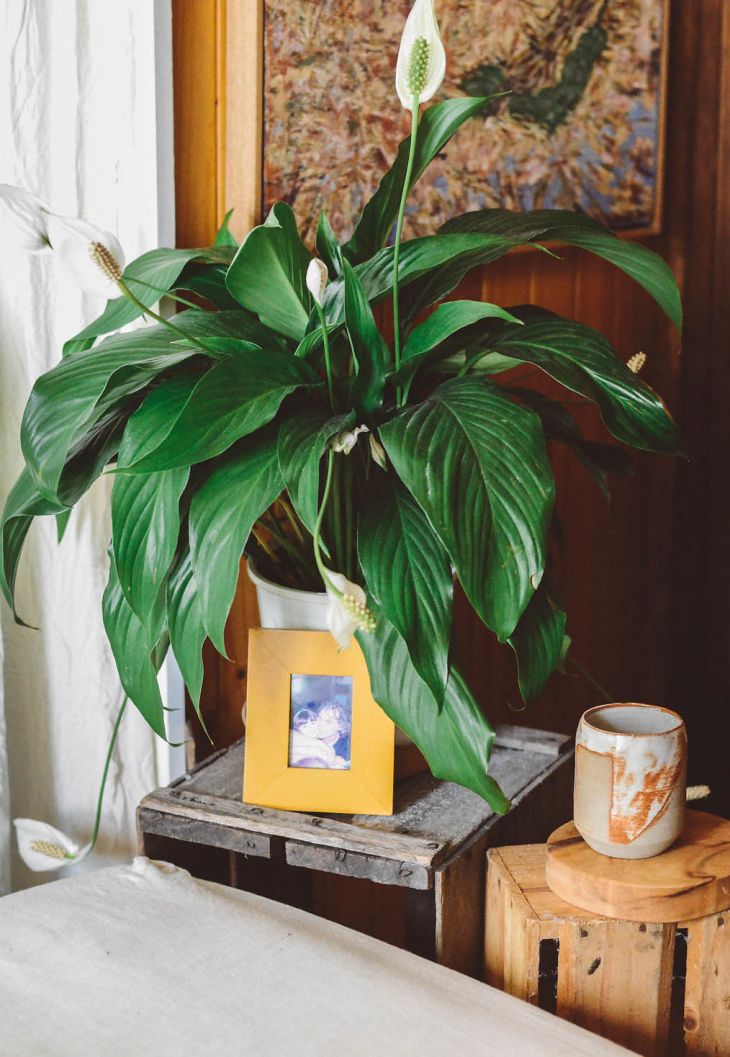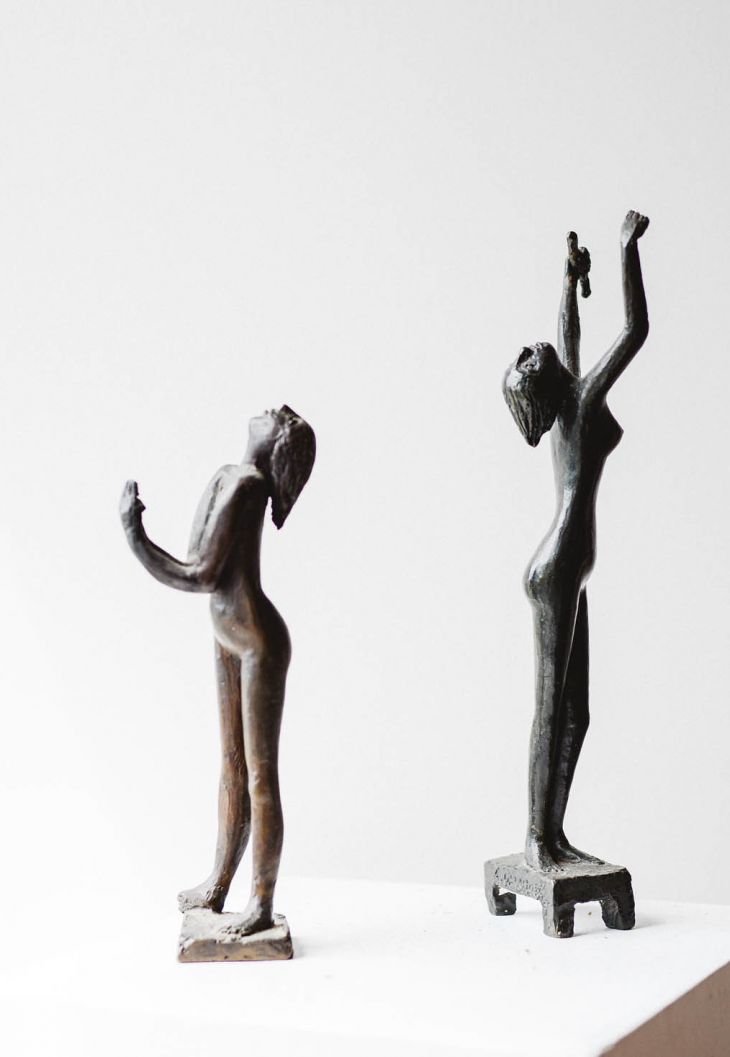 What's a quality you admire about each other's art practice?
[C]
One of the nicest things about living together is being able pop in and see papa at work painting or just say 'hi' to each other on our breaks. I often stare at his paintings and still feel a bit gobsmacked that the person that made them is also my papa. I have this admiration for him not only as my father but also as such a prolific artist. He is self-taught in everything.
[S] Claudia is extremely hardworking and imaginative. We are very similar in having a strong individual style. She has extraordinary vision when it comes to assimilating images together, you can see that in all the film work she does. Never satisfied with second best – that's how I see her.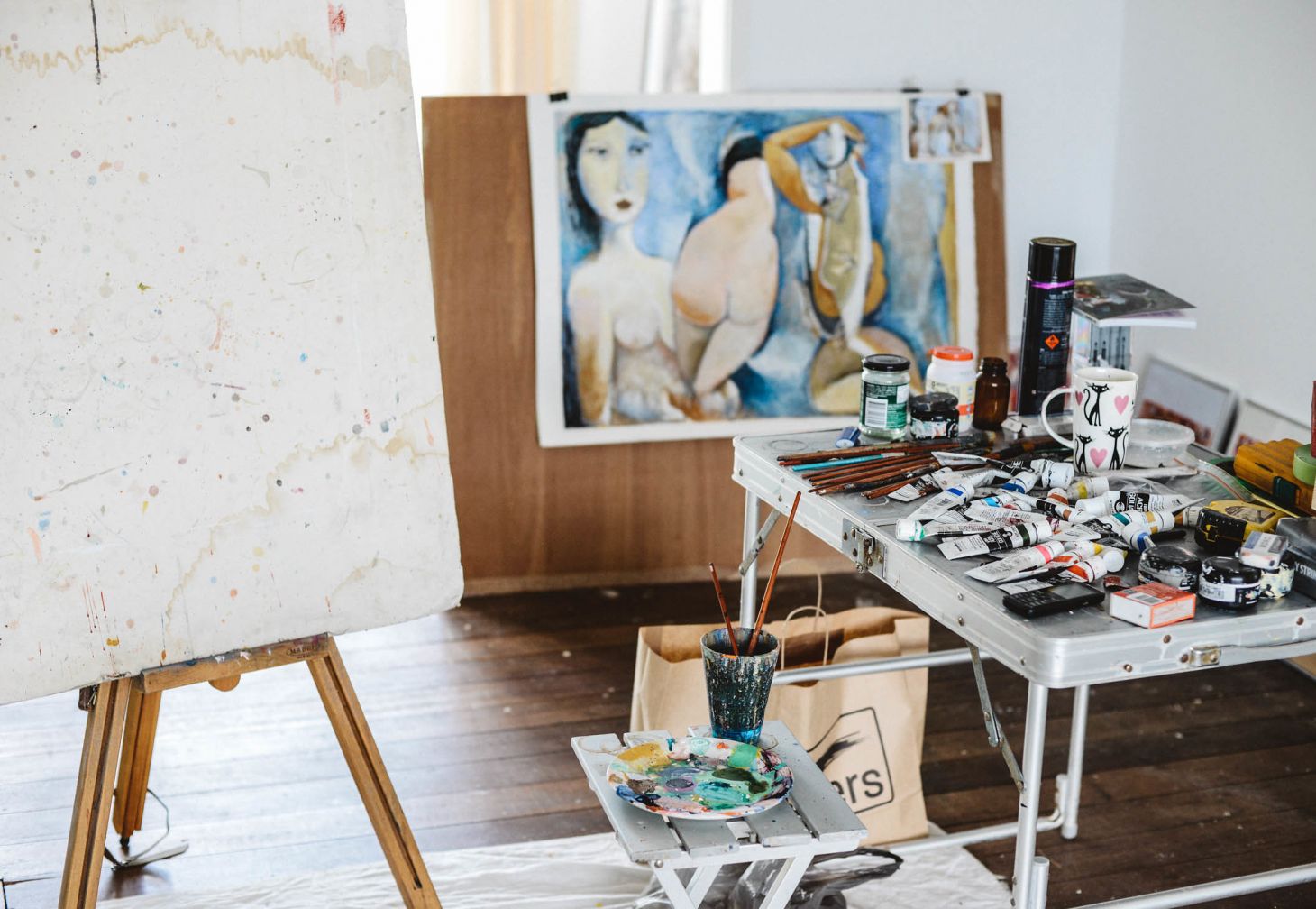 What was the last thing you read/listened to/saw that touched you?
[C] I'm working on a documentary about women in the Australian music industry, so I've spent the last couple of years listening to a lot of incredible stories and wisdom from the women I've interviewed. I've been trying to soak in all that love and knowledge first hand as I work through the edit. Women can be so giving in their communication.
[S] I like watching documentaries by David Attenborough about planet earth. They are so informative about nature and the animal kingdom. I watch a lot of NITV on SBS too.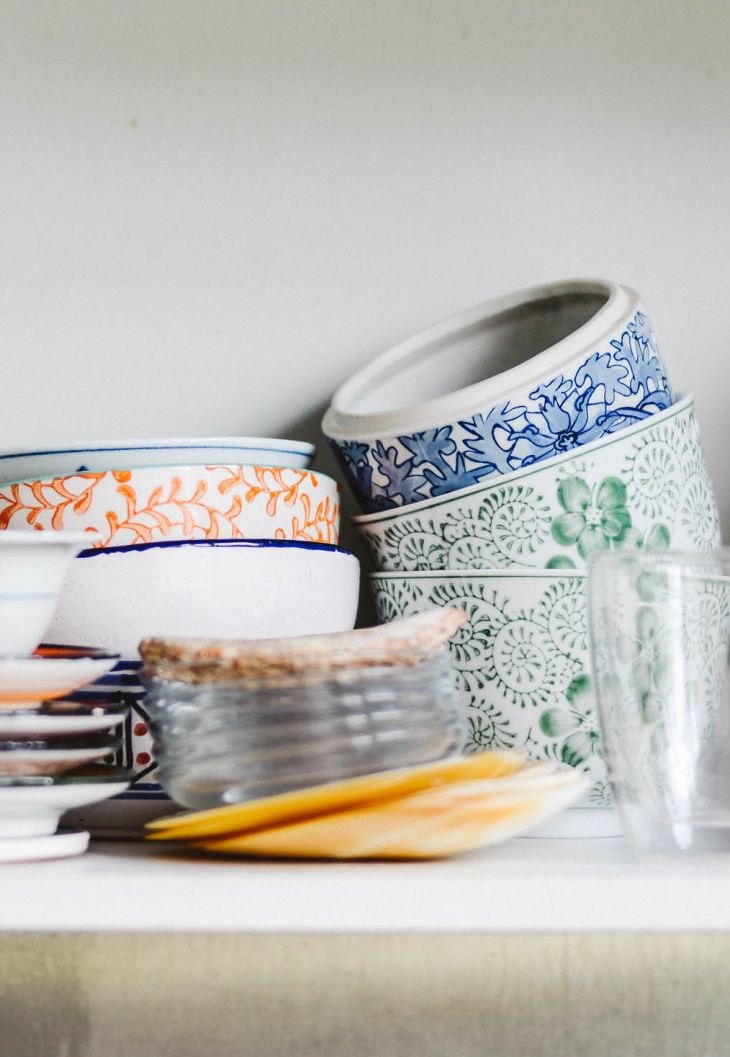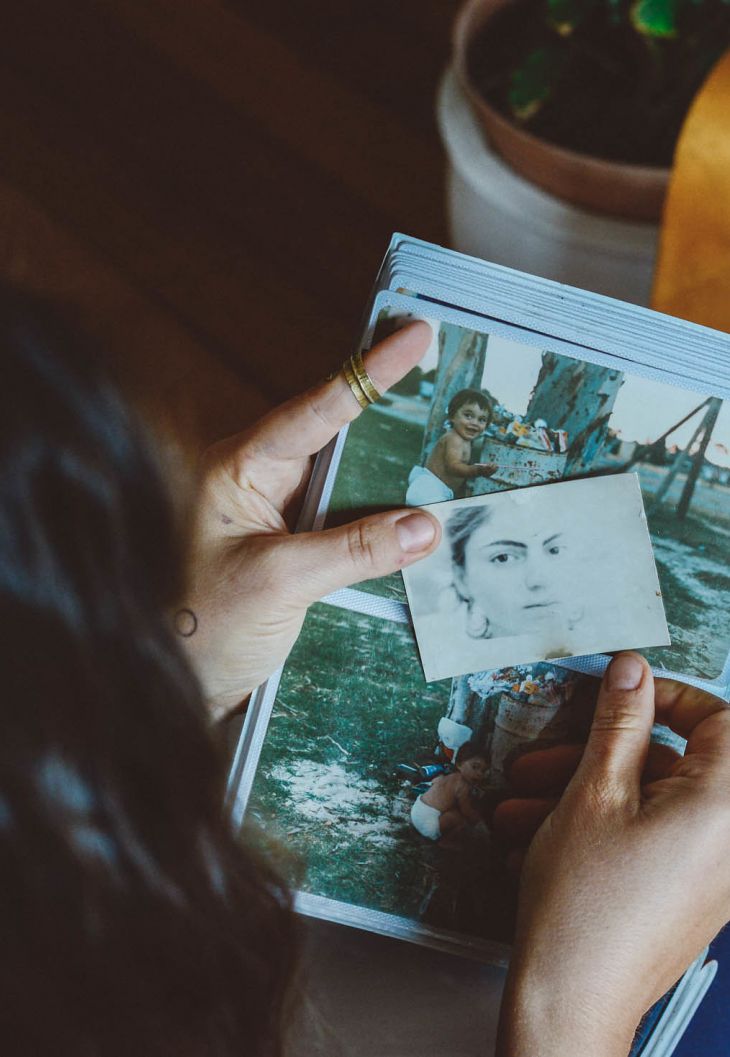 What do you do to unwind?
[C] I take a little guilty gulp thinking about this. There's not a lot of unwinding for me. Dancing is my spiritual practice. It's the ultimate experience of freedom for my mind, body and soul. Teaching dance, I also get to share that feeling. I laugh a lot and learn from my students. I love a good film and usually that can also spike my imagination. I do plan an escape mission to Byron Bay every couple months too.
[S] I watch soccer to both unwind and to get excited. Depending on how they are playing, it's ecstasy or agony. A book can make me go to sleep. It's like a mediation process for me.
I take a little guilty gulp thinking about this. There's not a lot of unwinding for me. Dancing is my spiritual practice. It's the ultimate experience of freedom for my mind, body and soul. Teaching dance, I also get to share that feeling. I laugh a lot and learn from my students.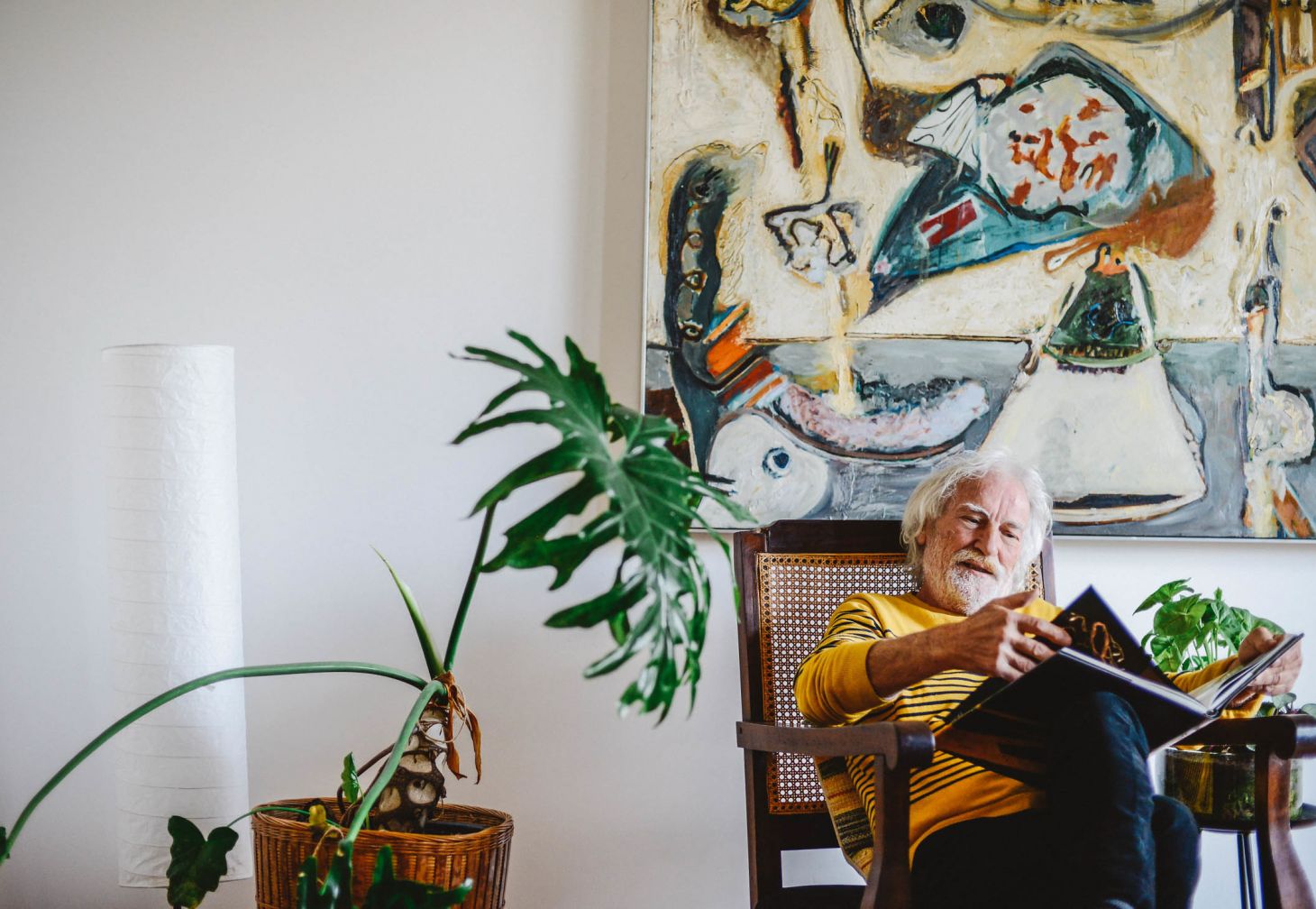 What's growing in your garden at the moment?
[C] Cucumbers, beetroot, leeks, coriander, lettuce, chives, corn, beans, zucchini, tomato, borlotti beans, basil, carrots, peas, mint, oregano and thyme. There are two avocado trees that mum planted by accident when she lived here six years ago. We have kept pruning the tops of them so they don't grow high, and last year even after only six years, they gave us fruit two different kinds. That's like fruit from the gods in your own backyard!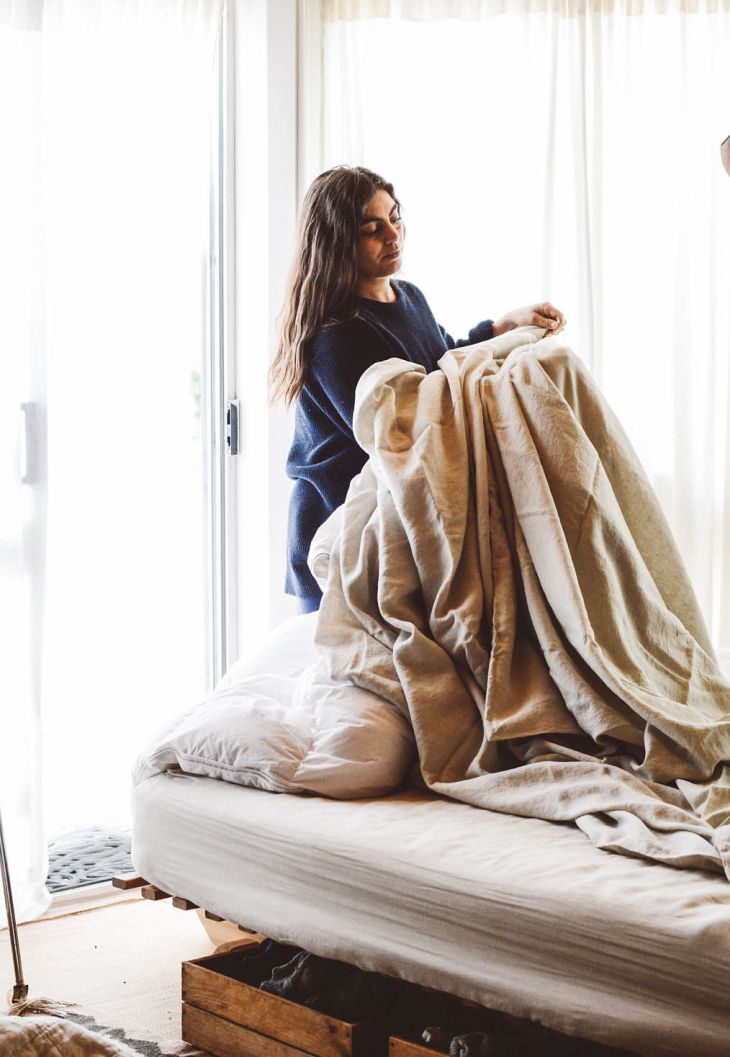 IN BED Dove Grey linen bedding in Claudia & Sonny's home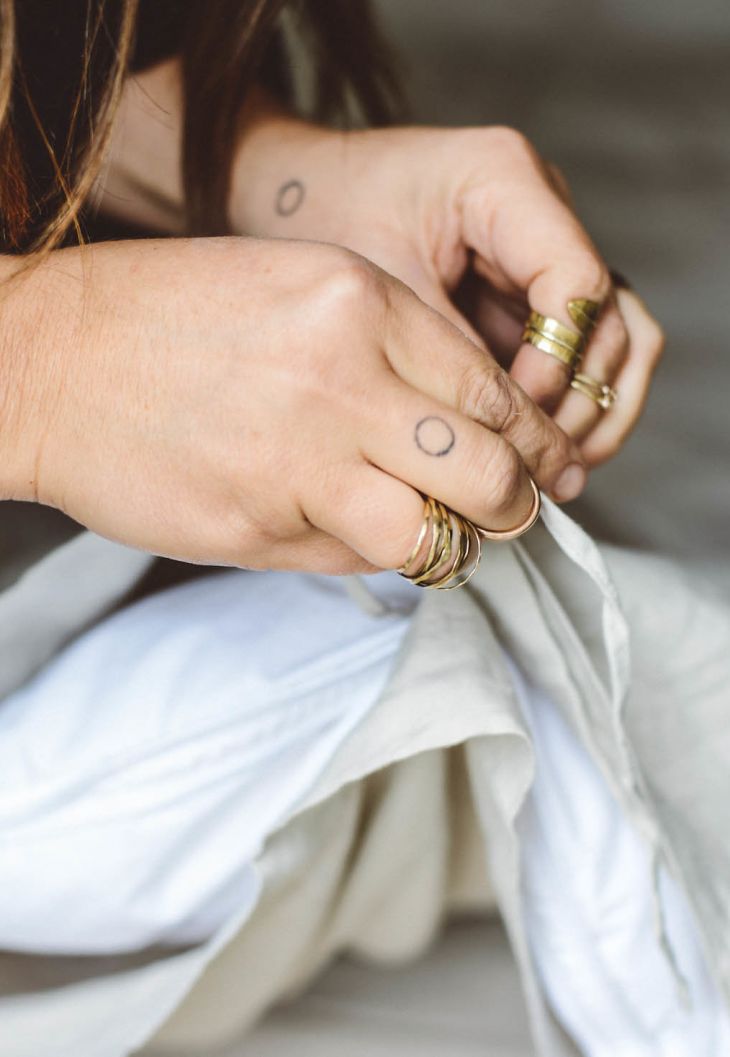 What's your routine before going to bed?
[C] I love Max Richter's Sleep before bed. There's no set routine for me, but every night when I finally do creep into bed, I have the same thought of how good it feels to be in there and have a moment of gratitude for having comfort and a safe place to rest.
[S] No routine. I could be going to bed at 10pm or 7pm or 2am. It varies on how things are developing in the studio. it could be late nights or an early night there is no set time for anything apart from dinner everyday at 5pm.