Charlotte Penman, Auckland NZ
Charlotte Penman comes from a family of makers, artists and travellers, each as radiant and curious as the next. And it is with these qualities that Charlotte lends her creative spirit to jewellery making, inspired by the powers of gemstones, crystals and the earth's minerals. Each purposefully chosen for its energy and healing properties. And it's not only her jewellery that is full of intention. Mother to three beautiful children, Marcel (8yrs), Florence (5yrs) and Celeste (1yr), Charlotte approaches family life with these same holistic principles. She is a woman who acts from the heart, incredibly warm and generous. Her home is an extension of this. We spent an afternoon sampling their market produce and meeting the newest member of their family...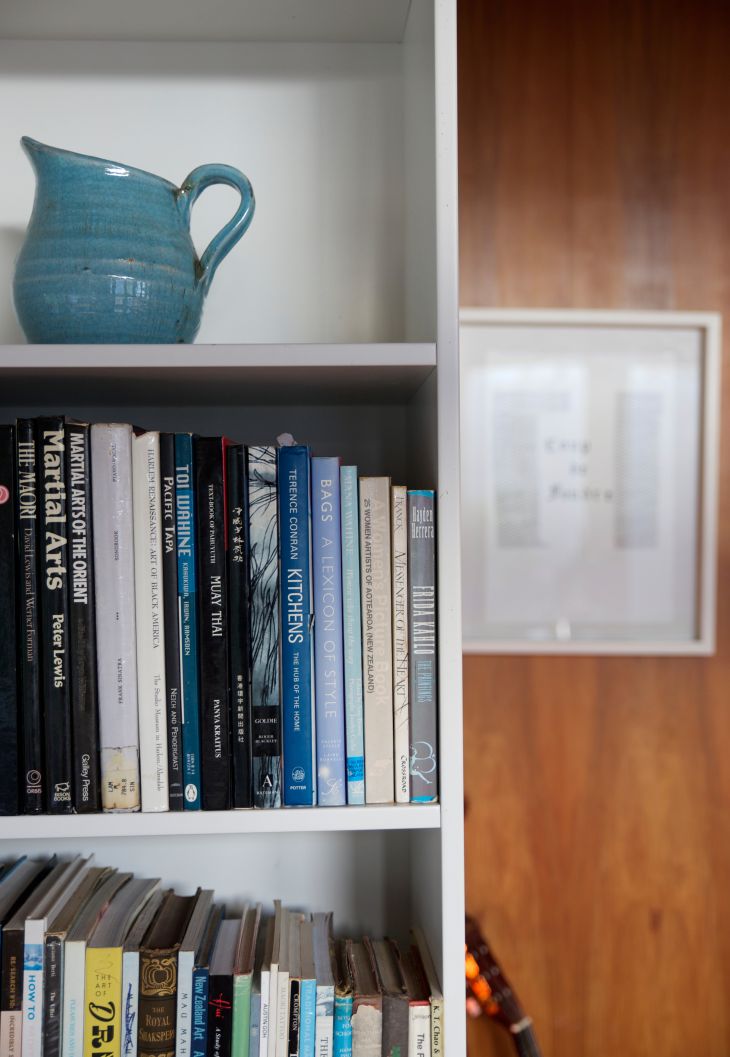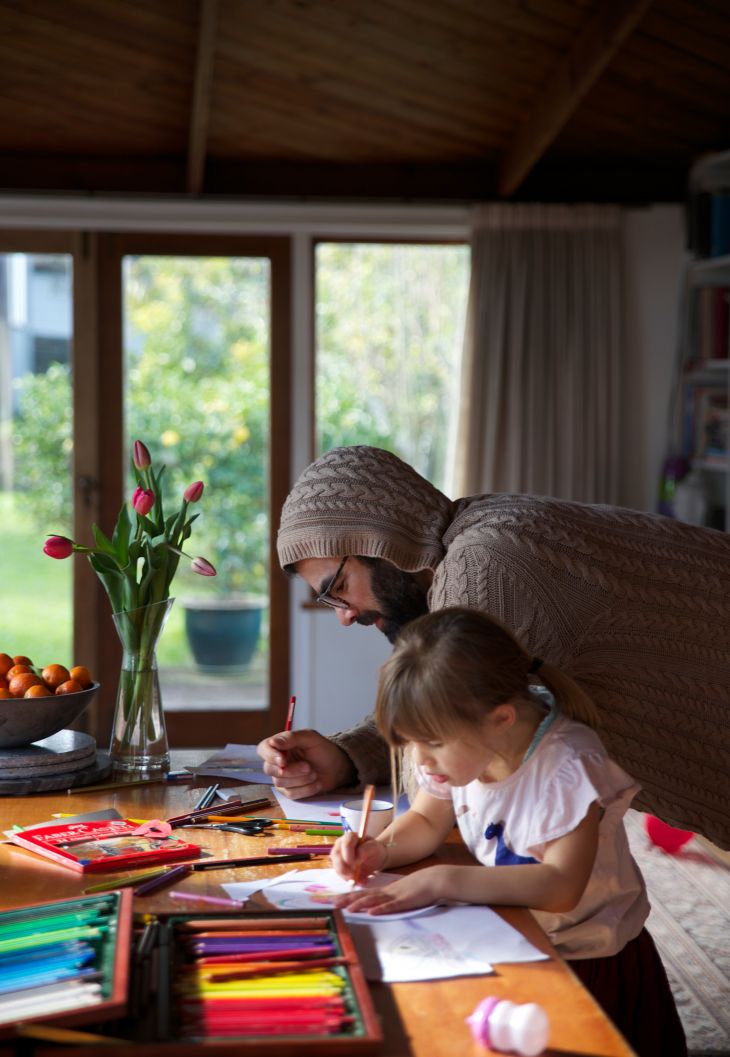 Your Grandfather built your home. Can you tell us about its history and how it came into your hands?
Yes! My grandfather Breton Penman was part of a collective called the Group Architects in the late forties and early fifties; they were instrumental in helping introduce modernism to New Zealand. They produced mainly houses, as well as shops, kindergartens, offices, as well as designing their own furniture, murals and even a typeface. With our house, The Second House, they wanted to create a living space that suited our climate and lifestyle and looked to Maori wharenui for inspiration, which is evident in the roofline and deck. We were incredibly lucky to chance upon it around 10 years ago, after my Great Aunt was reading an article on Auckland architecture in the weekend paper. She recognized the place and remembered helping her brother when she was 18-years-old while they were building. She knew my husband Ulric and I were looking for a house at that time, so called my mum as the article mentioned the owners were thinking of moving on after 33 years. It wasn't even on the market and definitely feels like one of those moments when the stars aligned. It is the first time anyone in my family has lived in anything my grandfather designed. He actually built this house with his own hands whilst in his 20's, before moving to Hong Kong, where he spent the remainder of his career and lived until he was 80-years-old.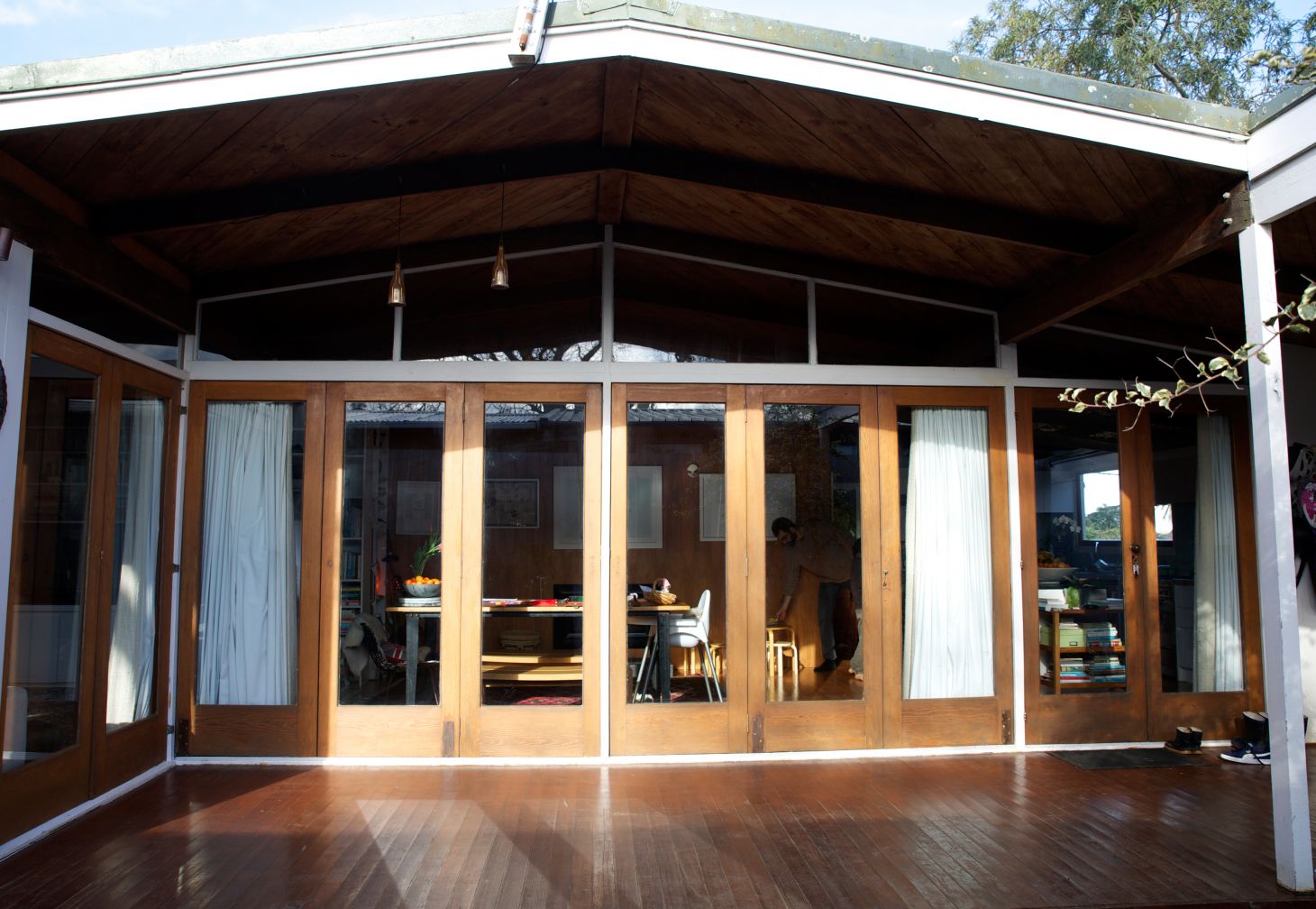 What are your favourite features of your home?
I love the pitched roof, which is most prominent in our living space; it feels like a warm hug (if that's possible from a house). The general atmosphere is calming and always a pleasure to come home to. When we first moved here it felt like we had found an oasis, and that feeling hasn't gone away.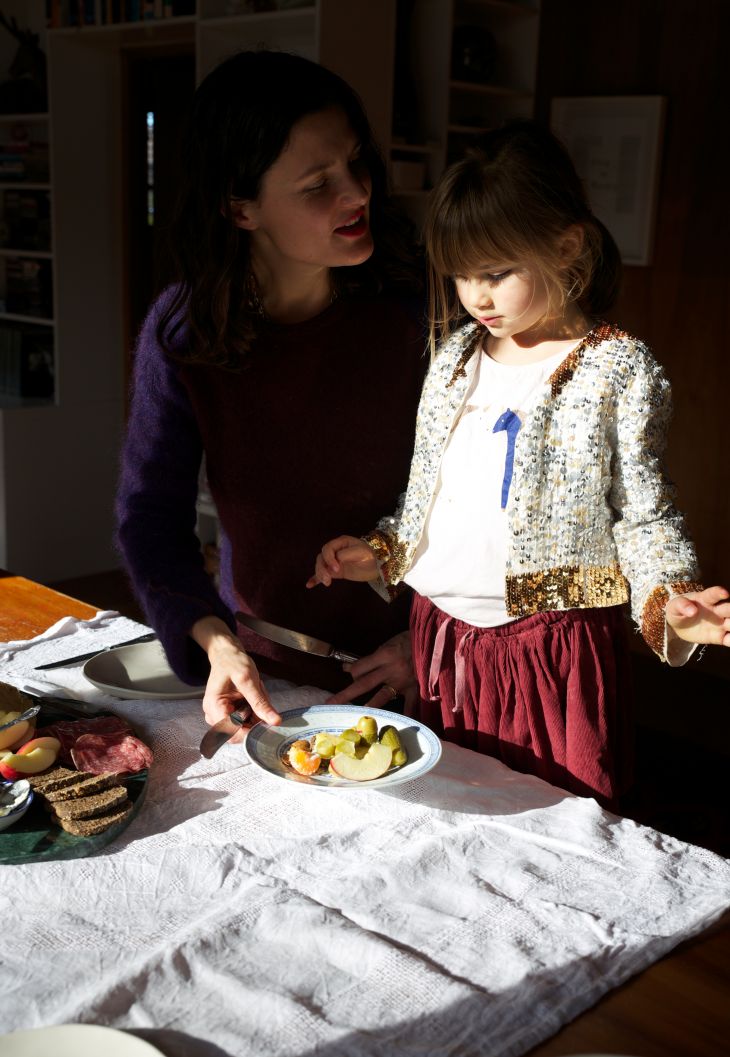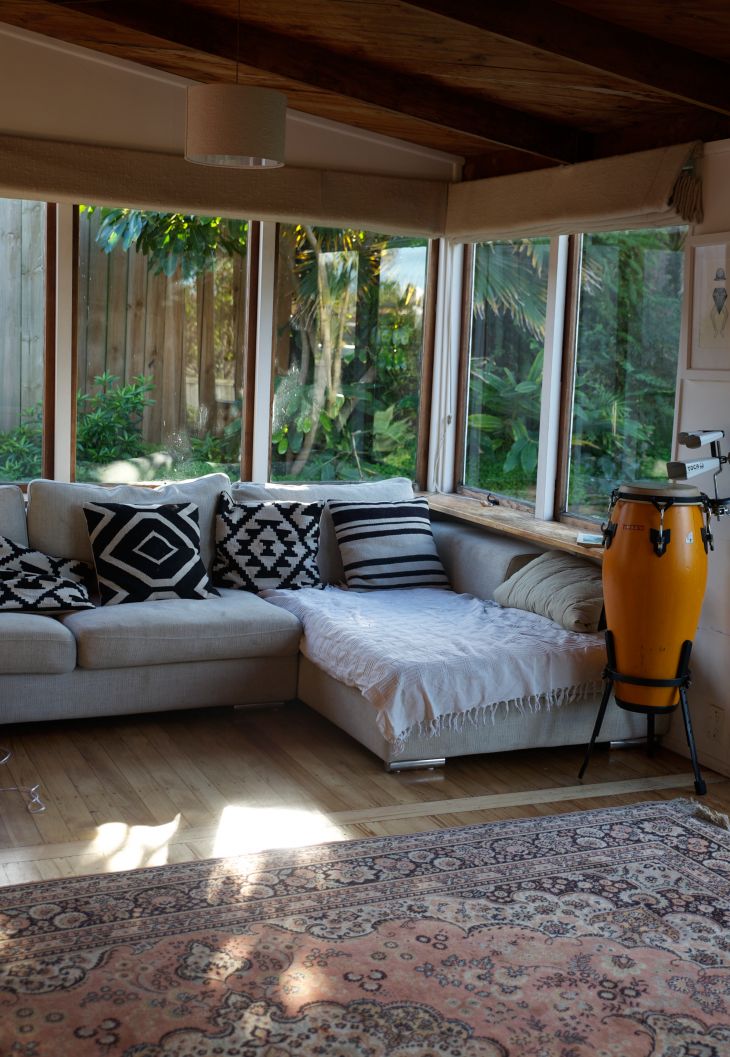 Can you tell us about a couple of your most precious objects in your home?
I am a great lover of art and beautiful Zen spaces, but as our family grows and we become outnumbered by little people, my appreciation for functionality has become more prominent. I love many of the things I cook with, especially precious being our Le Creuset cookware, as well as my teapot collection and Holly Houston ceramics. Our dining table, which I also use as a workstation for my jewellery making and household duties, and a spot the kids regularly use as an art station, is of great value to our daily life. It is rather higher than a standard dining table, so you can stand and work at it or sit perched on a stool. My partner Ulric made it, which gives it extra meaning. I also never tire of looking at an artwork by James Tolich that hangs in our lounge.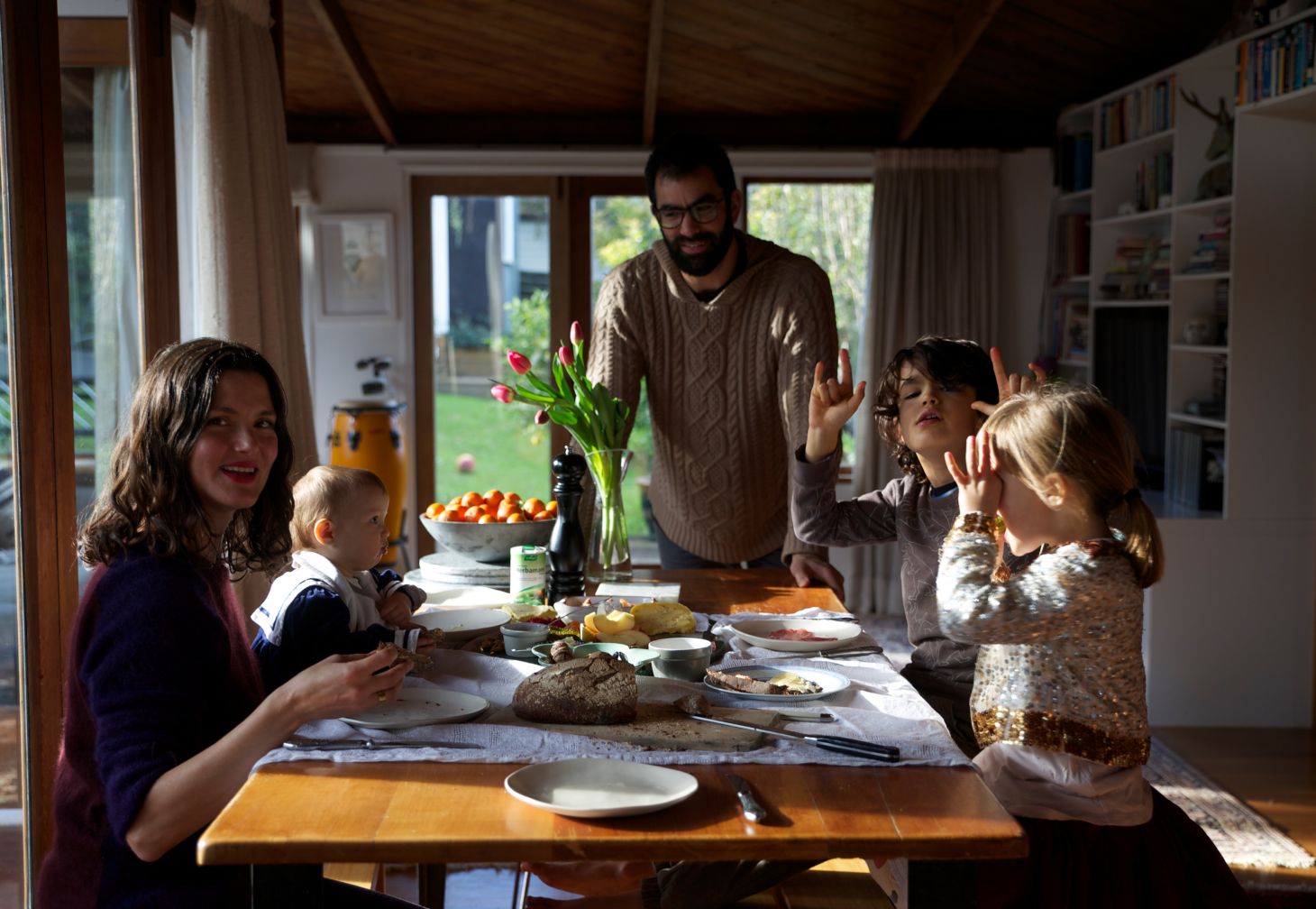 What are some of your favourite local hang out spots?
I love to take the children exploring the rock pools at Narrow Neck or the far end of Takapuna beach, as well as Saint Leonards,or up North Head and Mount Victoria. There is such diversity in the environment and Rangitoto Island is never far from sight. Working from home is wonderful, but I do like to escape to local cafes for meetings. I love the small rambling garden at Little and Friday, and frequently visit to Mimosa, Street Organics and SIP for their yummy healthy food. Occasionally we spend a lazy afternoon on the deck at Takapuna Beach Cafe enjoying their amazing seasonal food and looking at the beautiful view while the kids play under the Pohutakawa tree.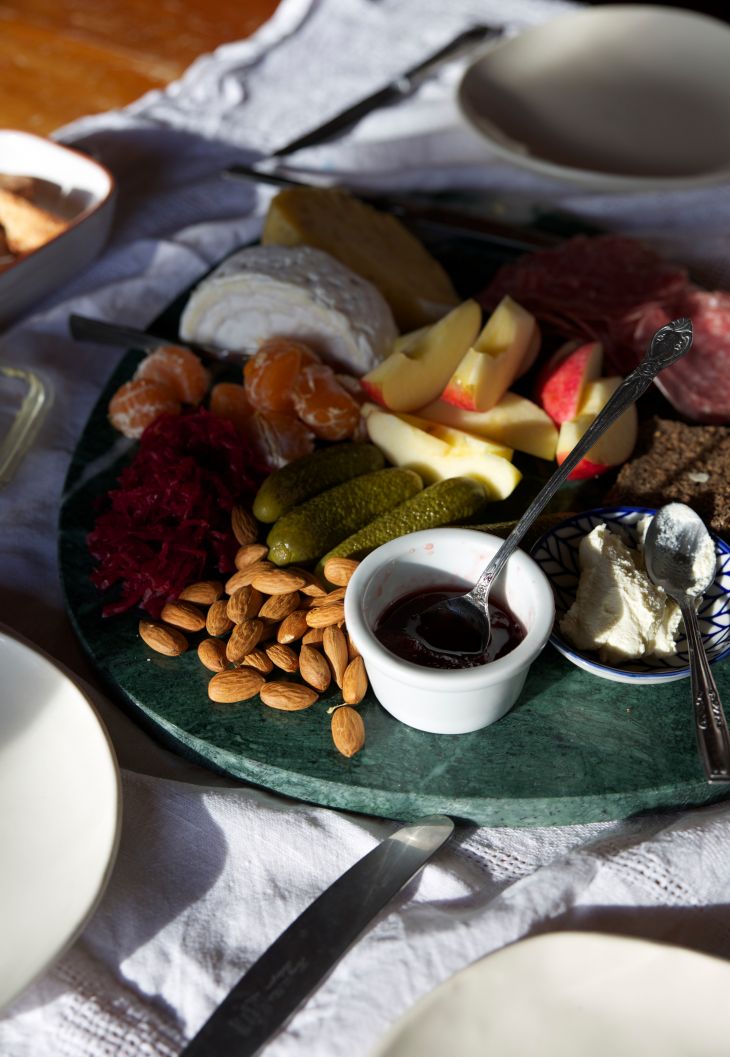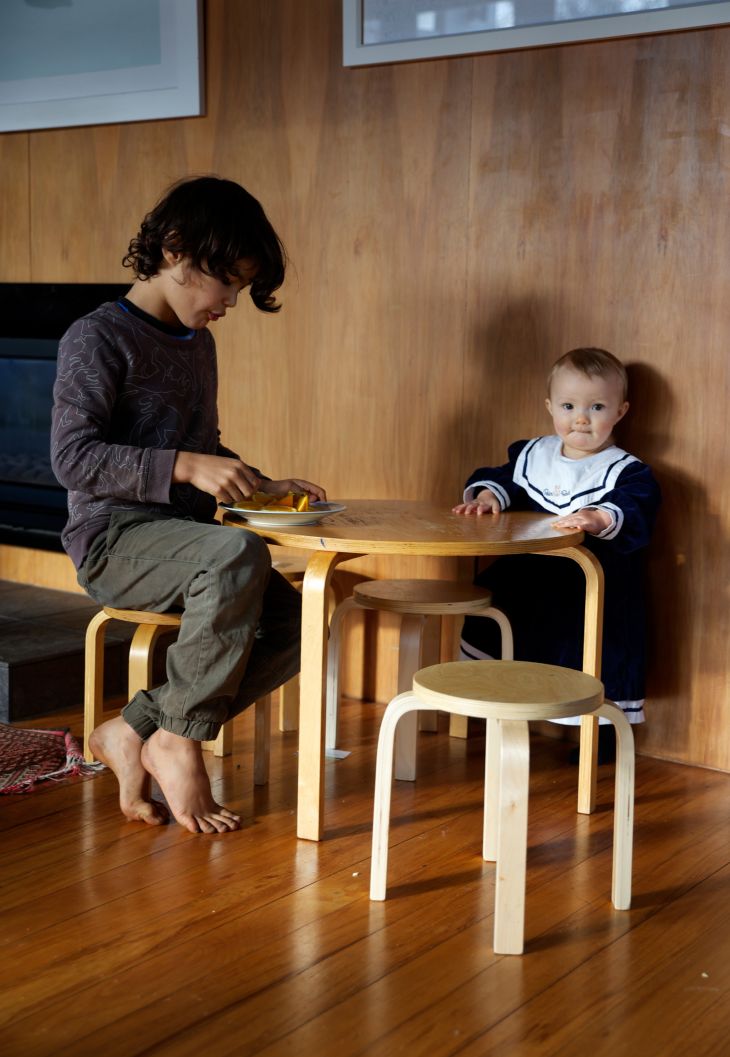 What are some of your home-essentials for a mother of three?
A well-stocked pantry that I can find inspiration to cook from. I love beeswax candles and essential oils and will often combine the two at the end of the day with a magnesium bath for the girls. Uli and I both love to read to the children at night and often all snuggle up together. Elsa Bestow books are gorgeous for little ones, although my oldest is now more interested in Harry Potter.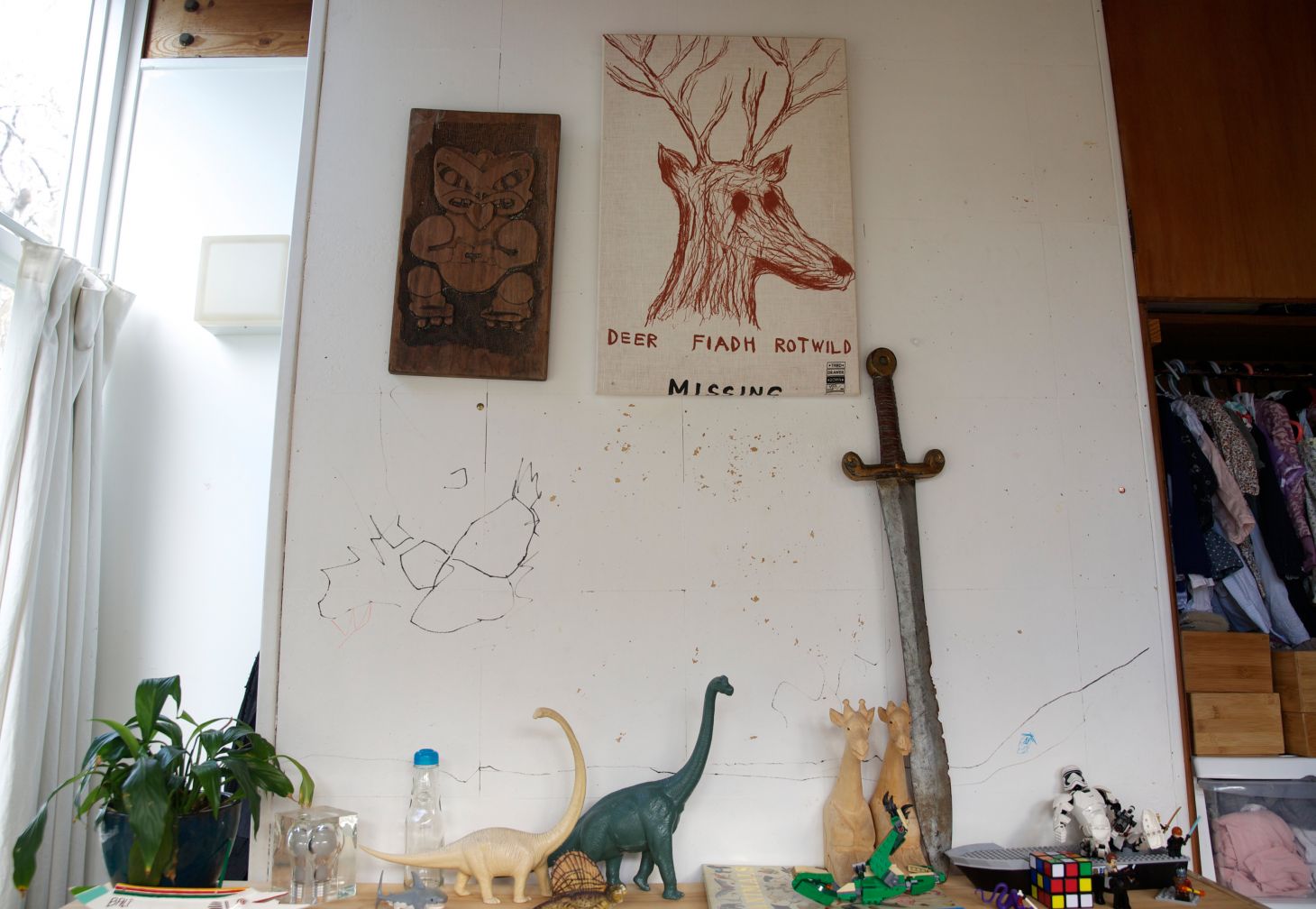 How do you like to spend your weekends / days off together?
Flo and I love to cook together and often prepare food on the weekend for family and friends. We enjoy listening to music, impromptu dance parties in our lounge, shopping at farmers markets (especially sampling olives, oils and vinegars on offer, she has already developed quite a broad palate for such a little person!). We also love to go to art shows, the museum or out to the cascades. My man surfs, so in summer he follows the waves, we love Te Arai Point, Raglan and Ahipara.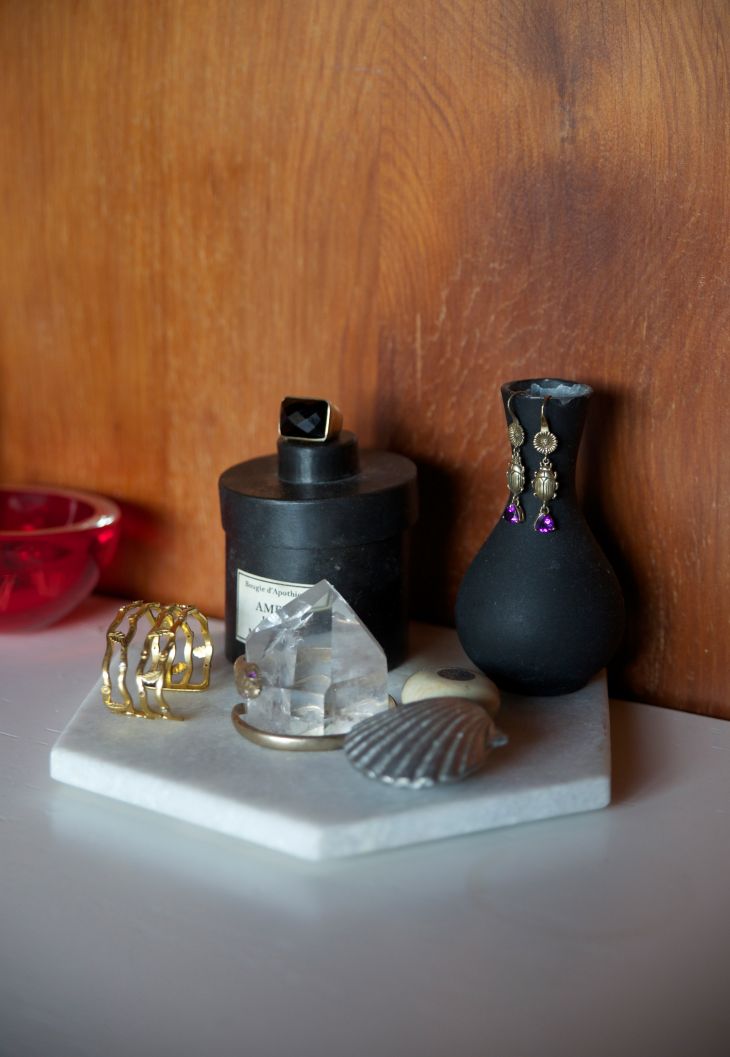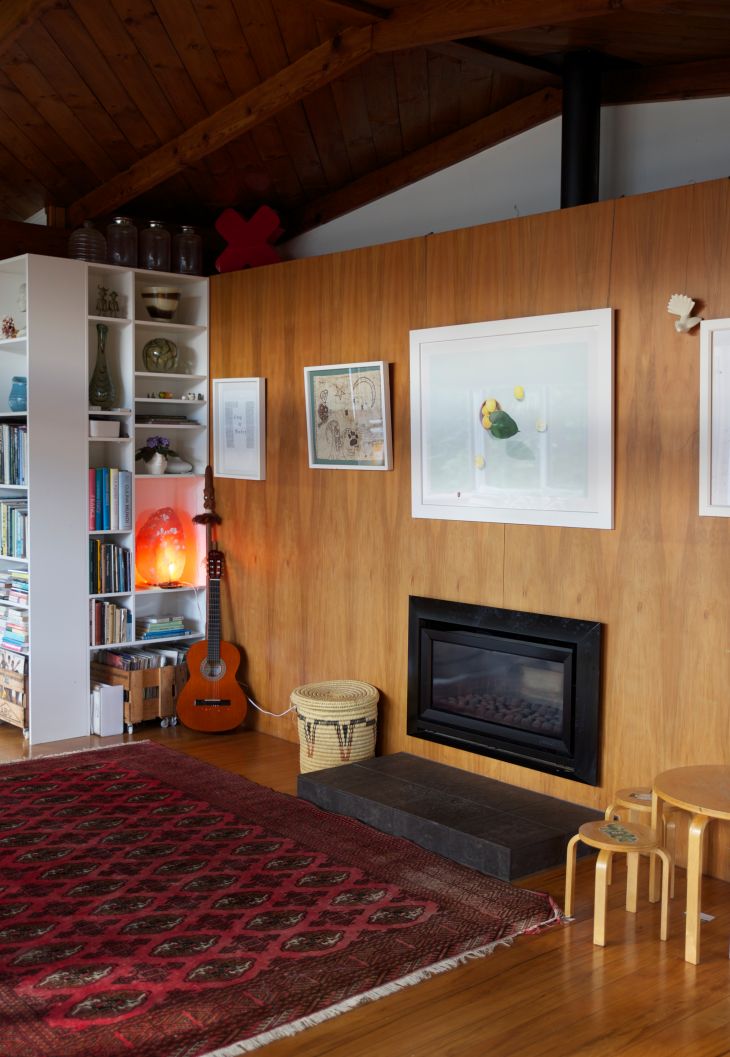 Do you practice any rituals as a family?
We make most of our meals from scratch, so our main ritual of the day would be that we try to sit down to eat breakfast and dinner together, even if Uli is away I still like to make mealtime a special time to be together, to enjoy good, healthy food. Florence and Marcel set the table and we usually start by giving thanks for the meal and then it's an opportunity for everyone to download from the day. Sometimes it's utter chaos with three kids, but I try to create that consistency to find the magic moments. We also have a Sunday morning ritual of making pancakes and listening to The Kids Show on 95BFM, which has been going since I was a kid! Then Flo and I often go to Takapuna Market for our weekly produce, flowers and perhaps a crystal or two...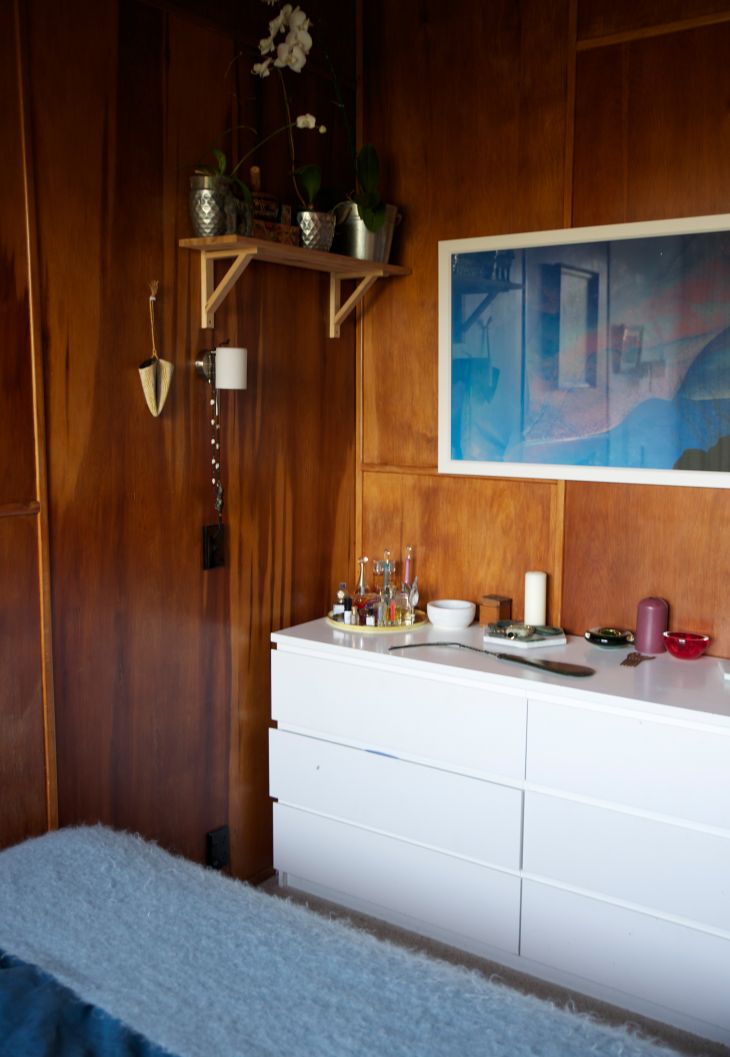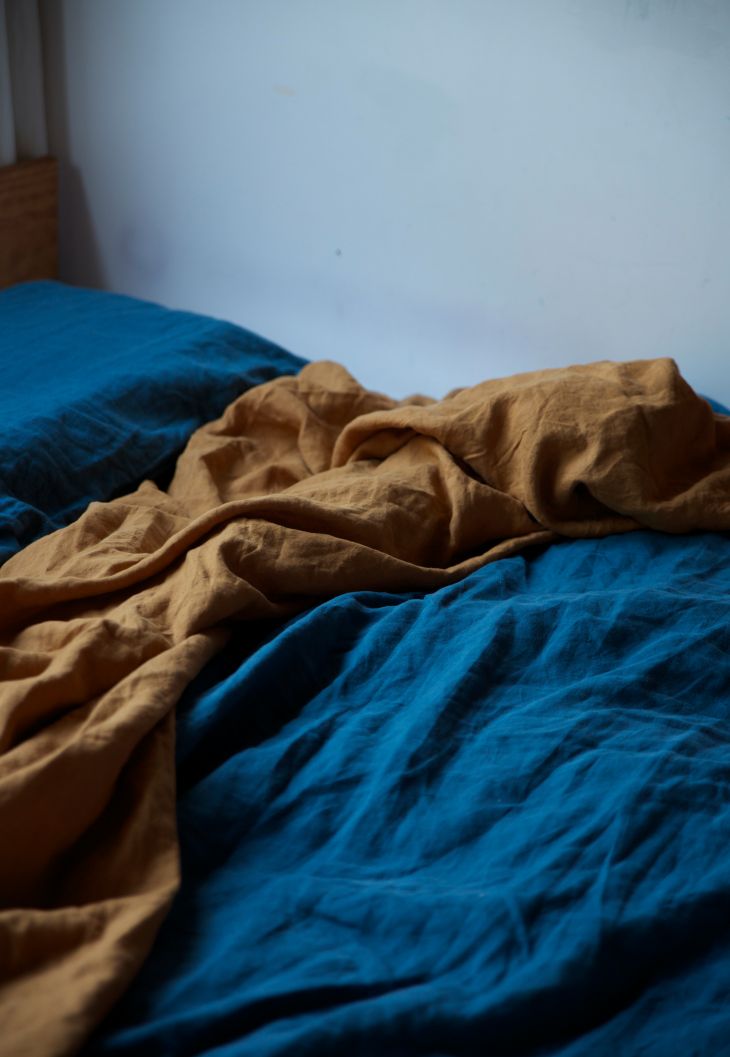 Above: IN BED 100% linen bedding
Sometimes it's utter chaos with three kids, but I try to create that consistency to find the magic moments.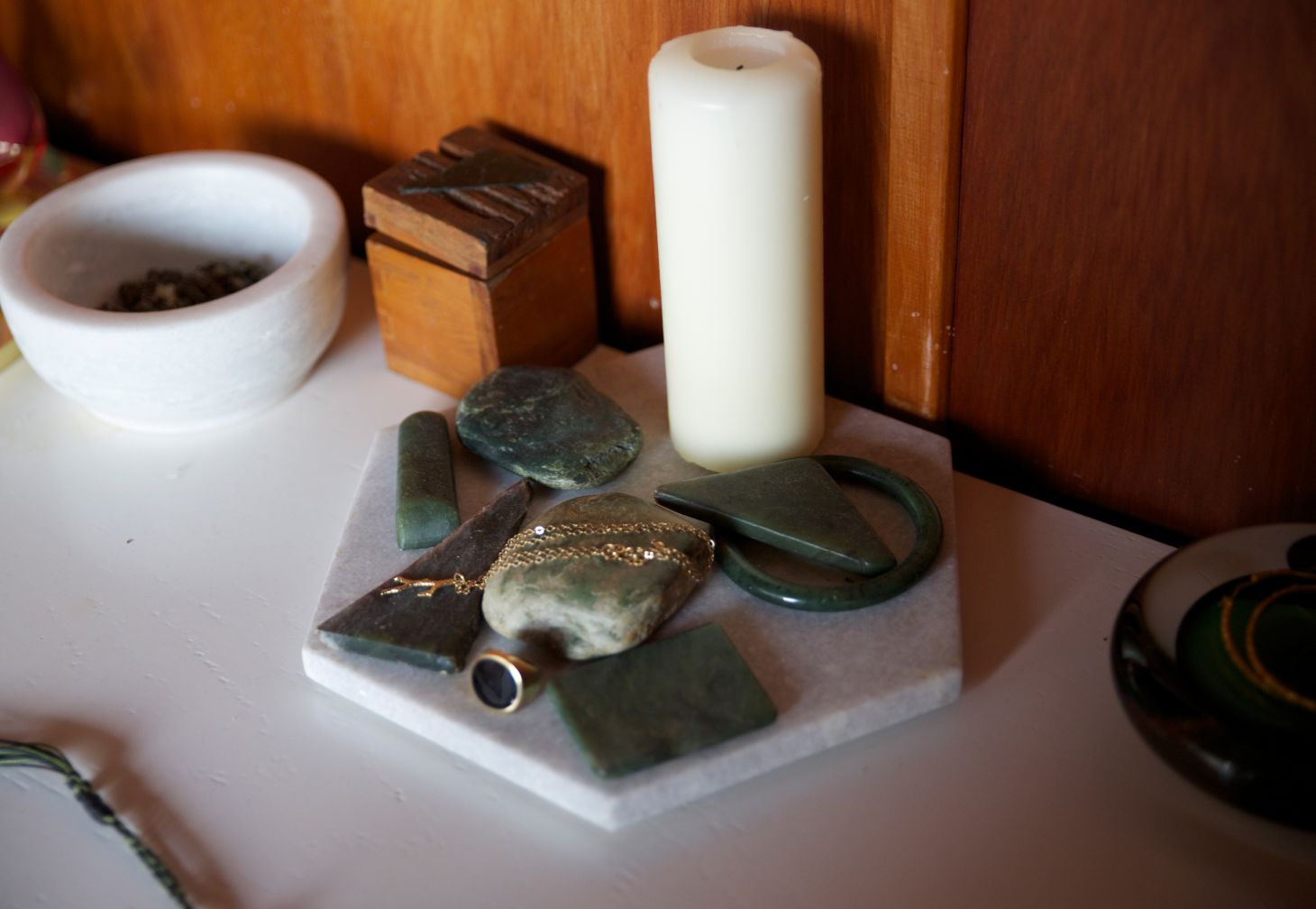 What is your bedtime routine?
I am a newly reformed diehard night owl... Up until I had my third child I would often work away for hours into the night, I love the twilight hours and over the years have found it the best time for my creative ideas, thoughts and work to come to fruition. In saying that, I have had to discipline myself to shift my routine now that I have children! To wind down from the day in the cooler months, we create a cozy evening environment with the fire going, a warm bath and bedtime stories. In summer, we often do dinner picnics at the beach. I try to keep up my little ritual once the children are asleep, I'll make a smoothie or hot cacao drink, as I'm still breastfeeding baby and read or do some creative work. Then, before sleep I make a herbal tea infusion, take some magnesium and cell foods and then do a skin soaking technique that my friend taught me, with a warm muslin cloth and Japanese essential oils. It's pretty yummy and I always feel amazing and sleep well if I manage this! See more from Charlotte here