Watch IN BED: Basquiat
They never found the prince. He never got out of the room. But that sound he made, filled everything up with beauty.
Near the end of Basquiat (1996), Jeffrey Wright (who plays the title artist), tells his friend Benny (Benicio Del Toro) a fairy-tale his mother use to tell him as a young boy, about a little prince who was secretly imprisoned. To try and let people know of his whereabouts, he says, the prince would bang his crown against the metal bars of the open window in his room. The noise would emit such a delicious sound for miles, that people would stop to grasp the air in delight on hearing it. We know as Basquiat is telling this story, that he of course is the prince. In the opening scene of the biopic directed and written by the artist Julian Schnabel, we see the young Basquiat in front of Picasso's Guernica, which his mother has taken him to view. Her tears are ebbed by a glowing crown on her son's head that only the two of them can see. It is on this crown we see the then grown Basquiat tag the streets of 1980's New York, a signature he transfers to his earliest paintings, and to this day, an iconic symbol of the man and his art. What Schnabel does in this film is to show the context of Basquiat's life and the social milieu of the creative scene of which he was so heavily involved in the Lower East Side. He shows us the moments that shaped Basquiat as an artist as well as the people that informed his work; his parents, his girlfriend, friends and lovers, many whom crisscrossed the worlds of art, hip-hop, and fashion just as he did. And because Schnabel was part of this scene too, it seems fitting that he should depict it.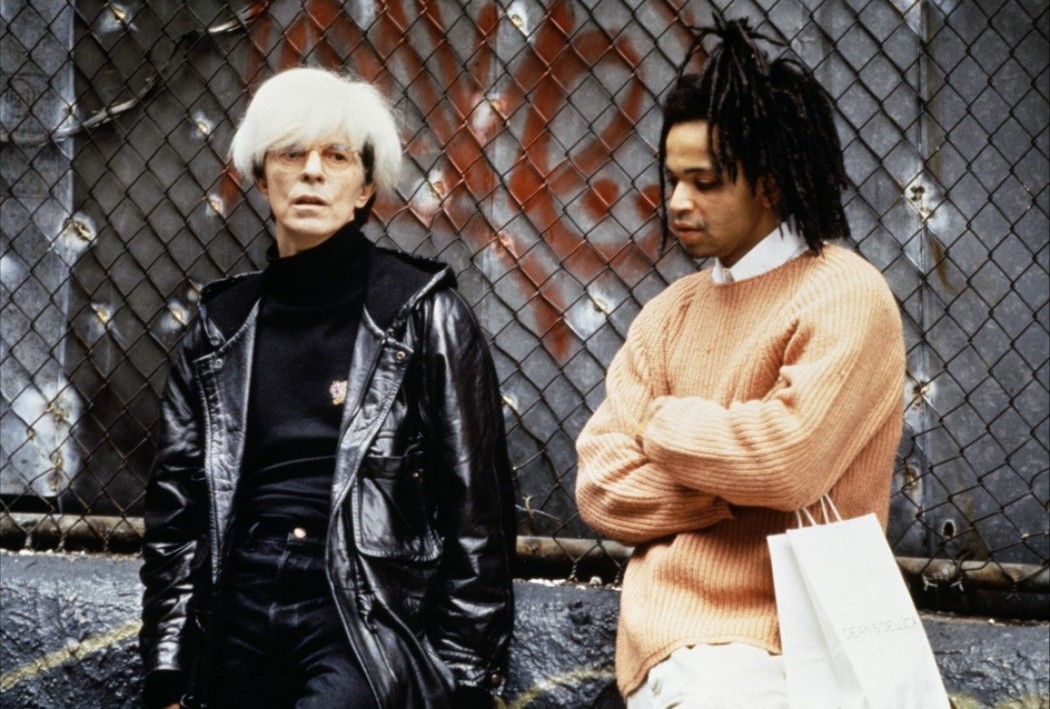 And perhaps because this, Schnabel's casting is pitch perfect; Wright's Basquiat has a charismatic tenderness that the artist was well-known for, Parker Posey as Mary Boone is the perfect bitchy gallerist, David Bowie as Warhol is a pop cultural event, and Benicio Del Toro as Basquiat's friend is the likeable voice of reason amongst some of the cocky characters of the art world who knock Basquiat when he is a no one, and use him when he becomes a someone. The movie shows the influences that infiltrate Basquiat's works too, the blatant and not-so blatant racism he endures, his love for jazz, his penchant of picking up snippets of conversations and putting them in his work, and his collage style, which Schnabel's movie mimics in audio-visual form with surrealist visions, jump-cuts and a soundtrack featuring Bob Dylan, The Modern Lovers and Tom Waits. Despite this, Schnabel has gotten much derision for the movie, for misrepresenting Basquiat as a drugged-out artist, and depicting himself in contrast as a stable, successful one. The two were known competitors and having not being allowed access to Basquiat's art, the art depicted in the film is Schnabel's and not Basquiat's. Many critics have seen this as an exercise in arrogance which Schnabel is already well-known for, an arrogance made palpable by Gary Oldman's portrayal of him in the film. But even if Schnabel has misrepresented Basquiat, more movies have been made of Basquiat, because it is he that remains the revolutionary.