Sophia Moreno-Bunge, Los Angeles
Santa Monica, Los Angeles
In preparation for our EAT IN BED dinner in Los Angeles, we visited the Santa Monica-based home of our collaborating florist
Sophia Moreno-Bunge
while she selected and snipped a mixture of locally foraged blooms and citrus for our event's table setting. We wanted to collaborate with Sophia, not only for her beautifully sculptural floral arrangements -- unafraid of colour and unraveled in form, but also because she aims to work within a set of values that we so deeply admire in anyone running their own business. Working off a large vintage wooden table, and intermittently sipping on freshly brewed tea, Sophia talked us through her love of seasonal LA blooms and the local gardens that continue to inspire her.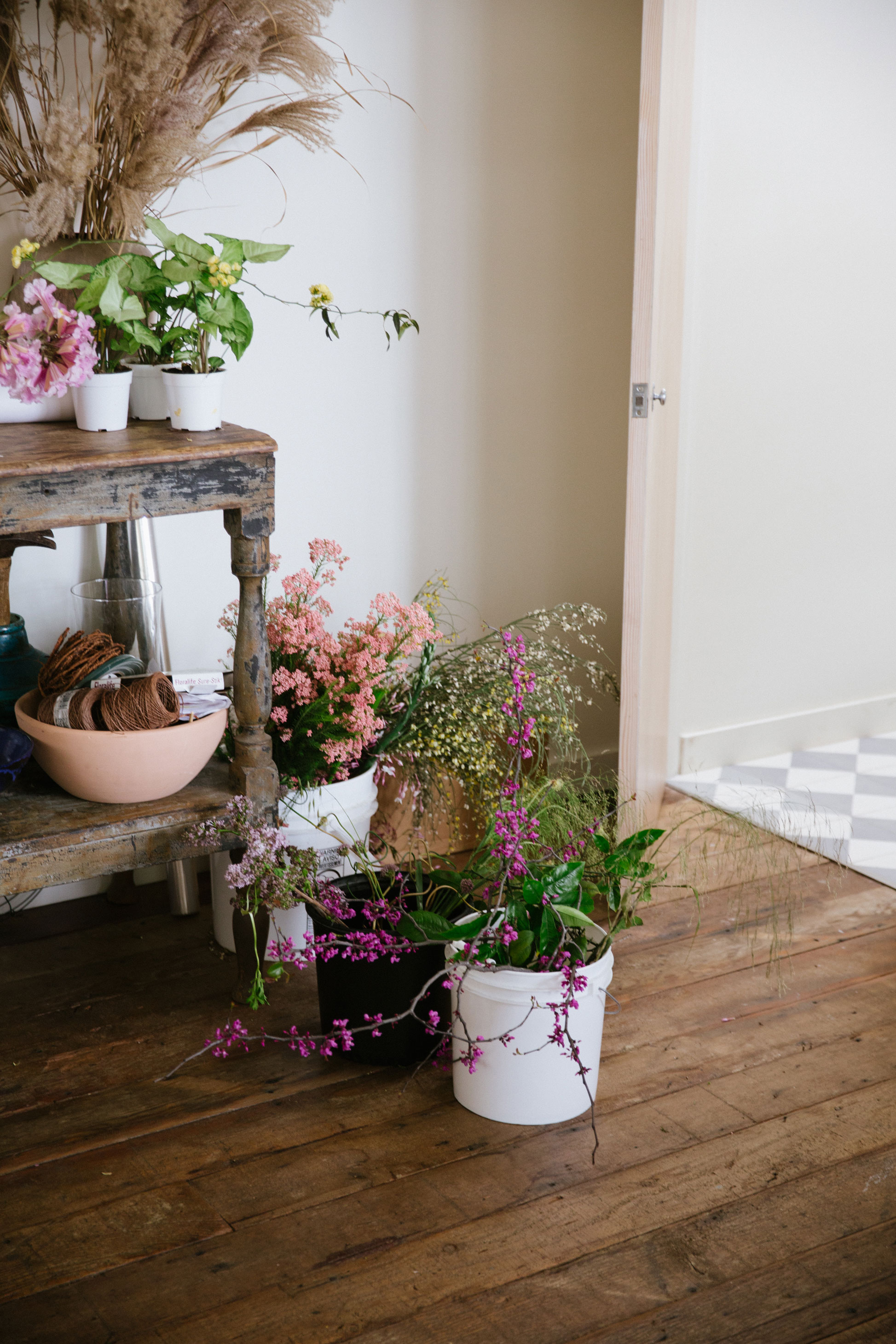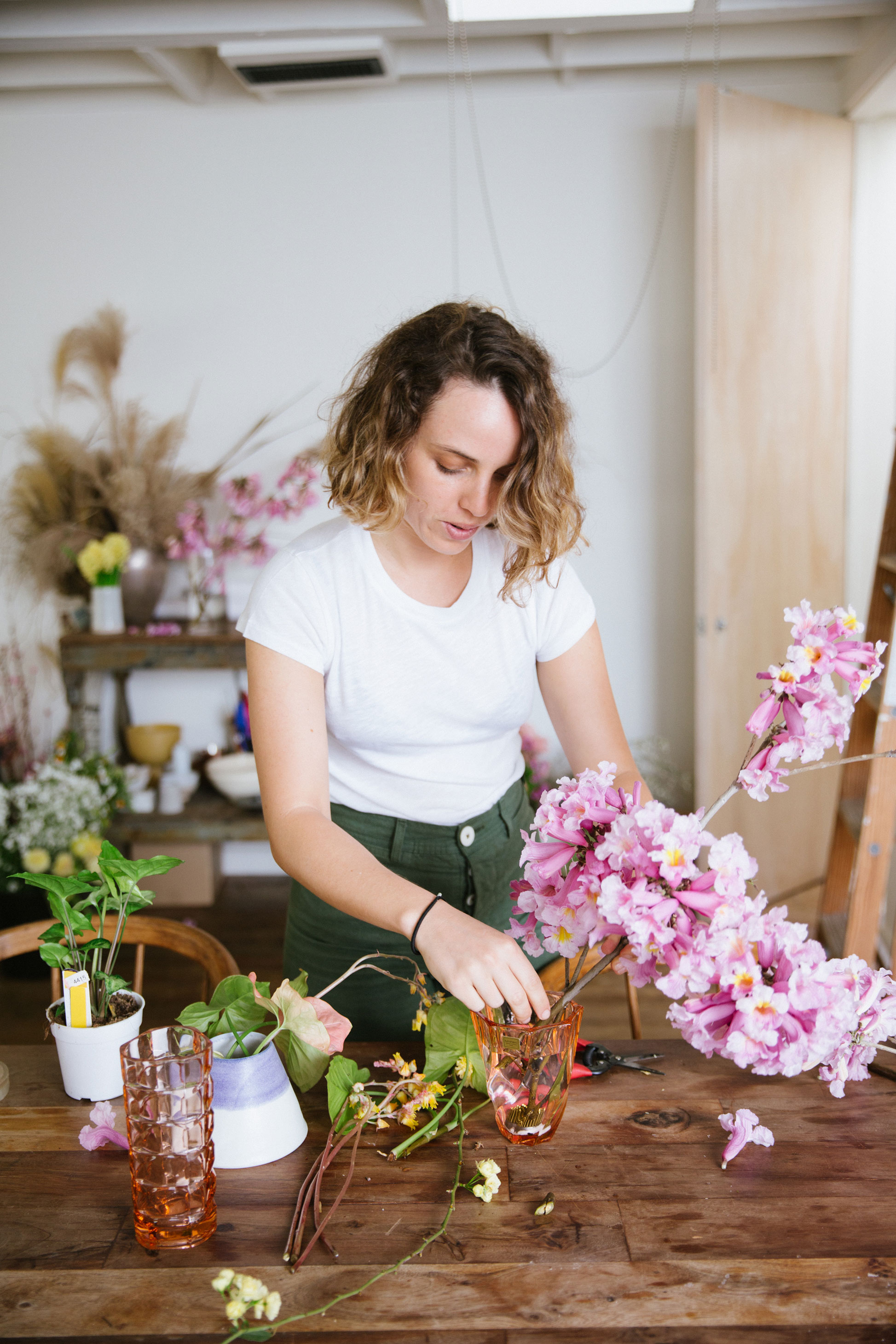 Your family owned a Californian-style restaurant, how do you think exposure to this as a child informed you as a creative?
My family is definitely a huge source of creative inspiration. My family didn't always own restaurants, but they were always very creative and inventive; and yes, food is one of my family's biggest passions - my dad lives and breaths for it, and maybe enjoys it more than anyone I know (perhaps even after having lost his taste a few years ago). Before having restaurants, my father remodelled homes and my mother was a journalist and then a translator. I grew up going to a lot of flea markets with them -- one of my favourite weekend activities for as long as I can remember. They are both very creative and inspired; they came to Los Angeles in their 20's, from Argentina, and started from scratch, working very hard to create their own world, work, and an entrepreneurial life for themselves. I get a lot of my resourcefulness and curiosity from them.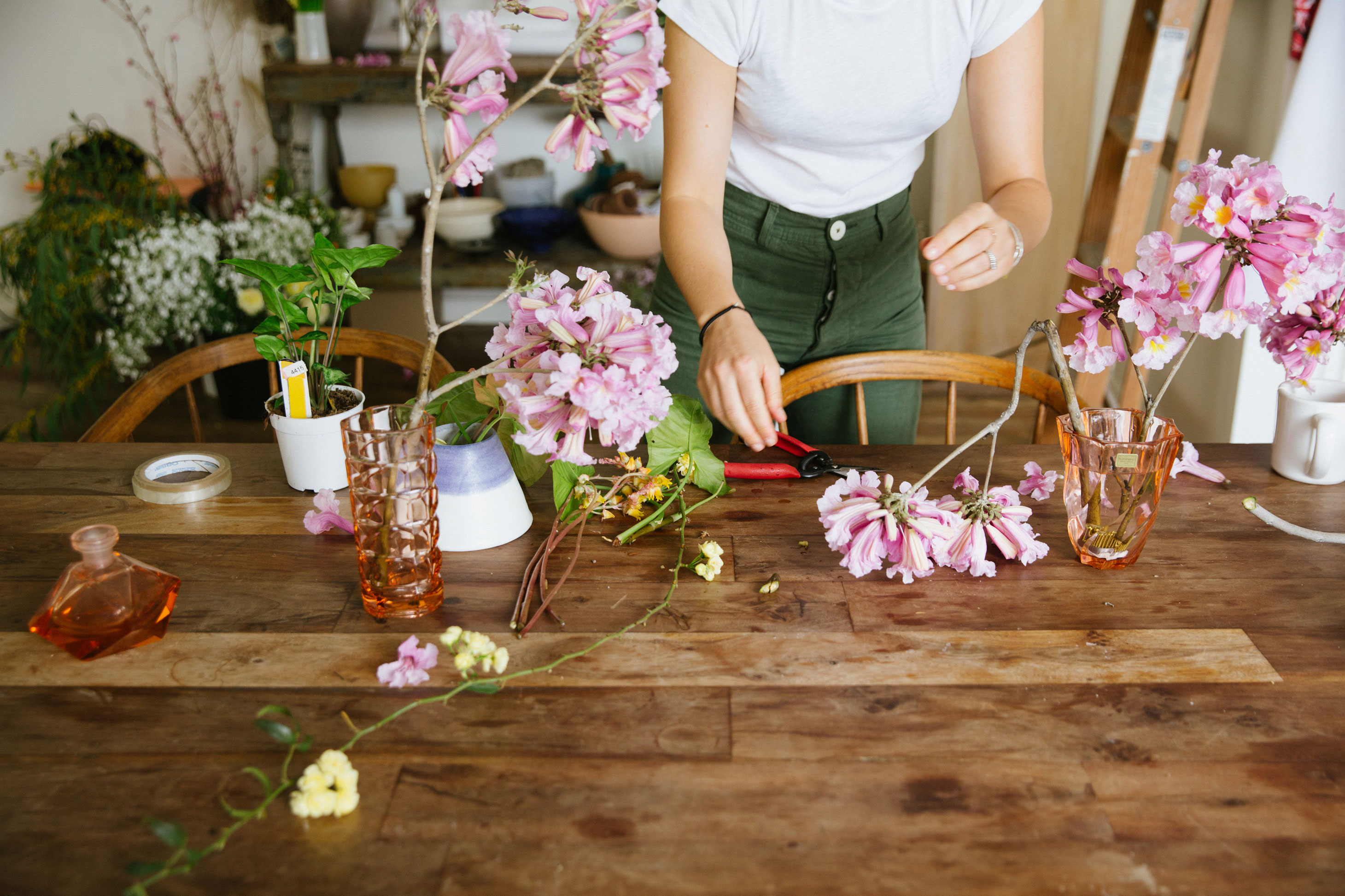 Your time at Villa Lena must have been such a treat as a creative, simply having the time to explore your own ideas, without the usual daily pressures. Can you tell us a little about some of the ideas you saw through to fruition and a few of your favourite moments here?
Being at Villa Lena was really a gift. The people made the experience incredible- they were open, kind, hilarious, smart, and interested. The communal dinners were so much fun, exploring the landscape together; conversations; collaborating with one of my best friends that happened to be on the residency at the same time. It was really special to get to forage there and be very minimal and specific with what I used; nothing that wasn't grown there. I loved how everyone there - artists in residence, hotel guests, staff, kids - were all very inspired by the use of flowers. My residency at the Villa has definitely influenced my direction in life; I had time to really think about my work, and explore other themes that I am interested in: movement, the body, healing, and community At the moment this is what I am trying to learn more about and move towards in my work and personal life, as I think it is vital, though I am still not quite sure what form it is taking!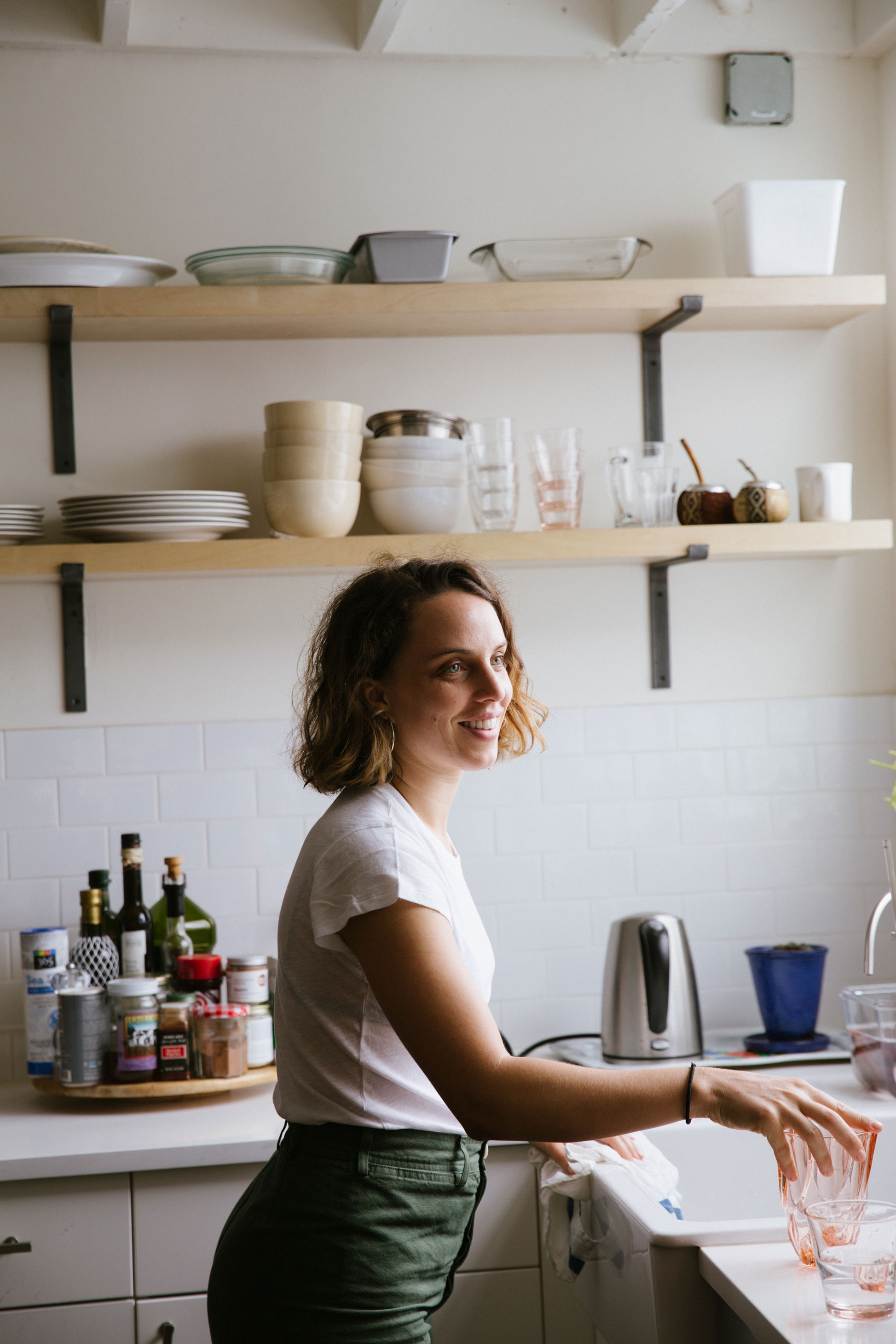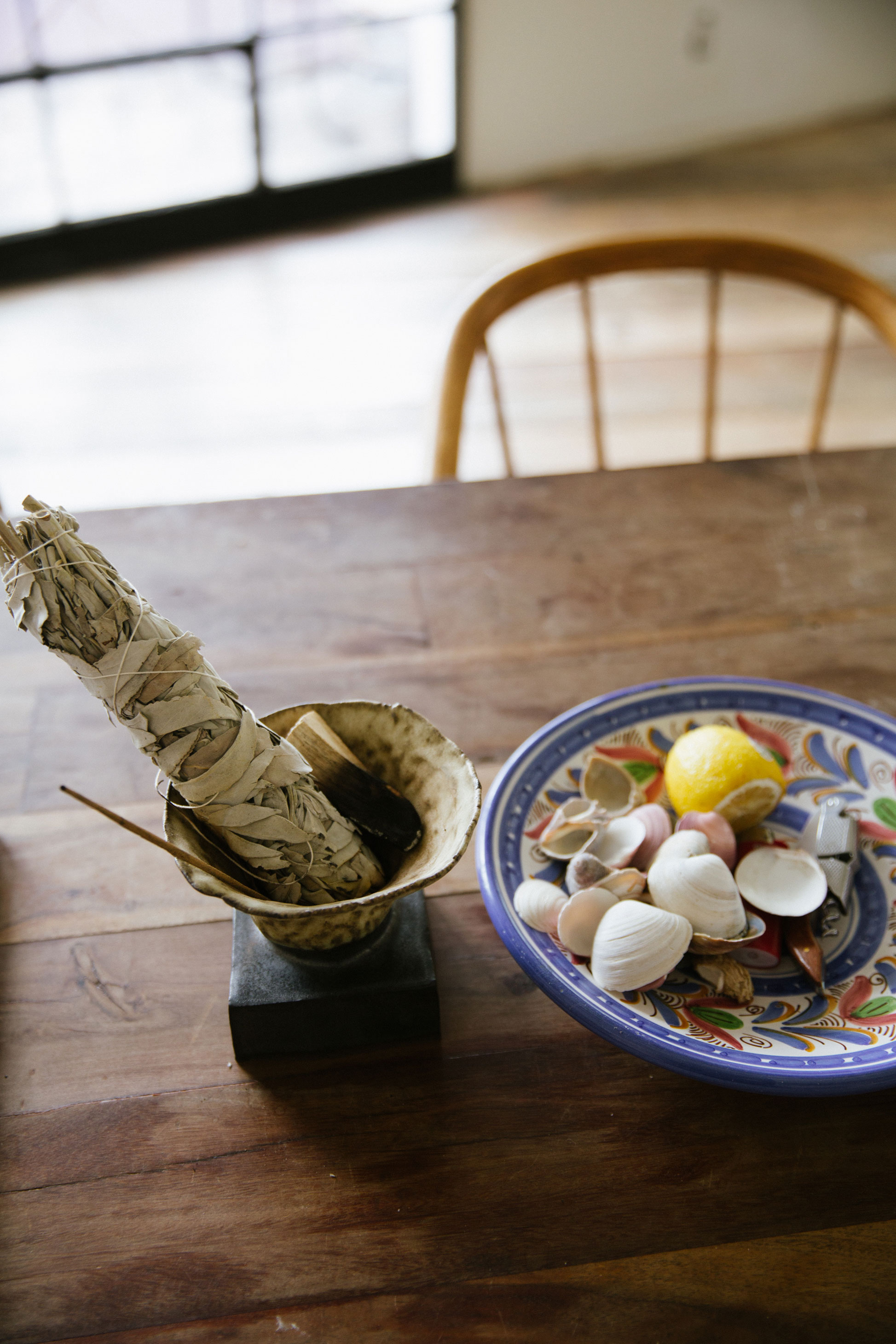 Did working so closely with the other creatives here eventuate in collaborations outside of the residency?
I have not yet collaborated on anything after the Villa, though I have done flowers for some people that discovered my work through the Villa, and am always in conversation with my friend Lauren, who was also at the residency.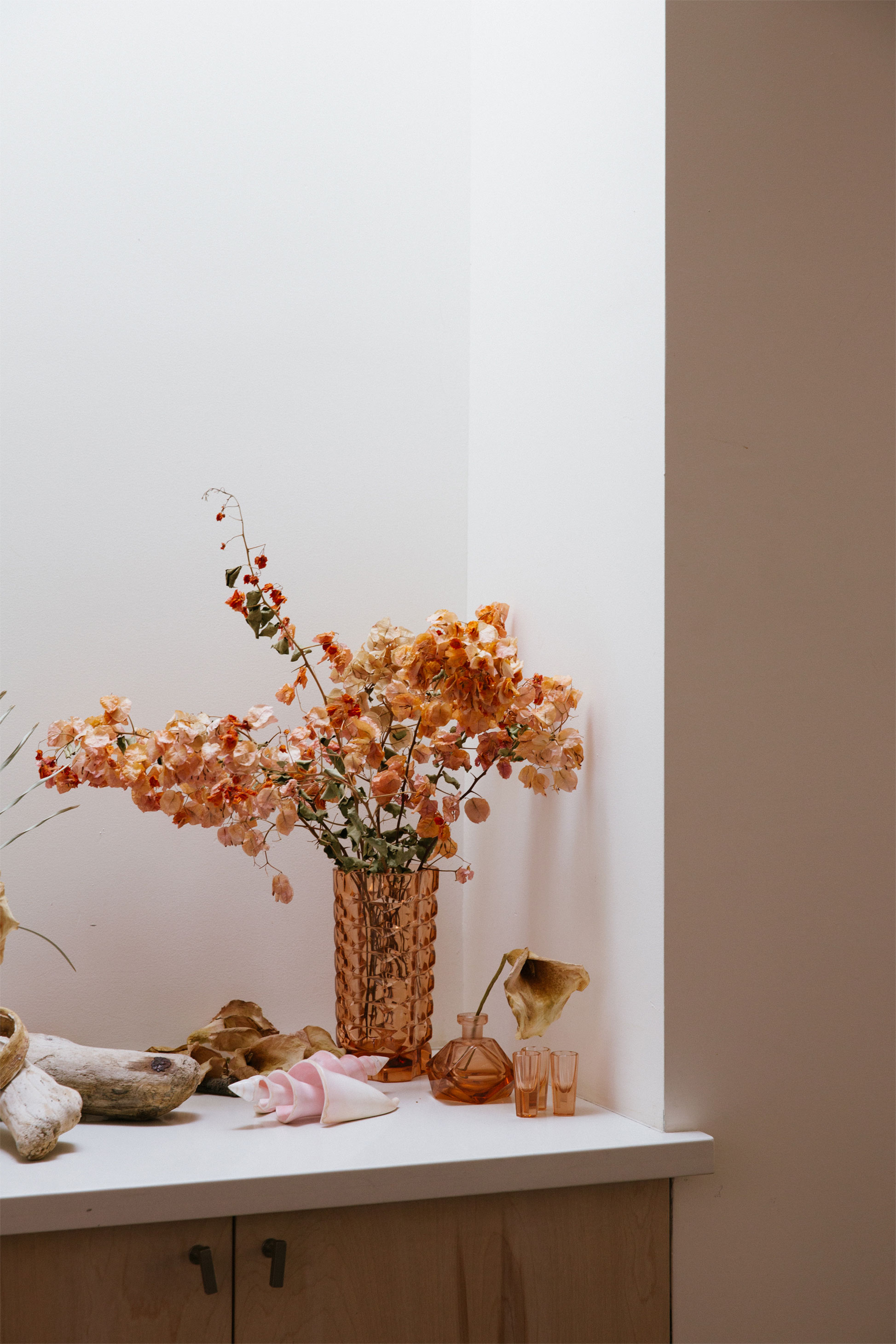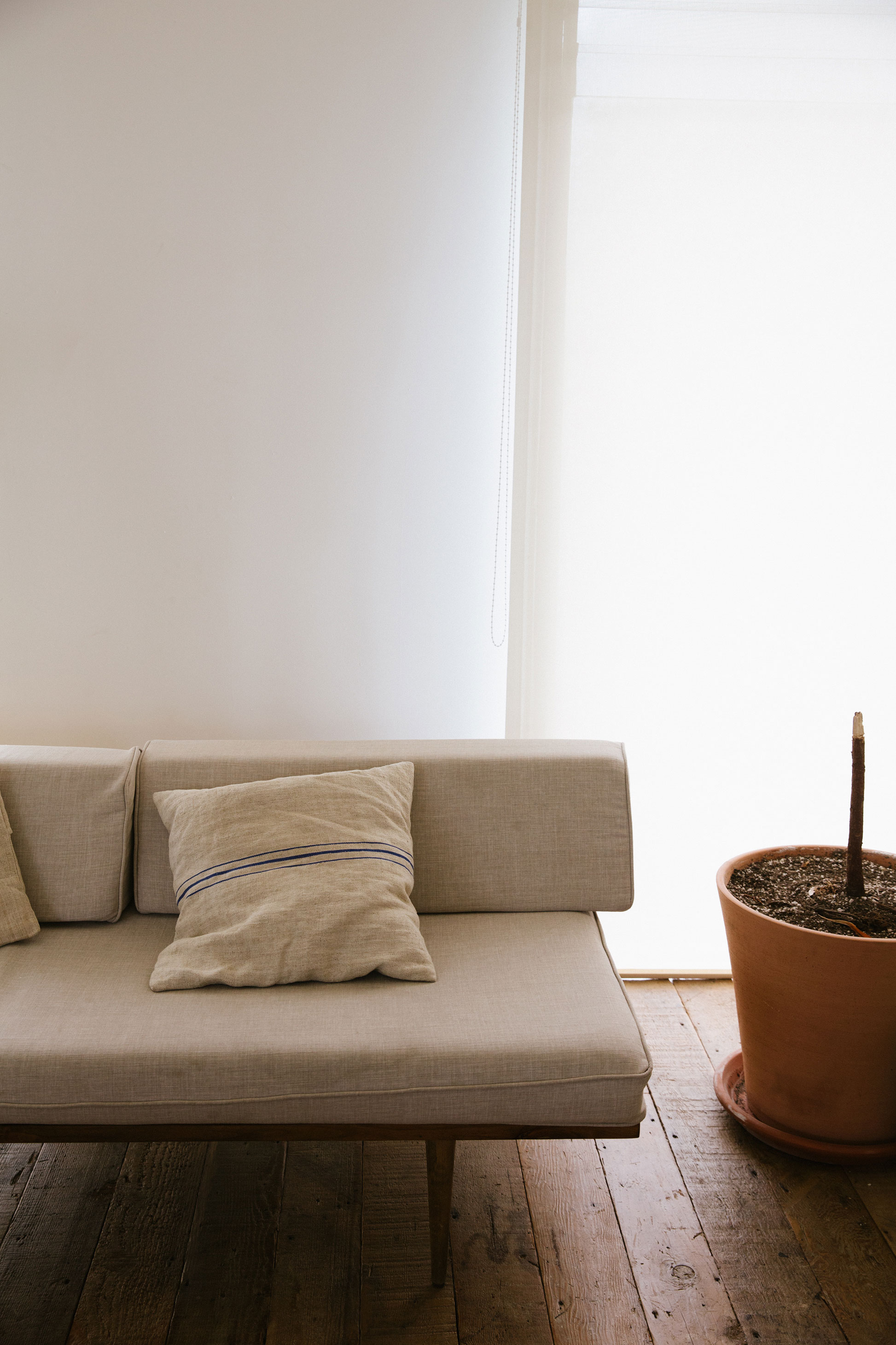 Your most recent approach, with sustainability in mind, has been to forage local flowers, can you speak a little about this? Also, what are some of the blooms you are working with in the marvelous season of spring here?
Lately I've been trying to use West Coast grown flowers (from California and Oregon flower farms, sometimes Hawaii), instead of imported from around the world (Holland, Japan, etc). I do a bit of foraging here and there; whether it's from my own plants, my dad's house, a generous neighbors tree, or the side of the road (right now the wild mustard is covering the hills of Los Angeles). But foraging has its own dilemmas, and does not feel sustainable in a city; ideally I'd use locally sourced flowers that are grown without terrible chemicals and wild overgrown flowers from a garden -- long term goals, if I stay in this industry. It's challenging to create inside these restraints, but it makes me feel more aligned with my values; and it forces me to be a bit more thoughtful about what I am making and to be a bit more creative with shape and composition. It also makes me think about quantity-- how much do I actually need to make something look impactful? Right now, I'm loving citrus on the branch. The lemon and orange trees are heavy with fruit. I'm also loving the flowering branches- cherry, magnolia, pink trumpet tree, mimosa, geranium flowers, and wild mustard. So many good things!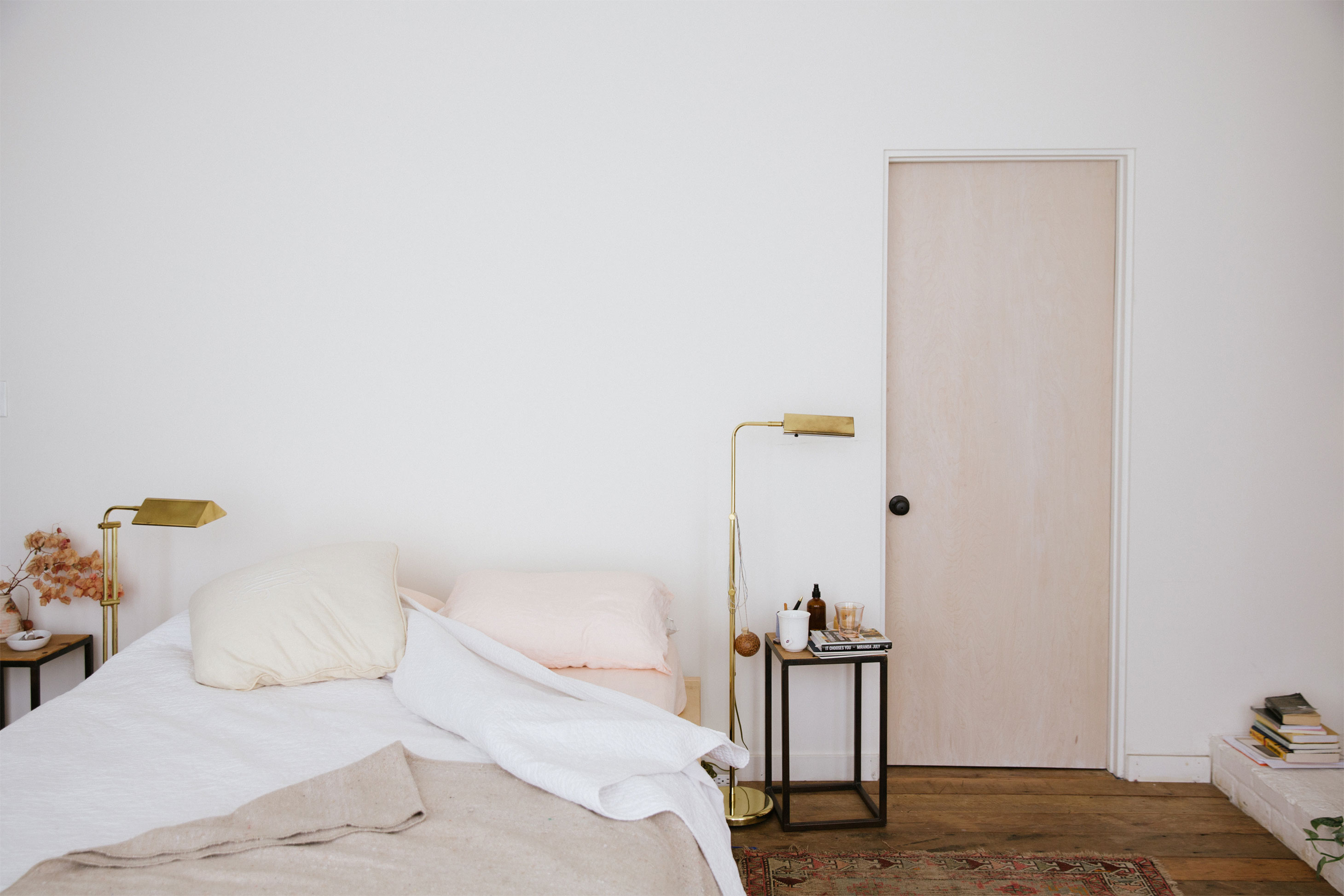 I admire the way you're steering away from using any chemically derived objects in your floral arranging practice. Who is inspiring you to do so, even those in different fields/industries?By giving yourself restrictions like this, what sort of opportunities does this open for you as a creative?
In regards to not using flower foam- I was lucky to have learned from a florist in New York that doesn't use it, and I've stuck to this because it's horrible for the environment and our bodies-- selfishly, I do not want to be around that stuff. I am inspired by the movement in food, spirituality; anything that reveres the body (not just ours, but of the earth). I'm sure there are a million other things I use that are "bad"- where are some of my glass vases and tools coming from? How are they made? But change can only happen one step at a time.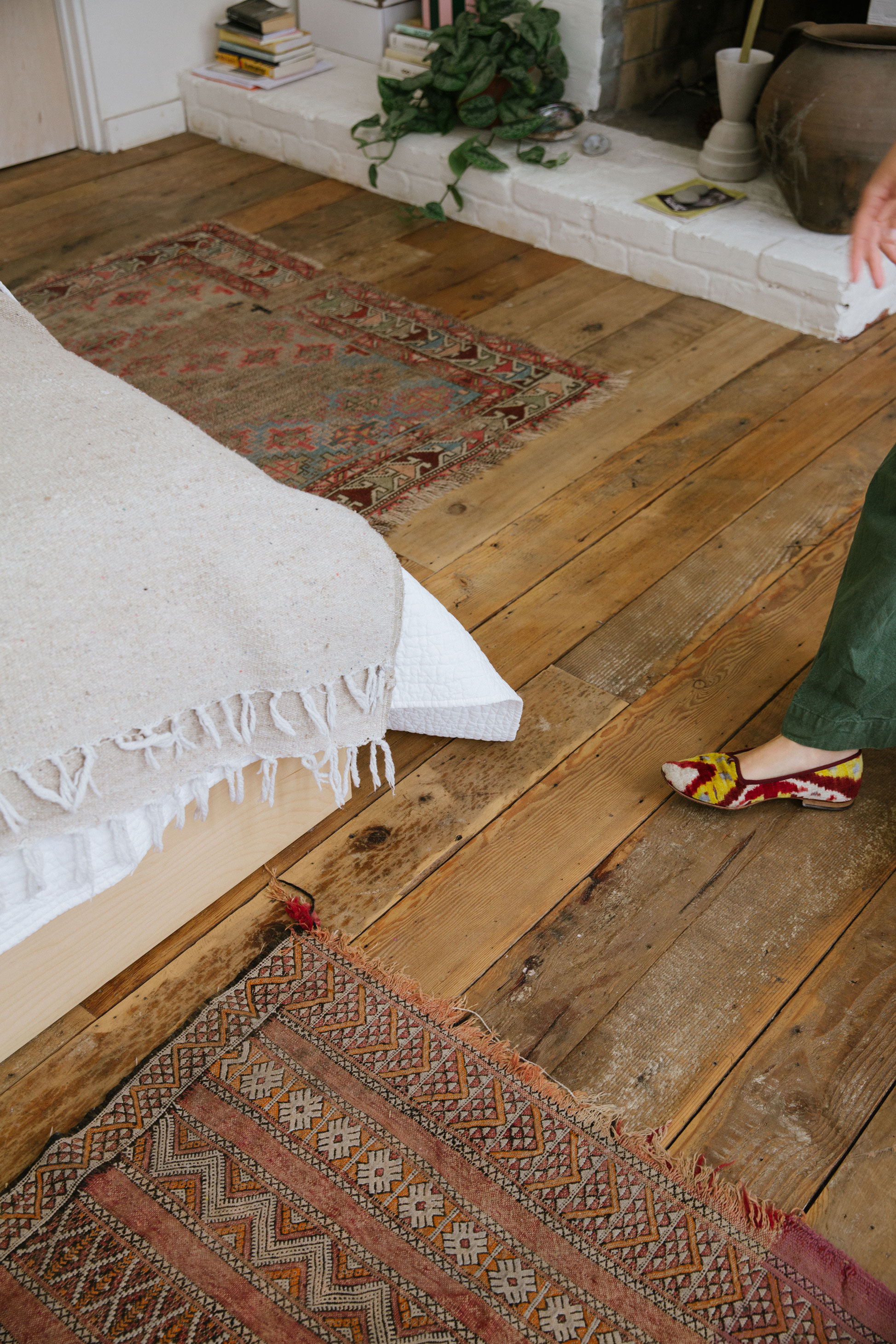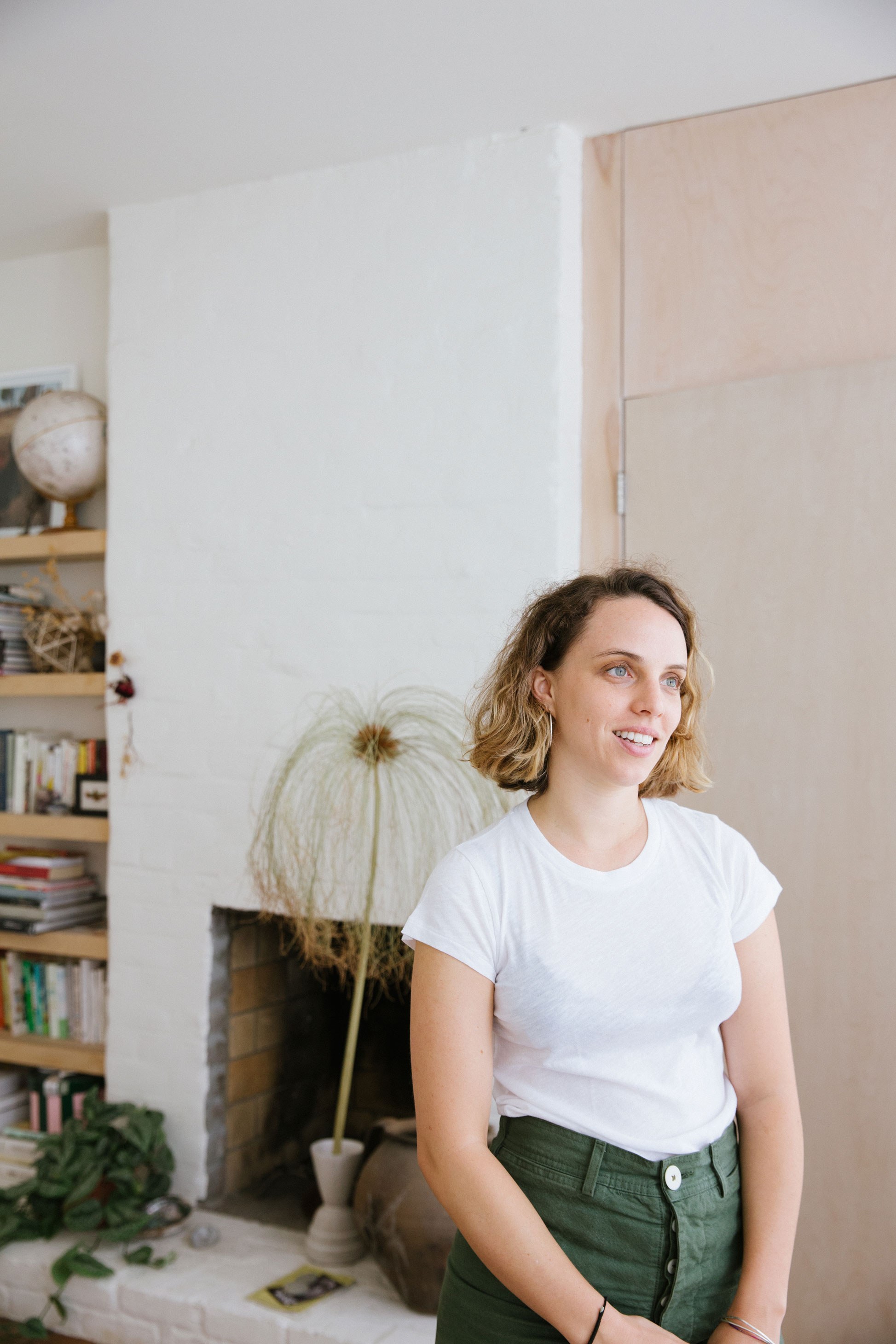 What is your creative community like in LA? How do you collaborate, support and encourage each other?
I have some really wonderful creative friends, though I still feel like I am slowly building my creative community here in LA, after having lived in New York for 8 years. My friend Sophie who makes amazing wood jewelry (Sophie Monet) often hosts events, gatherings, pop-ups, and includes my flowers, always. My friend Haley (Marais USA) is one of my favorite to collaborate with; she loves flowers, always including them in her events and her look books, and she's just such a supportive collaborator - always with new ideas and positivity. Haley, Christina and I recently did a 12-week book club where we read The Artist's Way - to unblock creativity; we had homework, had to write every morning and did "artist's dates." I'm still trying to write my morning pages every morning. If you haven't heard of this book, look it up! It was one of the highlights of this last year.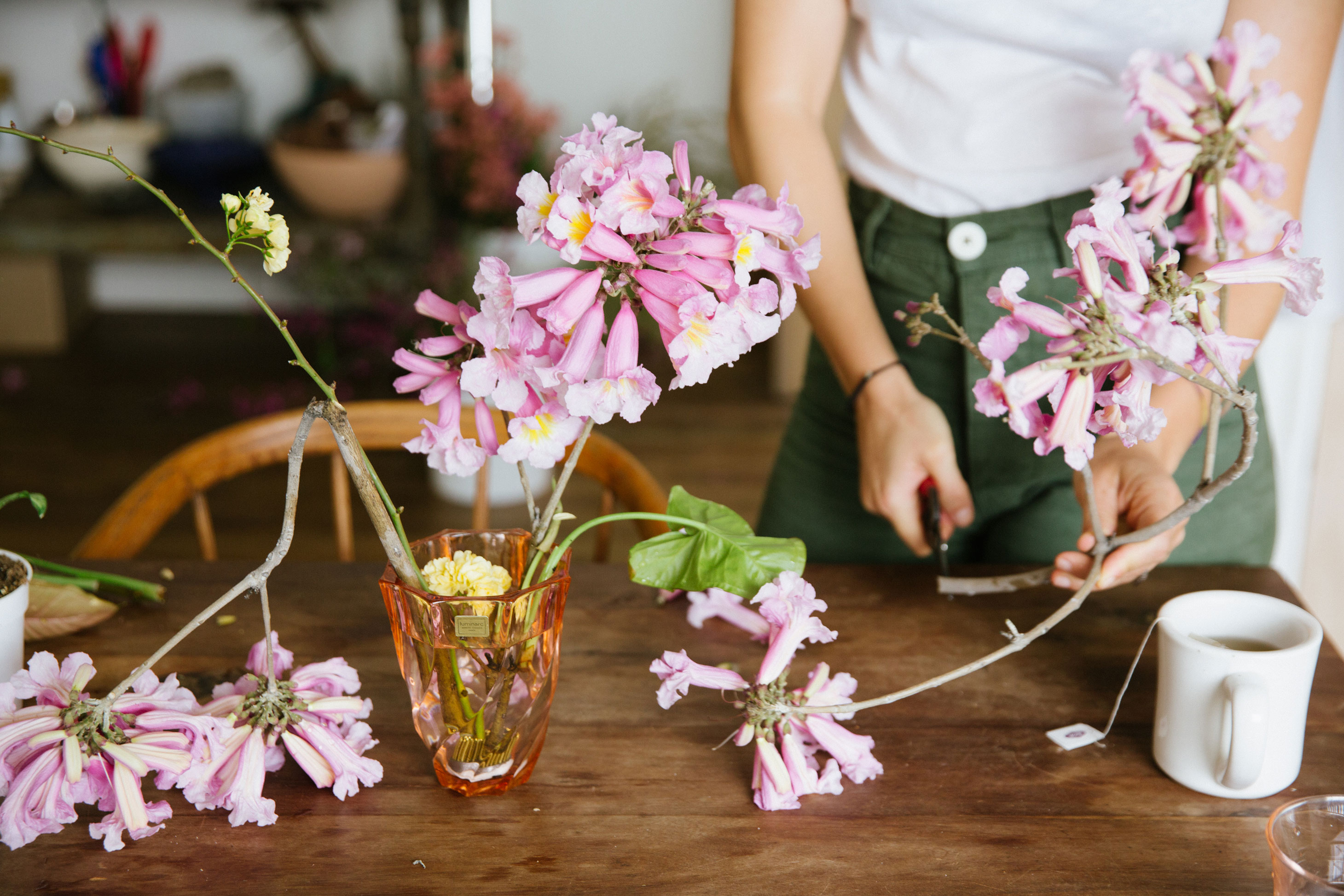 Can you tell us about your collection of coloured glass, and where your fascination with the colour peach began?
I don't remember how or when it began-- a few years ago, when I first moved back to LA. I am fascinated by the way it catches light, and glimmers. My background is in darkroom photography. Light, and the abstractions you can create using light, are always something I have been very inspired by. The same goes for color; I've always been drawn to peach and pastels since I was very young-- maybe because I am a beach child of the late 80's? I bought my first few vases online, and then happened to come across some more at a flea market in Buenos Aires- felt like they were destined for me.
Light, and the abstractions you can create using light, are always something I have been very inspired by. The same goes for color; I've always been drawn to peach and pastels since I was very young-- maybe because I am a beach child of the late 80's?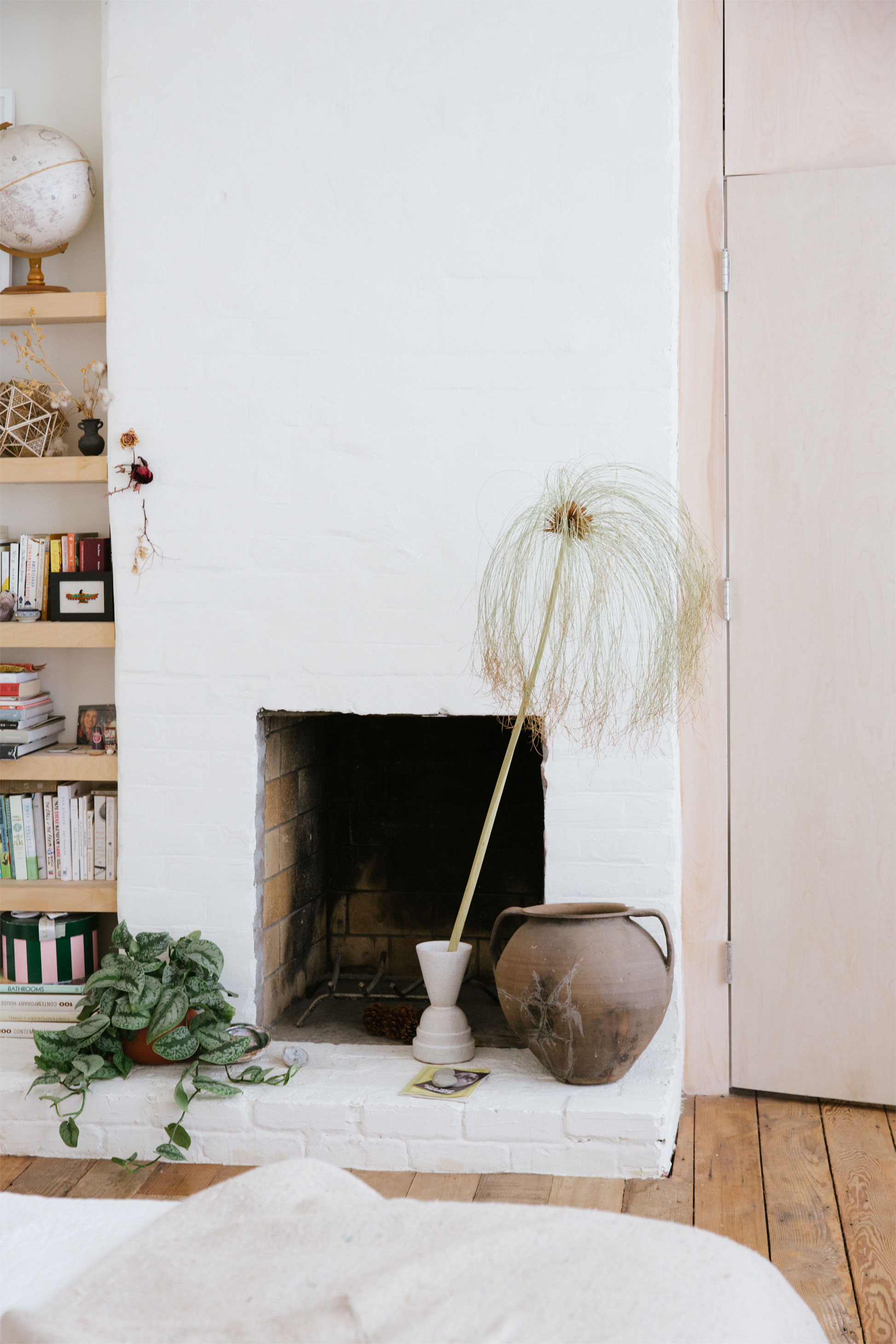 Can you tell us about the flowers and fruits you chose for the table setting at our IN BED LA dinner?
I chose Trumpet Tree because it is blooming everywhere in LA right now, lady banks roses, lemons, grasses from the side of the road, leaves from one of my plants, and local hyacinth from the flower market.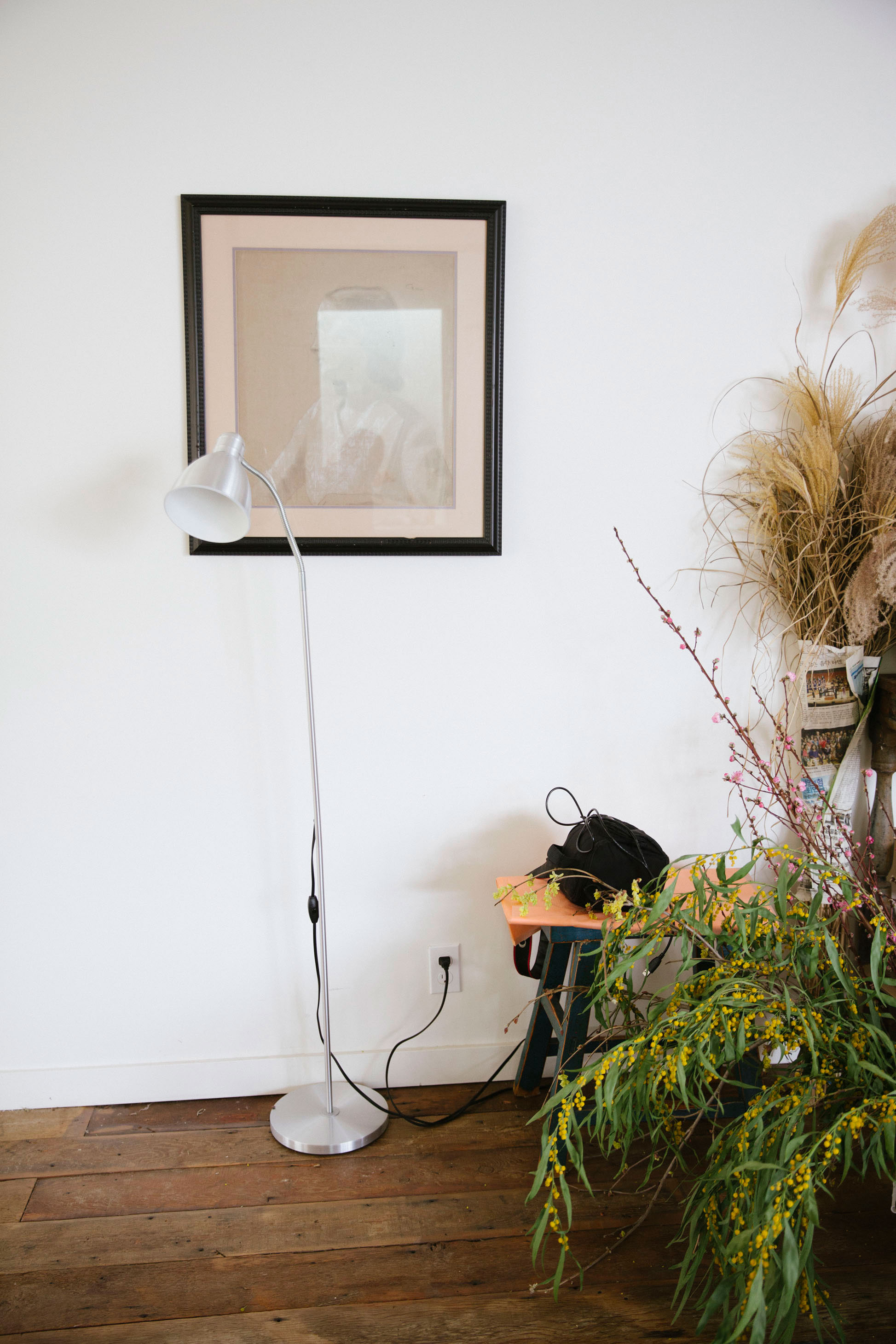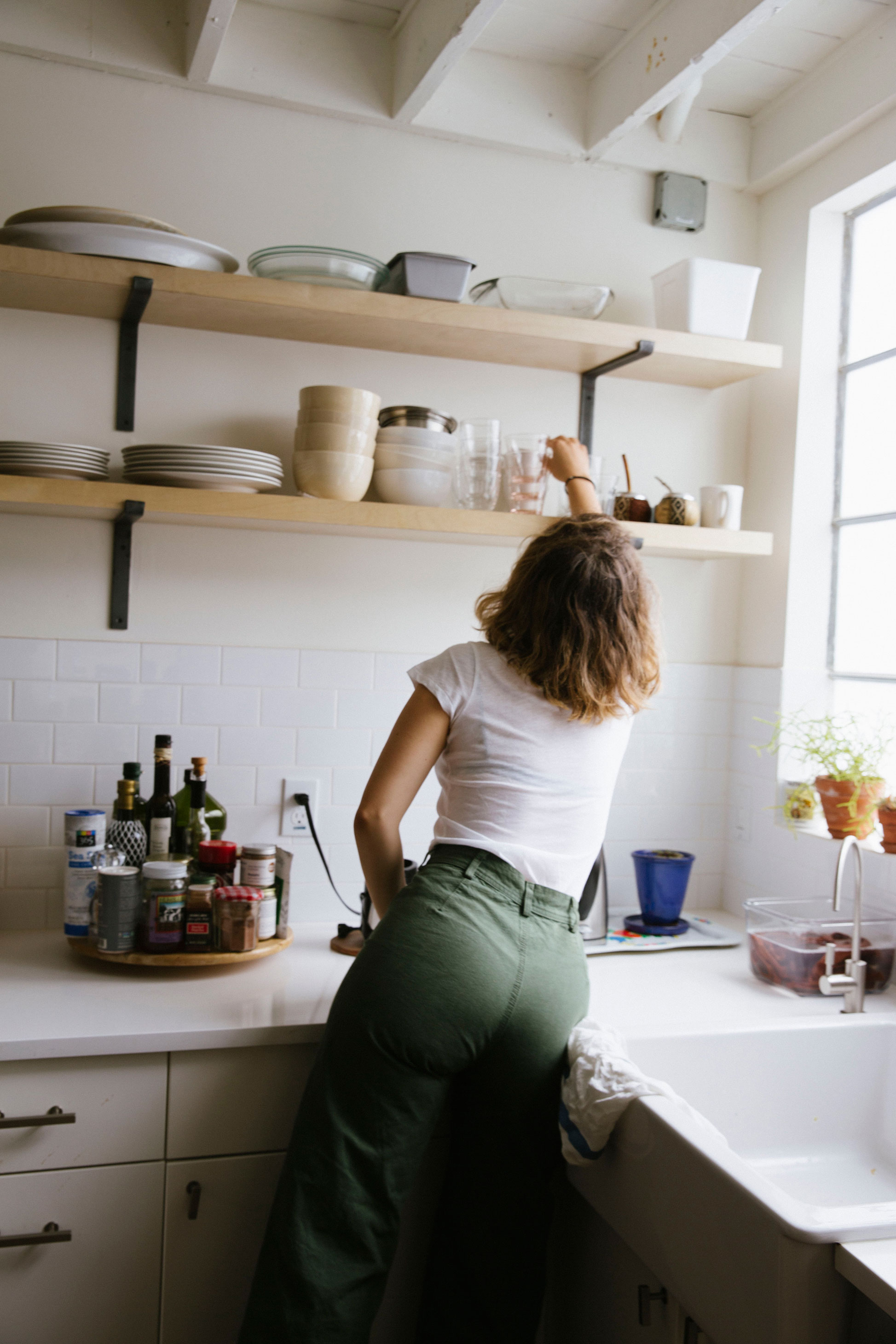 What are some important elements to consider when dressing a table for a group dinner?
I think wild, loose, and elegant, from whatever is in your yard, or in season, nothing too fussy.