Lotte van Raalte and Borre Akkersdijk, Amsterdam
Images by Lotte Van Raalte
Lotte is a photographer and Borre is a fashion and textile designer. They met when projects they were working on collided.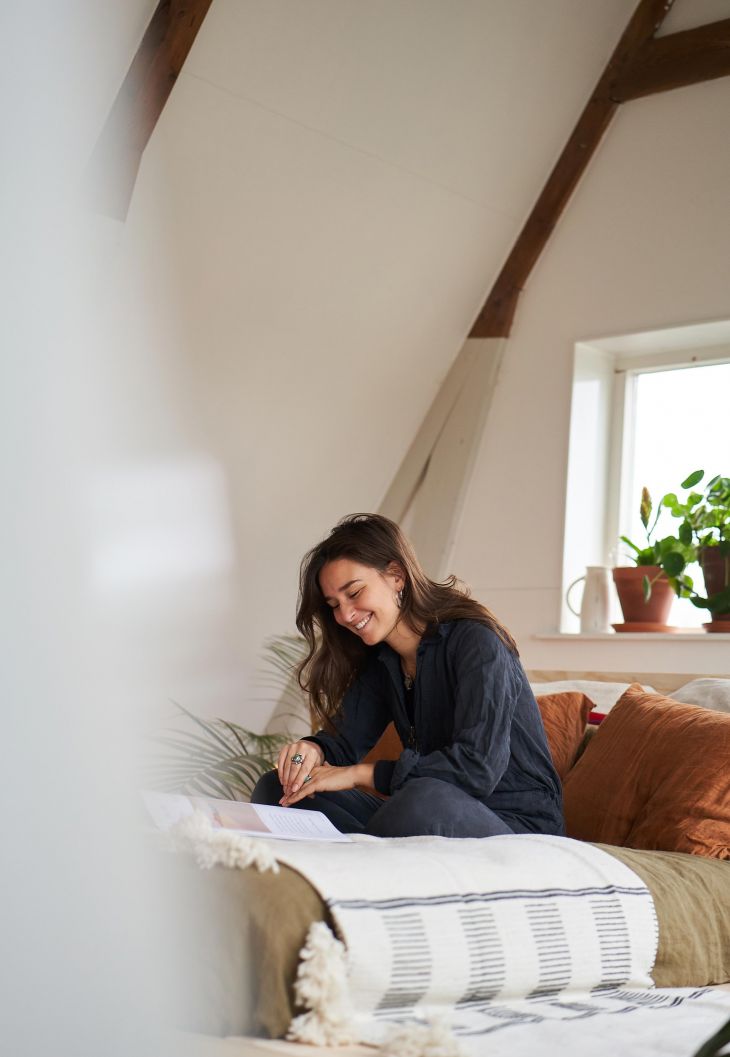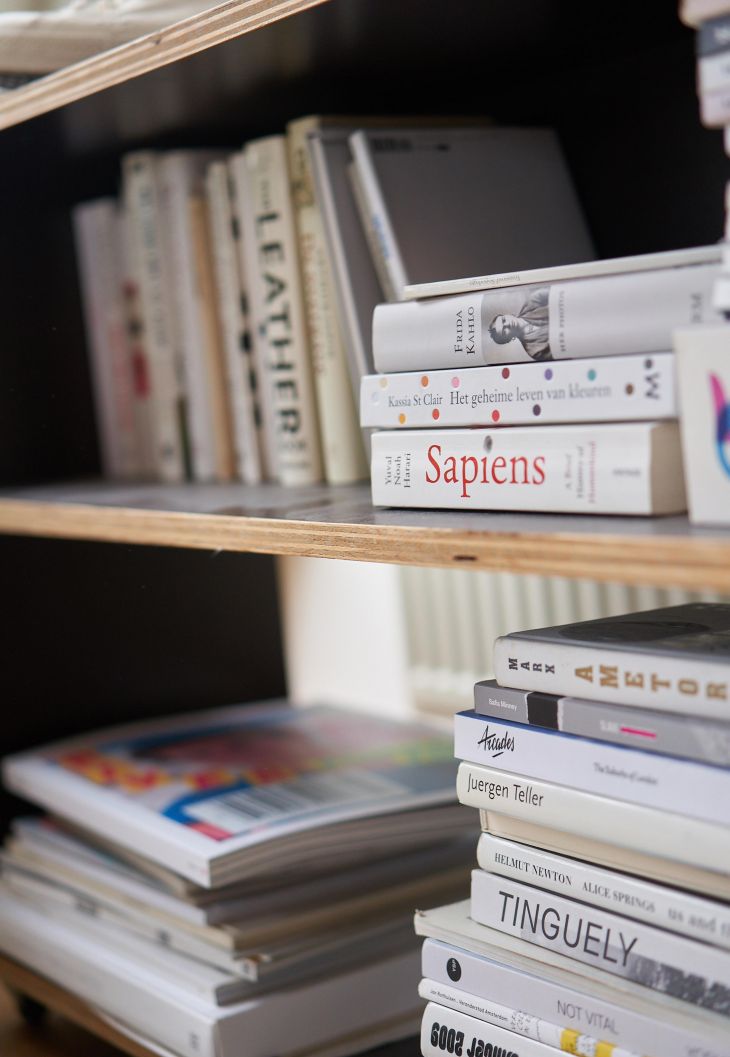 They live on the top floor of an old school building. It used to be the attic and originally had no windows. "When they reconstructed this floor they added in a lot of windows, through which you can overlook the city. Now, the morning light is incredible here. It's one big open space without any doors, a very unique apartment space in Amsterdam and perfect for a daylight photo studio too."
When they reconstructed this floor they added in a lot of windows, through which you can overlook the city.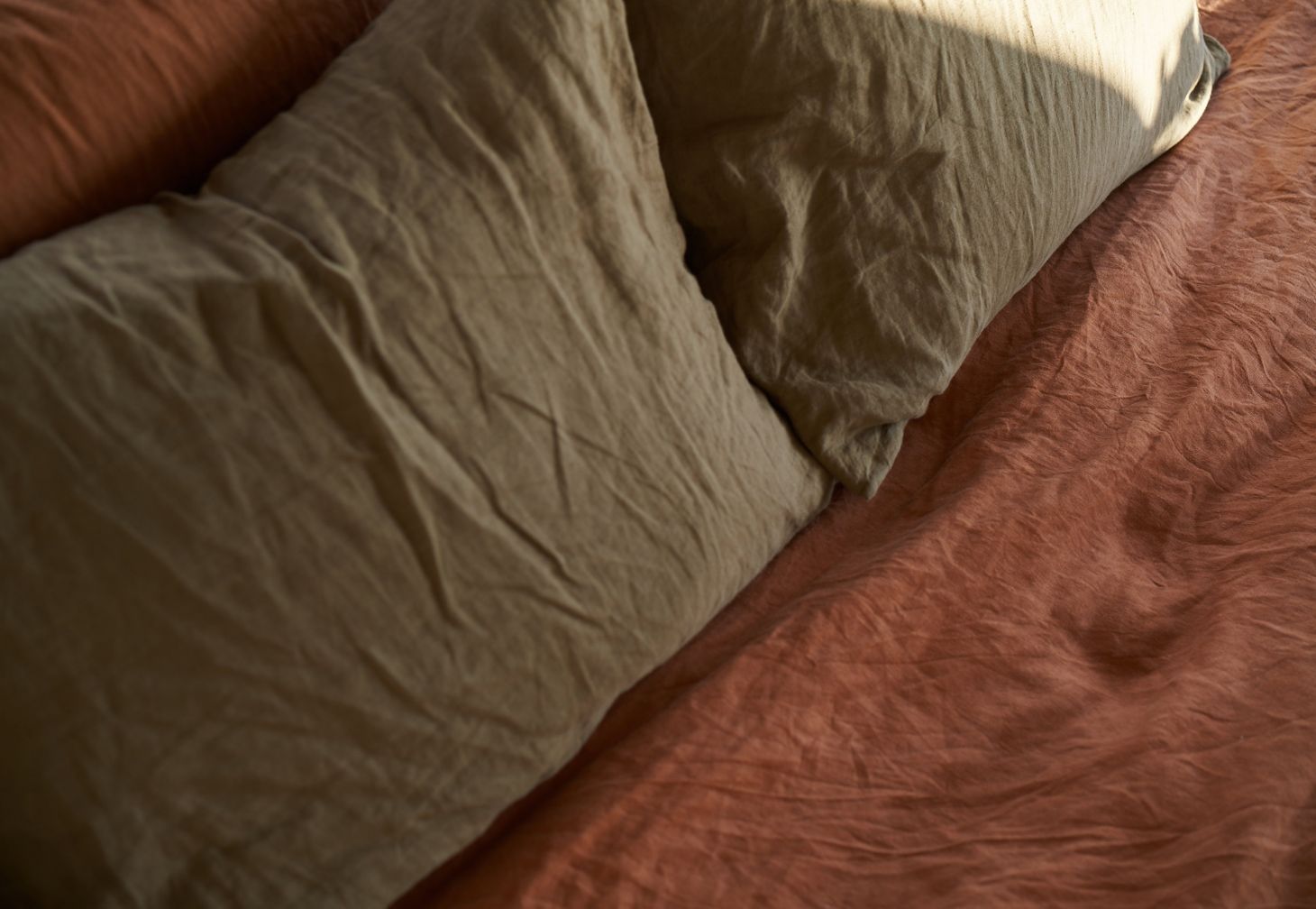 Lotte & Borre's bed, dressed in
IN BED x We are Triibe duvet sets in tobacco and moss
.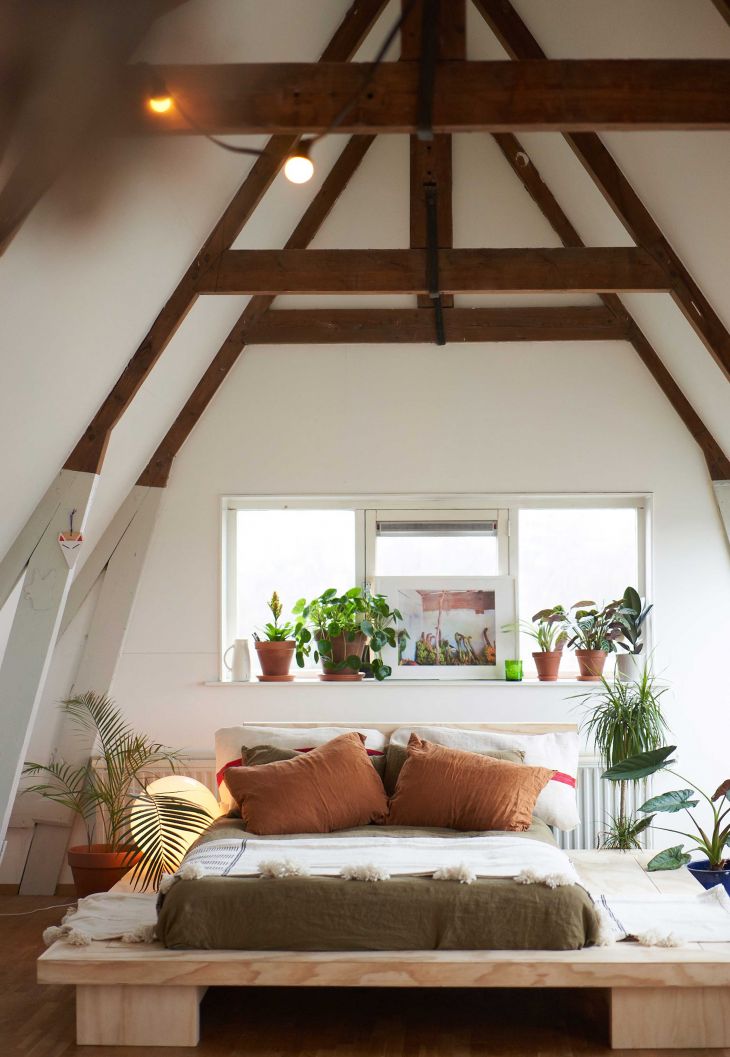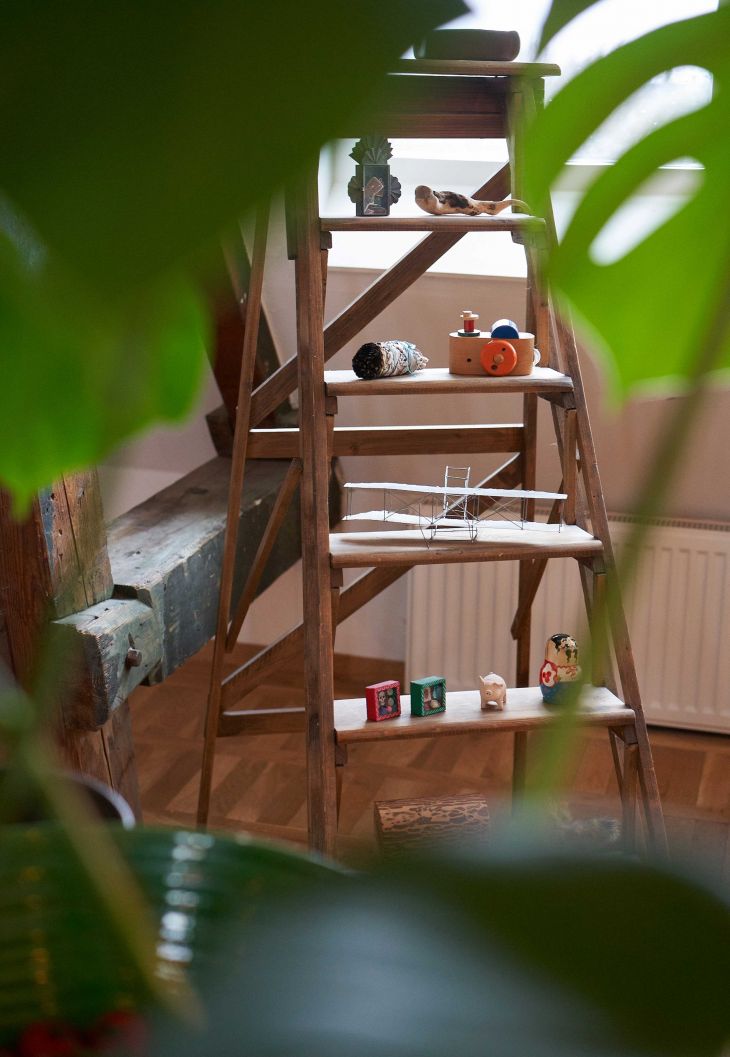 "Our beautiful brand new bed is made by Borre's uncle, who's amazing when it comes to designing / building furniture. He also made the big white wooden table in the middle of our house.
Some of the blankets and pillows are from a collaboration between Byborre and Piet Hein Eek. Other blankets and fabrics are pieces we collected from different trips to – for example – Mexico and Indonesia."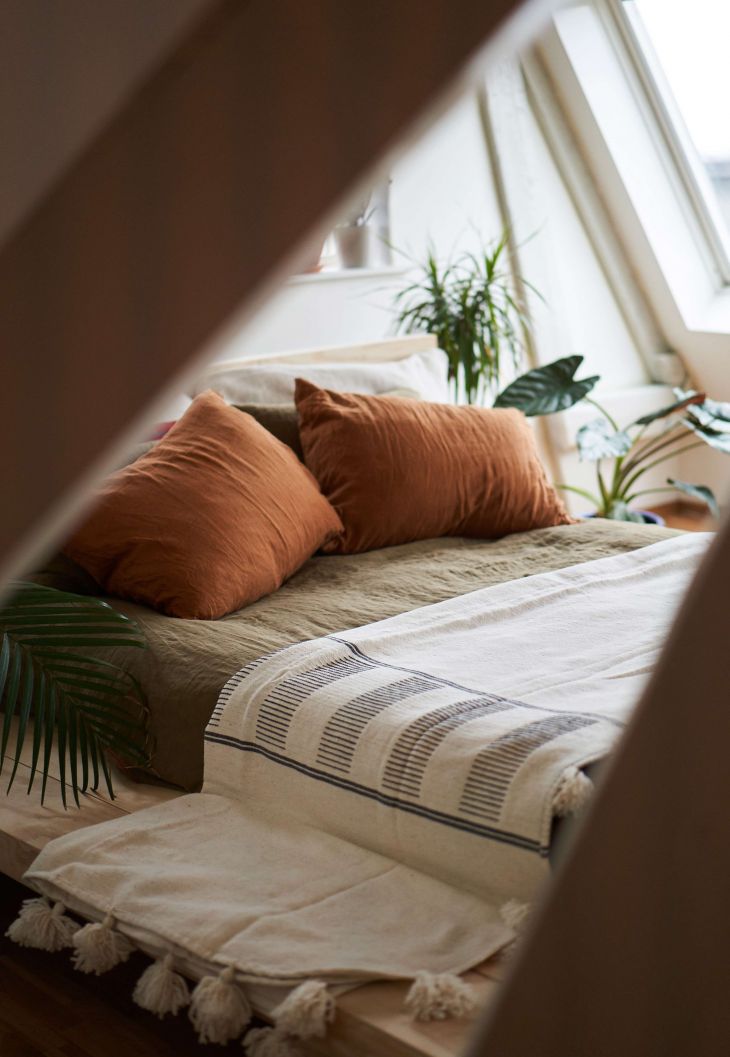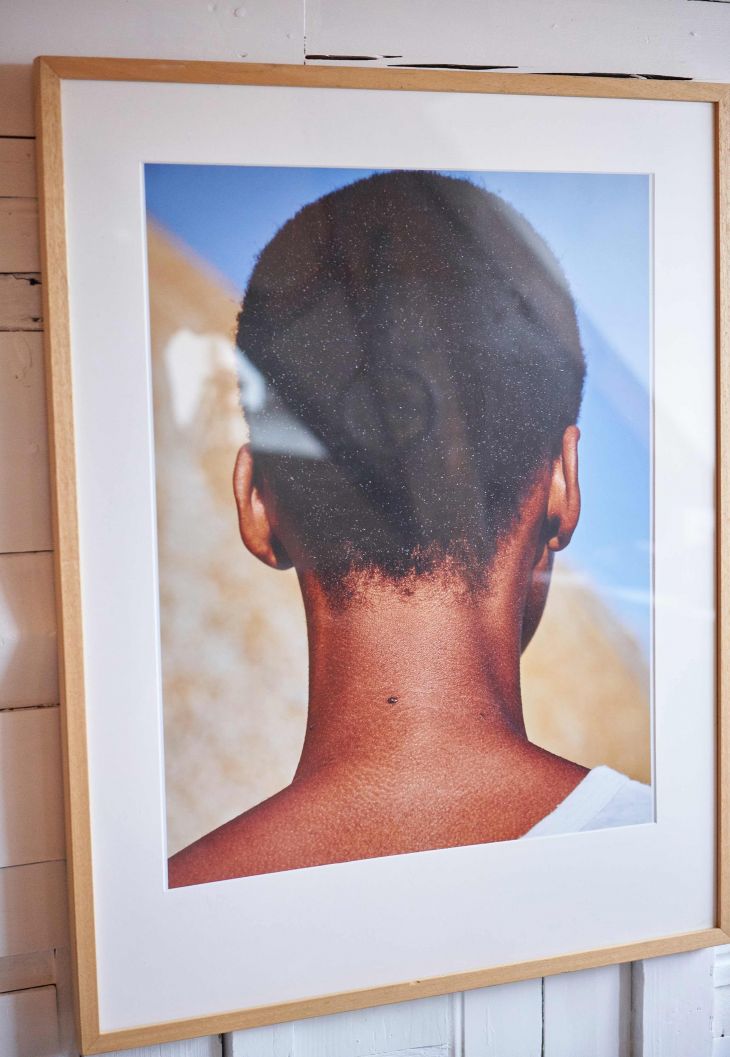 "We really like to go for little walks. Last summer the weather was so incredible… we tried to walk as much as possible to different parks around our neighborhood. We both travel a lot, but it's also very important to appreciate the little things and surprises nearby. Also we love to go for breakfast or just a coffee in all the nice places in east Amsterdam."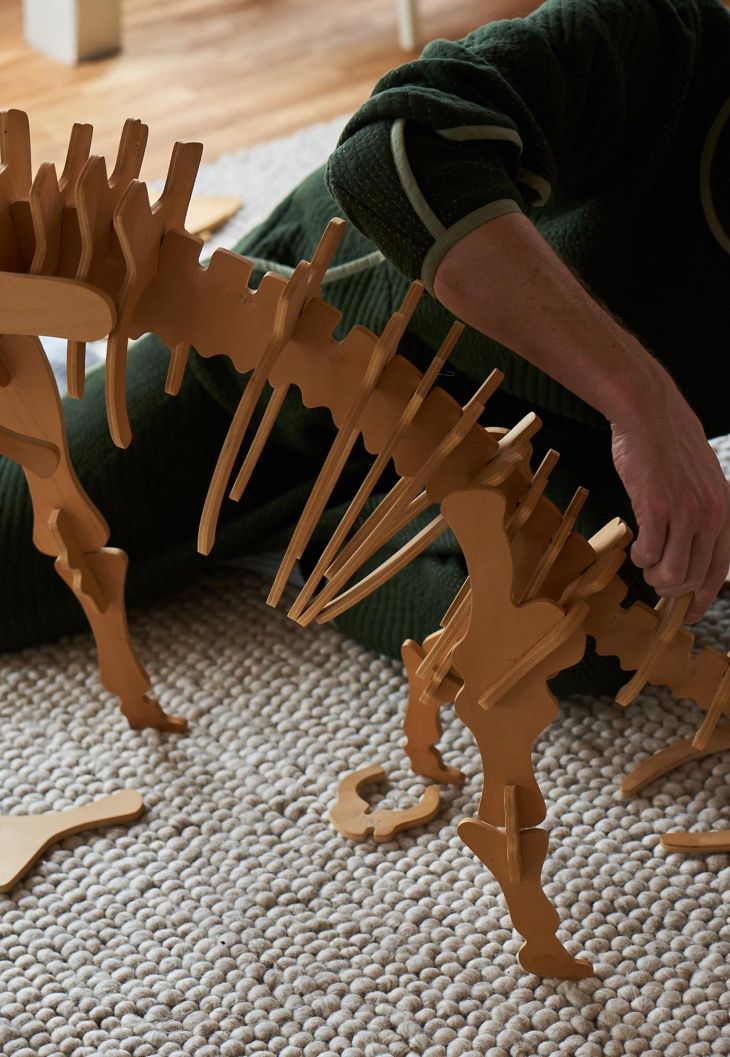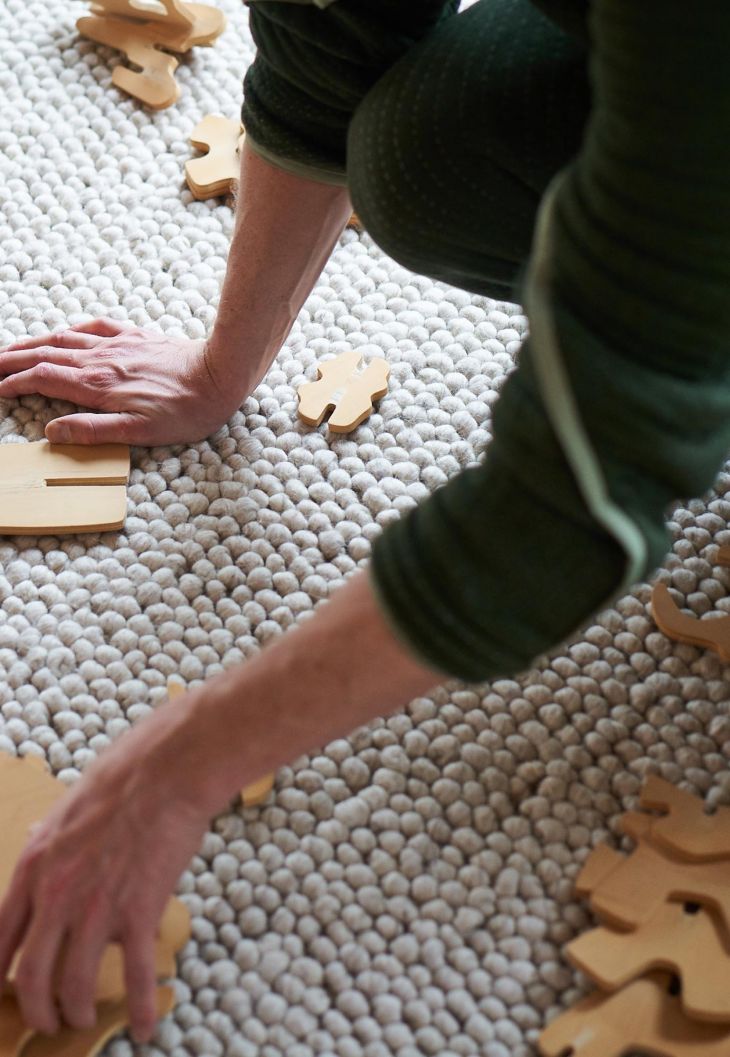 "The dinosaur was Borre's first hustle at the age of only 6 years young, at least that's what Borre's mom told us. They went to a dinosaur fair in Rotterdam in 1991 and Borre completely fell in love with this stegosaurus skeleton. It was way too expensive but after several negotiations with the previous owner he got what he wanted (from his mother). Now, after ten years of hibernation it has regained a beautiful spot in our home."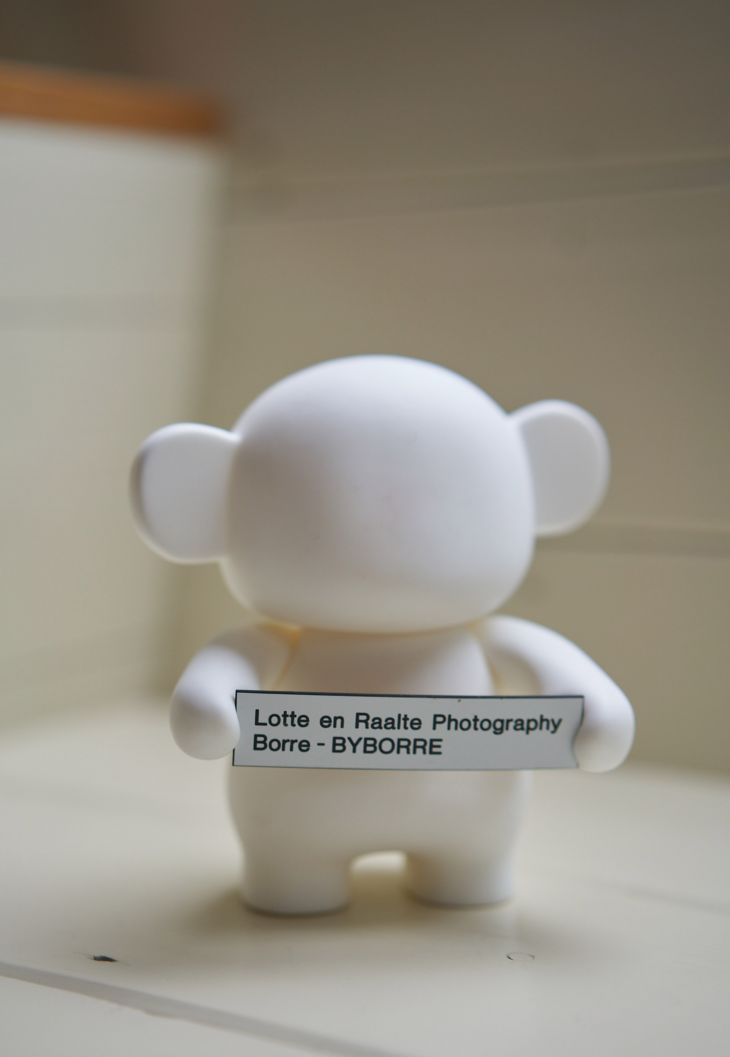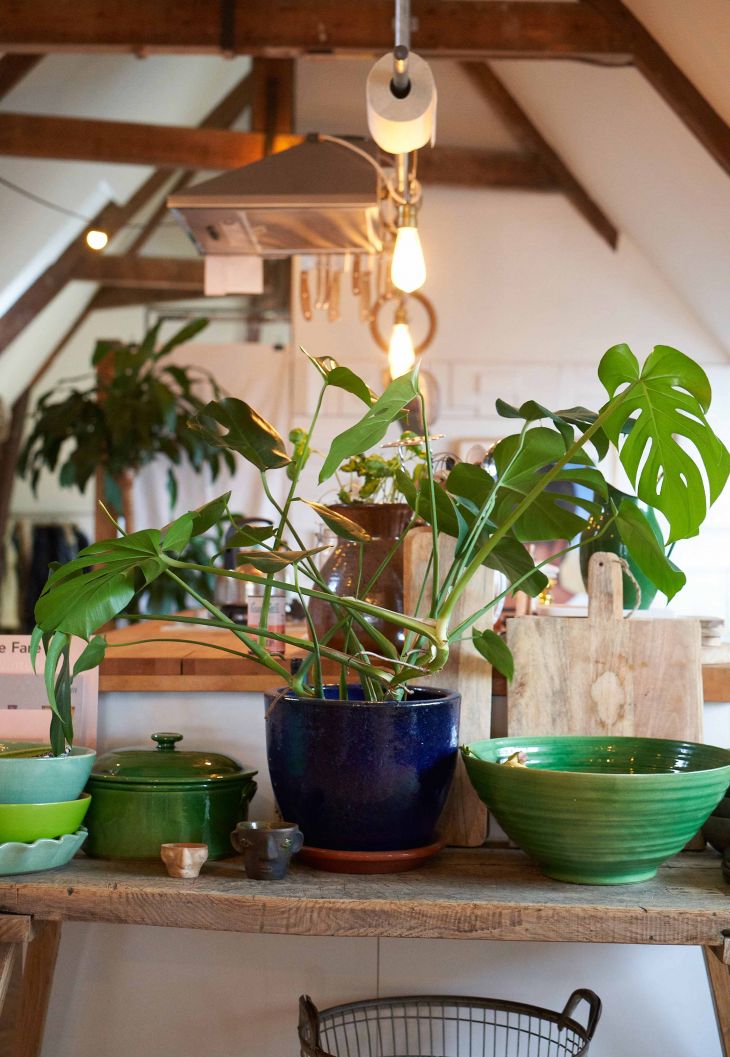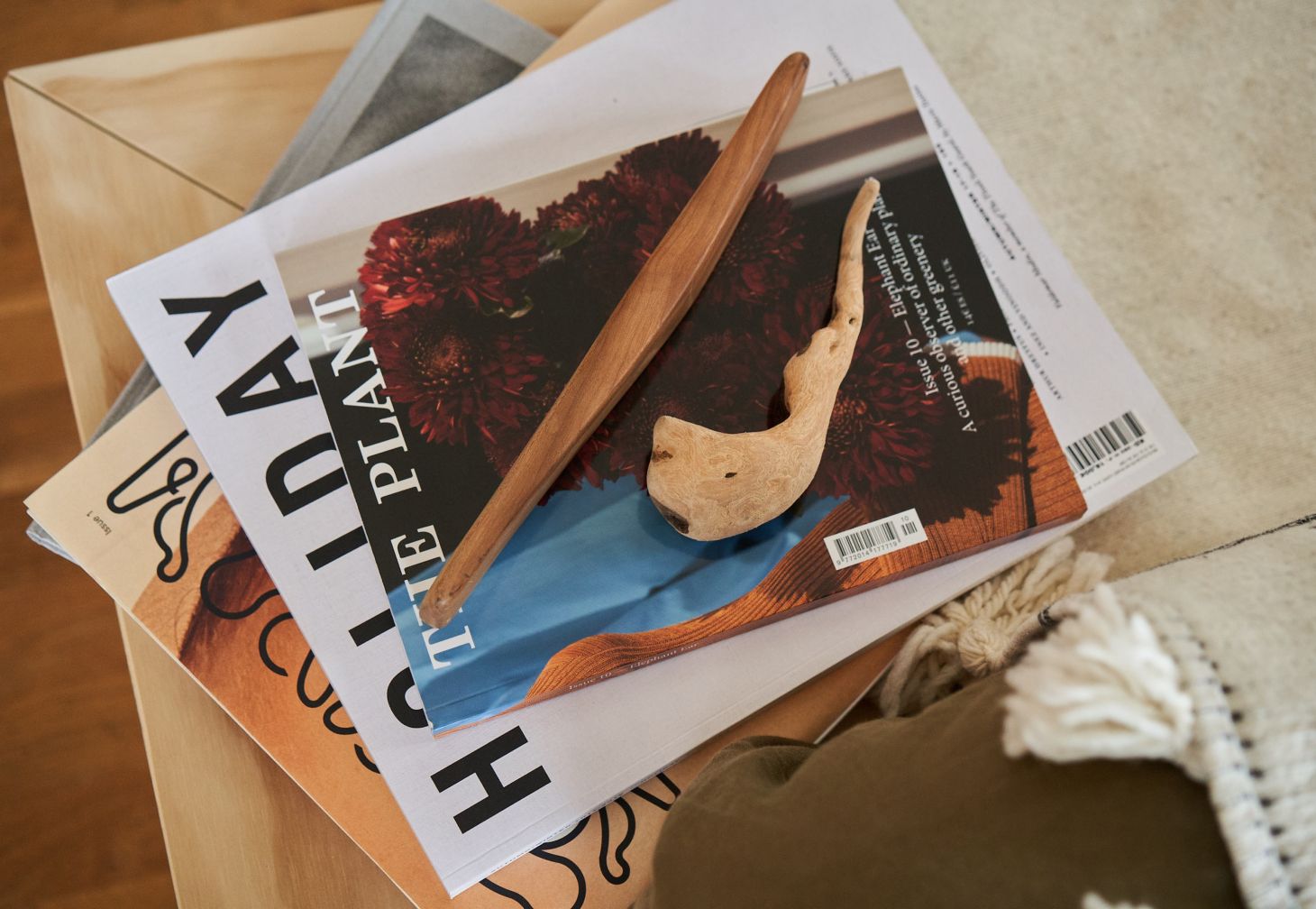 Lotte meditates every morning and Borre sometimes joins her.
"We try to have breakfast together each morning, or at least tea and juice. At night we like to burn Palo Santo or other incense. Also we love to drink tea and eat Tony's Chocolonely!"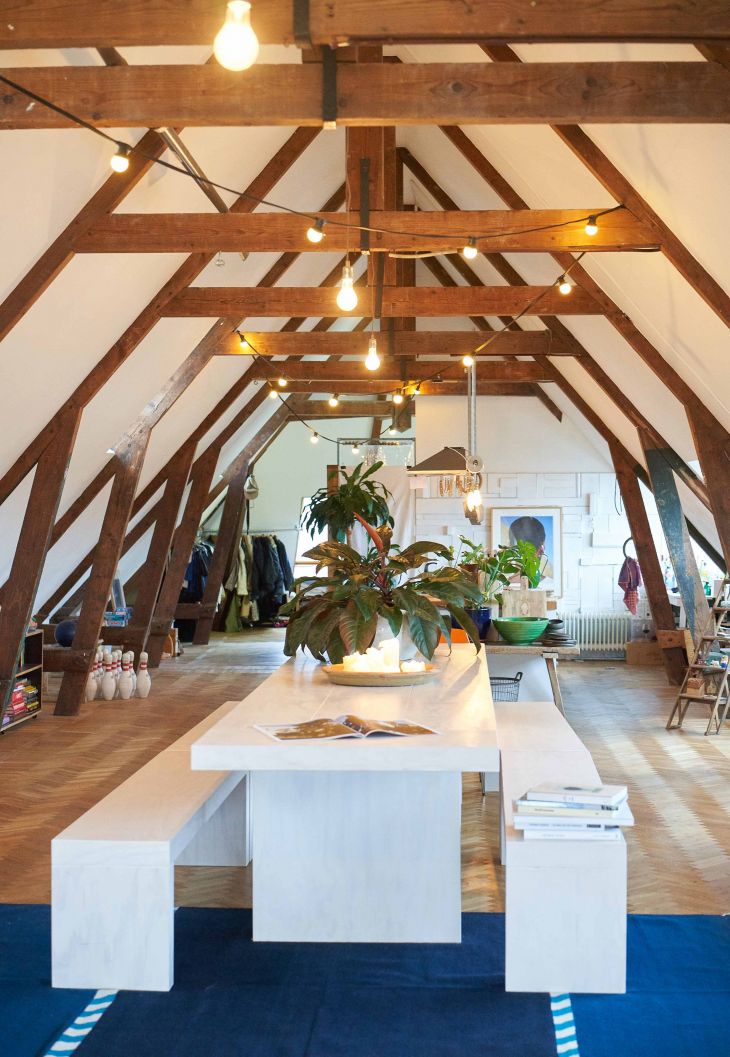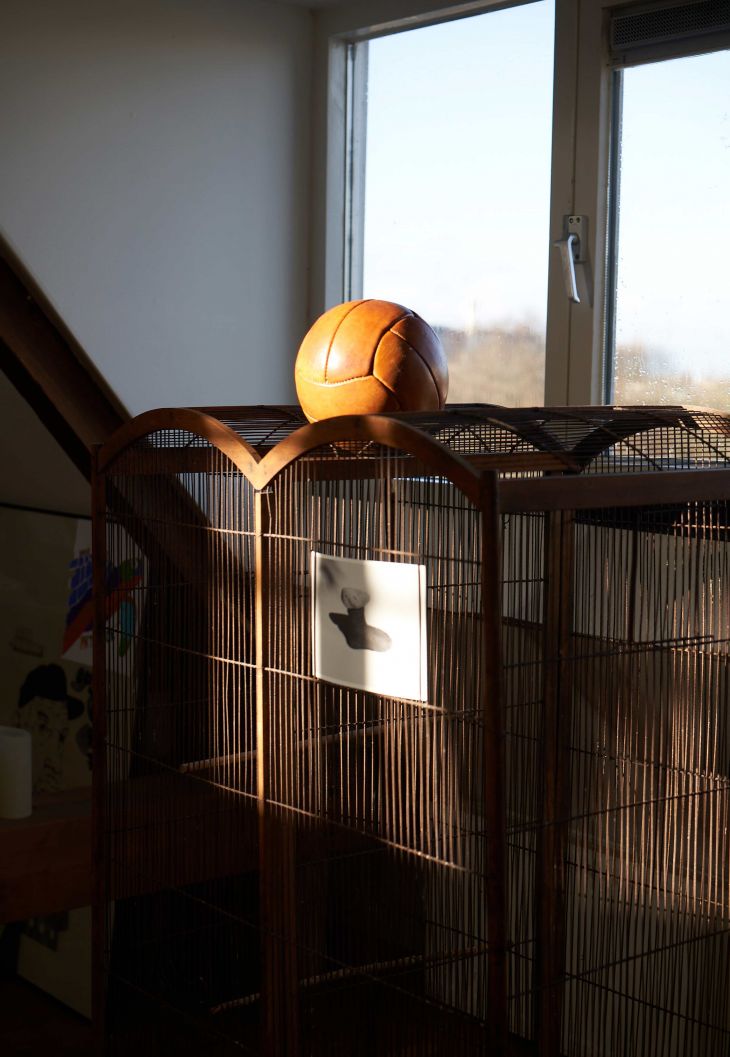 "The white bench is made by dutch designer Maarten Baas, Borre went to the Design Academy Eindhoven with him."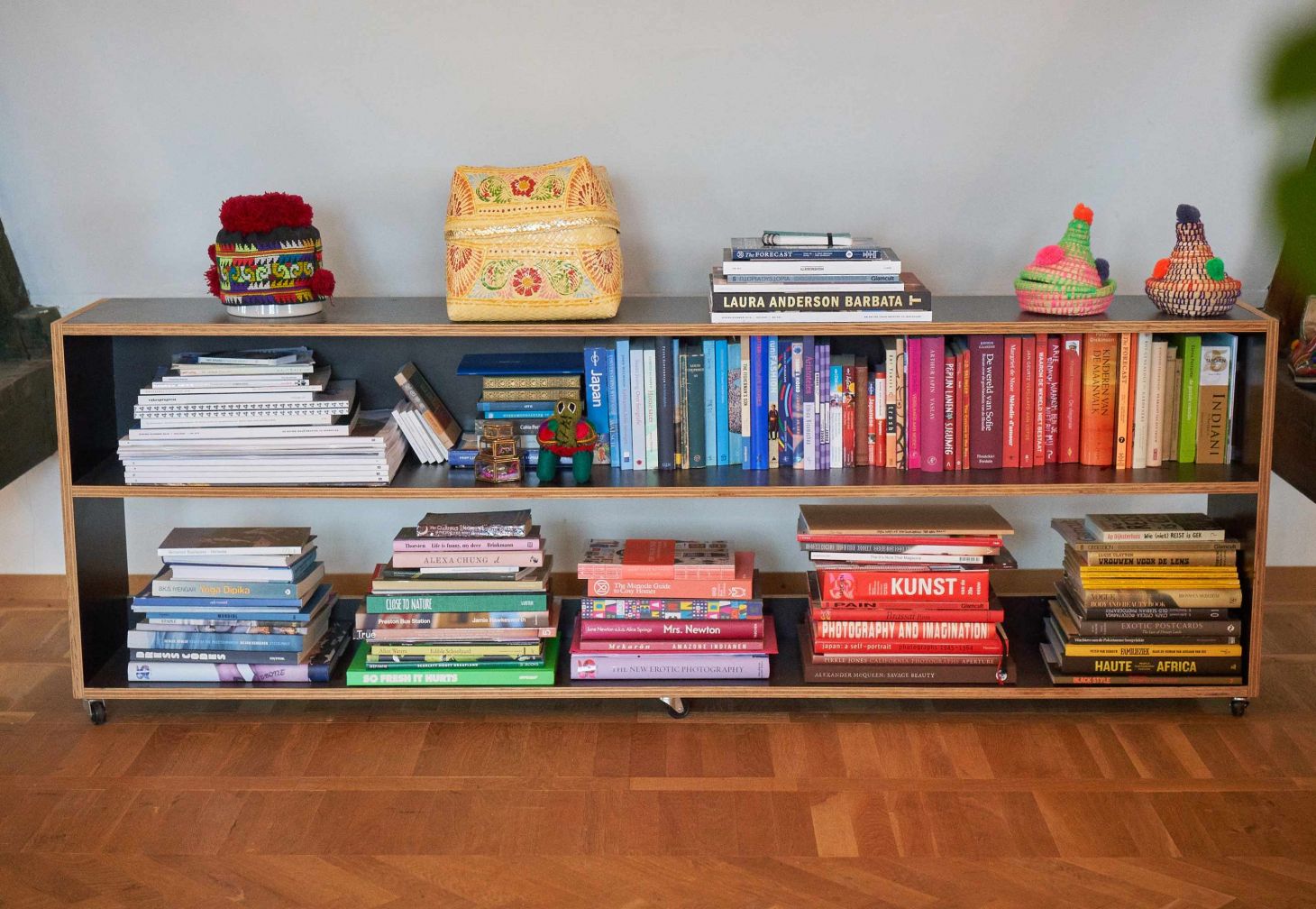 An extensive collection of magazines and books.
"Most of our books are art, design or photography related. We love flicking through art books, and If it's mostly text, I read to Borre since he hates reading (and is dyslexic)."
says Lotte
. "Our most recent favorites are a book from photographer Wolfgang Tielmans, installation artist Olafur Eliasson and a book about Mexican artist Laura Anderson Barbata."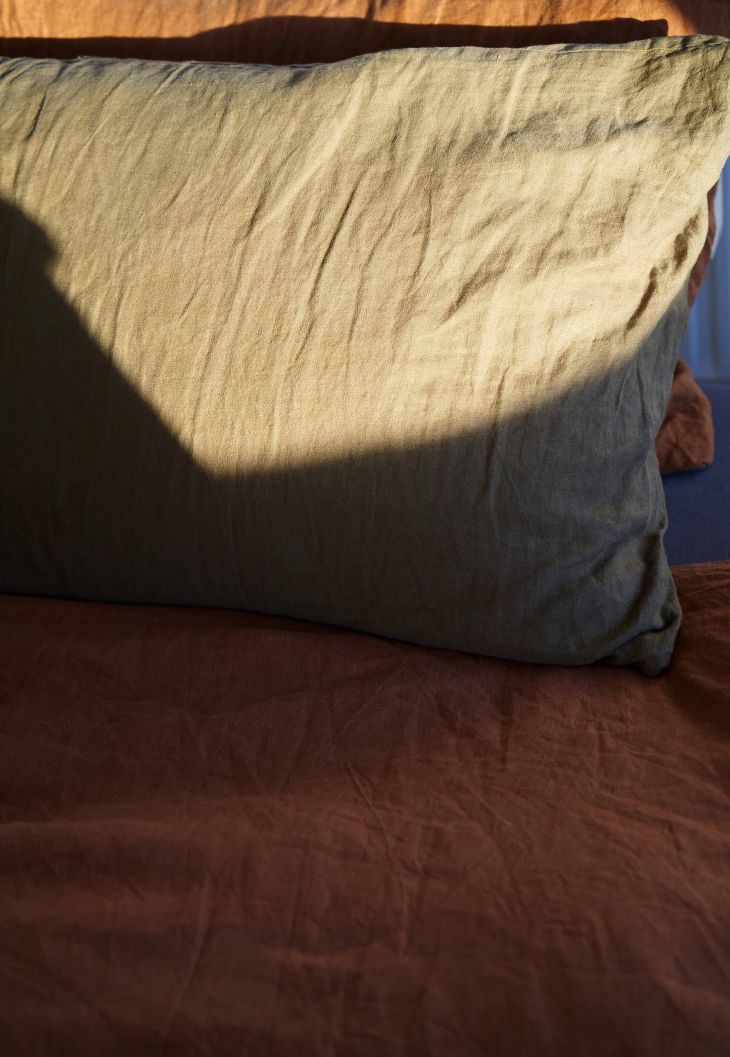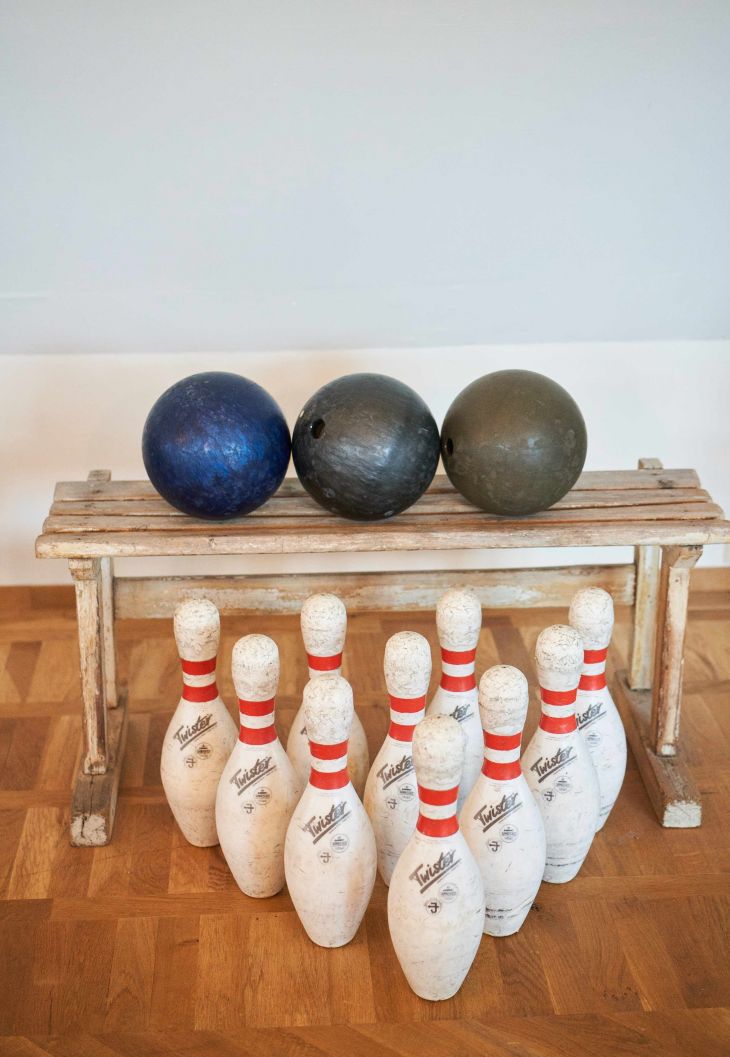 "The bowling set was a gift from Borre's nephew because he thought it would be nice to bowl in the house. It's definitely possible, but the floor doesn't like it that much."
Their view over building tops.
www.lottevanraalte.com
@lottevanraalte
www.byborre.com
@byborre