Hazelnut & Apple Galettes by Ruth Barry of Black Isle Bakery
Black Isle Bakery is an institution able to wedge it's way - via a neatly cut slice of something sweet - into your heart. Nostalgia and baked goods combine here; cookies fill tall glass jars on the counter and customers can be seen staring longingly at piles of pastries that have been stacked with an artful precision. At Black Isle Bakery, we can become children once more, though in an environment that is sophisticated and minimal. For owner Ruth Barry, it's a place of play, for the rest of us it's a space in which we get to have our cake and eat it too.
Ruth Barry came to baking from a background in Fine Art. Wanting to acknowledge this in the bakery, she asked her architects to create a space that was functional whilst resembling a gallery environment. The bakery's original incarnation was in London and, when Ruth moved to Berlin in 2014, she shipped her equipment with her in the hopes of opening Black Isle once more. "The bakery here in Mitte has a wonderful, calm energy, the furniture is unique and sculptural, and it is all brought to life with lots of fresh flowers and the smell of pastries baking in the kitchen" Ruth says.
"I consider what I do to be something like a performance, and so we have an open kitchen so that our customers can come and see where their treats are being produced."
THE RECIPE
"The combination of apple and toasted hazelnut is one of my favourite flavours. I was inspired to develop this recipe after making the apple tartilettes at
Du Pain et des Idees
in Paris where I did a three month apprenticeship. We made them there with ground almonds, and they were one of my favourite pastries. The smell of the galettes baking takes me back there every time. Apple and hazelnut marry brilliantly too, and the added crunch of the caramelised sugar on the outside of the galettes makes these really special." I adore the Jonagold apple. It is perfectly balanced between sour and sweet, and the juice caramelises beautifully when it bakes. These galettes are an anytime kind of treat for me. I especially love to eat them for breakfast with a black coffee, or for dessert served with plenty of vanilla ice cream.
These galettes are an anytime kind of treat for me. I especially love to eat them for breakfast with a black coffee, or for dessert served with plenty of vanilla ice cream.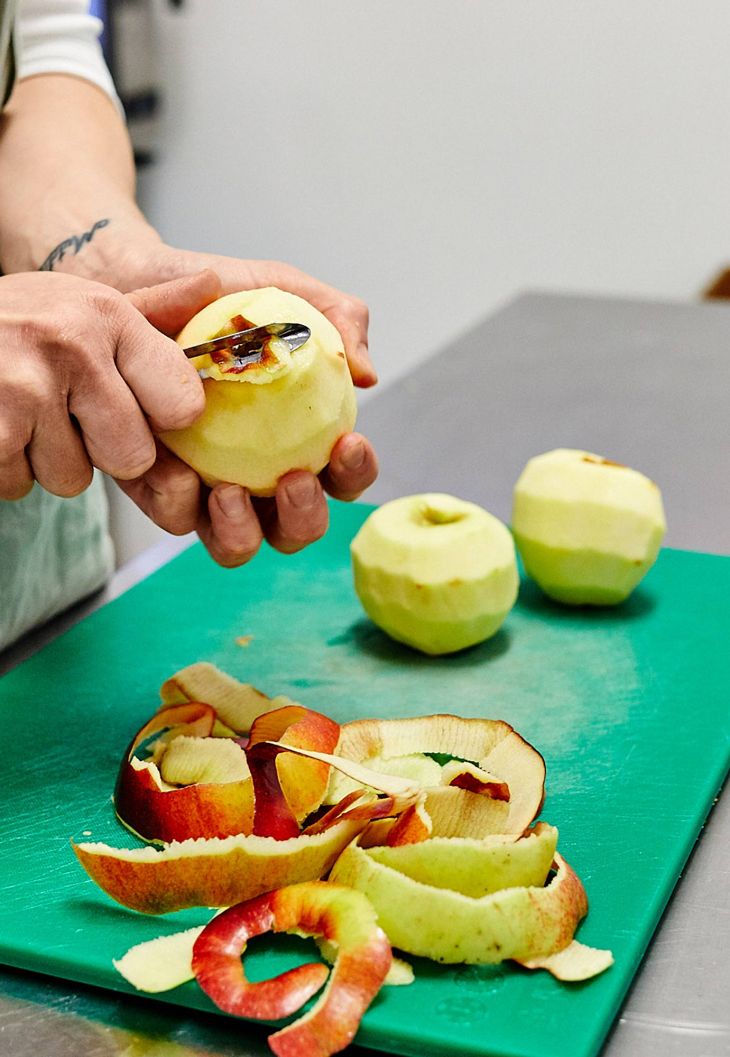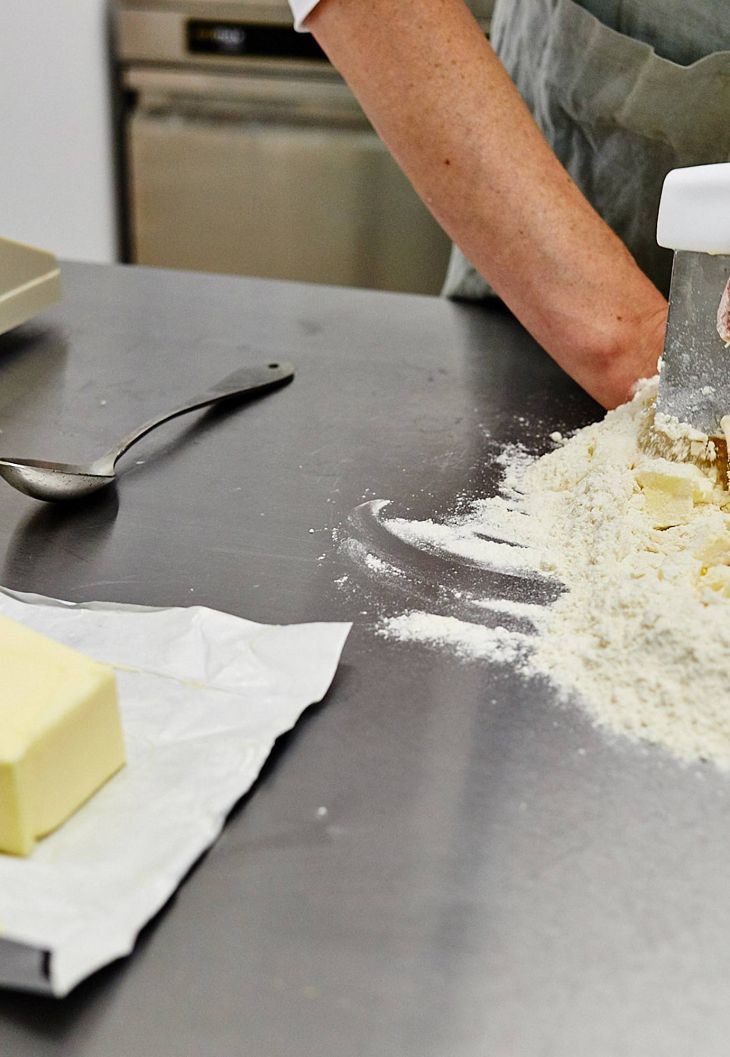 Hazelnut & Apple Galettes
Ingredients:
Makes 6-8 250g plain flour 1 tsp fine sea salt 150g unsalted butter 1 egg 1 tbsp milk Fine caster sugar 4-5 small to medium apples 6-8 tbsp ground roasted hazelnut 6-8 tsp dark brown sugar A generous pinch of salt A couple of spoons of melted butter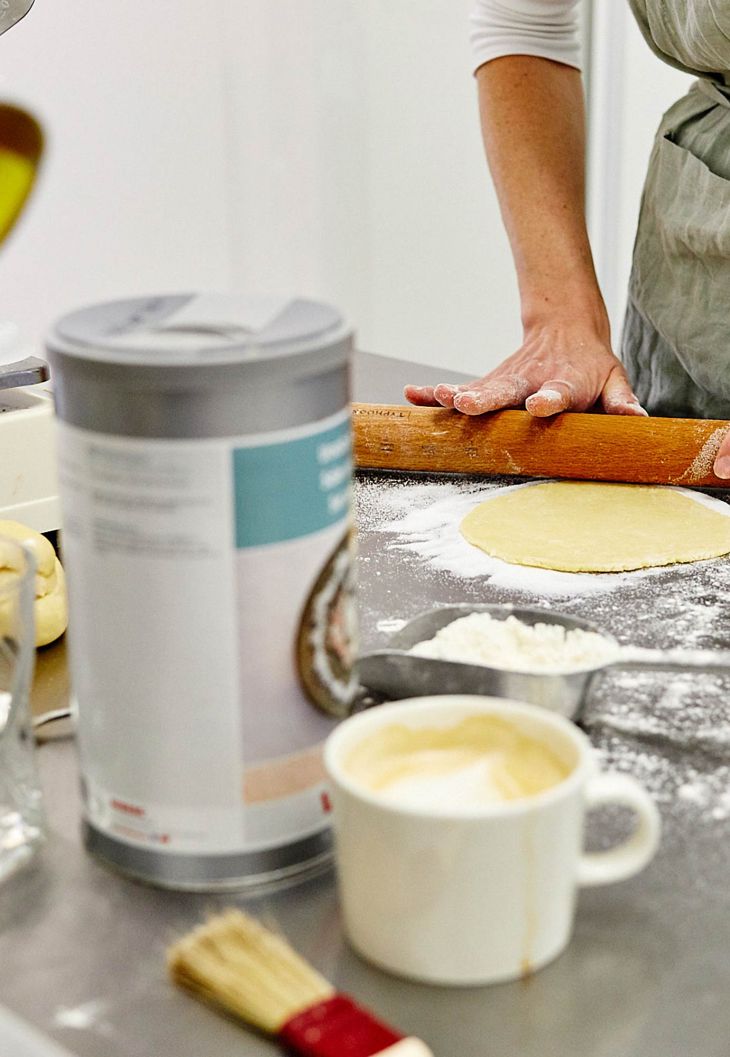 Method
Make a shortcrust pastry by tipping the flour onto a clean surface and making a well in the centre. Cut the butter into cubes and place in the well along with the egg and salt. Using a pastry cutter start cutting the butter and egg into the flour. It's important not to overwork the mixture so try to handle it as little as possible. When the pieces of butter are much smaller add the milk and continue cutting until it all comes together. Push with the heel of your hand a couple of times to amalgamate fully. You should still see small flecks of butter in the dough. Roll into a large sausage shape, wrap in cling film, and rest in the fridge for an hour or two. Mix together the ground hazelnut, dark brown sugar and salt in a bowl. Peel and core the apples, then slice them finely. Divide the rested pastry into equal parts (I usually manage around 8). Sprinkle your work surface generously with the caster sugar and roll each piece of pastry out on top of the sugar. You want the pastry to be very thin so aim for around 2-3mm thick. Spoon a tablespoonful of the hazelnut mixture into the centre and then arrange a few apple slices on top. Fold the edges of the pastry over to form a rustic border around the apples. Arrange the galettes on a tray and refrigerate for at least 15 minutes. Meanwhile preheat the oven to 200C. After the galettes have chilled, brush the apple with some melted butter and place in the oven. Bake for 15-20 mins, or until the galettes have browned nicely.
@blackislebakery
www.blackislebakery.com