Eton Mess
Words & Images by Samantha Hillman
Eton Mess is the pavlova for the rest of us. Those of us without time, fine motor skills, or a basic grasp on maths or science. The formula is simple and the effect is excellent. A tumble of meringue, cream, and fruit plus whatever extra bits - curd, herbs, toasted nuts, you happen to have on hand. The choose-your-own-adventure-novel of sweets; easy to throw together as a fruit salad and more texturally compelling than a cake. A freestyle trifle without the gross bits of wet sponge. It's infinitely adaptable, entirely forgiving and - if you assemble it at your destination - portable too. Multiply it for larger parties, and trim it back for small ones. All you need are four (FOUR! Even three) elements: meringue, cream, fruit and (optional) extra bits.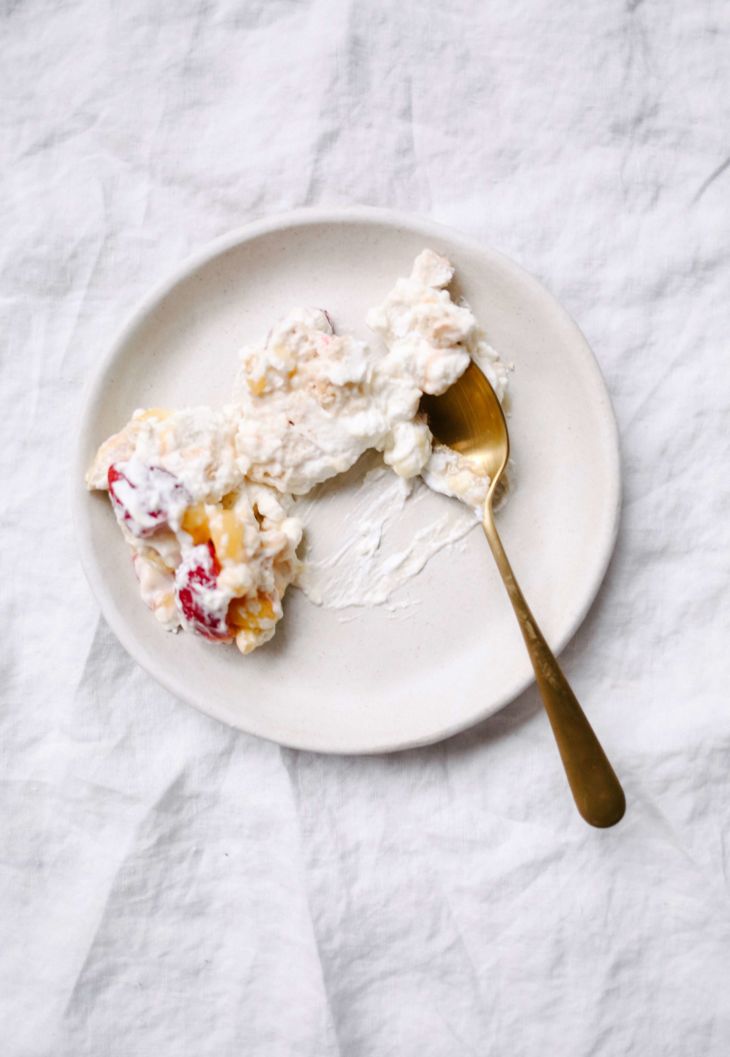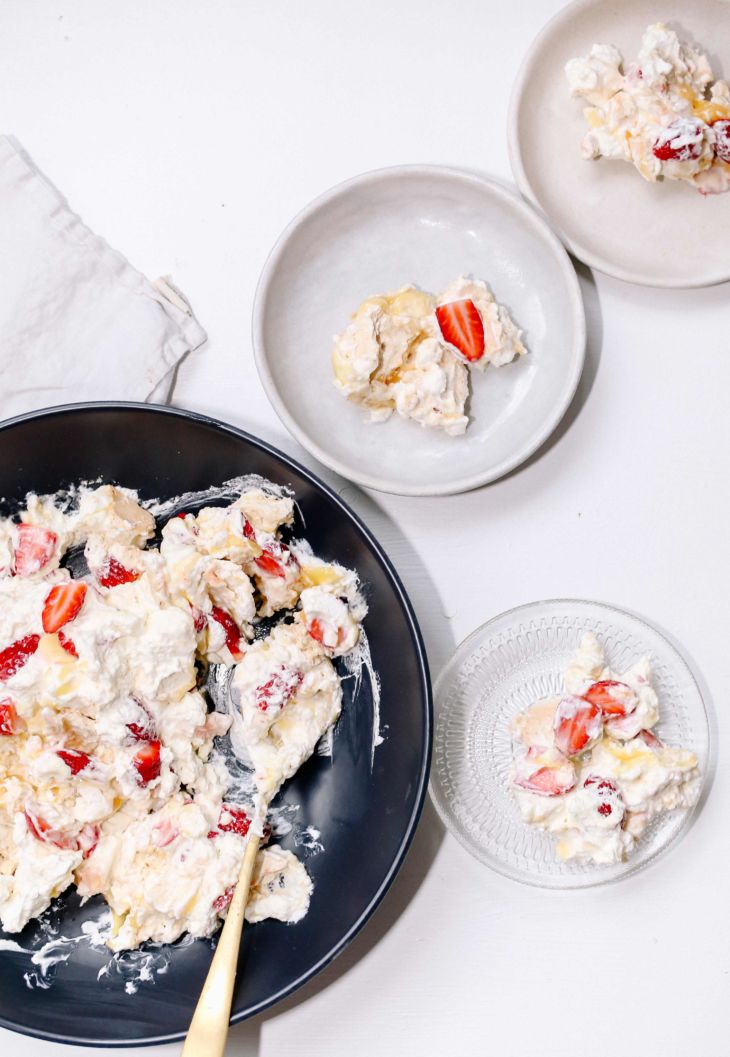 1. Meringue
Store Bought
Yes, use store-bought meringue if you can. I can't, because I live in America and bafflingly – despite the USA's obsession with sugar and shortcuts – they seemingly just do not exist here. And believe me, I've looked. If you use store-bought ones, be sure to let the meringue hang out in the cream for a smidgen longer to get that crunchy-but-melty consistency.
Or Homemade
If you're not using store-bought, beat 4 large egg whites until they start to hold soft peaks. Then g-r-a-d-u-a-l-l-y (but actually), add a cup of sugar. Continue to beat. Dot mixture along the baking paper in large cherubic blobs, and bake for 45 minutes at 120 degrees celsius. Perhaps a touch longer BUT don't let them brown. And even if you do let them brown slightly don't fret because that's the whole point of Eton Mess.
Or
If you've made a pavlova that is structurally unsound but "has a good personality" then
this is an excellent way of salvaging it. Just break it up into bits and you're good to go.
2. Cream
You want heavy whipping cream, very cold. Around 300ml. Beat it until it's soft and billowy, then fold in a little vanilla bean paste and a spoonful of icing sugar toward the end. You could also cut a third of this with creme fraiche, which I often do. Or yoghurt. Just make sure it's the very thick full fat kind. If you're going to add lemon curd (which you absolutely should) go a little heavier on the cream side because you'll get plenty of tang from that.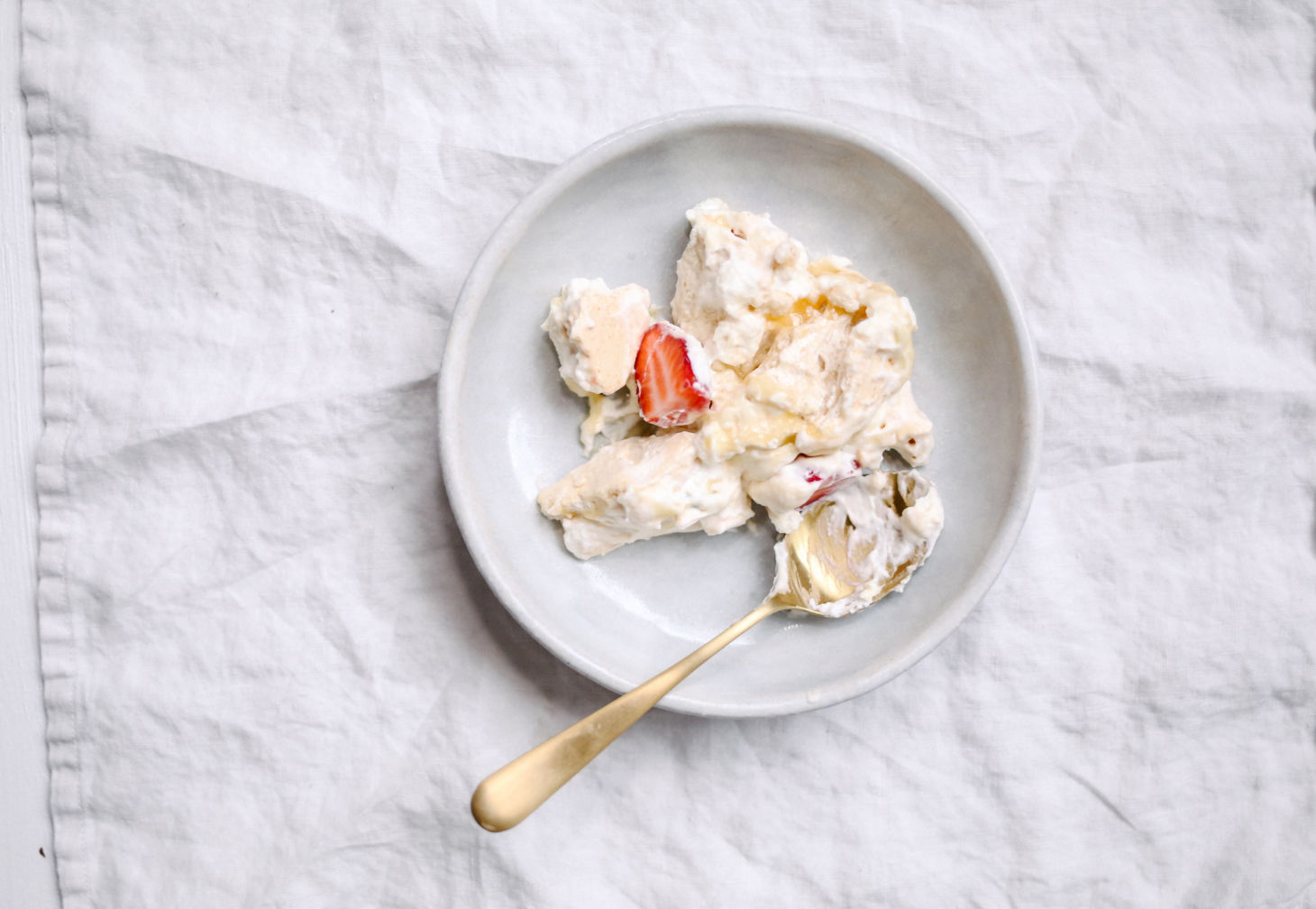 3. Fruit
You're looking for anything with a natural affinity with cream. Strawberries are traditional, and always my first choice. Chopped peaches are also wonderful here – because peaches are wonderful, and peaches and cream even more so – just make sure to use very ripe ones; the kind you'd eat straight up over the sink so that the juice doesn't run everywhere. Bananas are another top choice – though add them right before serving with a squeeze of lemon so it doesn't go all brown and weird. Because there aren't very many ingredients, just go with whichever fruit looks best. But for the sake of simplicity I'll focus on strawberries here: you want a big punnet of them, washed, hulled and – depending on size – either halved or quartered. Sprinkle with a little sugar or honey, and let them macerate for 20 minutes or so. Fresh mint or basil are great additions here (add them with the sugar), but they're equally good plain.
4. Extra Bits
Lemon Curd = HIGHLY recommended. If you made your own meringue you've got some egg yolks kicking around – use them in a homemade version. Otherwise store bought works fine. Nobody will notice and it will spare you the dejection that comes from nobody noticing your curd is homemade. If you're using bananas instead of strawberries, passionfruit curd is a fun subtropical direction to take here.
You could also add chopped macadamias for crunch or a dusting of pistachio.
And then to finish:
Toss it all together. Allow a moment for the ingredients to become properly acquainted, and for the meringue to soften slightly.
And then eat and be merry.