Elli Walsh, Fairlight
Elli and Cameron Walsh share a light filled apartment in a 1960's block in Fairlight, Sydney. It's a quiet and leafy suburb in the city's north, close to the beach with an unsuspecting sense of calm.
Elli has a knack with colour, and their apartment displays a vast collection of bold and diverse artworks that work surprisingly well together. Their carefully curated home balances art and objects with an energy that is both relaxed and inviting, showcasing pieces by friends and artists whom the pair are so fond of.
We shared tea with Elli as she talked us through some of the incredible artworks in her home.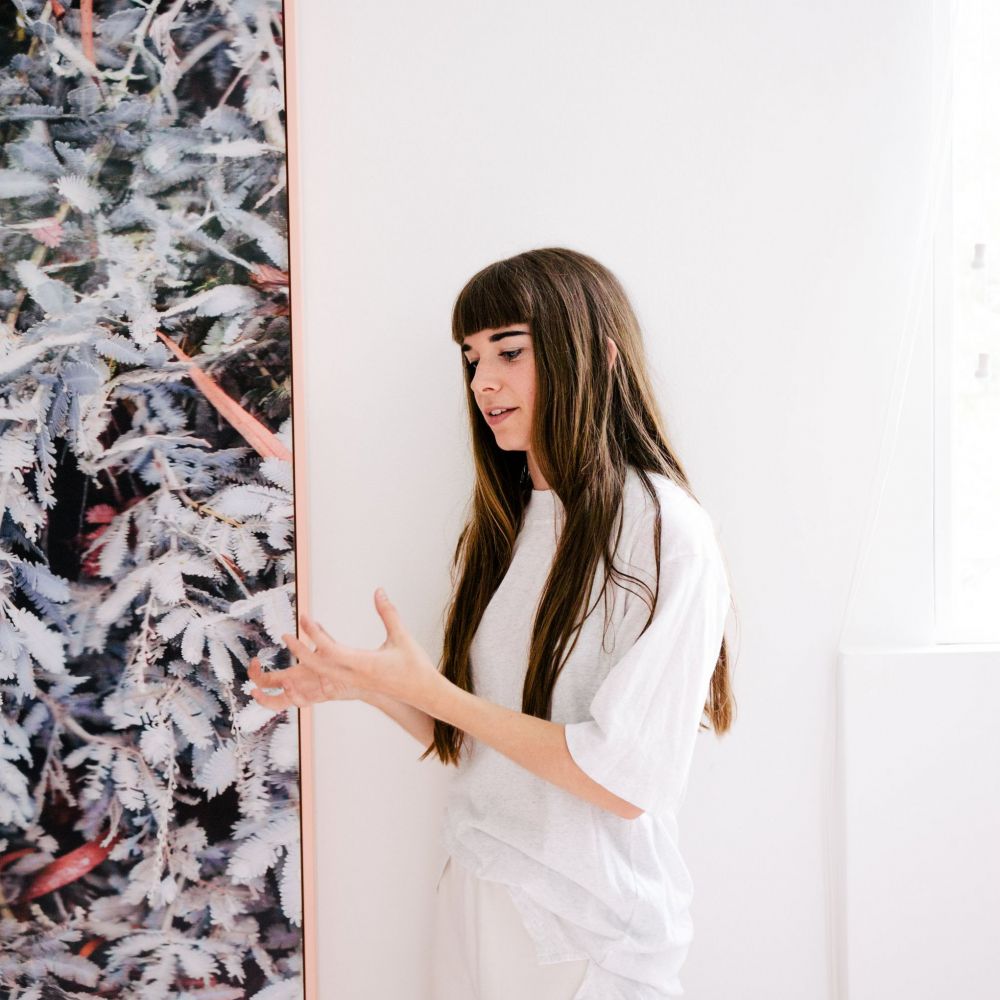 How would you describe what you do?
I'm a freelance arts writer, gallery assistant at Arthouse Gallery, HSC English tutor and sometimes-artist. I'm pretty lucky to be able to combine my passion for art and my interest in art history/theory with my love of English literature across all jobs.
Can you tell us about some of the most treasured artworks in your home.
I commissioned the resin drapery above our bed by Sydney artist Fraser Anderson in 2014 for my 4-year wedding anniversary, so that's a pretty sentimental work. I love the ostensible softness and delicacy of the piece – an illusion that's shattered once you touch the hard resin. The foliage work in our bedroom by young Sydney artist and good friend Kai Wasikowski is another favourite. It's a photo of wattle overlaid with lenticular plastic so that it gently 'moves'. It's really mesmerising & peaceful – so beautiful to wake up to (but a little trippy when you've had too much to drink!) Also, a lot of the ceramics in our home are made by my mum, so they're very special too.
What were some of the biggest learning curves during the renovation of your apartment?
The main learning curve was to put things into perspective. I had a tendency to be very dramatic and overly reactive when things didn't go as planned (which happened A LOT!) and ultimately such petty problems weren't worth getting upset over. Another thing I learnt was that renovations NEVER go as planned – whether it's the timeline or the works themselves – and you just have to expect and cater for this.
What do you like about the area in which you live?
Fairlight is one of my favourite Sydney suburbs. I live a short walk from the most idyllic beaches and a ferry away from the city – it's the perfect balance. Our area has such a relaxed, friendly vibe, and when I work in the city it feels like a holiday when I come home.
Tell us about a project that you are working on at the moment.
My husband Cam and I recently started a side project called The Funky Bunch, where we host 'wine nights' showcasing natural/minimal intervention wines. You can't buy these sorts of wines on the Northern Beaches and not many people know about them here (they're different to 'organic' wine), so we love introducing people to real wine without additives, alterations or human intervention. We also document local and international natural wines on our Instagram (@__thefunkybunch__) as a way of making these wines more accessible.
Any morning rituals?
Food always comes first – a brew of fresh sticky chai and homemade bircher, then a swim at the beach on weekends and a wander down to Manly for coffee at Showbox.
Bedtime rituals?
Every night I have a cup of green tea and a row of dark chocolate, without fail. That's basically it; I don't have any 'beauty regimens', I just wash my face with cold water and jump into bed, I only sleep in linen.
What do you wish you had more of?
Time! I have so many special 'things' that I don't need more of, but time seems to be getting slimmer and slimmer. Not necessarily in a morbid or melancholy way, but there's so much I want to do – like travel, make art, diversify my professions – and I can't foresee how I can fit it all in.
What do you wish you had less of?
Stuff. It's crazy how much you accumulate over the years, and no matter how much I try to live a minimalist ethos, somehow unnecessary stuff still amasses. I think I'm going to do a big cleanse soon.