Eat IN BED: Grandmother's prawn, pork and shiitake wontons with Katrina Birchmeier
Words by Maggie Scardifield
Images by Luke Burgess
She opened dearly departed Garagistes restaurant in Hobart, before stints at Sydney's Bar Brose and The Four Horsemen in New York. But sommelier and former Sydneysider Katrina Birchmeier still argues she's not so crash hot in the kitchen. Birchmeier grew up in Albury, on the New South Wales and Victorian border. While she might be more confident choosing wine than weighing out ingredients, her grandmother's wonton recipe is one that she's confidently nailed. "My mother is Chinese," she says. "When I was little, we'd do a big Chinese feast at our place on Sundays and my brother and I would always get involved in helping."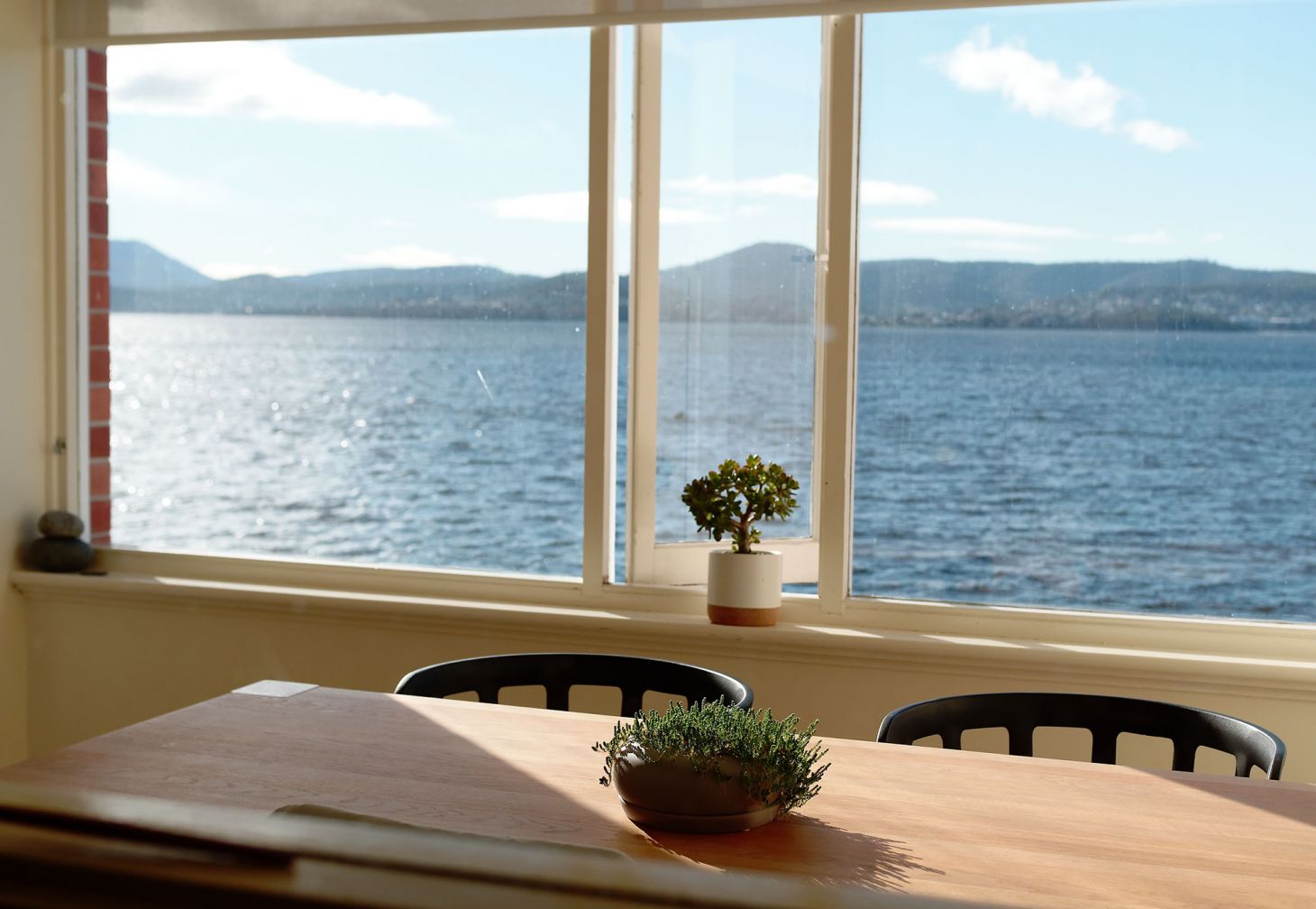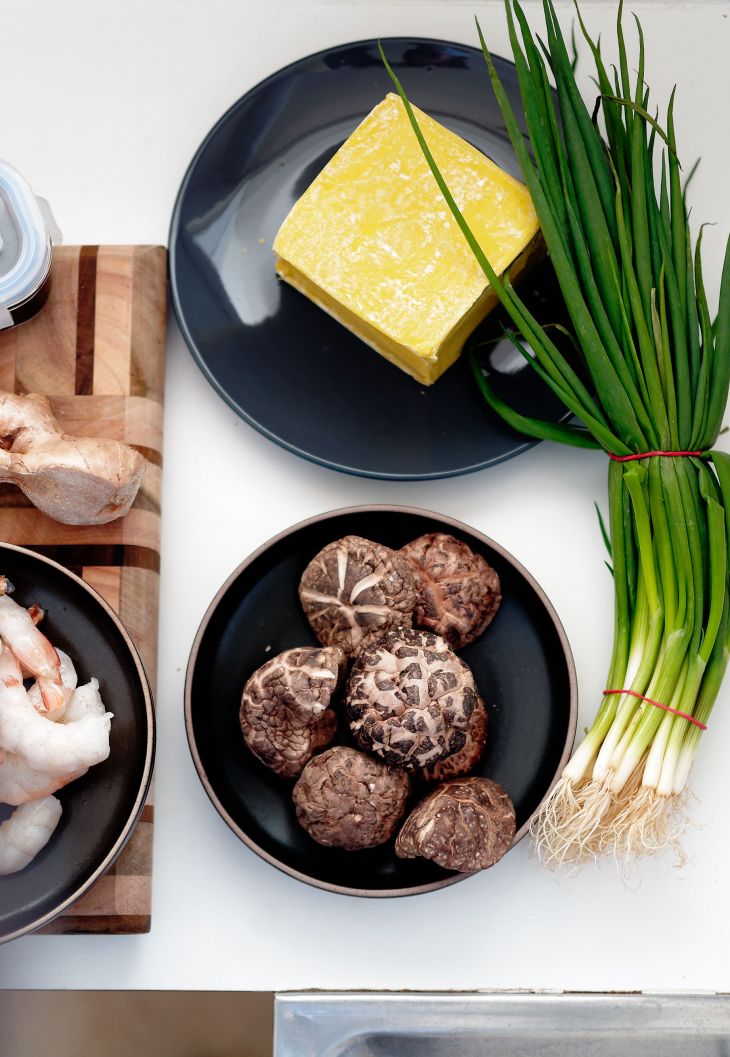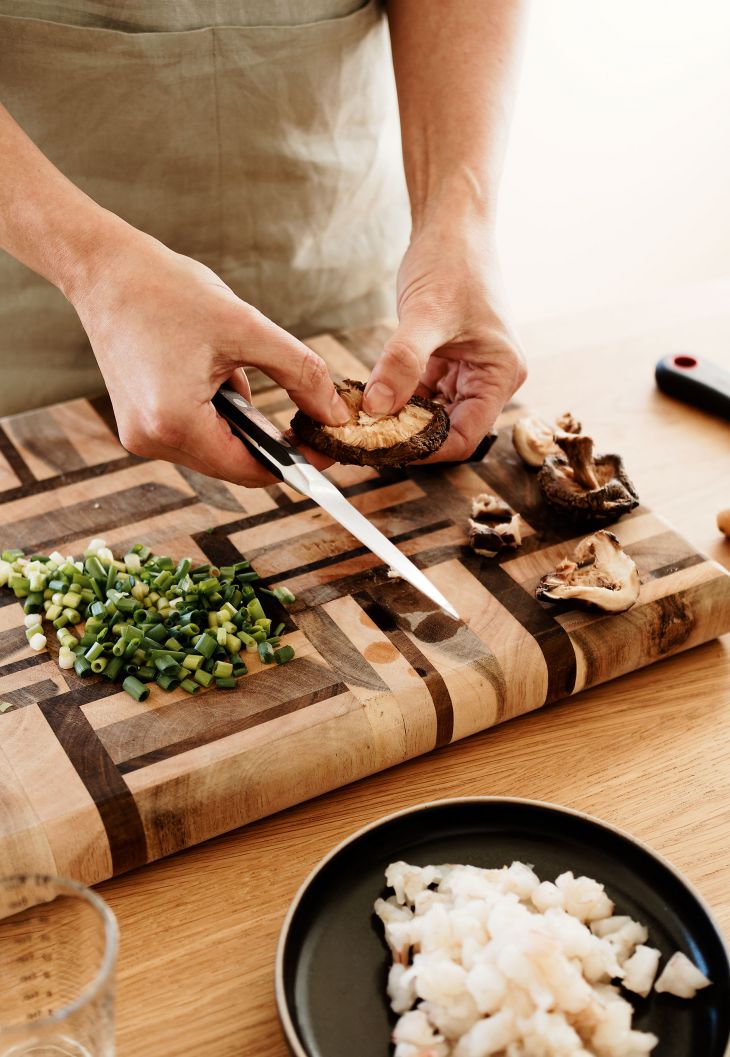 Birchmeier moved to Tasmania for the first time 12 years ago and opened the late (and great) Garagistes. After time spent living in both Sydney and New York after it closed in 2015, she returned last year to manage The Agrarian Kitchen Eatery in New Norfolk, just a 35-minute drive from Hobart (and a non-negotiable meal for anyone visiting Tassie). "I just love how vibrant the community is here now. From the restaurants to the arts scene, it's really nice to see how it's developed," she says. "When I first moved here, all my friends were like, why are you doing it? Now they're jealous."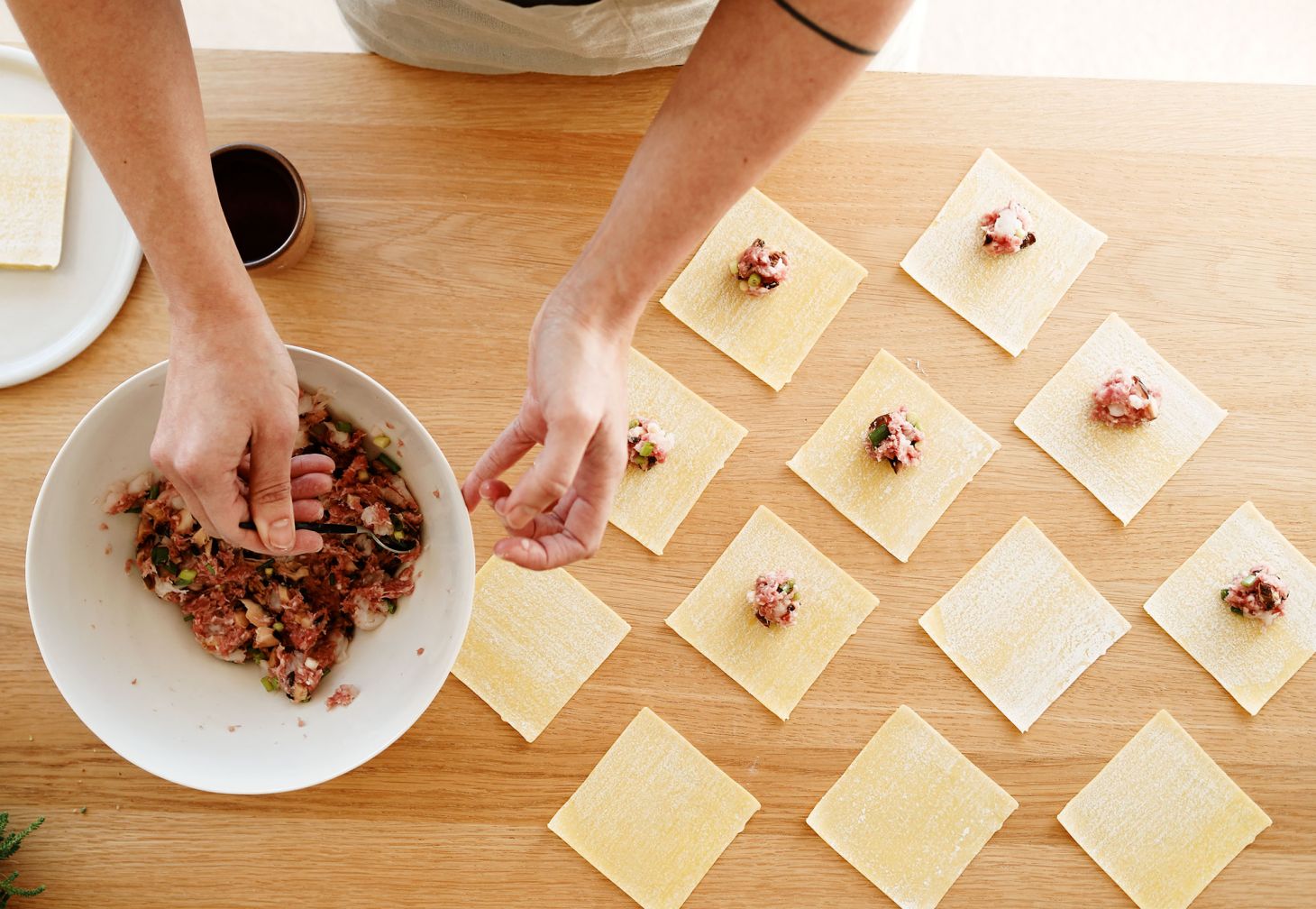 THE RECIPE
These days when Birchmeier's family make wontons, everyone still has a job. "It's such a staple," she says. "When I go to visit my family in Sydney, it's still that communal feeling around the table: chatting, mixing and wrapping them together, drinking wine..." Speaking of booze, it'd be remiss to include a recipe from a sommelier without asking for a pairing. Birchmeier's choice for the boiled and dressed wontons would be the 2013 Melon La Fauquette, an oxidative white wine (produced sous voile) from the
Jura's Michel Gahier
. "It's a bright, savoury and beautifully balanced wine and matches well with salty, umami driven dishes," she says.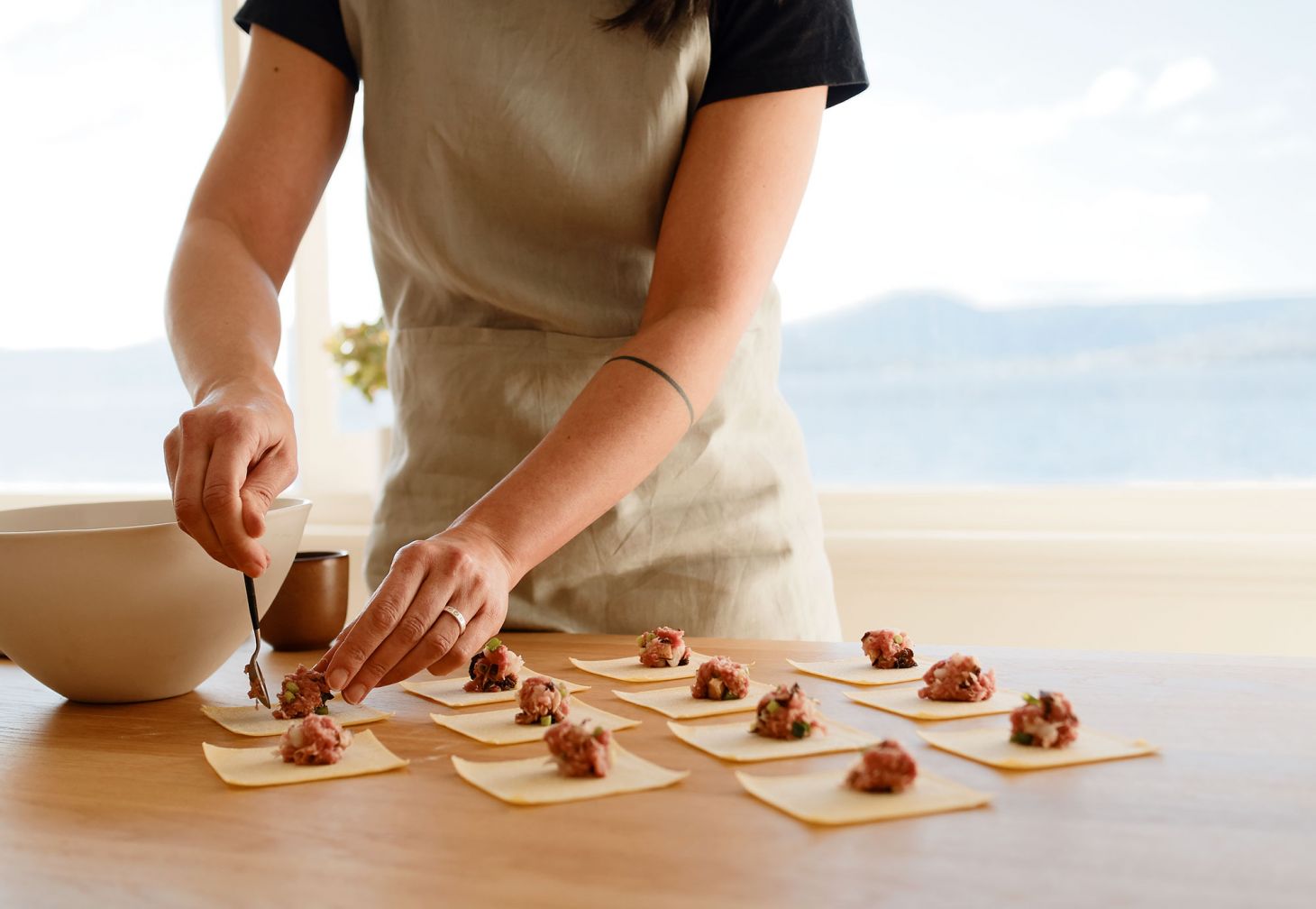 Alternatively, she's also a big fan of matching food with sake. "At Garagistes we offered a full sake match, rather than a traditional wine match, for our five-course menu," she says. Birchmeier recommends the aged
Biden Koshu sake, Mii no Kotobuki (1999)
for this dish. "It's wonderfully complex. The earthy elements match well with savoury food and dishes seasoned with soy." As for the best time to make her Grandmother's wontons? "It's not really seasonal. And it's not exactly the essence of Tassie. But it reminds me of home."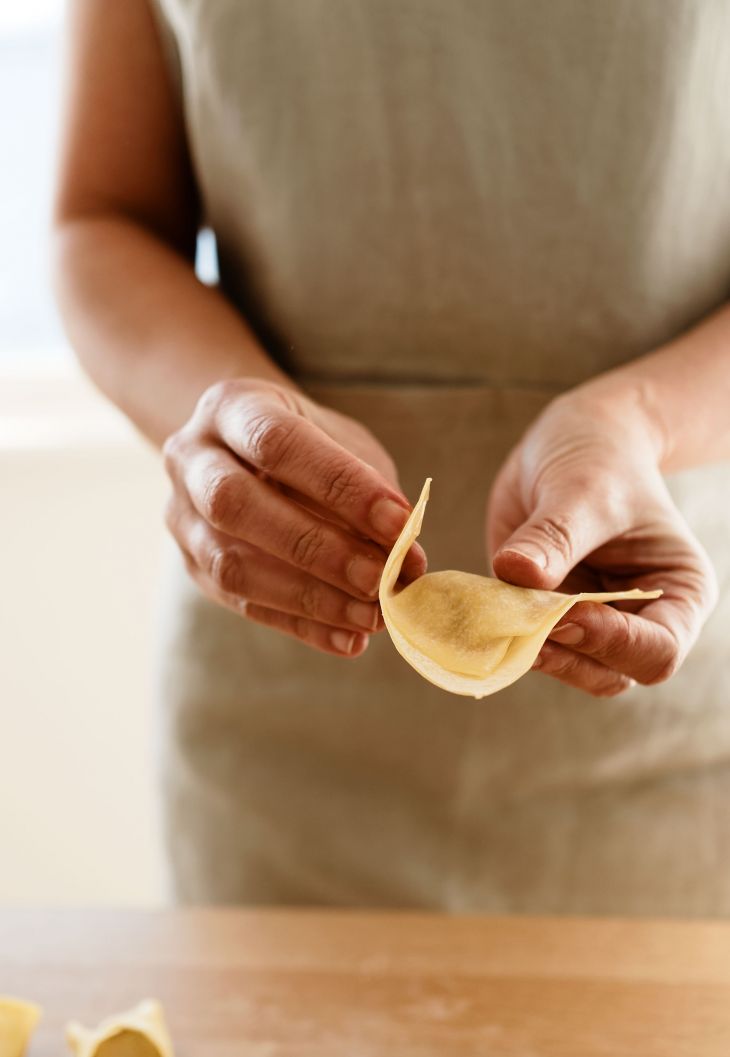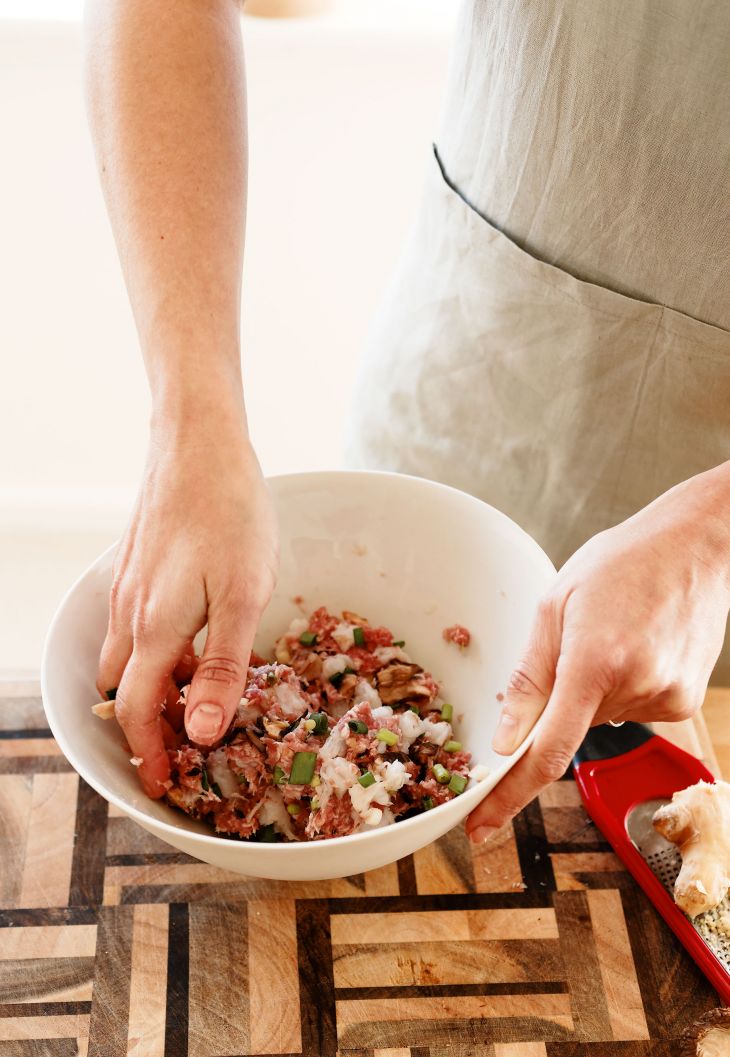 Grandmother's prawn, pork and shiitake wontons
Ingredients
Makes 40
For the wontons
40 square wonton wrappers
4 dried shiitake mushrooms, soaked in hot water for 30 minutes
250g raw prawns (unpeeled weight)
250g pork mince
2 spring onions, finely chopped
1 tsp finely grated ginger
2 tsp light soy sauce
1 tbsp Chinese rice wine or dry sherry
1/2 tsp salt
pinch of white pepper
1/2 tsp sugar
1/2 tsp sesame oil
For the dressing
2 tbsp black vinegar
1 tbsp light soy sauce< br />2 tsp oyster sauce
1 tbsp sweet soy sauce
1/2 tsp sesame oil
Chilli, to taste
To garnish
3 shallots, peeled and sliced
To coat
cornflour
500ml canola oil (2 cups)
Spring onions, finely chopped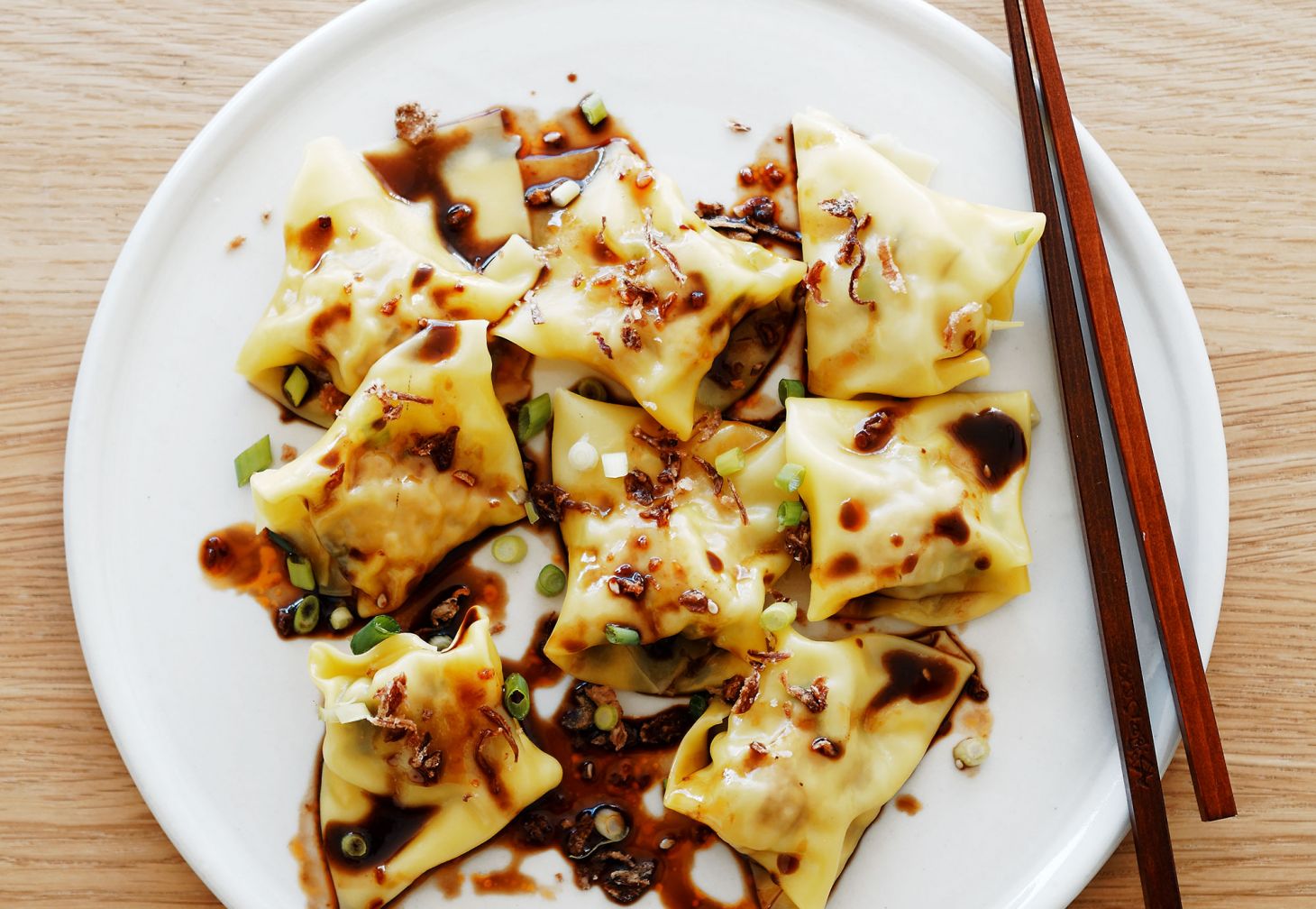 Method
Soak the mushrooms in hot water for 30 minutes. Strain and squeeze out any excess water from the mushrooms. Remove and discard the stems, then finely dice.
Peel and devein the prawns, then roughly chop them into 0.5cm pieces.
After coating them in cornflour, shallow-fry the shallots until golden and crisp. Drain on absorbent paper and season with salt. Set aside.
Place all the filling ingredients into a large bowl and mix with your hands until the ingredients are well combined. If the mixture seems too dry and doesn't bind together, add a little bit of water and mix until it's blended in. If the mixture feels too wet and doesn't hold its shape, add a small amount of cornflour and mix to combine.
Test the filling for seasoning by boiling or microwaving a small ball of it until it's cooked. Taste and adjust with salt, soy sauce, sugar, pepper, ginger, or sesame oil if necessary.
Ready a small bowl with some water in it and a plate or tray lined with baking paper.
To fill and fold the wontons,
Place a wonton wrapper on the bench with one of the corners pointing towards you.
Put about 2 teaspoons (10g) of filling onto the wrapper, just slightly down from the centre.
Dip your finger in the water, or use a pastry brush, and slightly moisten the two bottom edges of the wrapper.
Fold the bottom corner up to encase the filling, but don't make the two corners meet (the bottom corner should be about one cm below the top corner). Seal the edges, pressing out as much air as possible to ensure there are no air pockets.
Slightly moisten the left and right corners and fold them to meet, squeezing gently to ensure they are joined.
Place the finished wonton on the baking-paper lined plate and repeat with the rest of the wrappers.
Combine all ingredients for the dressing and whisk together
Bring a large pot of water to the boil, then add all the wontons, stirring gently to separate them.
Return the water to the boil, then simmer for 2-3 minutes until the wontons are cooked. They will float to the top when they are ready.
Using a slotted spoon or wire strainer, drain the wontons and place them on a large serving plate. Whisk the dressing one more time to recombine the ingredients.
Dress the wontons generously and garnish with chopped spring onions and crispy fried shallots.