Eames House L.A.
The first detail presented upon visiting the Eames house in Los Angeles, was the front lawn -- a sun splattered piece of land featuring a soft decline, leading my eyes out to a view of the ocean, shimmering just beyond the Pacific Coast Highway. Sailboats passed while a warm sea breeze washed over up over the cliff's edge and tickled at the ends of my hair. The next detail was the sound of the towering Eucalyptus trees gently swaying into each other's foliage, flashing their coloured leaves, and dropping a few at a time to join the other one million leaves which paved the way to the house's entrance.
The house itself, un-fussy and linear in construction, was accented with rare and exotic souvenirs. At this point, poking my head in from the door frames, one is lead to consider the various travels Charles and Ray experienced together, collecting not only traditional ethnic arts but perhaps also borrowing some of their values too. Values, which suggest a way in which to live, how to use one's space, make use of what you are immediately surrounded by, host friends and make them feel welcomed in your home. There was a quote written on the boards outside from Alex Funke that read, "If you want to define the thing which drove [Charles] and the relationship to his work--it was what he called the Guest/Host relationship. He maintained that it existed everywhere: it existed in a nomad's tent; it existed when the clowns came out and did the walk-around in a circus; it existed when your client walked into your office; it existed when you brought the lights down and rolled the film; it existed in every aspect of life and work..."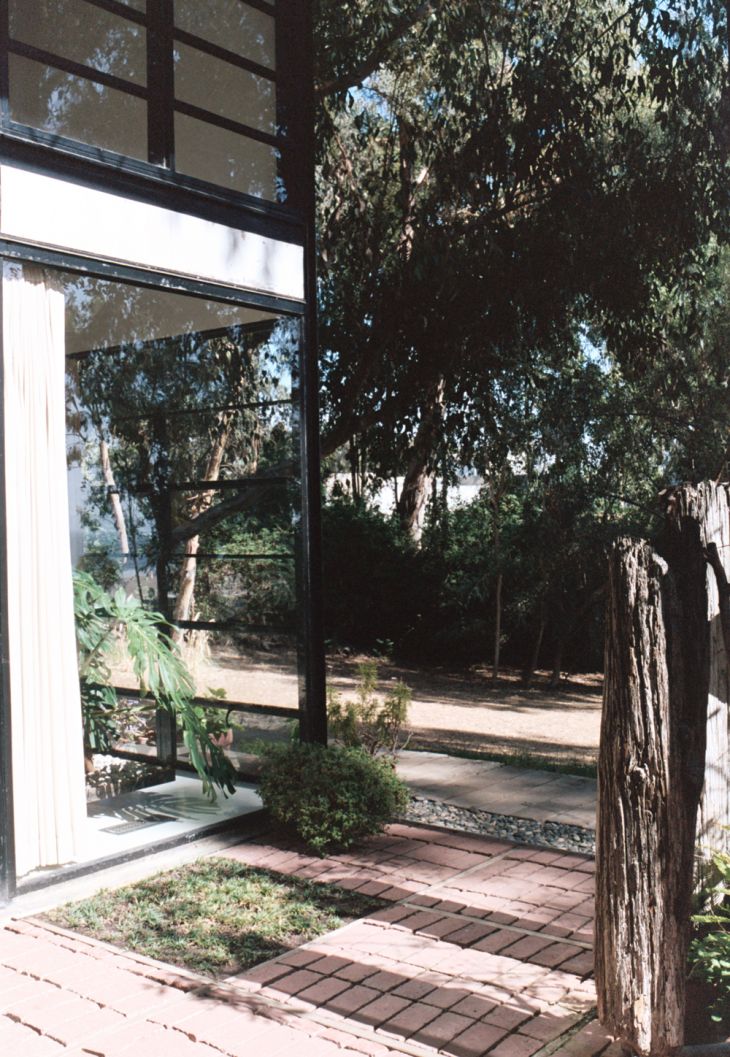 This same storyboard also shared a series of images showing the Eames House's living space in various different arrangements. Instead of sticking to a standard living room set-up, Ray and Charles used their living room and the accompanying furniture as a transient space, ready to be shifted and re-positioned for the betterment of its occupants and guests. I also admired the way they arranged a certain collection of objects on the floor, instantly inviting you to head down onto the rug and tinker around with shapely and tactile pieces -- because life is, perhaps, more fun on the floor... This explains their desire to hang one of their treasured paintings face down from the ceiling ideal viewing if you were to be lying on their rug.
It was this kind of attention to creating a way of life, rather than a space, that really stood out to me. Where function and fun were valued as important as each other. It seemed to me that life at the Eames house was not only about enjoying your favourite books and table arrangements, it was about encouraging those indefinable moments that occur in and around these objects.