David & Marina, Shoreditch
Words by Elisha Kennedy
Images by Amelia Pemberton
Partners in business and life, David Lane and Marina Tweed are the editors of biannual food, arts and culture journal The Gourmand.
The idea behind the journal is a simple one – to celebrate food and culture. With cleverly curated content and playful art-direction, The Gourmand documents the ways that food brings people together, through work and in life.
The Gourmand takes food seriously, with humour. The journal is a combination of a quick-witted observations and a discerning eye. It's unexpected and delicious; a photograph of rotting fruit reminiscent of a Memento Mori painting; an essay on prawn cocktails that feels surprisingly pertinent; a jumble of egg-yolks beautifully printed as a centre-spread.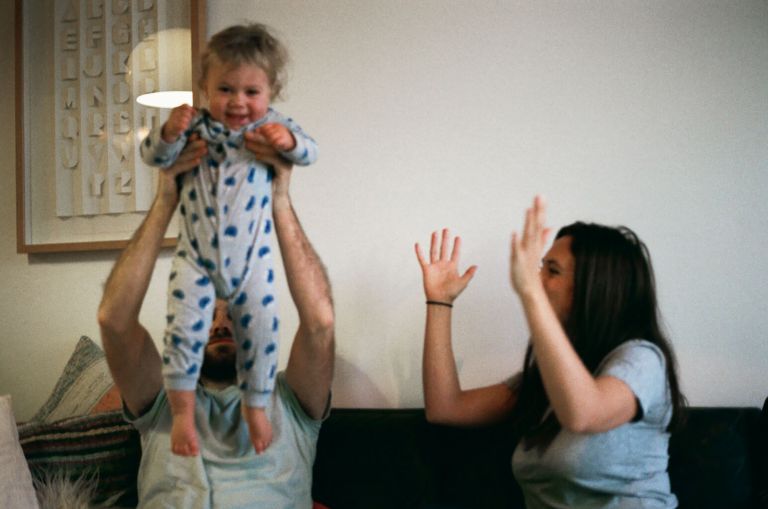 The relationship between food and the arts is perhaps not the most obvious, but for David and Marina it can be seen everywhere around them. For the pair, food is about play and creativity – it's an epicurean free-for-all and something to appreciate, three times a day.
We spoke with Marina in their Shoreditch apartment, which they share with their son Jacob and a cat named Peter.
How would you describe what you do.
A mum that runs a magazine brand.
How did the two of you meet?
Dave worked with my best friend in a deli when we were 18. He made the best cheese focaccia sandwiches.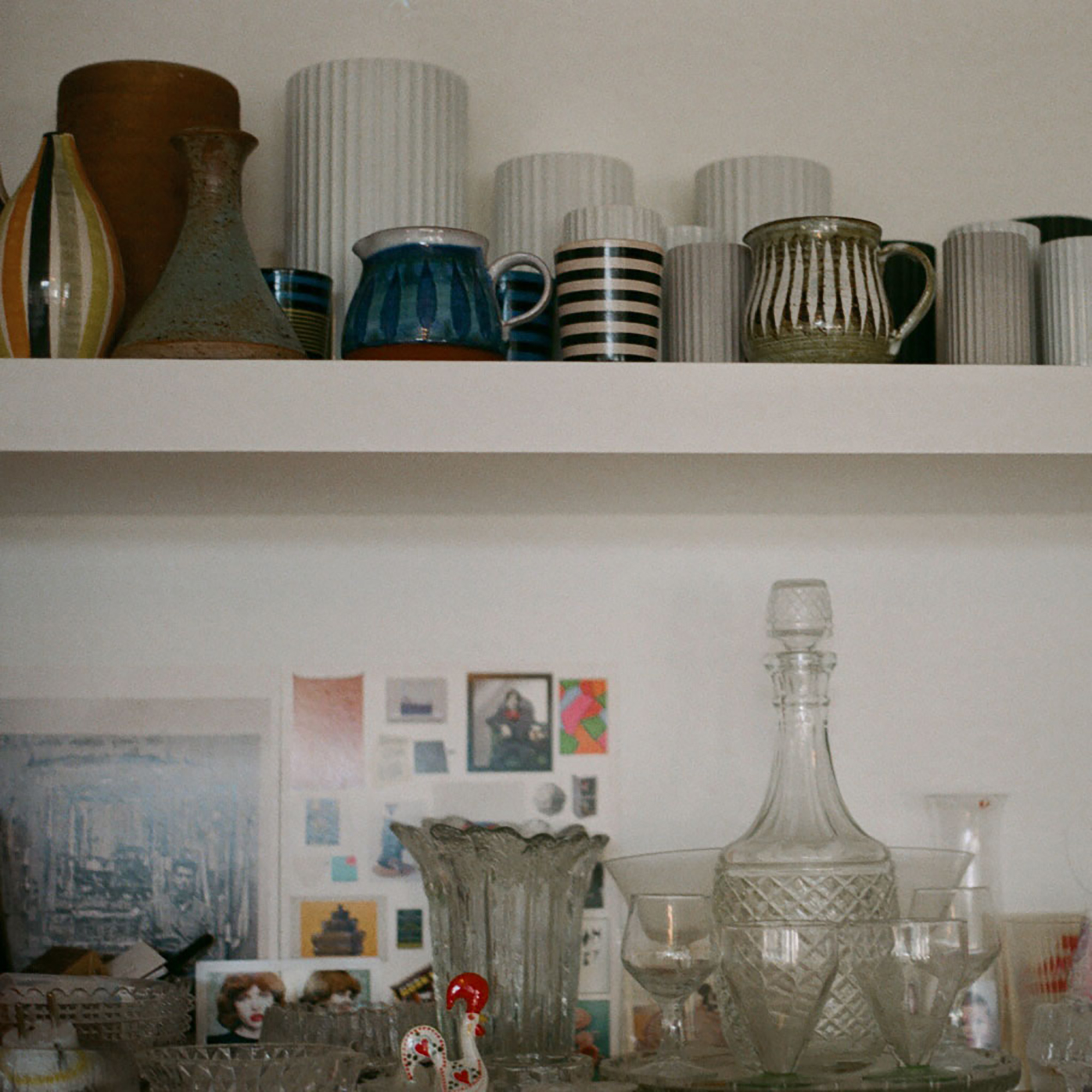 Tell us about your son Jacob's personality.
Jacob's is just gorgeous, he's the happiest person I know. He's self-assured, super-sociable and so funny – he makes us the happiest parents. He really does just smile and laugh all day long, apart from when you're cooking his meals and he gets really 'hangry', an unfortunate characteristic he's inherited from me. He has a very unique, and very fast, crab-like-crawl and is just on the cusp of walking so my days are going to go up a gear very soon. I've been on maternity leave for over a year now and I have loved every single second of it, he really is a pleasure to hang out with, but he's off to nursery part-time next month as he's just too energetic for me now.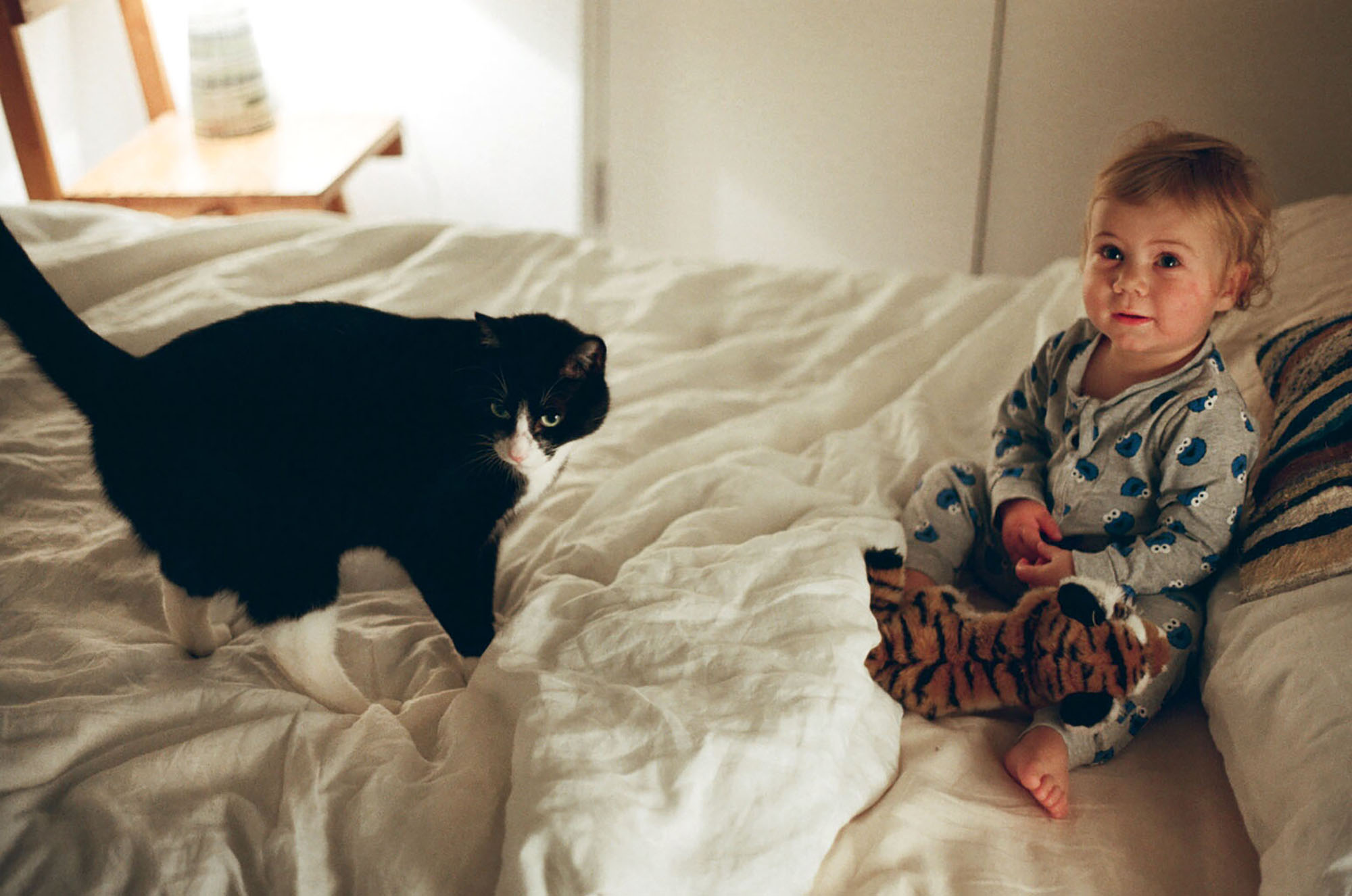 Featured above: IN BED linen duvet set in White
We were both still working full-time elsewhere, so it was an evening and weekends project. That's why we decided to do it in the first place, as a means to spend more time together on something we both enjoyed doing. I soon quit my job to work on The Gourmand full-time. I hadn't planned to quit my job, it just kind of happened, which meant I had everything to give to turn our project into a business. I spent the first few months running round London bookshops, galleries and newsagents, persuading them to stock us and reaching out to shops around the world by email and phone. Then when the issue landed and we sold all 2000 copies; my days were spent addressing envelopes (by hand), lugging a suitcase to the post office each morning and then stopping home all day waiting for couriers to collect the bigger orders to shops.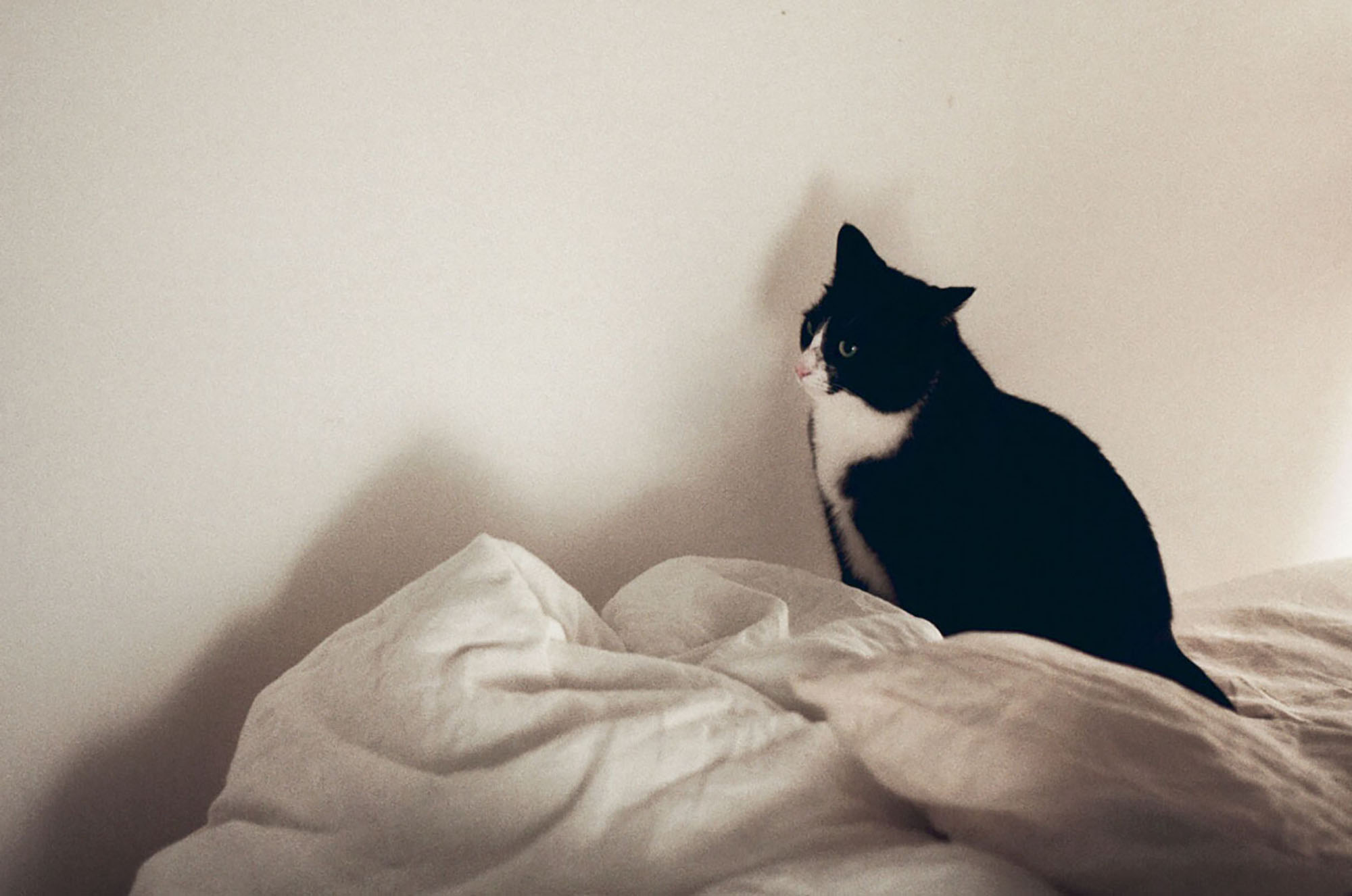 Is there a favourite feature or editorial from one of your current editions?
For me it's the dog shoot – hot dogs and sausage dogs. I love it so much! It was such fun to put together and I really enjoyed making something that sounds silly on paper, into beautiful and refined pictures – it also inspired our dog fashion show at The Ace Hotel here in London, of which there will be a follow up show this December. I can't wait!
What do you like to make for a dinner party with friends?
We love cooking roast chicken for friends on Sundays. And the next day we make a stock for a soup or a risotto, and our cat Peter will eat the scraps from the chicken for the week. Lucky Peter.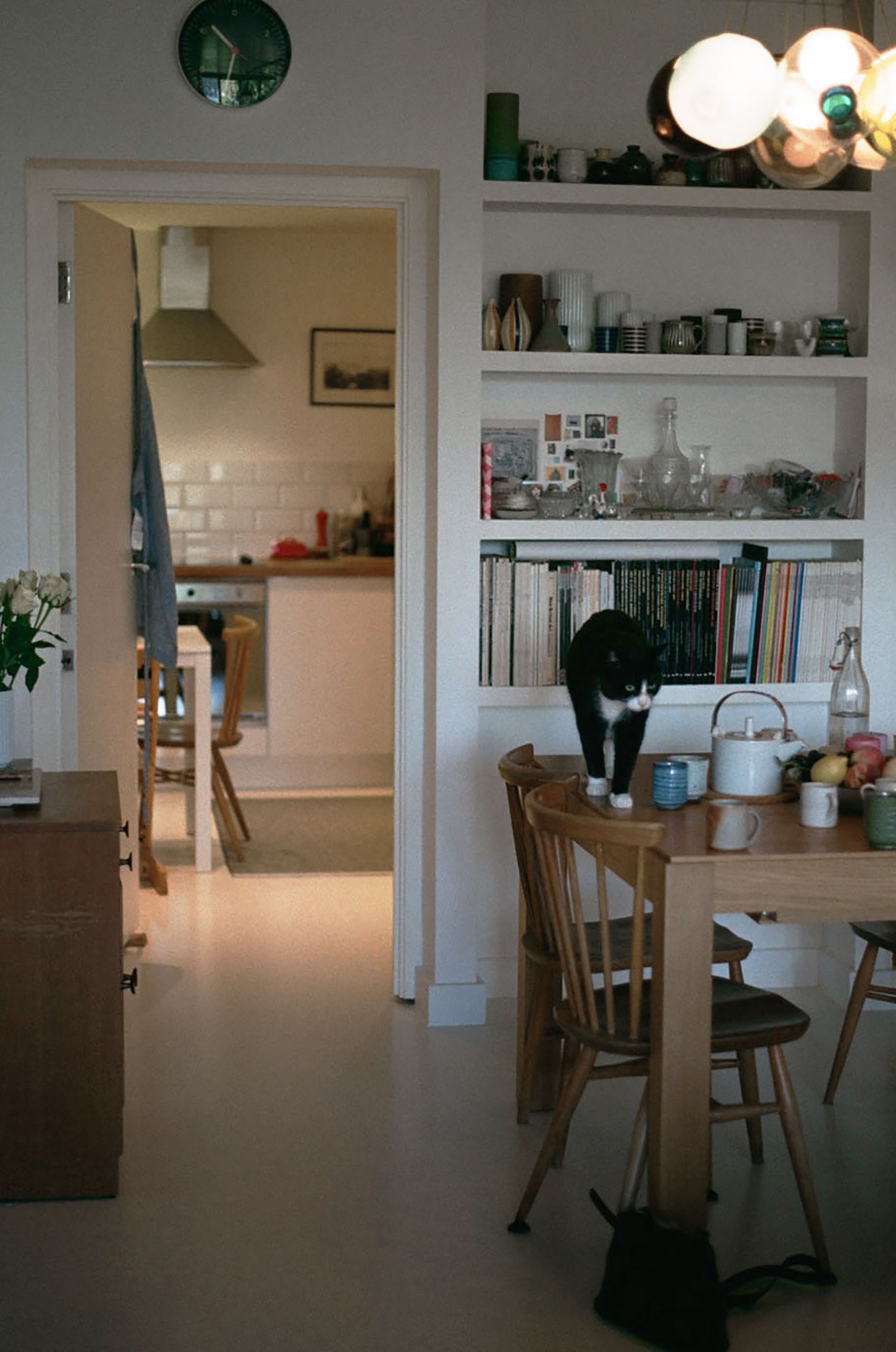 Can you tell us about what's in your bedroom?
Well, Jacob has now moved into 'our bedroom', and we have moved into the mezzanine, which was previously our office, and now we have a lovely studio. I wasn't looking forward to giving up our beautiful bedroom but it's worked really well and we've made our new bedroom cosy and calm. It's small, so our furniture is simple, our bed; Peter's bed; an Enzo Mari chair Dave's mum made at a workshop in the 60s or 70s; a side table; bookshelves and a few paintings on the walls. My favourite things in our bedroom are my Rye Pottery ceramic lamps. We can't have any objects out on display because Peter knocks them onto the floor; my alarm clock is blue tacked to the table.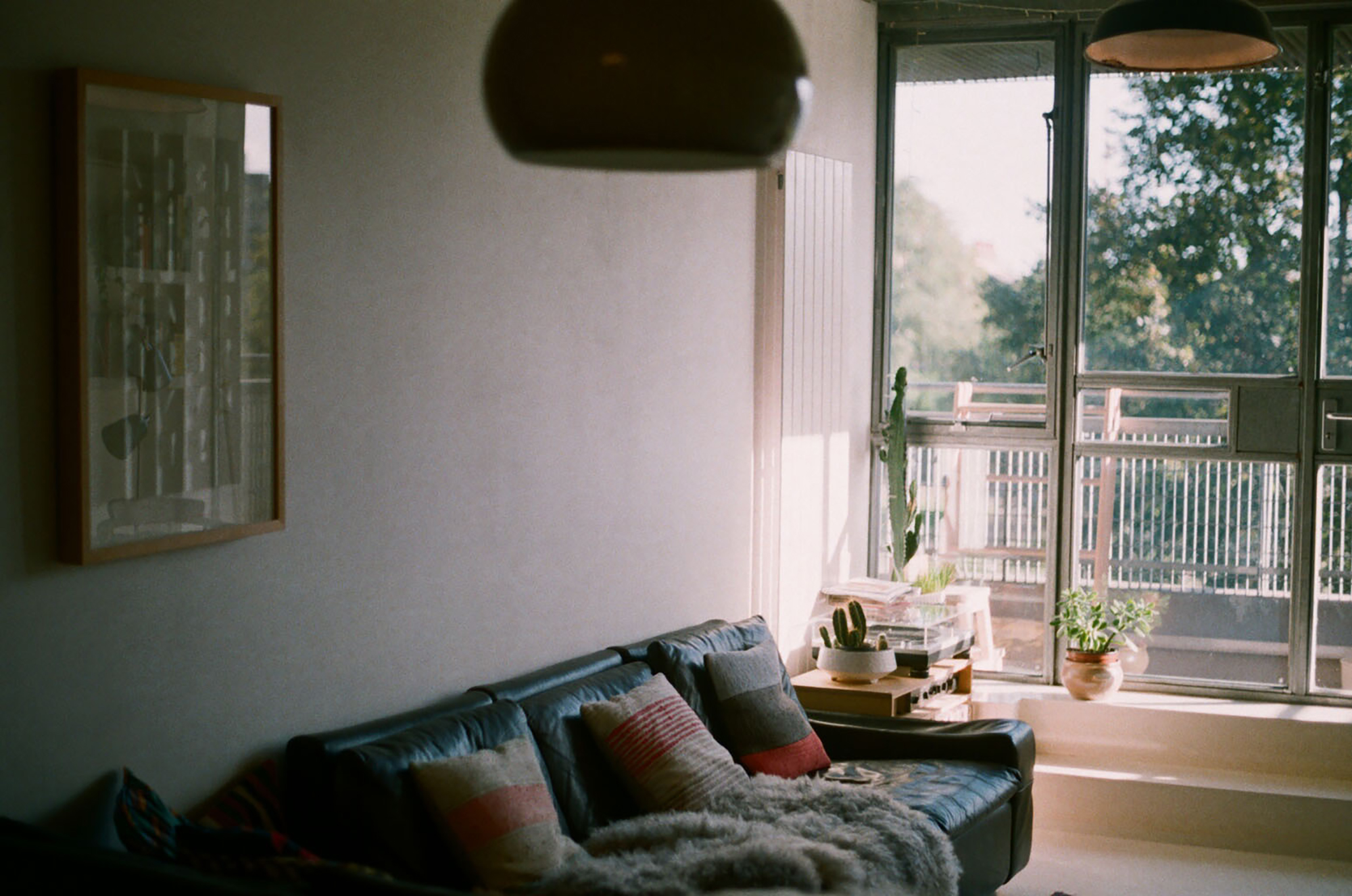 What are some of the advantages of where you live?
I love where we live. We overlook a park and the canal is at the back of our building, it's fairly central so you can walk to Shoreditch in just 10 mins or Soho in 40 mins. There are plenty of places to eat and drink nearby including a proper London pub just across the way. A lot of our friends live round here, our studio is just a 20-minute walk up the canal and Jacob is soon to start nursery close by too. Our neighbourhood has changed so much in the seven years we've lived here. It used to be a quiet dead-end street with warehouses and the park was a bit of a no-go area. A few new-builds later and the park looks exactly like the estate agent CGI pictures; yoga, boot camps, barbeques, ball games and Chihuahuas. I used to moan about this gentrification until Jacob was born; now I appreciate it as a safe place to play.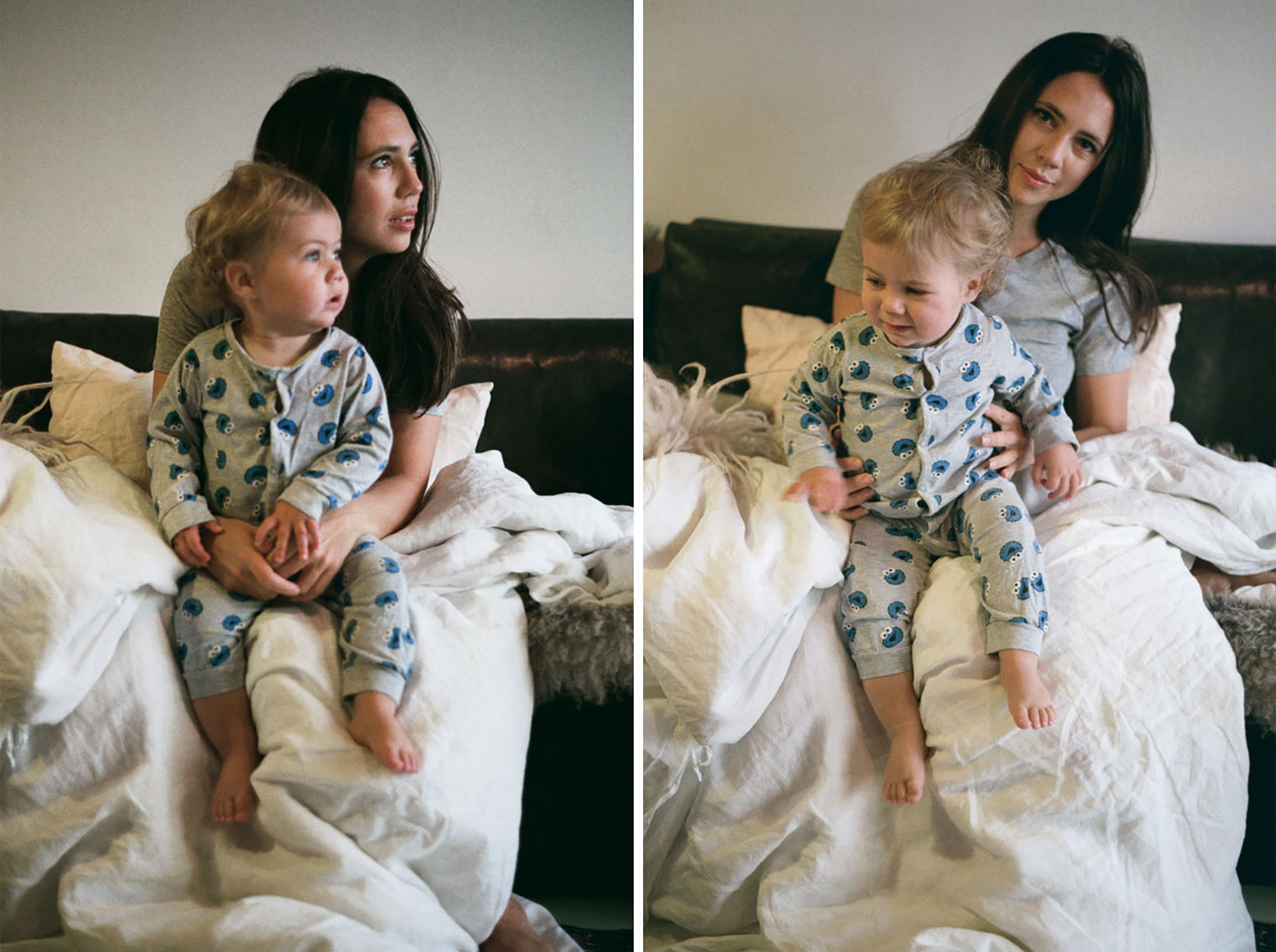 What are some of the most valuable lessons you've learned?
Simple things really, like don't just talk about it; actually do it. And we found it so important to do all the nitty gritty bits of The Gourmand ourselves in the beginning as it has gave us a great understanding of how everything works, from distribution to advertising, it's made it easier for us to manage on a bigger scale.