Bialy with Courage Bagels' Arielle Skye
Arielle Skye started Courage Bagels a few years ago, from a desire to work with her hands, and to make something simple and tangible for her community. After what she now views as a kismet job loss a few years ago, Arielle started experimenting in the kitchen, baking bread and eventually, bagels. Equipped with friendly encouragement, she began selling her bagels off her bicycle through the streets of Silver Lake. Arielle now sells her Montreal style bagels weekly at the Silver Lake Farmers' market and local coffee shop with plans to eventually open a physical space of her own.
Partnering with her fiancé, Chris, together they have perfected their "baby bagel of our dreams: a charred, complexly flavoured bagel with a shattering glassine crust and a delicate inviting interior." We spent a chilly Los Angeles morning in the couple's sunny bungalow learning how to bake the bagel's not-so-distant cousin, a well seasoned bialy.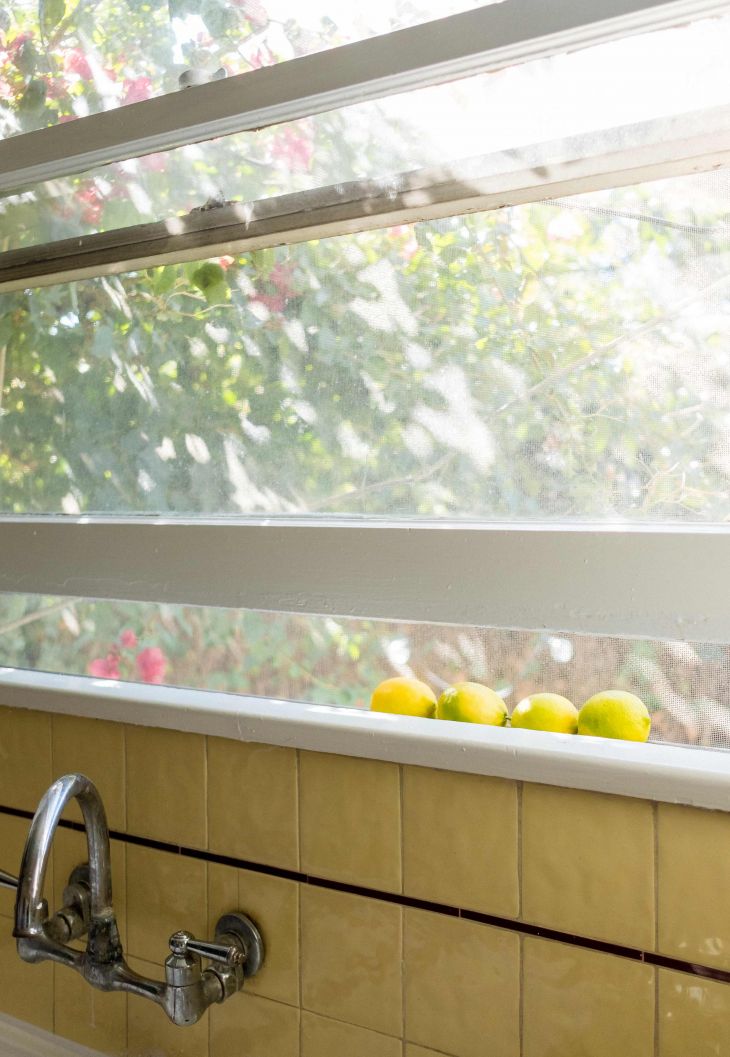 The Recipe
Their recipe has been created with the home cook in mind and updated with the always-appropriate za'atar seasoning. Sourced from the local markets, the ingredients are simple yet thoughtful and full of flavour. The hot bialys were served alongside creamy labneh, ripe tomatoes, finished with grassy olive oil and flaky grey salt. But if you happen to live outside of a warm utopia where tomatoes aren't in season, other servings are always welcomed including a Courage favourite, cucumbers and salmon.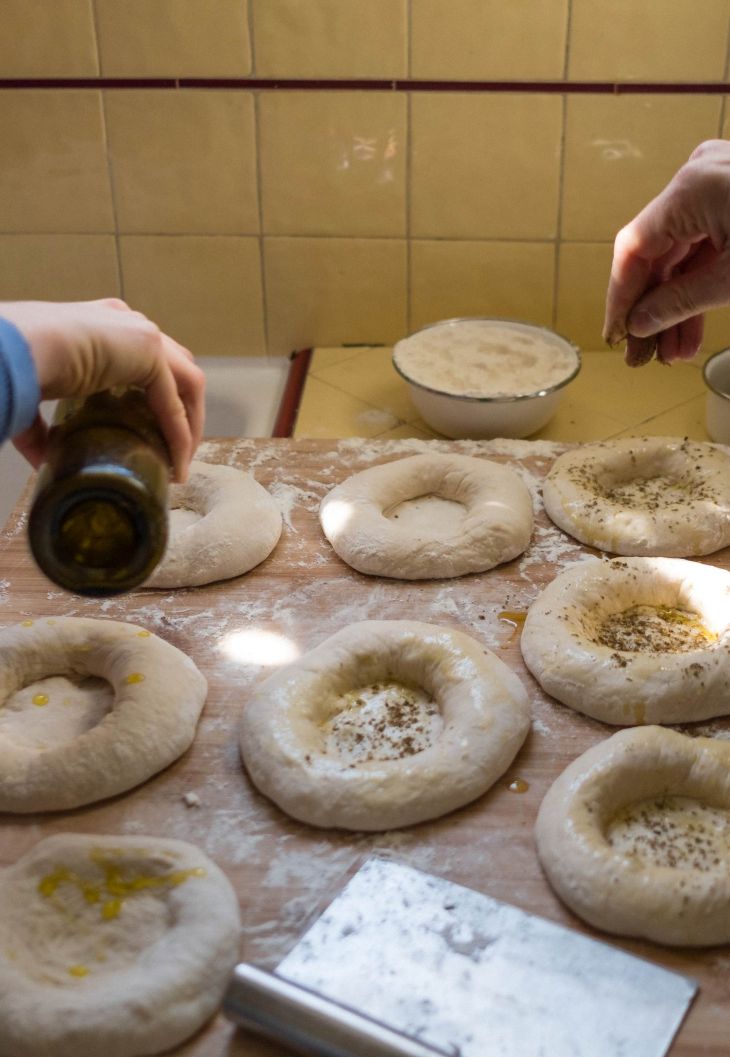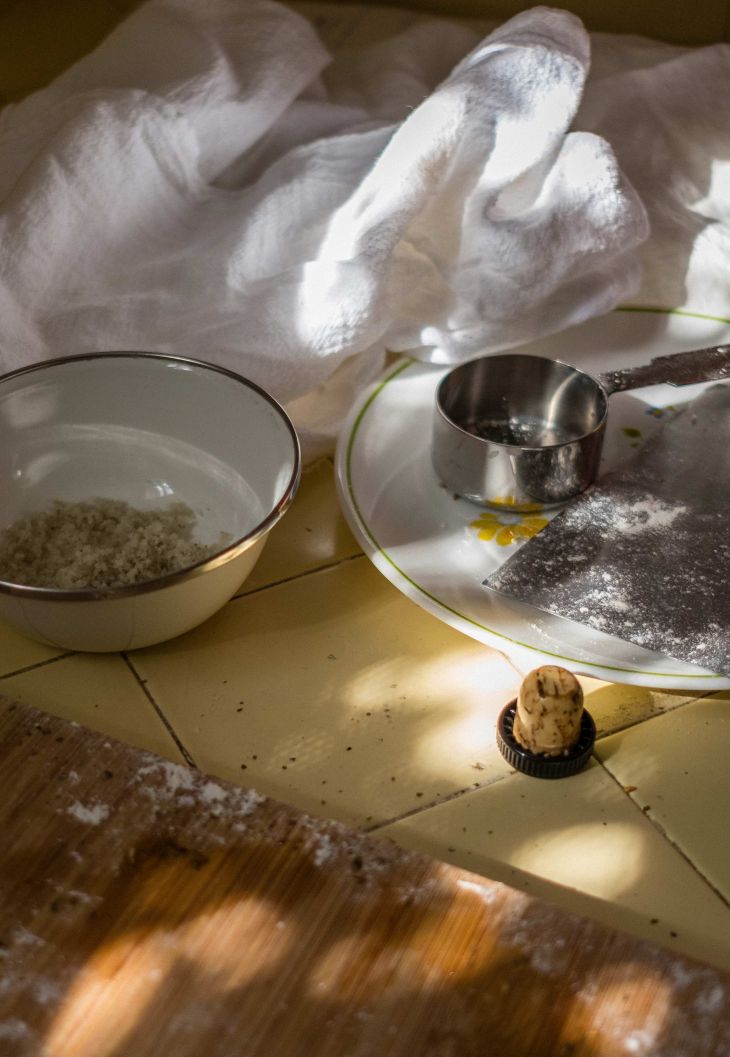 "This recipe is born of our shared obsession with the history of Bialystok in Poland. A place which was ultimately destroyed by World War II, but not without this delicious bread escaping somehow, soul intact to America. We think a crisply toasted bialy served with good salty butter is a transcendent experience. We hope more people will get to fall in love with it too. Traditionally the snap of onion and poppy fills the center- we used za'atar, a nod to the other place a bialy can be found- Jerusalem!"
Bialy
"At Courage we only use wild ferments but this recipe is great both with wild ferments or instead, using a tiny amount of fresh cake yeast, shown here. Cake yeast makes it much simpler for the home baker."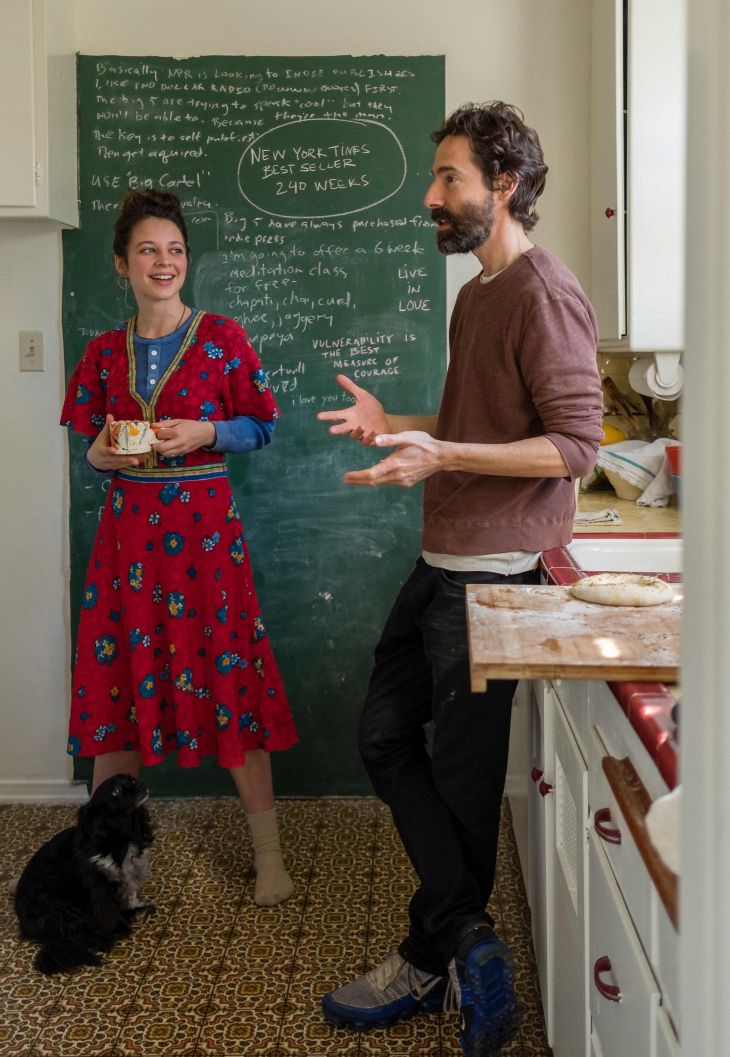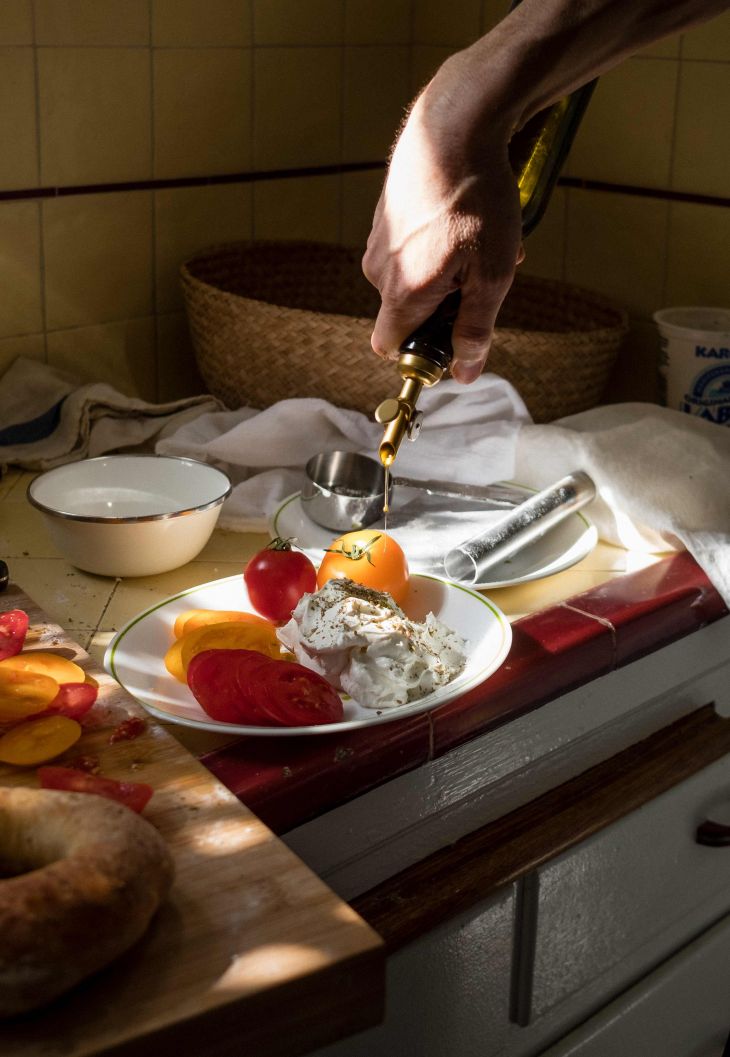 Recipe makes 6 bialys and can be doubled.
Ingredients:
1/4 oz fresh yeast
1/4 cup cold water
3 cups of organic flour, bread or all purpose
Za'atar
Olive oil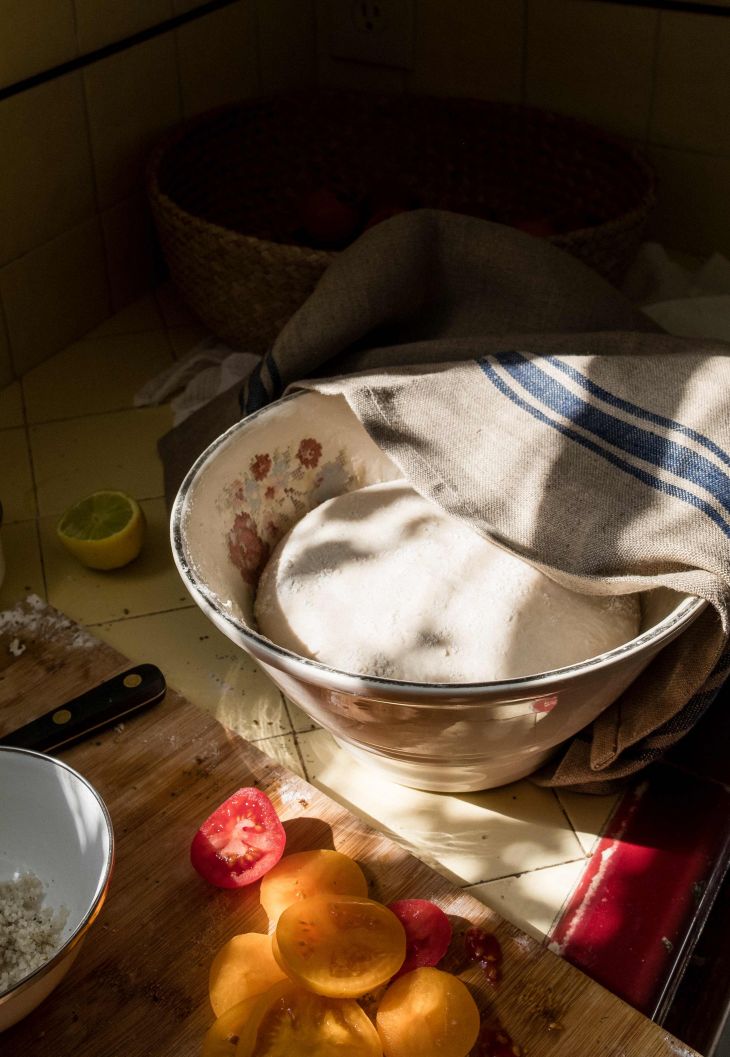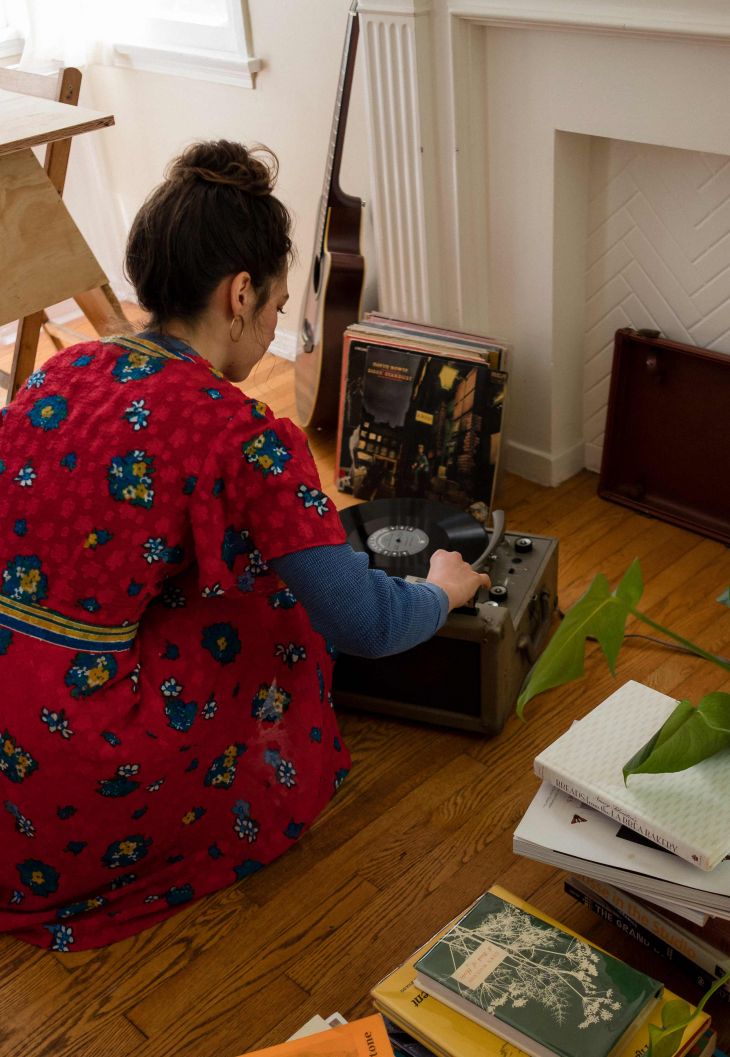 Method:
Mash 1/4 oz fresh yeast in 1/4 cup cold water.
Dissolve 1 T sea salt (the damp, grey French type is best) into 1 1/4 cups very cold water.
Mix the above two together, then add 3 cups of organic flour. High gluten would be best- bread flour or even all purpose will work fine.
Mix just until well combined, the dough will be very wet and sticky. cover with plastic wrap or a towel and let sit in a roughly 75-80 degree spot for about 3 hours or until doubled.
Pull the dough out onto a floured board and gently knead it. really just stretching and turning it for a few minutes- add a bit of flour to make it easier to handle.
The dough will feel elastic, blistered and amazing in your hands. Don't be too rough as we want to preserve the interior hole structure.
Now place the dough back in the bowl, cover with plastic wrap and refrigerate overnight to develop more flavor and texture.
Next morning remove from the fridge, pull the dough out onto a floured board and cut in half. Take each half and cut into 3 pieces. Take each piece and roll it into a ball.
Place the balls on the floured board, covered with a towel for about an hour.
Preheat the oven to 450.
In an hour the dough should have almost doubled. When it does it's time to shape the dough. (If your room is much warmer or cooler than 75 degrees adjust the time a bit.
Bialys are almost shaped like little pizzas. Gently pick up a ball with both hands and floured fingers. Pinch the thumb and middle fingers together into the middle of the dough. Don't break through but allow yourself to pinch and pull and stretch the middle of the round until you create a very thin center around 2 inches in diameter, surrounded by a puffy outer edge which is another inch and a half around.
Do one at a time and then cover again with the towel for a final 15 minutes.
Now brush the proofed bialys with olive oil- crush and sprinkle the za'atar between your fingertips and place in the oven. We place them straight on a piece of parchment paper with no pan at all.
In about 20 minutes take a look. They will be golden to mahogany brown with high sides and a thin crispy middle.
Pull them out when they are the color you like, brush them again with olive oil and a sprinkle of the grey salt and you're ready to eat!
We enjoyed these today with some fresh labneh, tomatoes, more za'atar and a drizzle of olive oil and lemon. The following day toast and enjoy with good salty butter.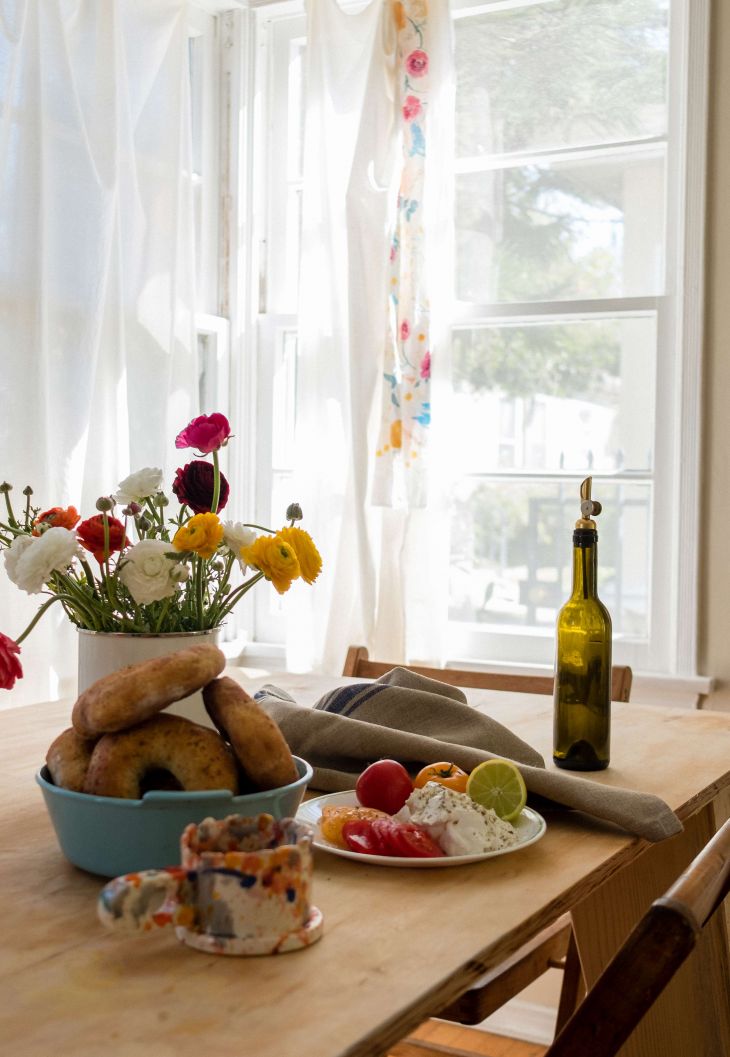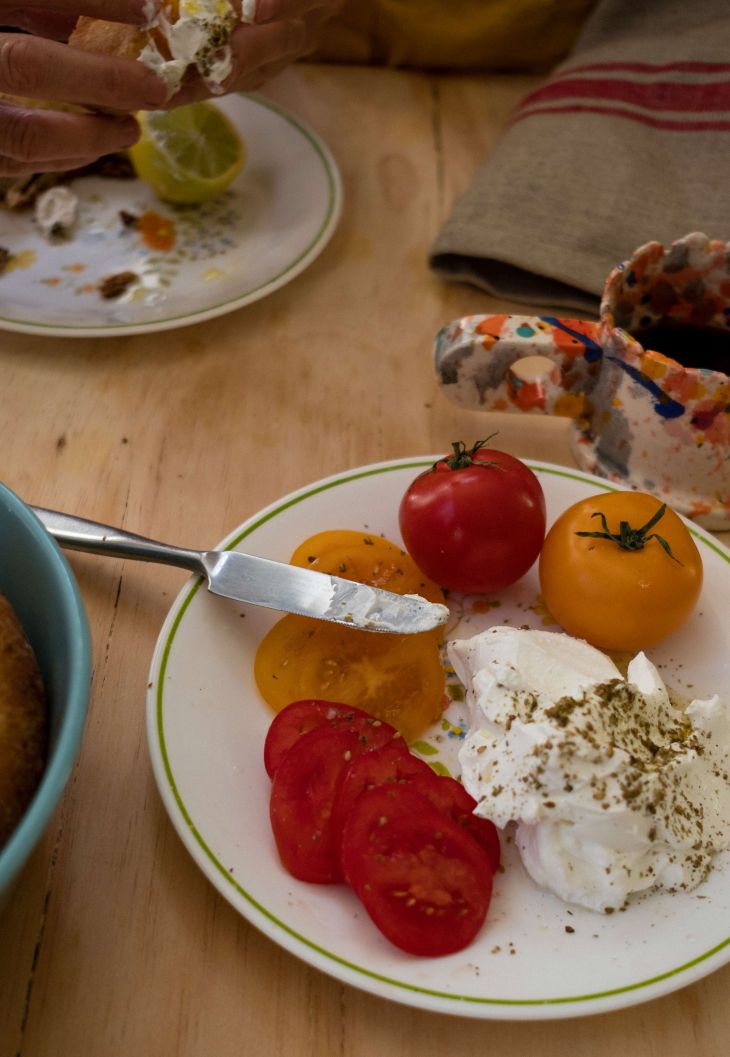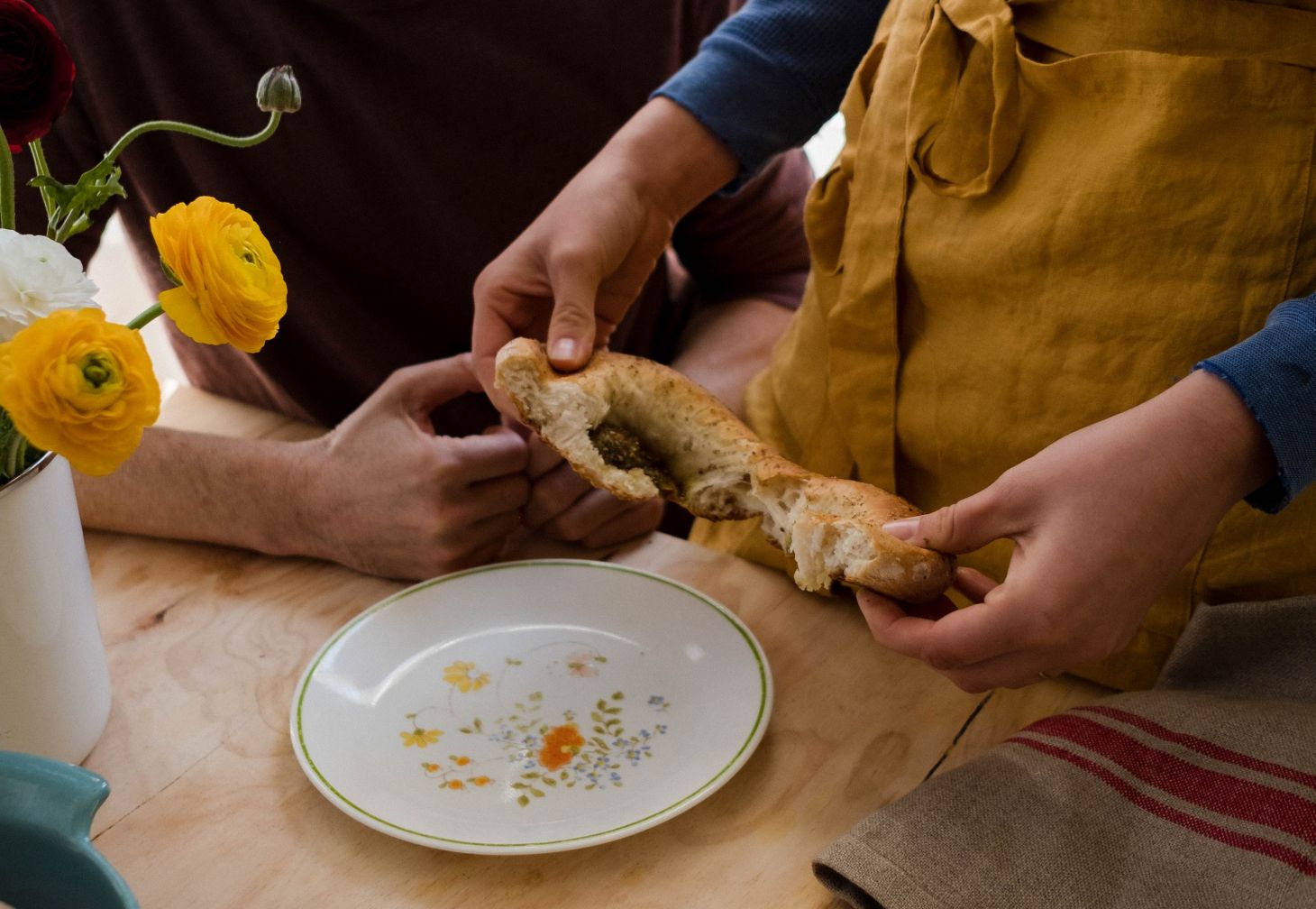 We'd love to see your attempts at EAT IN BED Journal recipes. Tag us in your photos and stories @inbedstore.