EAT IN BED: Earl Grey Geranium Tea Cake with Lori Stern
Lori Stern makes food that's equal parts whimsy, beauty and deliciousness. The Southern California-based private chef and caterer is loved for incorporating edible florals into her baked creations. We spent a relaxed Sunday morning exploring Lori's edible flower garden and discussing her self taught background while she baked her Earl Grey Geranium Tea Cake.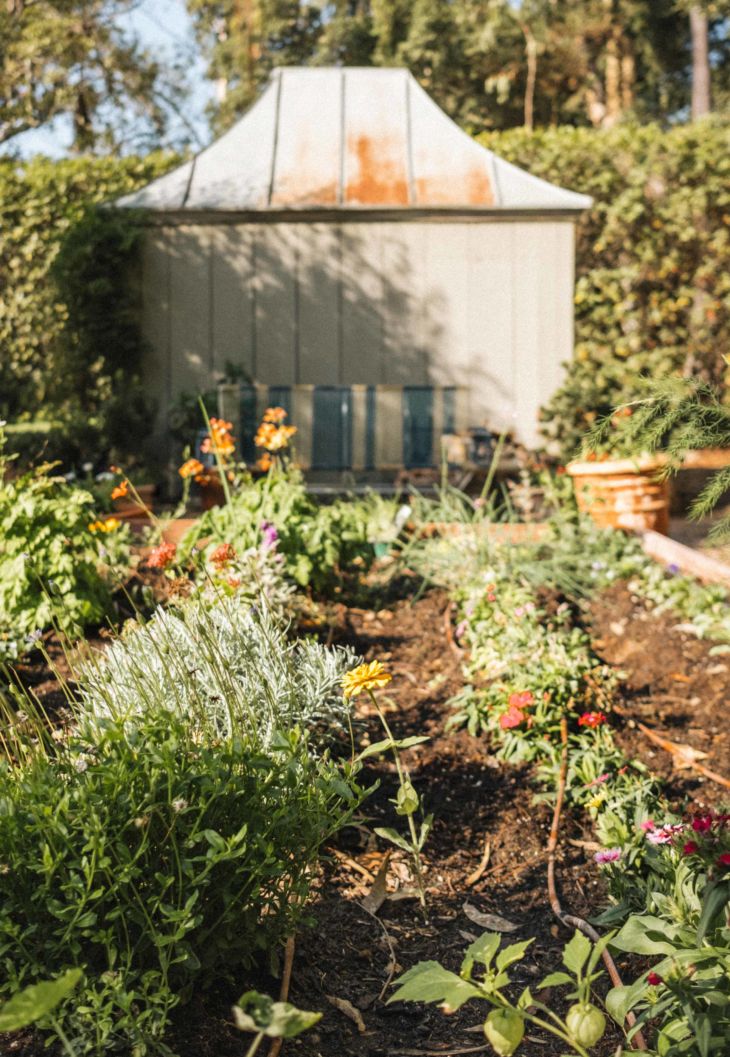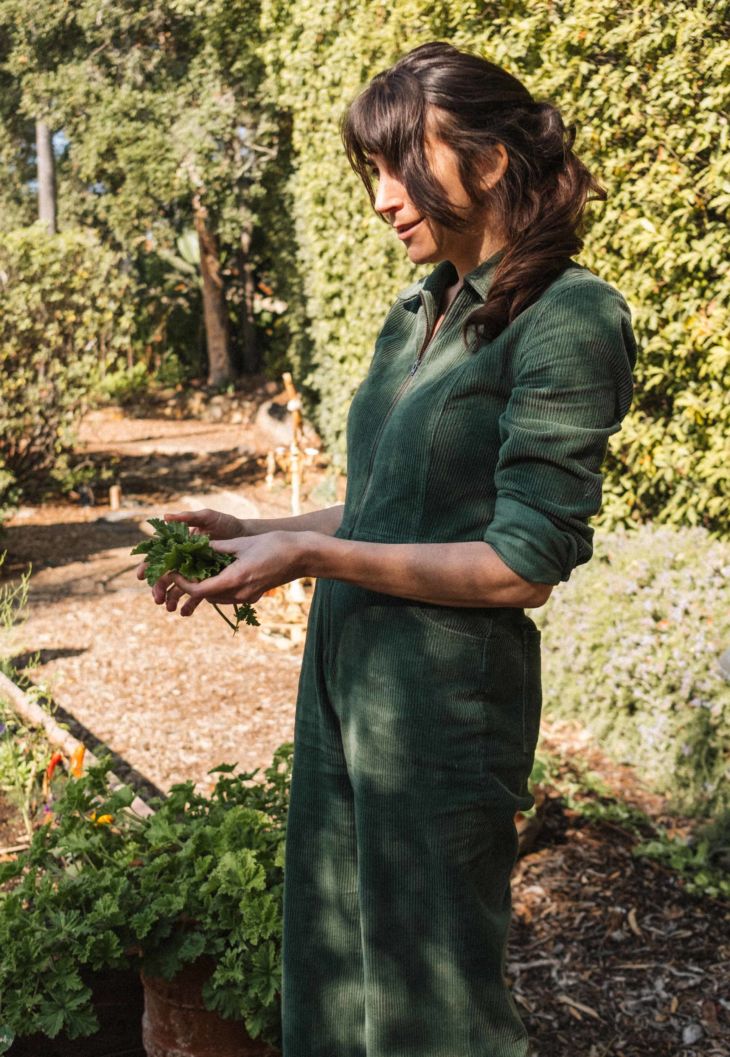 While watching Lori bake, you cannot help but notice her intuitive nature as she gracefully blends the science with the particulars of baking and an artful approach.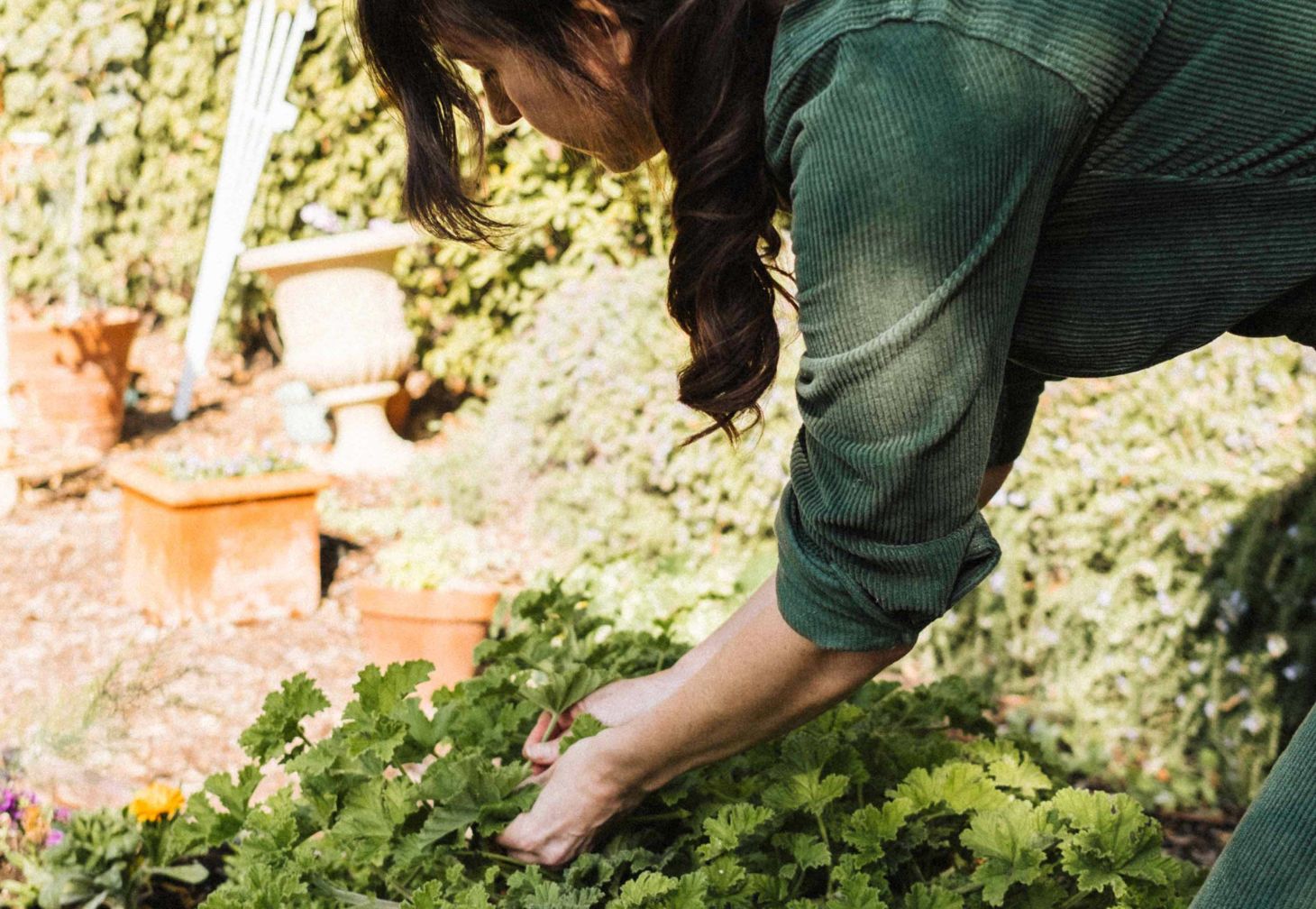 "I grew up in the quaint town of Ojai, California where I was surrounded by natural beauty. My family had a garden and I would spend hours in the dirt. I was always interested in food and natural ingredients which sparked my interest in working in the culinary industry."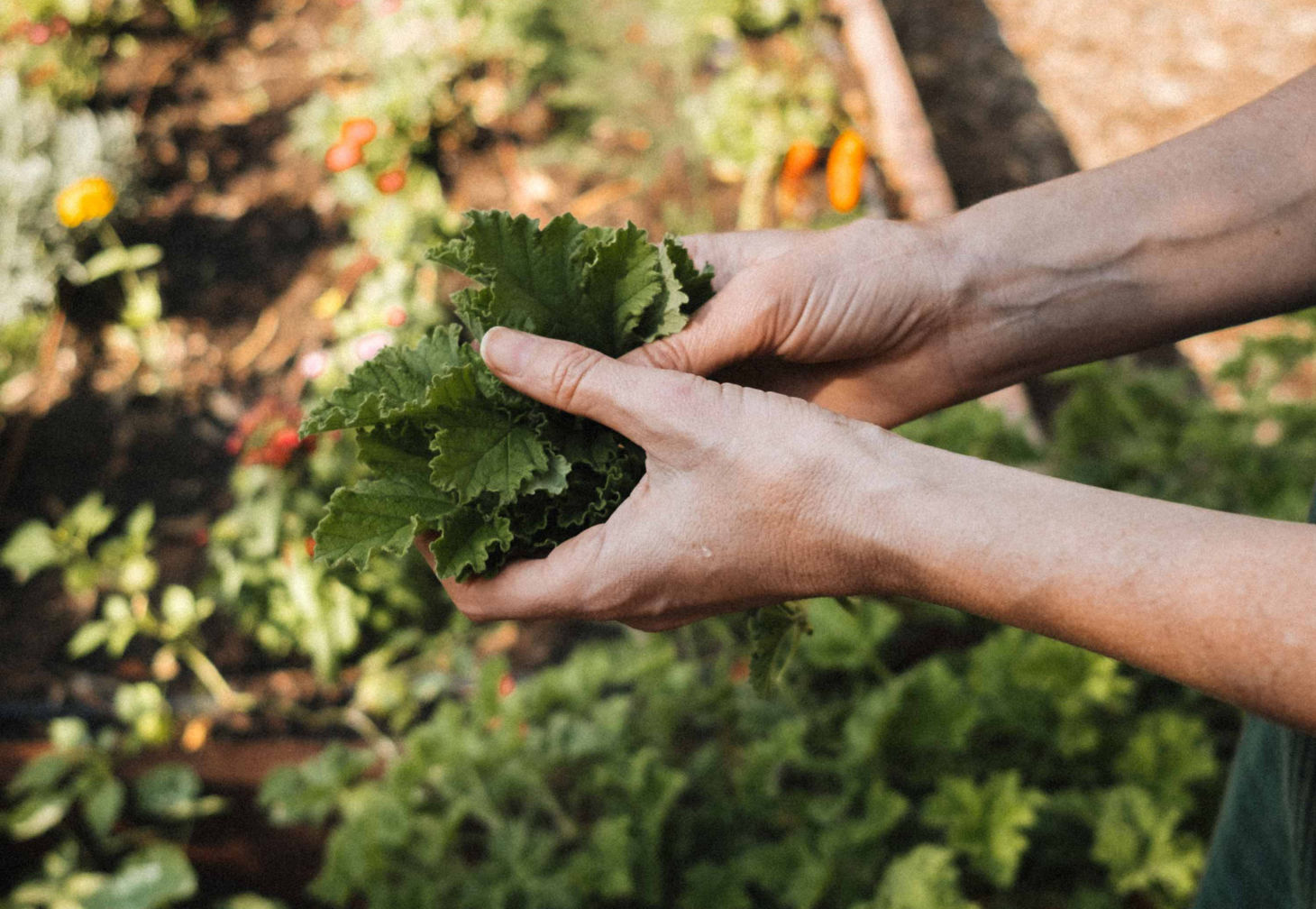 "I didn't attend culinary school but instead, spent countless hours watching YouTube tutorials and working as a chef in cramped New York City basements."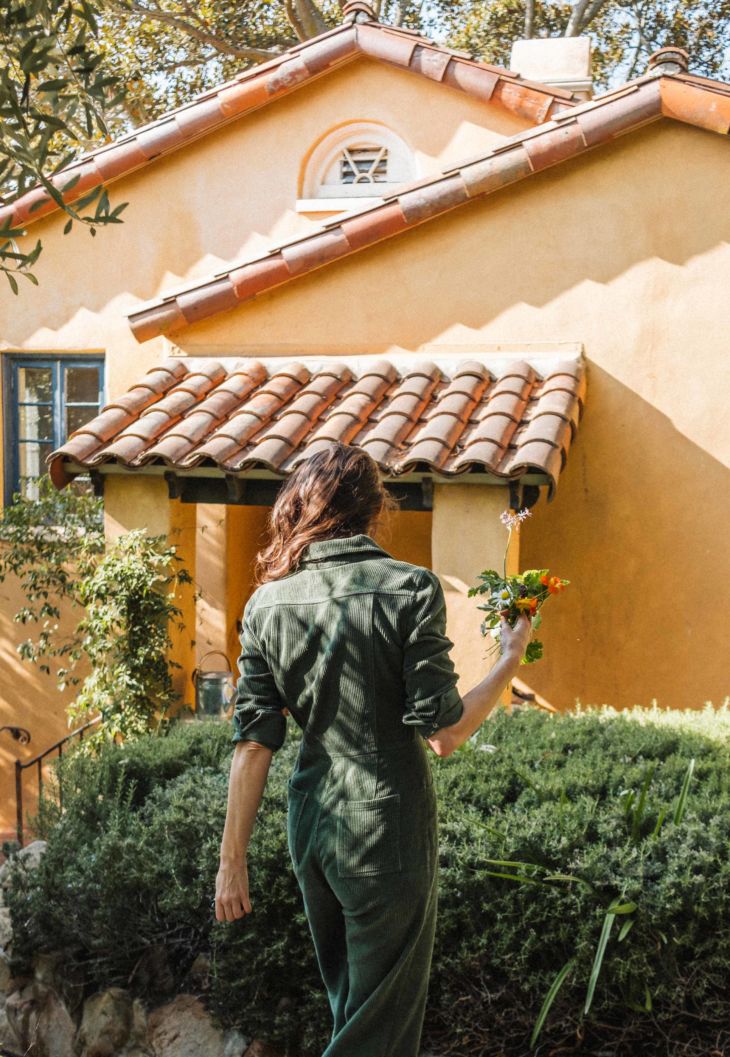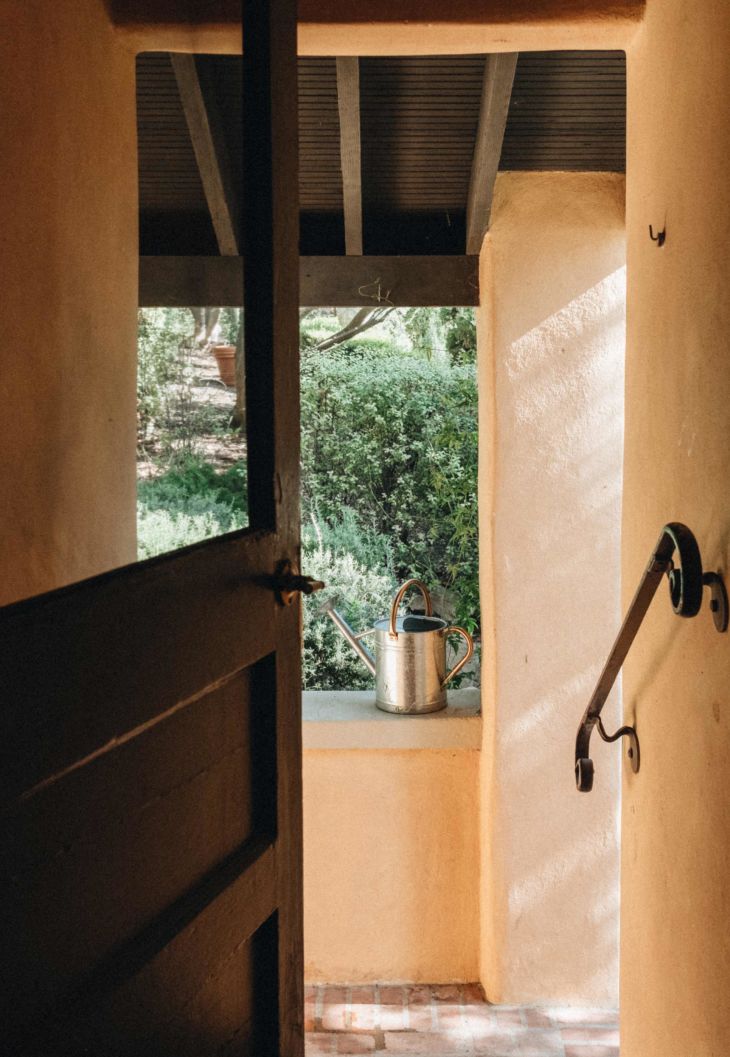 The Recipe
When we arrive, subtle floral and the smells of herbs baking seeped from Lori's space while 1940s french music played in the background. She in the midst of preparing her Geranium Tea Cake and simultaneously recipe testing for various herb-infused breads. "The most important aspect in my mind for hosting a dinner is the general vibe that is created when someone walks into the house. I like a casual setting with music and an uncomplicated menu that I can whip together right before guests arrive." Lori sources most of her ingredients between the local farmers' markets and her own home garden. "I am first and foremost inspired by ingredients, and usually build a menu off what is in season and looks the best." As we popped out to her garden, grabbing a few aromatic rose geranium leaves for the cake, Lori mentions, "According to baking folklore, before there was the convenient invention of non-stick spray, bakers in the Victorian era would line their cake pans with scented geranium leaves so their cake batter would not stick to the pans. This cake recipe pays homage to this ancient baking hack."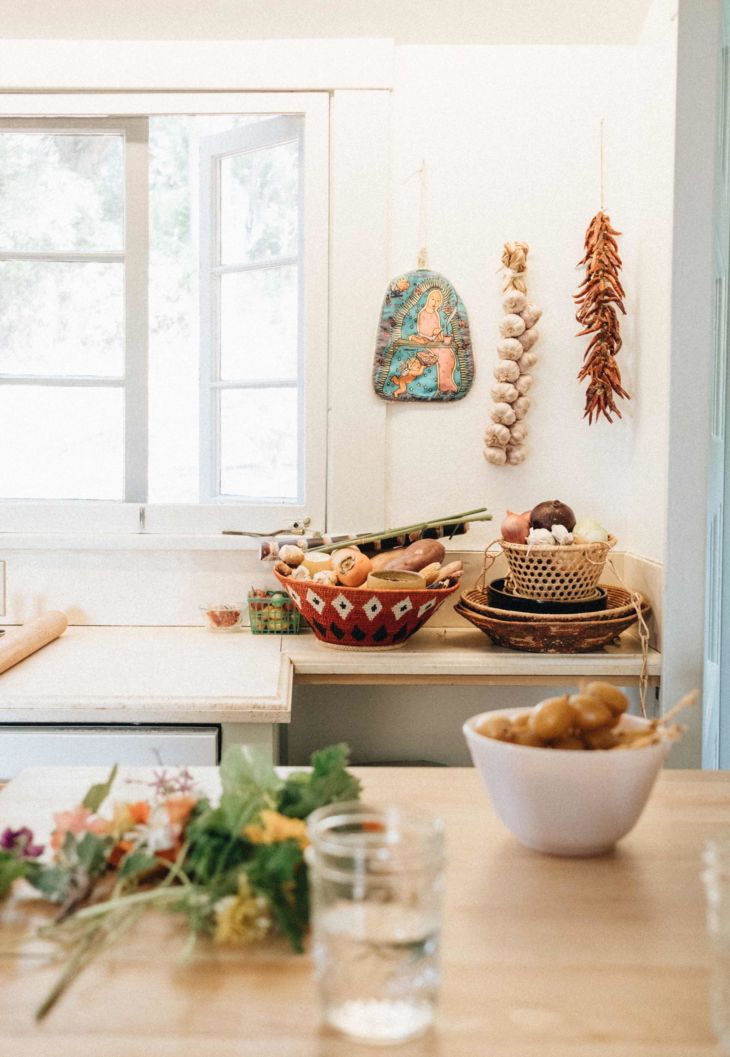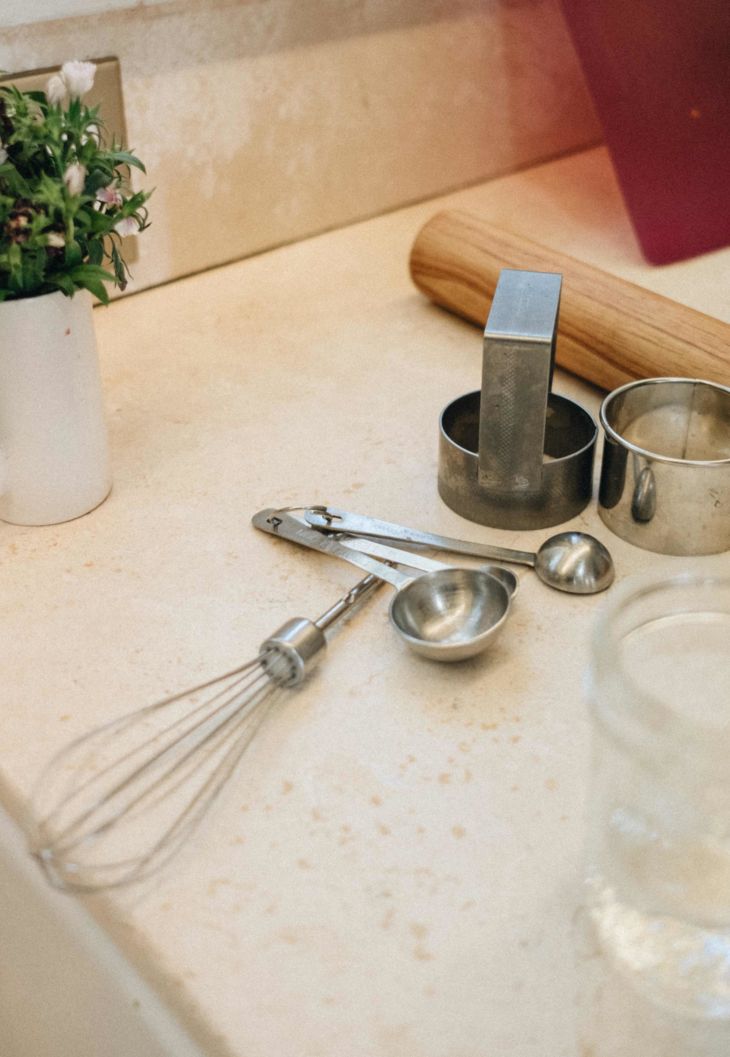 Earl Grey Geranium Tea Cake
Ingredients
1 1/4 cup whole cow's, goat's, or nut milk
4 tablespoons loose leaf earl grey tea (or 4 tea bags)*
1 cup mild extra virgin olive oil – or another neutral oil such as sunflower oil
3 eggs (or 3 flax seed eggs to make vegan)
1 tablespoon fresh lemon juice
1 teaspoon lemon zest
1 cup unrefined cane sugar
1 teaspoon sea salt
2 cups organic white spelt flour
1 teaspoon aluminium free baking powder
½ teaspoon baking soda
8 scented rose geranium leaves of different sizes
(edible, unsprayed scented geranium leaves, preferably from your garden!)
*can substitute for tea of preference
Method
First, press your geranium leaves by setting them among different pages inside a large book. Set something heavy on it, such as a cast iron pan. This is my "quick press" method that works well for this recipe.
Next, make your earl grey milk tea by bringing your milk of choice to a gentle boil in a heavy saucepan. Remove from heat and add loose tea or tea bags, steep for at least 20 minutes or until the milk is a light auburn colour. Strain all tea from the milk except 2 tbsp. If you're using tea bags, simply break open 2 bags and let the tea frolic into the milk, which lends to a speckled, textured cake.
In a large bowl, combine dry ingredients: spelt flour, baking powder and baking soda and stir to combine. Make a well in the centre of these dry ingredients and add your oil, eggs, sugar, salt, lemon juice + zest, and earl grey tea. Stir your wet ingredients together and slowly pull in the dry ingredients until all is combined and fragrant. Do not mix too much or you'll get a tough cake.
Preheat oven to 350º and prepare your cake pan (either a 8" or 9″ cake round). Spray pan with organic coconut oil and line with unbleached parchment paper. Spray parchment paper + gather the pressed geranium leaves from your book. Place them (with the backside of the leaf towards you) in a decorative fashion inside your cake pan. Pour the cake batter evenly over the geranium leaves and place the pan on a baking sheet and into the oven for about 35 minutes or until your tester comes out clean. Another way to tell if your cake is done is if the centre of the cake bounces back when lightly touched. Put your cake aside and let cool in the pan for at least 10 minutes.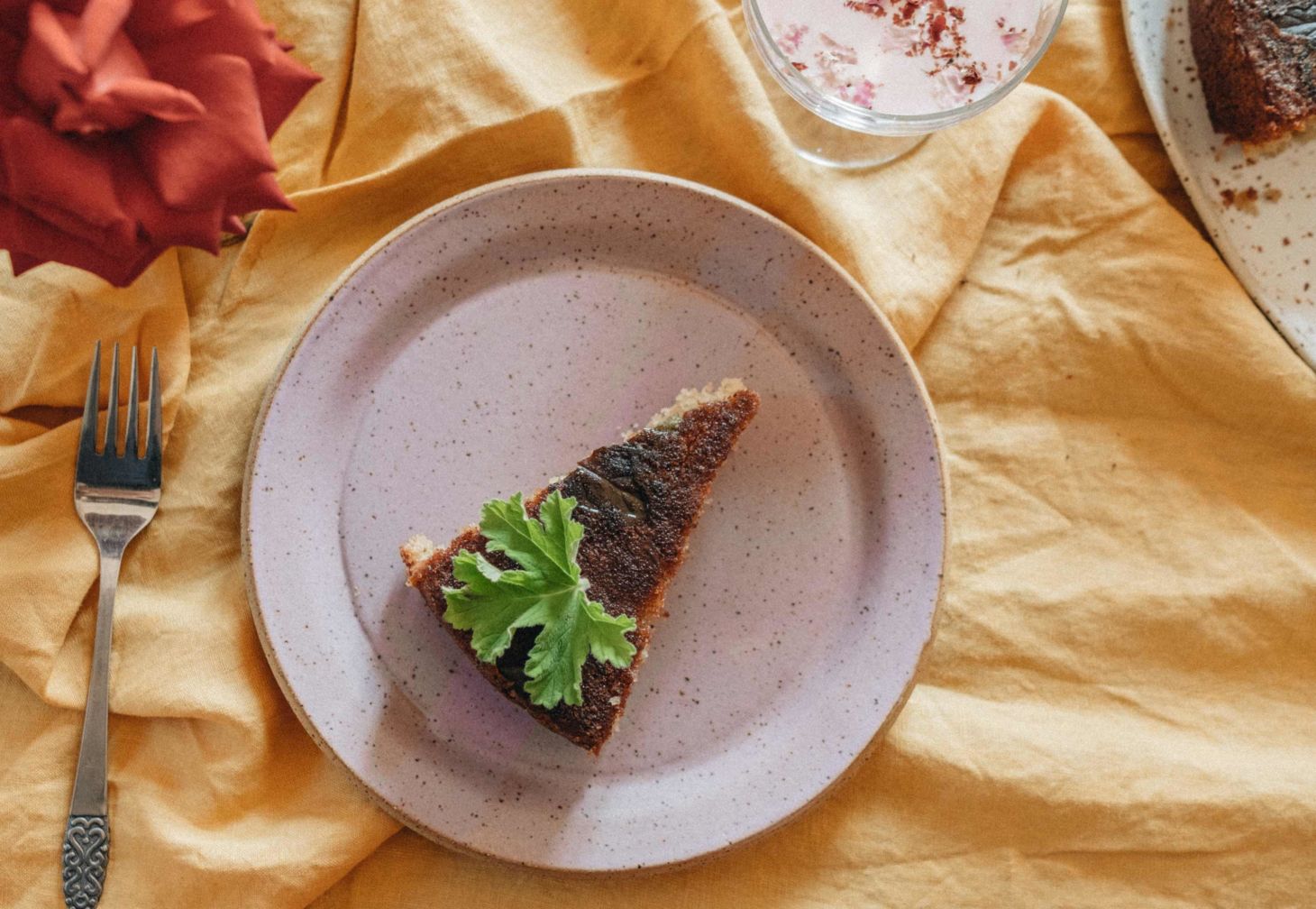 Serving the cake
While your cake is cooling, make your rose geranium syrup by boiling 1:1 ratio of unrefined cane sugar and filtered water and then a handful of scented geranium leaves. Bring all to a boil in a heavy saucepan and then let simmer for at least 10 minutes. Grab the serving plate and invert the cake so the bottom is facing upwards, lightly tap the cake out and onto your plate. Remove the parchment paper and marvel at the pattern of your scented geranium leaves baked into the cake. Pour your geranium simple syrup evenly on top of the cake and then slice and serve to your favorite people. The leaves baked into the cake will become slightly crisp, which I really enjoy. The simple syrup at the end is not completely necessary but lends an aromatic and botanical feature which will surely be remembered.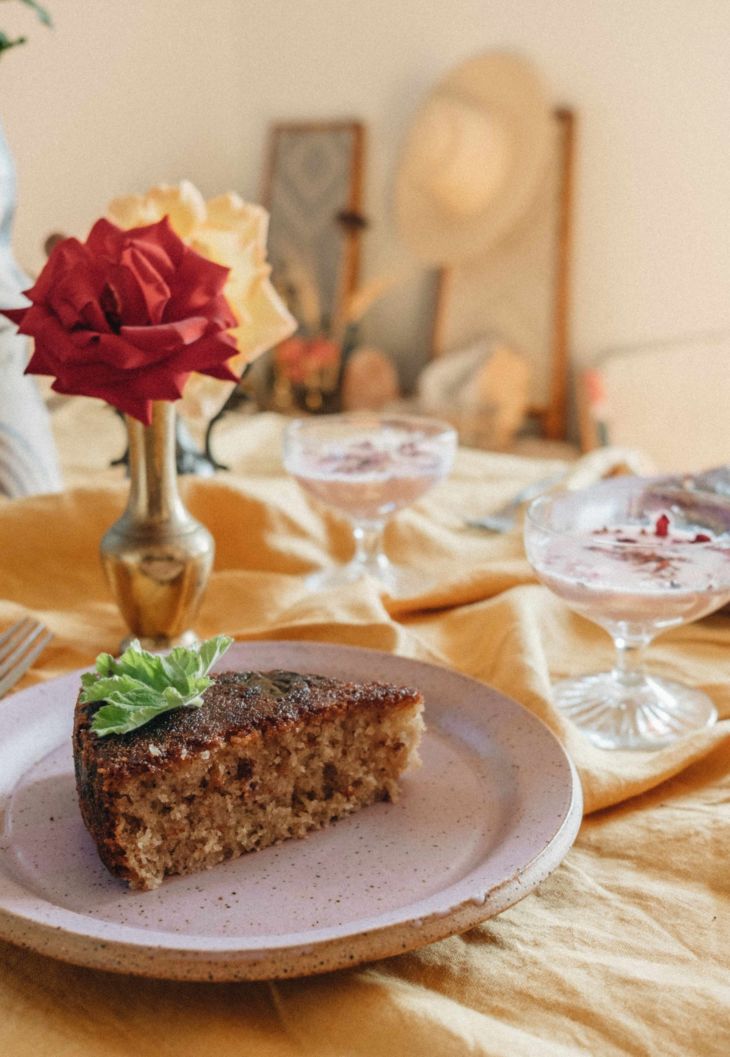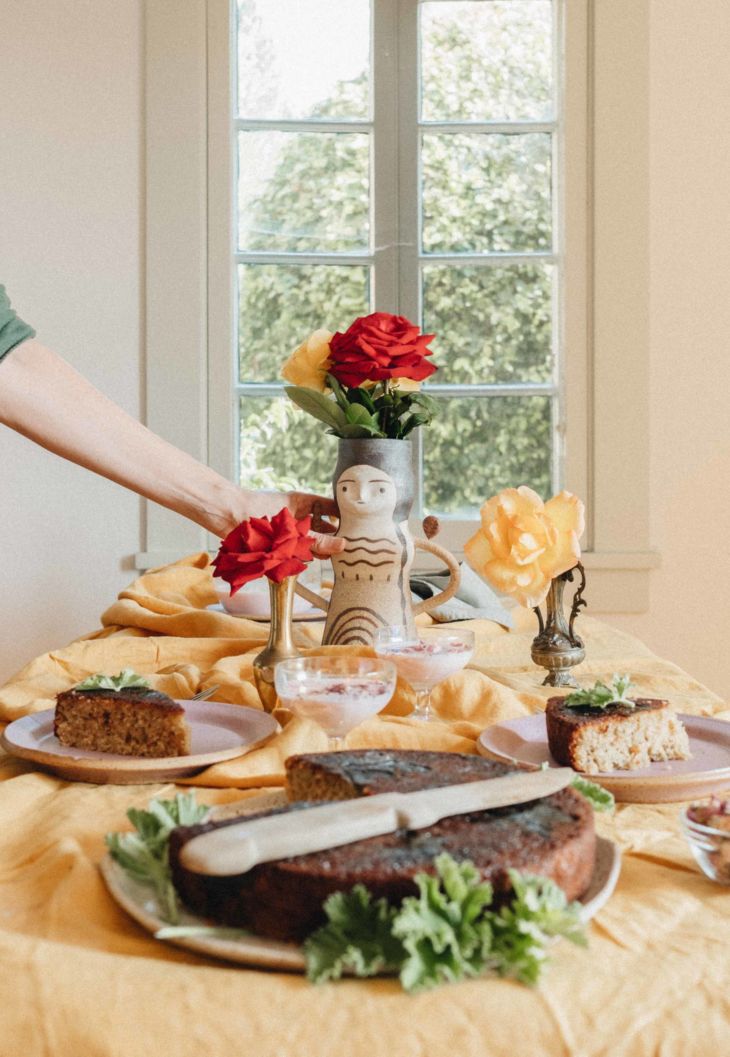 Lori shares her cake over our mustard linen tablecloth
loriastern.com
@loriastern