Dinner IN BED, Los Angeles
Silverlake, Los Angeles
Together with some of our favourite Los Angeles-based women we hosted an intimate evening aimed to stimulate the senses and celebrate spring a banquet table laden in locally forged blooms by Sophia Moreno-Bunge, peach coloured glass vases and a light Mediterranean-style feast.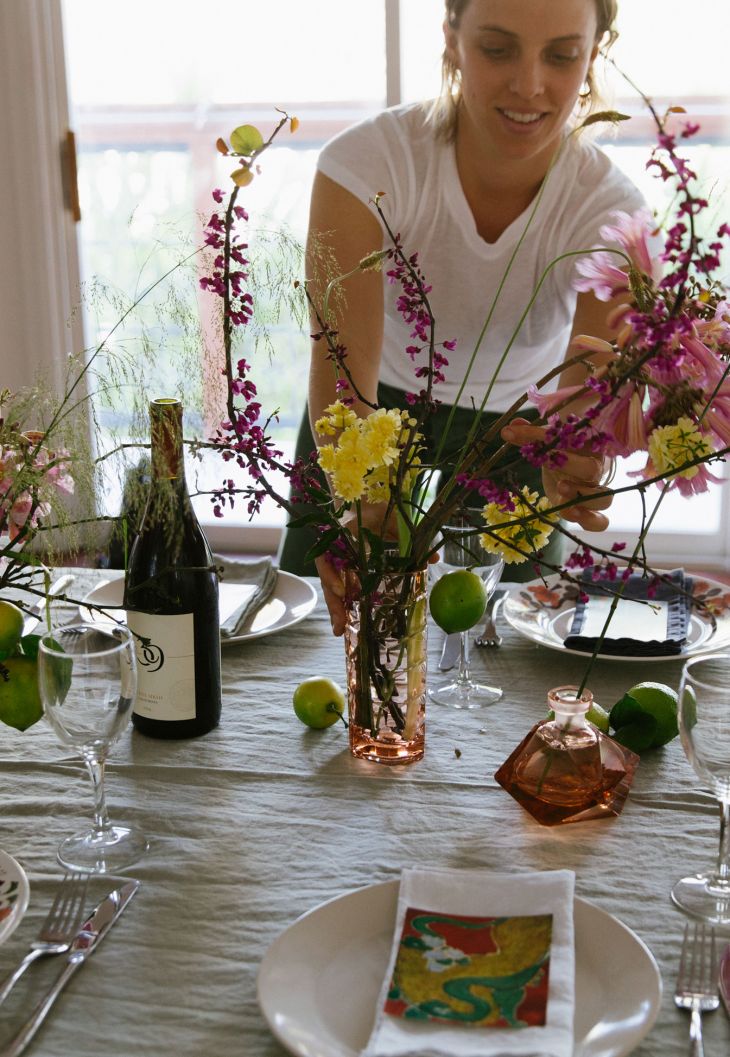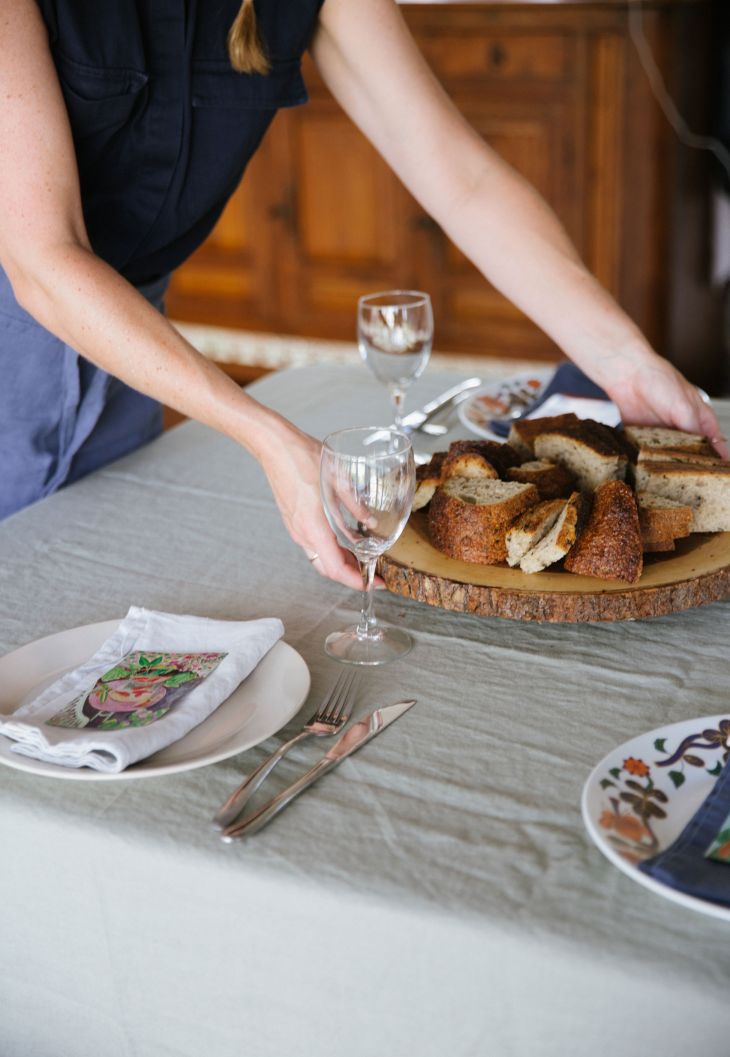 Above: Sophia Moreno-Bunge (left), Yasmine Ganley (right)
As the room warmed up and sharing plates found themselves nestled between the sculptural florals, the sun went down over Silverlake and dusk allowed for our candles to glow…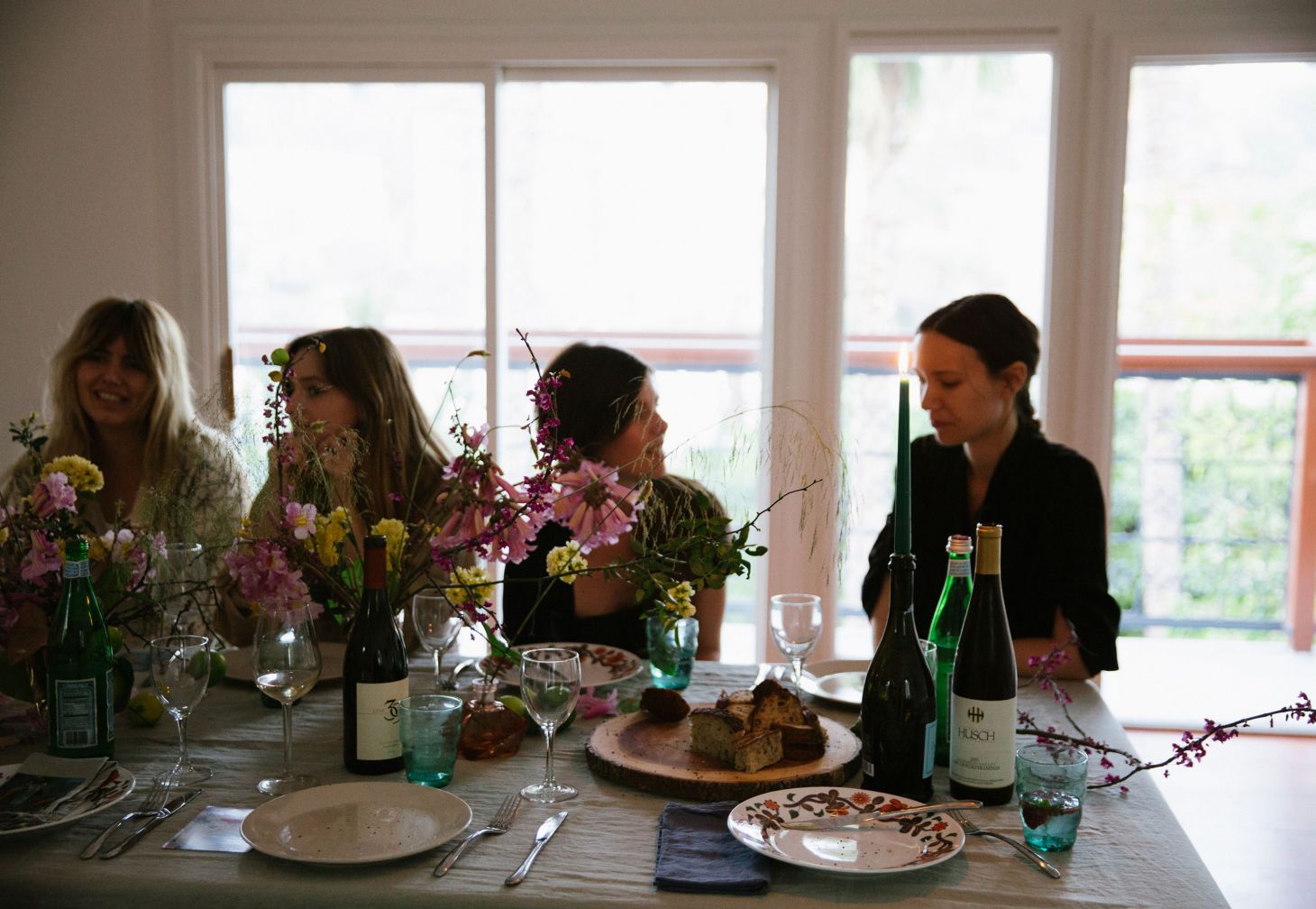 Above left to right: Thea Blocksidge, Jess Hannah, Claire Cotrell + Kayten Schmidt
Plates of Mediterranean classics were passed around the table, featuring Baked Fish with Green Olives, Hemp + Nori Sourdough (from L.A. favourite Gjusta), bowls of Roasted Squash and Cauliflower, Fresh Tomatoes, Basil + Buffalo Mozzarella. The evening ending on a note of Rooibos Tea served with platters of melted French Camembert drizzled in Bush Honey with a medley of Fresh Figs, Apricots and Dark Salted Chocolate.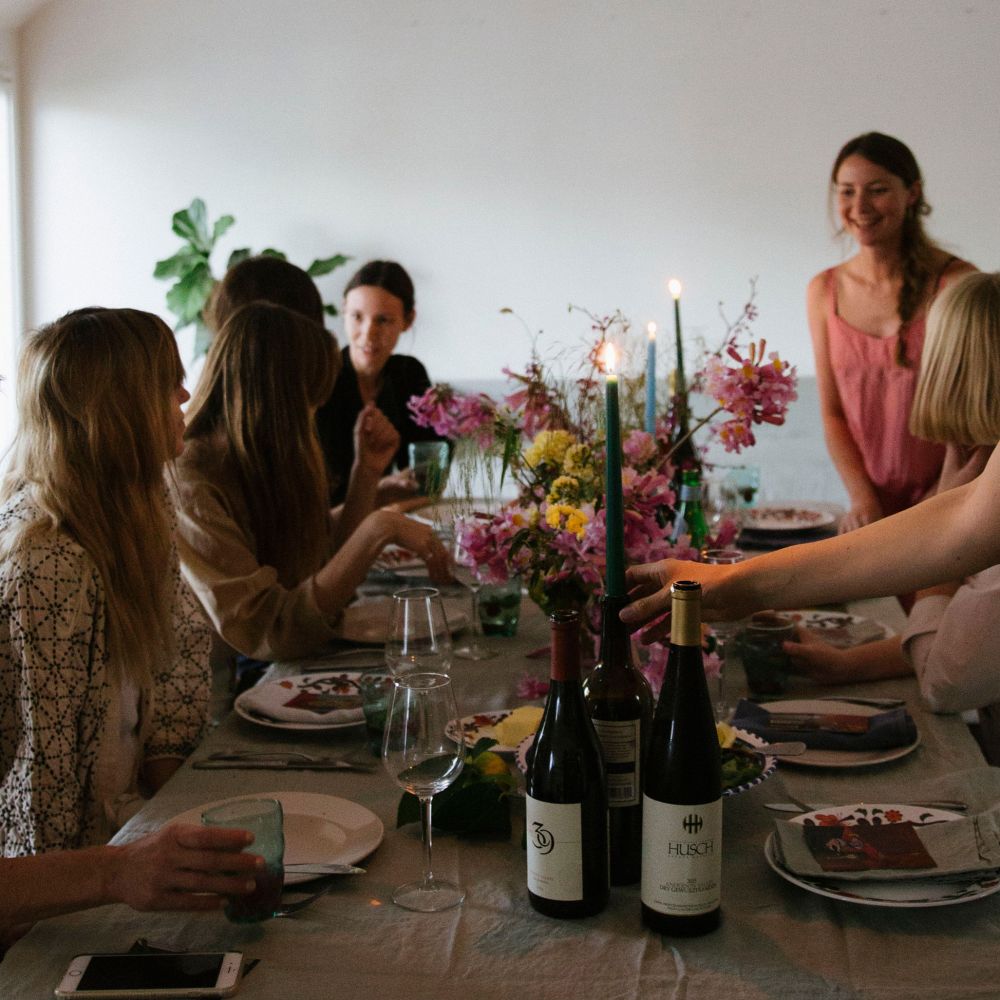 Like all great gatherings, everybody chipped in and brought a little goodness to the table - be it in the form of recipes, conversation starters, popping champagne bottles, or making sure the tunes aligned with the evening's mood.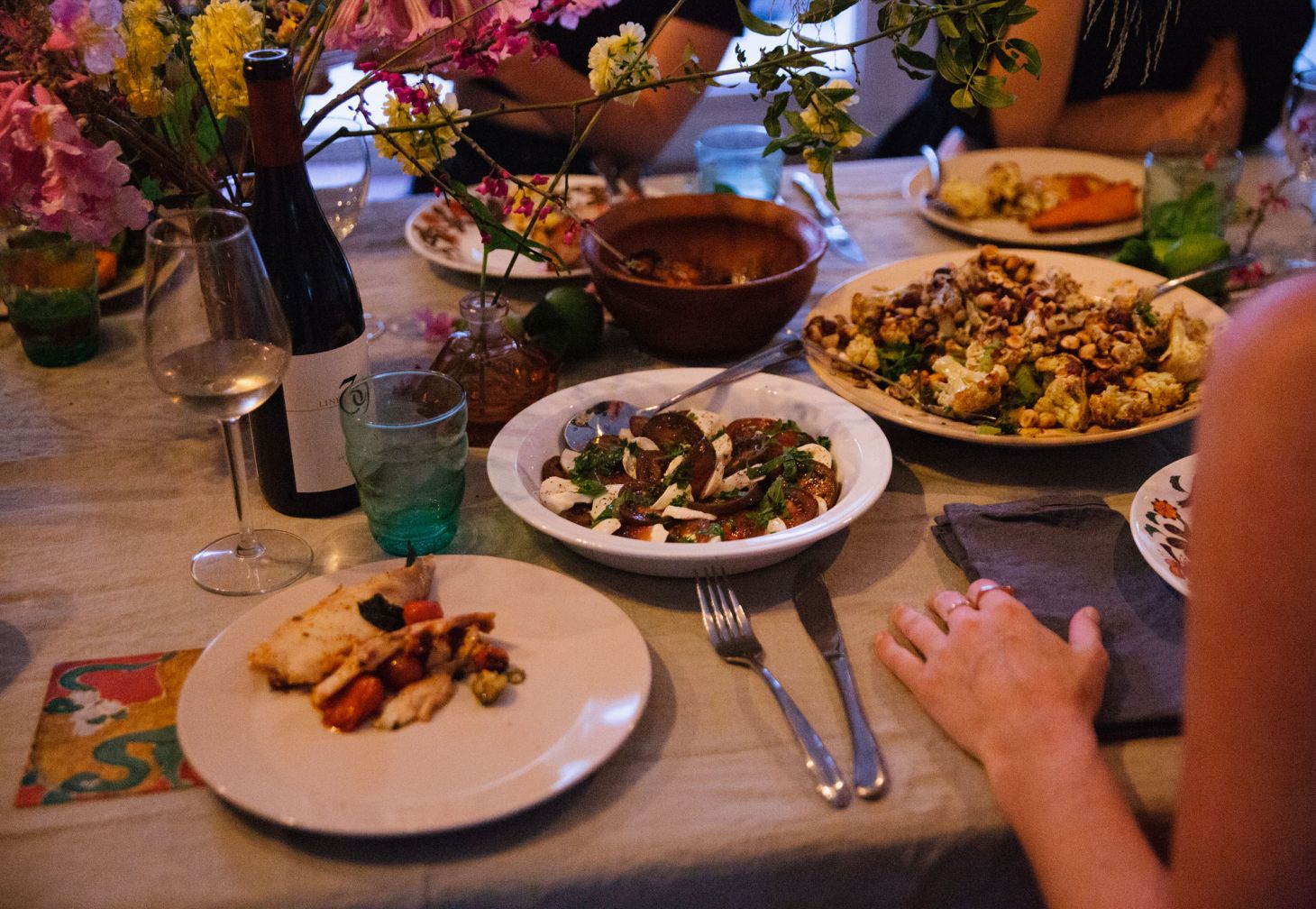 Below are a few of the recipes we followed and a look at where our evening's playlist kicked off....
---
Baked Fish with Green Olives
Ingredients;
6-8 fillets of fresh white fish
a generous glug of olive oil
a handful of fresh Sicilian Green Olives
2 lemons, chopped
a tub of cherry tomatoes
10 bulbs of fresh garlic, crushed
1 red onion, roughly chopped
a handful of pumpkin seeds
sprinkle of chilli flakes
salt and black pepper
Method;
Preheat oven to 180C. Add crushed garlic, chopped red onion to roasting tray. Lay fish fillets onto tray and drizzle with olive oil. Sprinkle cherry tomatoes, chopped lemon (add some lemon zest too if you wish!), green olives and chilli flakes over fish. Season with salt and pepper to taste.
Roast for 20-25 minutes, 15 minutes into roasting, add pumpkin seeds to tray. Serve hot when ready.
---
Roasted Cauliflower + Hazelnuts (inspired by the famous Ottolenghi recipe)
Ingredients;
1 head of cauliflower, broken into small florets
5 tbsp olive oil
1 large stick of celery, cut on an angle into 0.5cm slices
30g hazelnuts, with skins
10g fresh basil leaves,
1/3 tsp ground cinnamon
1/3 tsp ground allspice
1 tbsp sherry vinegar
1 1/2 tsp maple syrup
salt and black pepper to taste
Method;
Pre-heat the oven to 180C. Drizzle cauliflower florets with 1-3 tablespoons of olive oil and toss it together with some salt and pepper. Roast in the oven for 25-35 minutes until sections turn golden brown. Transfer to a large bowl and set aside to cool.
Decrease the oven temperature to 120C. Spread the hazelnuts on a baking sheet and roast for 10-12 minutes.
Set aside to cool.
In a small bowl, whisk together 2 tablespoons olive oil, sherry vinegar, maple syrup, cinnamon and allspice. Set aside.
Once hazelnuts have cooled, coarsely chop them and add to the cauliflower, along with the celery, basil, and the dressing. Toss and season with salt and pepper.
---
Dinner IN BED, Los Angeles playlist [ Listen on Spotify ]
Rising Water — James Vincent McMorrow
Water Get No Enemy — Fela Kuti
Katchi (feat Leon Bridges) — Nick Waterhouse
Open Your Eyes — Bobby Caldwell
Love and Death — Ebo Taylor
C.R.E.A.M. — El Michels Affair
Lady Day and John Coltrane — Gil Scott-Heron
True Blue — Dirty Beaches
Come Live With Me — Dorothy Ashby
Rational Culture — Tim Maia
Time and Place — Lee Moses
Multi Love — Unknown Mortal Orchestra